What is iPhone/iTunes error 1035?
iPhone's error 1035 or iTunes error 1035 is a voicemail related error that most users experience while updating or setting up the voicemail greeting on their iOS devices. When this error crops up, you can't use the voicemail on your iPhone. iTunes' error 1035 is related to the mobile network (carrier) related issue, so the solution differs from mobile carrier to transportation.
Here, in this article, we will feature the four most popular solutions to eliminate this annoying problem. With these solutions, you will fix iPhone error 1035 and use your visual voicemail afresh.
Solution 1: Setup or Reset your iPhone's Voicemail
You can encounter the iPhone 1035 error when your voicemail is not set up, or the existing one underwent some issues. Here we will explain solutions for both the scenarios in a step-by-step manner.
1. How to Set up Voicemail
Step 1 First turn down the Wi-Fi, either by tapping the Wi-Fi icon on the 'Control Center' or go to 'Settings' then 'Wi-Fi' and turn it off by sliding the bar.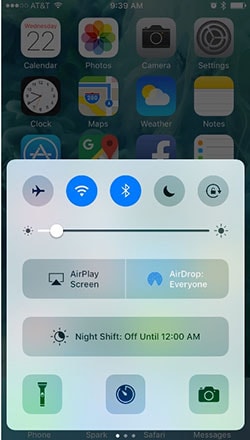 Step 2 Now, tap the 'Phone/Dialer' icon on your iPhone and tap and hold the '1' key. Enter the password and access voicemail. Next, tap the '*' key and enter into the main menu and then tap '3' for accessing the 'Greeting' menu.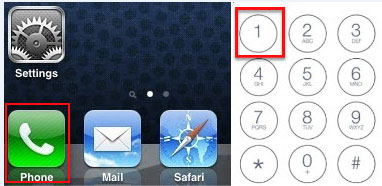 Step 3 Set up the voicemail greeting as well as the password and restart your iPhone. We are optimistic that iPhone error 1035 will be resolved now.
Note: If, by any chance, you don't remember the password, and then make sure to get in touch with your network provider and get this sorted. If you want to manage your voicemail notification and recover deleted voicemail, check this for more.
---
2. How to Reset Voicemail
As we have already mentioned that this error 1035 is network-specific, the solutions might differ. Make sure that you have connected your iPhone to a stable Wi-Fi setup and then start the exercise. Here we have taken T-Mobile to explain resetting the voicemail and rectify iPhone voicemail error 1035 .
Step 1 On your iPhone's home screen, tap the 'Phone/Dialer' icon, and open the numeric keypad. Now, click on '1' and hold to make a call. Next, tap the '*' key and enter into the main menu and then tap '3' for accessing the 'Greeting' menu.
Step 2 Click '2' and record a new greeting when you get prompted. Tap on '#' to confirm the greeting post-recording.
Step 3 Lastly, press the '1' key to set the recorded message as your voicemail greeting.
Solution 2: Fix iPhone Error 1035 Using dr.fone – iOS System Recovery
While we talk about fixing iPhone error 1035, dr.fone - iOS System Recovery is among the top contenders. One effective solution for resolving almost all iOS system recovery issues is that it is safe and easy to use.
Whether your iPhone or iPad got stuck in recovery or DFU mode or it has been frozen with the white Apple logo, dr.fone – iOS System Recovery can fix it in no time.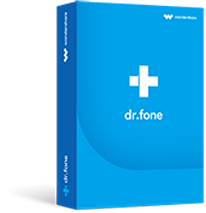 Best iPhone/iPad system recovery tool
Simple, easy-to-use interface and safest way for fixing iOS issues such as stuck in DFU mode/recovery mode/white Apple logo, etc.
With this secure option, you zero the chance of data loss.
It supports all iPhone, iPad, and iPod Touch running on iOS version 7 or above.
It is fully compatible with macOS, Windows, and iOS devices.
It has the highest success rate in the market when it comes to fixing iOS issues.
4,290,481 people have downloaded it
Let's understand how to resolve iOS issues such as error 1035 iPhone using dr.fone – iOS System Recovery in a step-by-step manner. Here is the guide.
Step 1 Download and install dr.fone
Download and install dr.fone on your computer before initiating the recovery process, connect your iPhone with the computer. Launch dr.fone on your computer and tap 'System Recovery.' Let the connection get established and tap 'Start.'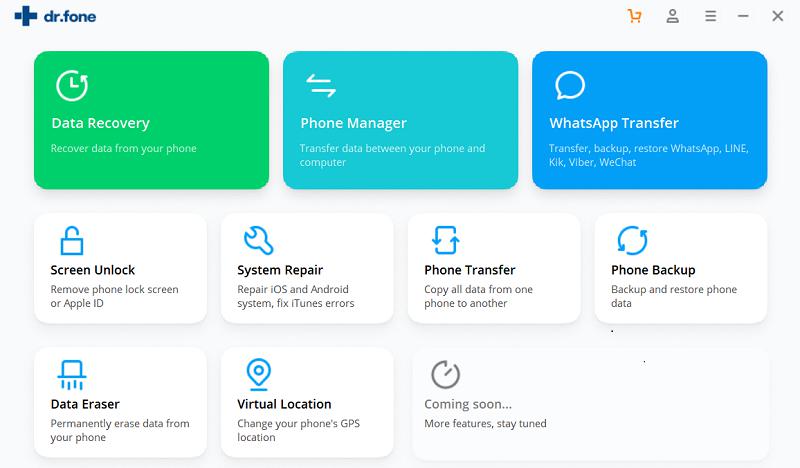 Step 2 Confirm the system version
The Toolbox will suggest you the latest firmware post detecting your iOS device make and model. Confirm the information and tap 'Download' to initiate firmware downloading.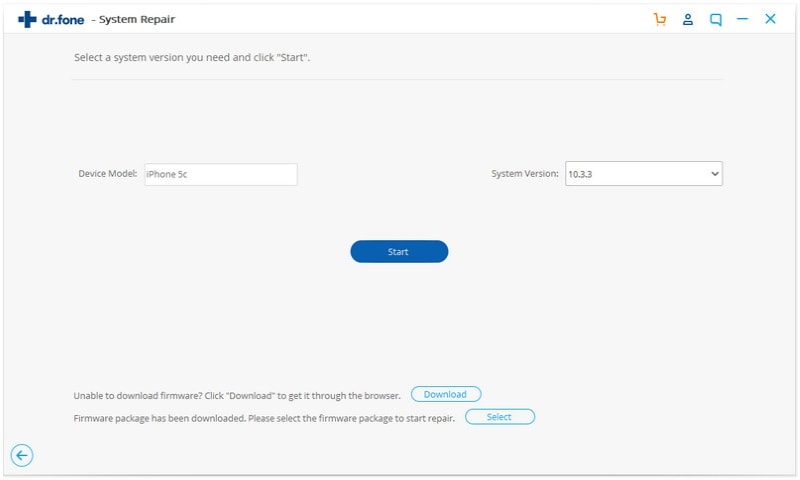 Step 3 Repairing iOS system
Once the downloading process is done, the software will automatically start repairing your iOS device to stock. When improving is complete, a message will be displayed showing 'Fix iOS to normal is done.' You can download this software and try yourself!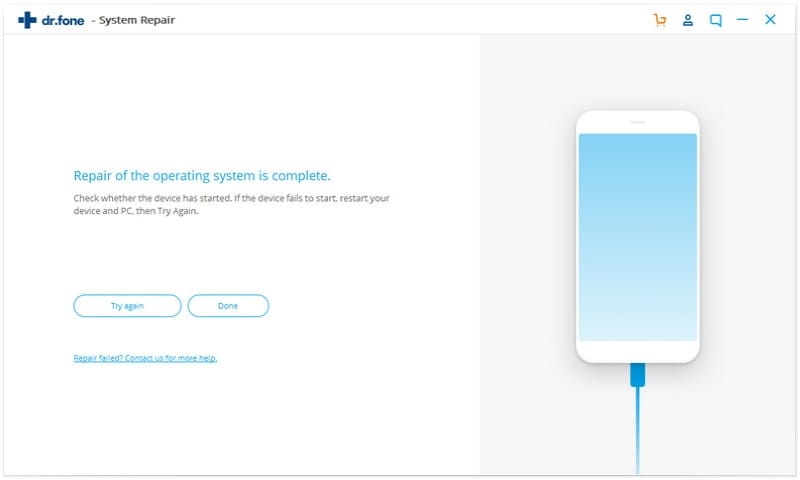 Solution 3: Reset Network Settings
In some cases, iPhone error 1035 will occur after the update. The reason might be altered network settings because of the update. Resetting the network settings would refresh the device and make it work like usual again.
Step 1 To reset the network settings, you have to browse 'Settings,' then 'General,' and click 'Reset.' After that, tap the 'Reset Network Settings' option.
Step 2 Here, you need to enter your passcode and tap on the 'Reset Network Setting' option in red font.
Step 3 Now, your iPhone will get automatically reset and fix the 1035 issue.
Step 4 Try to reaccess your voicemail, it should work correctly.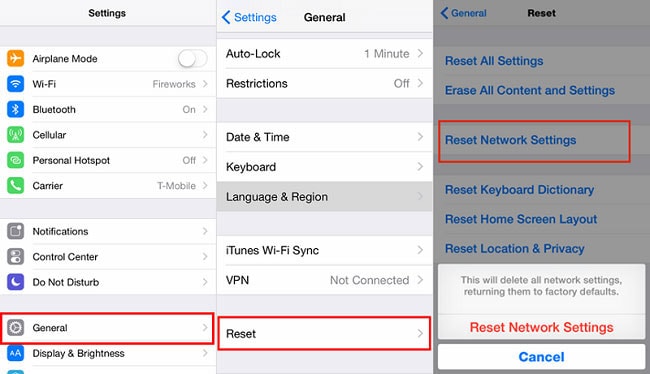 Solution 4: Airplane Mode Fix
At times the Airplane Mode can also fix iPhone error 1035 and get back your iPhone to normal. By turning on Airplane Mode, your iPhone is disconnected from all connected networks due to the cellular connection's interruption.
Airplane Mode is always turned off because it doesn't allow you to make or receive calls. Let's try this solution to fix the iOS 1035 error.
Step 1 Swipe up from the bottom to bring up the control center and then turn 'on' the Airplane Mode and then turn it 'off' after staying in the mode for at least 25 seconds.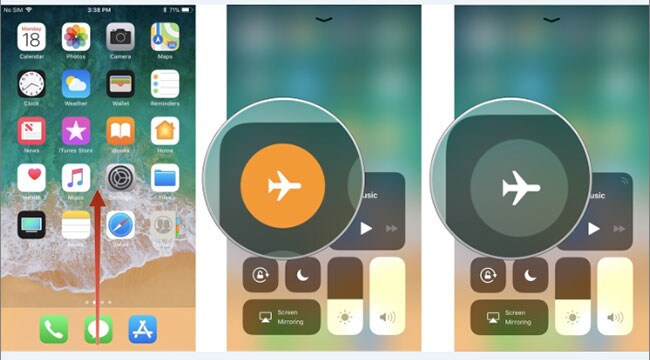 Step 2 Alternatively, you can go to 'Settings' and turn on the switch from 'OFF' to 'ON' found adjacent to 'Airplane Mode.' Wait for approximately 25 seconds.
Step 3 Now, slide the switch to the 'Off' position again.
Step 4 Open your voicemail and ensure it is working fine.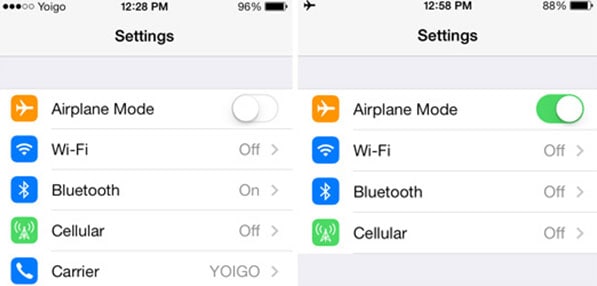 Note: To resolve the visual voicemail error, the iPhone must be connected to a stable cellular connection. The strong cellular signal ensures that your iPhone receives all voicemail sent to it.
Write in the End
When you have tried all the above solutions and still have no satisfactory results, quickly get in touch with the nearest Apple Store. The issue might arise due to some underlying hardware that prevents your iPhone from receiving better signals and disturbing the voicemail function. Authorize Apple personnel can guide you through to get rid of the 1035 iPhone error.