Hello there. My iPhone is jerking me out as iTunes error 21 is popping up. I'm very stuck with this error, is there any way I could completely drive out this issue altogether? Please give me a quick fix for it?
Is your concern just the same, as stated above? Are you in despair and clueless on what to do when iTunes Error 21 surfaces on your phone? Well, we know how irking it can get by your end. As error 21 on iPhone occurs in cases where you have had happened to restore your iPhone. While, you try your hand in restoring, your iPhone states could not be restored error 21. And, it goes like an eternal loop, for you try to restore your iPhone 4/5/6/7/X or even your iPad but it get stuck in the never-ending ladder of error 21.

Wondering what on earth is this iTunes error code 21? And how could you possibly unearth some solutions that do not challenge your wits? Well, if that's your concern, we will cater it in no time. As, in this article, we are going to thoroughly discover the whereabouts of this error code, its root causes and a bucket full of solutions to resolve this problem.
Part 1: What is iTunes Error 21
It's vital to know the nature of iPhone 21 error code? Why does it pop up out of sudden? Why does it strangely mingle with your device? Usually the occurrence of iTunes error code 21 is when iTunes is trying to download any restore files (.ipsw files) but its pathway is uncertainly blocked. This can be due to any authentication reason, failure of communication amongst the device and servers. This result in error 21 and displays iTunes; iPhone could not be restored error 21.
Causes of iTunes Error 21
Generally the iTunes error 21 occurs when you are un-fatally trying to restore or upgrade your iPhone 4/5/6/7/8/X or iPad. There are several range of factors that disrupts the connection altogether. These we will cover below-
Using iTunes software which is corrupted.
The network connection between your device and server tremendously fails.
Internal hardware error of your phone.
The Windows system or iTunes files getting corrupted by viruses or malware
Deletion of files associated with iTunes due to another program.
Part 2: Restart iTunes or update iTunes
Sometimes, there is a normal glitch that can be resolved by forcing a restart on your iTunes. Just turn off your iTunes and then turn it to cross verify if the error code 21 is still prevalent.
If that doesn't seem to work out, it might be that you are working with the outdated version of iTunes which needs to get updated. Thus, it's the recommended way to break away from iTunes error 21. Just make use of the following methods for your respective operating system.
Mac: Launch iTunes on your system and click on 'iTunes' menu. Select the 'Check for updates' option. This will redirect iTunes to connect with Apple's servers and search for any upcoming updates.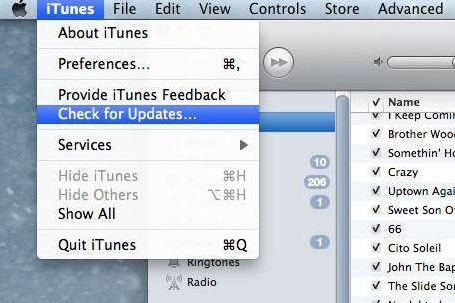 Windows: Open iTunes and click on 'Help' menu. Select 'Check for Updates' option. iTunes will connect with Apple's servers and look out for future updates.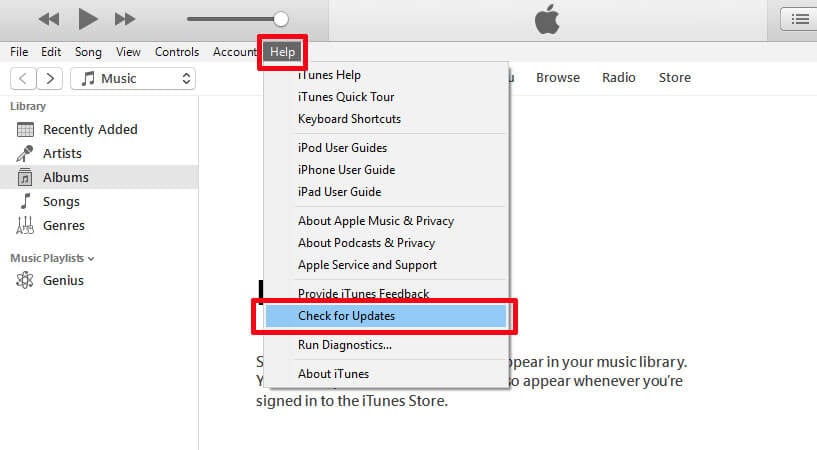 Part 3: Turn off your anti-virus software temporarily
Commonly, most of the users make use of the anti-virus software for blocking the entry of viruses or any malware that may irk the working of the software. As its work is to draw a wall against the elements inferring on your PC; The antivirus may unknowingly do the same with iTunes. Hence, it gives birth to iTunes error 21 in your iPhone 4/5/6/8/X or even on iPad.
Part 4: Remove Hosts file on your computer
Basically in the OS installation of your Windows or Mac, there is a single file that can individually map the respective IP addresses to the host names. The host file is localized to PC just as the contact list of your phone. The web address agents works as the contact;s or host name which you can find when to converse with. And, the IP addresses are like the cell phone number acting like a pathway to connect with them.
Risks of removing a host file:
By removing hosts file you may experience potentially decreased browsing speed. As when you remove host file, the computer has to connect with the DNS server in order to retrieve the IP address of the requested website and then waits for the response. Eventually, eating up more time and slowing things down.
Another harm of removing hosts file is that the entire list of blocked spyware or spam ad network sites (known or unknown) also gets removed. Eventually, opening doors to undetected add-ons, viruses, spywares and malwares to reach back into your machine which, in turn, could be devastating. They may begin slowing things down or may even corrupt files over your PC.
Just in case you've blocked access to social networking or video streaming site to keep your kids away from them. Removing hosts file will restore access to these sites too.
Here is the in-depth method for both your MAC and Windows PC:
For Mac:
1. Firstly, launch the Finder and hit on Go on the Finder menu. Now, hit on the Go to Folder option from the drop down list.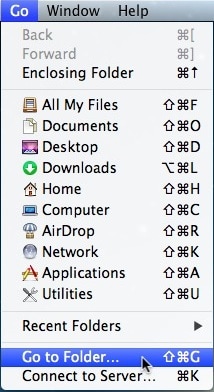 2. Now, on the appearing pop up window, punch in "/private/etc/hosts" followed hitting the 'Return' Key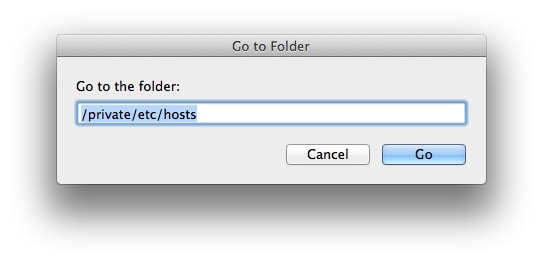 3. If prompted to type in the password, use Mac password and click on 'Return' key.
4. Now, your mac will launch a new window containing the hosts file. You need to delete the host file and then reboot your PC. Lastly, check with iTunes to ensure the error has been resolved.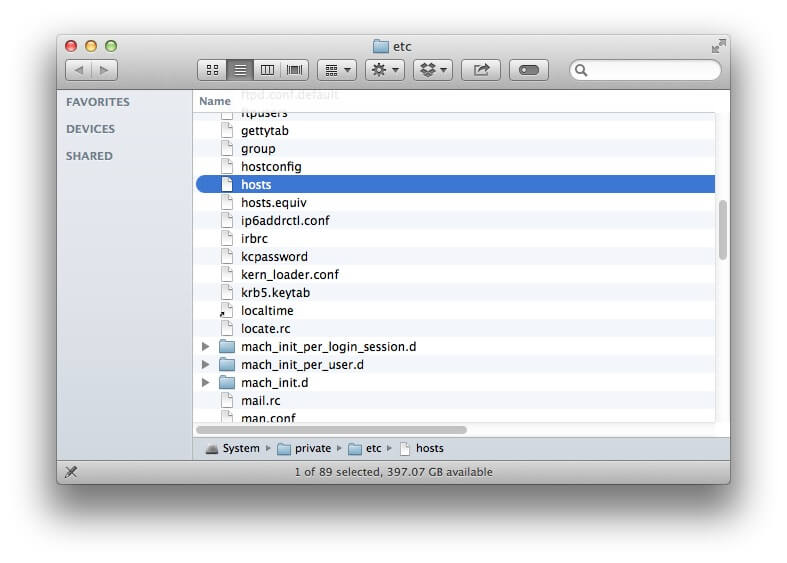 For Windows Users:
1. Simply, visit 'Run' or press 'Windows' Key + 'R'.
2. Punch in ;C:\\Windows\System32\drivers\etc\; followed by Enter.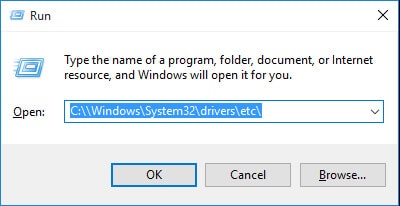 3. Your PC will now launch a File Explore window and redirect you to the location where the host file is located.

4. Simply, delete the host file or alternatively, you can move it to some other location. Now, reboot your computer and cross verify if the iTunes error code 21 is prevalent while updating or restoring. If iTunes works normally, then it's great!
Method 4: Send your device to Apple for a battery replacement
When your iPhone is not reviving with some organic fixes, methods or solutions- then seeking Apple's assistance becomes crucially important. There are times where user is unable to yield any fruitful result and ends up in iTunes error code 21 that does not go easily. Thus, one must seek for immediate attention of Apple and get it replaced in no time.
But you must be well versed with the essentials of taking your phone for the warranty period and the circumstances under which Apple may not cater you.
Circumstances where iPhone is covered under warranty:
Your phone has not been impaired or damaged.
There is no sign of hardware damage (screen or on the case).
The iDevice has not been wet or drained in water.
You have not rooted your iPhone/iPad at all.
Circumstances where warranty is not covered:
Accidentally, your phone might have dropped which have resulted in hardware damage.
The parts of your iPhone have been disassembled improperly.
The service taken from an unauthorized sector or any unauthorized modifications have been made in your iDevice
By mistake, your phone has been wet by water.
Method 5: Fix iTunes restoring issue 21 using dr.fone - System Repair (iOS)
To resolve down glitches like error 21 on your iPhone, dr.fone - System Repair (iOS) is the ideal method you could ask for. It is equipped with the latest technology essential in repairing iTunes issues like error 21 iPhone stuck in white screen, black screen or boot lap. Besides this, dr.fone can also execute in erasing phone and recovering lost data in a hassle free manner. Moreover, it is flared to transfer data in just 1 click, backup the components available in the device and restore it in forthcoming purpose! What more can you ask for?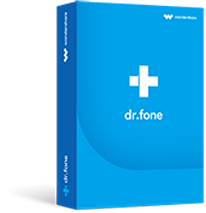 Best iPhone/iPad system recovery tool
Helps you to solve mutiple iOS system issues.
The safest way to fix iOS system without data loss.
Extremely simple operation steps.
Highest success rate on the market.
4,290,481 people have downloaded it
Now that we've enlightened you with the essentials, we are going to understand how to use dr.fone - System Repair iOS for fixing iTunes error 21 in iPhone 4/5/6/8/X easily.
Step 1. Launch dr.fone - System Repair (iOS)
Firstly, install and run the dr.fone - System Repair (iOS) software on your system. Once the program loads, click on "System Repair" and draw link to your iPhone.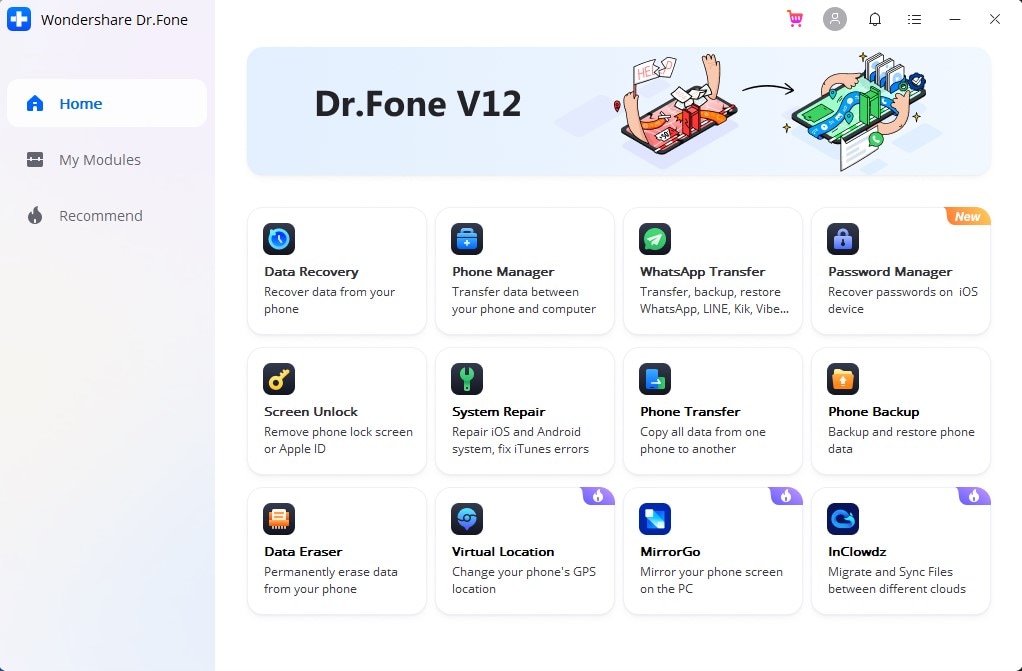 Step 2. Click the Next button
Hit "Start". Your device will be detected by the software automatically, confirm the iPhone details followed by clicking the "Next" button.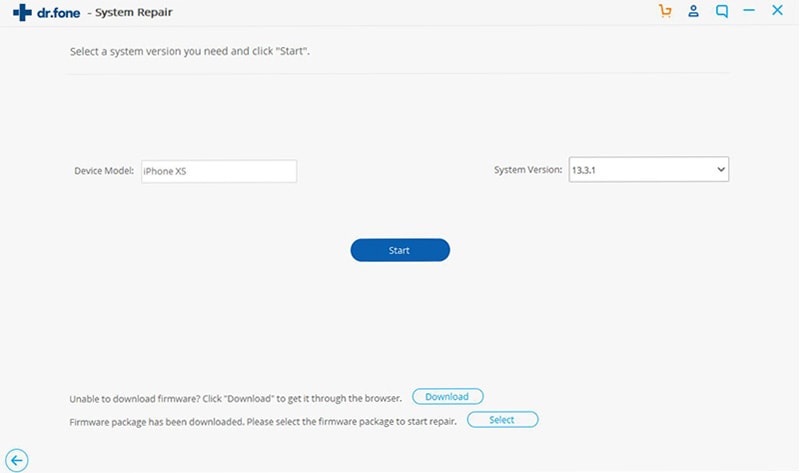 Step 3. Boot up in DFU Mode
In case you witness your iPhone is behaving abnormally or the software is unable to detect your iPhone, you can boot it up in DFU mode by following the on-screen guide carefully.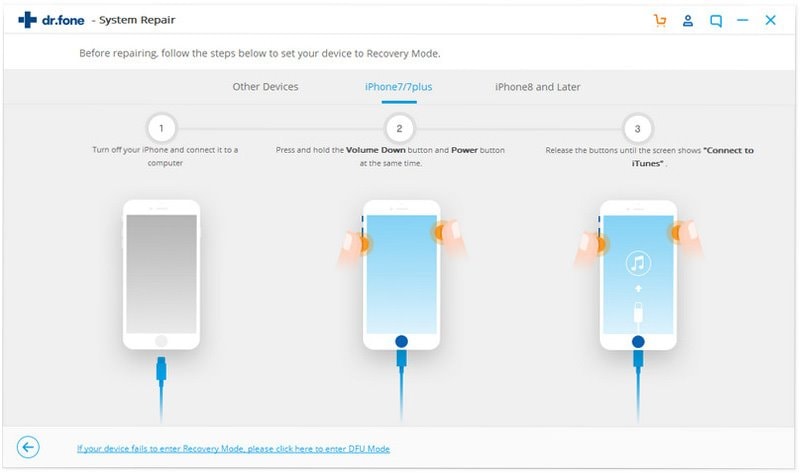 Step 4. Ensure to download firmware
Once your iDevice is detected by the program, you need to hit the ;Download; button to initiate downloading of a suitable firmware package for your iPhone.
Step 5. Mend your device right!
Now that the firmware is successfully downloaded, simply select the "Fix Now" button and there you go! Within a couple of moments, the iTunes error 21 will be resolved completed from your iDevice.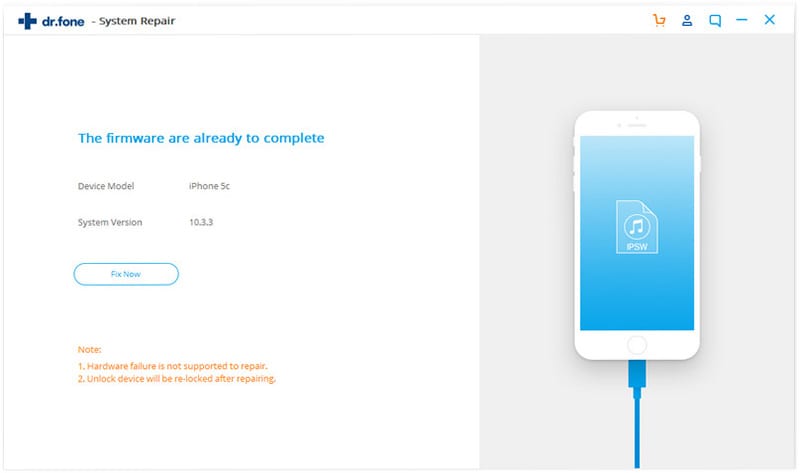 Method 6: Check for modified or outdated software
With the passage of time, the software are thoroughly revised and enhanced with additions. To make the software all the more dynamic and well sounded. Thus, it becomes imperative to update it time to time. The outdated software stands as the major reason for incurring iTunes error 21! So, if you are currently sailing with the old outdated iTunes software then you must immediately get it updated. Your attempting to restore or update iPhone via the older version of iTunes might be the reason for causing iTunes error code 21.
Method 7: Check sensor cable (For Geeks Only)
In order to fix the error 21 in your iPhone, we will unearth a risky method that may either sound strangely complicated. But, is relatively may be the most difficult methods topping this list. As, this fix might require your careful attention to defuse the sensor cable and detach from the battery and bingo! But before you think it's sufficiently easy to crack the nut, just make sure of the following methods.
Note: Firmly keep hold of the hardware tweezers and collect the smaller items nicely. Any of which is lost may cease in the smooth working of your device.
Carefully open your iOS device.
From the battery safe, just unplug the screw firmly holding the battery.;
Now, explore for the device cable and disconnect it. Past some moments, re-establish the connection it and there you go!
Once you are through with this step, place the battery back to its safe with good precision. Do not rush into it as it may pose to be problematic afterwards.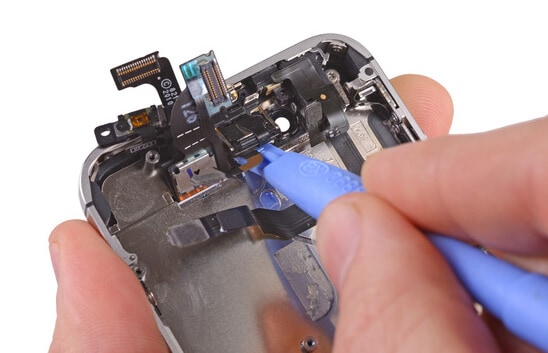 Conclusion
By now we;ve unraveled a couple of methods that can easily resolve the; iPhone could not be restored error 21. There are methods like restarting iTunes or updating iTunes for smaller issues that can be resolved in no time. While, methods like removing hosting file or checking the sensor cable that can drill down your manual efforts and pose to be risky too.
But there is one impeccable solution out there that can swiftly resolve the error 21 issue from iPhone 6- that is the all famous dr.fone - System Repair (iOS)! That not only repairs down any line of error but also assures to backup, restore your data too. Most importantly, it eases out the activity for you! Grab Toolbox Repair iOS now!
The free online JavaScript beutifier will organize your scripts. Make sure you use it every time before publishing codes.