There had been a long-standing argument that iPhones are not prone to software bugs. However, things have started to change recently with many users experiencing software issues in their iOS devices, particularly, the iTunes Error 4005. This issue has been causing headaches for iPhone users all over the world, and the frustrating thing is that there isn't a go-to solution for solving this problem. The workarounds involve the users to do multiple fixes on their phones in hopes of getting one right! Well, do not worry if you are met with the infamous Error 4005, because we have got you covered!
Part 1. What Is iTunes Error 4005: Can It Be Solved?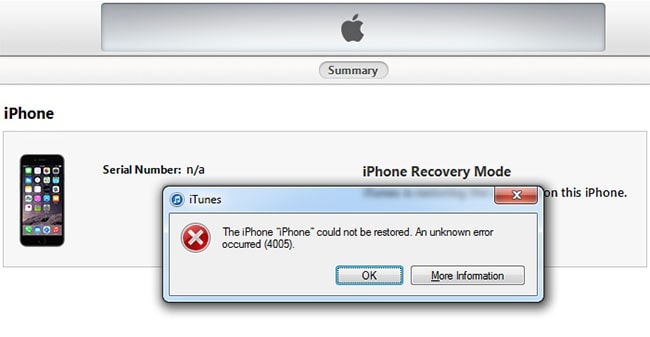 Before we get to the solutions, let's analyze what Error 4005 actually is and how you can identify it in your Apple device if it does indeed occur. Now, the first thing to understand is that this error can occur on more than one type of Apple device - iPhone, iPad, and iPod.
1.1 Common Scenarios Where iTunes Error 4005 Happens
The Error 4005 happens when the phone is being updated or restored via USB using iTunes Desktop app.
The frustrating part of this error is that it will prevent your Apple device from restoring or updating via USB. In certain cases, the abrupt disconnection can even cause the phone to brick. This has led to many complaints from the Apple user base. However, the cause of the iTunes Error 4005 is still disputed and varies from one device to another.
1.2 Common Symptoms of Error 4005
The iPhone Error 4005 occurs while restoring or updating process. The same applies to other Apple devices, but this type of error is most commonly observed in iPhones. You will not observe the error during regular use as it comes into play only when the OS is being updated or restored. The error prevents your device from updating or restoring on iTunes.
The Error 4005 appears on the iTunes window when the device is being updated or restored.
It is accompanied with a message that reads, "The iPhone could not be restored."
Another giveaway of the Error 4005 is that the computer starts to lose speed and becomes sluggish in operation.
Occasional freezes are observed when the device is being updated.
1.3 Main causes of iPhone Error 4005
Over time, we were able to compile a list of problems that lead to 4005; this ranges from faulty hardware to buggy software. Let us have an in-depth review of each cause.
1) iOS System Errors
Defects within the OS is the most common reason for iTunes 4005 error. This can be because of certain bad code within the OS preventing the device from updating over USB. Since iOS runs on all of Apple's mobile devices, iPads and iPods are also susceptible to this issue.
2) Incomplete iTunes Download or Installation
If the file you have downloaded is not complete, then you will get the Error 4005 as the installation process won't be able to go beyond a certain point. Make sure that every file or setup that you download has been successfully completed before you move on to the next part.
3) The iCloud Syncing Feature May Have Not Been Properly Disabled
Having the iCloud sync turned on doesn't always do you good and this is a prime example where it can do more harm than good. iCloud sync must be fully turned off to prevent the device from communicating with Apple's servers. A fully disconnected device is a lot easier to restore and are prone to fewer errors.
4) Outdated Computer OS
If you are using the legacy versions of windows or iOS on your desktop PCs or Laptop, then they may have the support or necessary optimizations to handle newer OS updates.
5) Virus or Malware
Virus or malware infection can destabilize operating systems in addition to causing problems like unresponsiveness, data loss or even compromise of sensitive data.
6) Outdated iTunes
To handle the latest OS version, the iTunes must be updated to the latest version.
7) USB cable or hardware issues
This may seem like a minor thing, but a faulty wire can give you all sorts of headaches, especially when there are no replacements in hand.
8) Corrupt iOS and iTunes files
Corrupt files can cause the update process to stall due to bad code or missing subfiles.
9) Broken Links
Broken links make it harder for the program to fetch information. In the direst cases, iPhone restores Error 4005 comes up.
Part 2. How to Fix iTunes Error 4005 via dr.fone - System Repair (iOS)
Now we know that the iPhone 4005 error can be caused by a variety of issues, mostly due to software bugs or shortcomings. A user will have invest in a lot of time and effort to try out each fix. Again there is the question of which method is right for which device as the error 4005 iPhone 5 has might not be work with the same technique that is used on the error 4005 iPhone 5s has.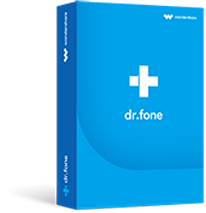 Best iPhone/iPad system issues solver
Helps you to clear all iTunes error codes.
The safest way to fix iOS system without data loss.
Extremely simple operation steps to follow.
Honored for the highest success rate to fix iTunes error 4005.
4,290,481 people have downloaded it
We are going to save you from a headache and provide you with a one-stop solution that covers it all - iSKysoft Toolbox - Repair (iOS).
1) Visit the website for iSKysoft Toolbox - Repair (iOS) and download the software based on the OS of your PC, Windows or Mac.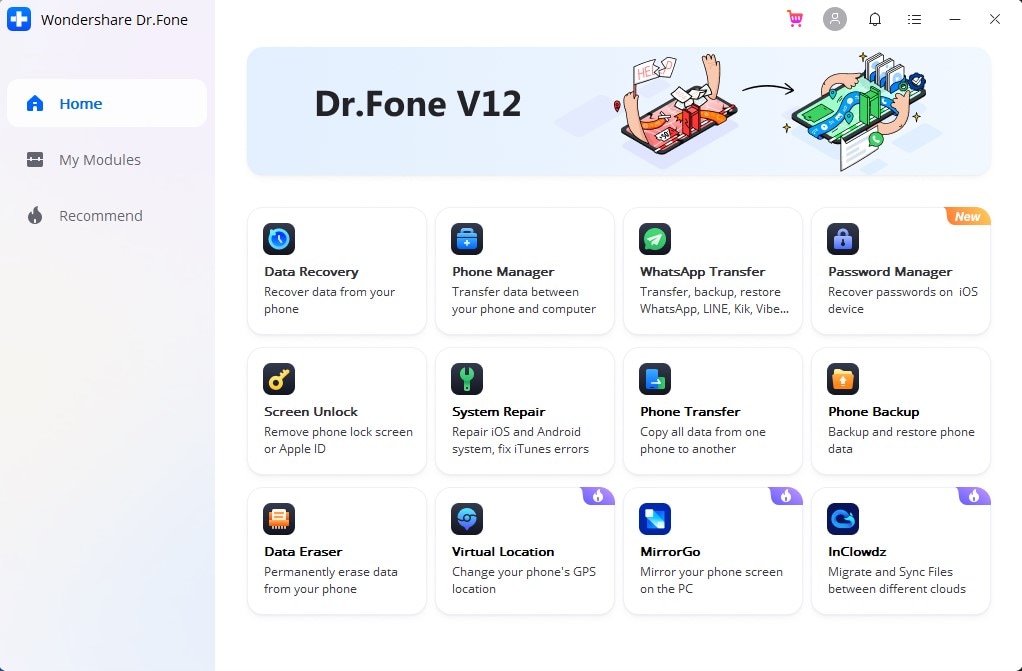 2) Connect your Apple device to your PC via USB cable and selection the option "Repair" from the dr.fone.
3) After you have connected your device, press "Start". Then click "Next" button.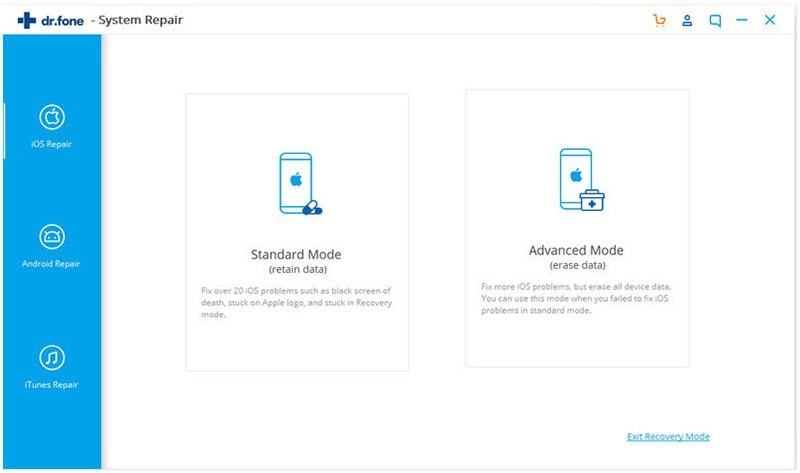 4) Now it is time to enter your device into DFU mode. Instuctions have been given on the interface. Just follow it.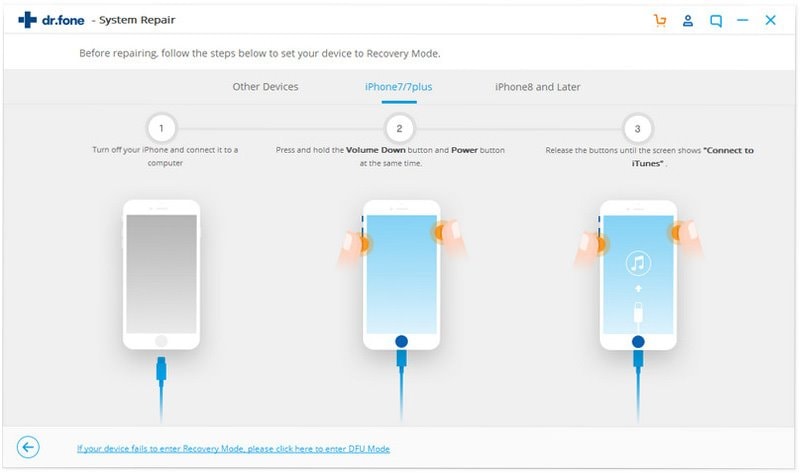 5) The software will automatically detect the model and iOS version of your device. Double check the info to make sure the automatic detection has entered the correct values. Click "Download" when ready.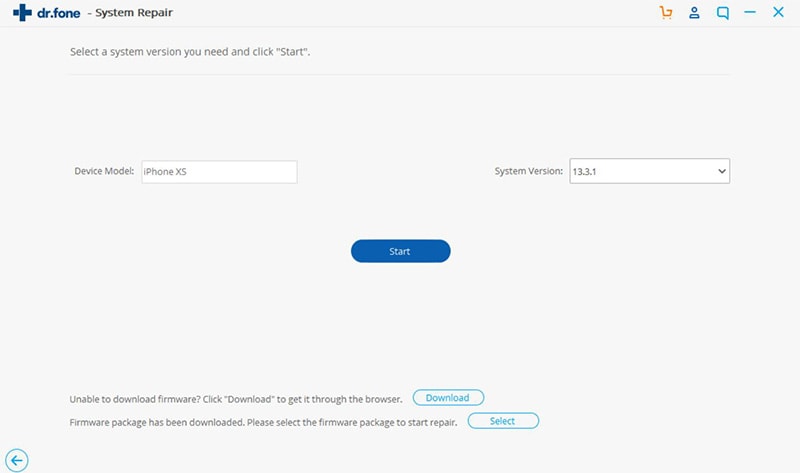 6) The firmware download will soon begin, click "Fix Now" to start the recovery process once the files are downloaded.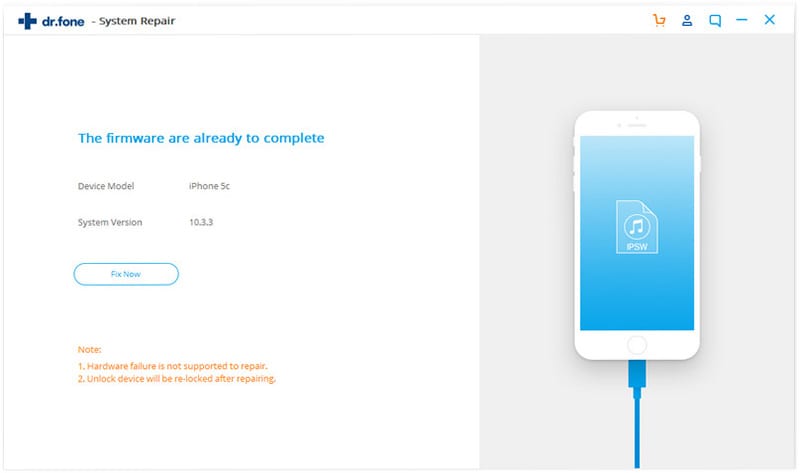 7) After the completion of the recovery process, the program will show the following message.
Yes, it's that easy! No need to spend time going through different fixes or tutorials! You can just download the iOS system recovery tool from iSkysoft, and the software does everything for you. In essence, the simplest fix for error Code 4005.
Another perk of using this software is that it comes with a host of features like backup and transfer in addition to the recovery module to help you fix all your iOS related worries.
Note: This software is also capable of fixing iPad Error 4005.
Part 3. Other solutions to solve iTunes Error 4005
If you want to have a go at fixing the Error 4005 in iPhone yourself, there are a few things that you can do!
Solution 1: Update iTunes
You might think how this step is going to help as an iPhone 4005 error fix, but trust us on this because many users do not know that legacy versions of the apps might interfere with newer updates.

You can find the latest version of iTunes for MacOS here.

You can find the complete list of the latest iTunes versions here.
Solution 2: Update Computer's Operating System
The Error 4005 on iPhone will persist even if you have the latest version of iTunes if the operating system on your PC is on the legacy ware. The only fix here is to get the operating system to the latest version. With newer versions of the OS, you will get better interoperability between apps.
You can download windows here
You can download MacOS here
Solution 3: Check USB Ports
The Apple Error 4005 will be popping up every time the software detects a break in data transfer. Faulty USB ports or a loose USB connection can cause this breakage in connection. Double-check the USB Ports to ensure easy transfer of files.
Solution 4: Restart iPhone and Computer
Sometimes, a simple restart might help you solve things. Close all apps on your PC and phone. Now restart both and do the iTunes update again. If the earlier bugs caused by conflicting programs or low memory, a fresh start might help in a smooth process completion.
Solution 5: Force Restart
If your iPhone got stuck on a screen or if it's unresponsive, there is an option to hard reset the phone. In cases where everything fails, hard rest is the next best option.
Steps to force restart your iPhone:
Press and hold the home button
Simultaneously press and hold the Sleep/Wake button
This process is only suitable for the last generation iPhones. For example, iPhone 7 restore error can follow this procedure but for the latest generation of iPhones like the iPhone 8, iPhone X, and newer versions, we need a different approach due to the lack of the home button.
How to force restart iPhone 8, iPhone 8s, iPhone X and newer versions:
Press and release volume up button
Press and release volume down button
Press and hold the Sleep/Wake button until the screen flashes
Solution 6: Enter DFU Mode
DFU mode or Device Firmware Update is the deepest level of software and firmware restore. The DFU is a hard reset that will revert your phone back to factory settings. The users should also note that all data on the phone will be lost in the process.
How to enter DFU mode: iPhone 6s, iPhone SE, iPad, or iPod Touch
1. Connect your device to a PC and open iTunes in your PC
2. Hold down the Lock button and Home button for 8 seconds
3. Release the Lock button while still pressing down on the Home button.
4. A message will pop up in iTunes, notifying that user that the device has been detected in recovery mode.
5. Use iTunes to restore your device.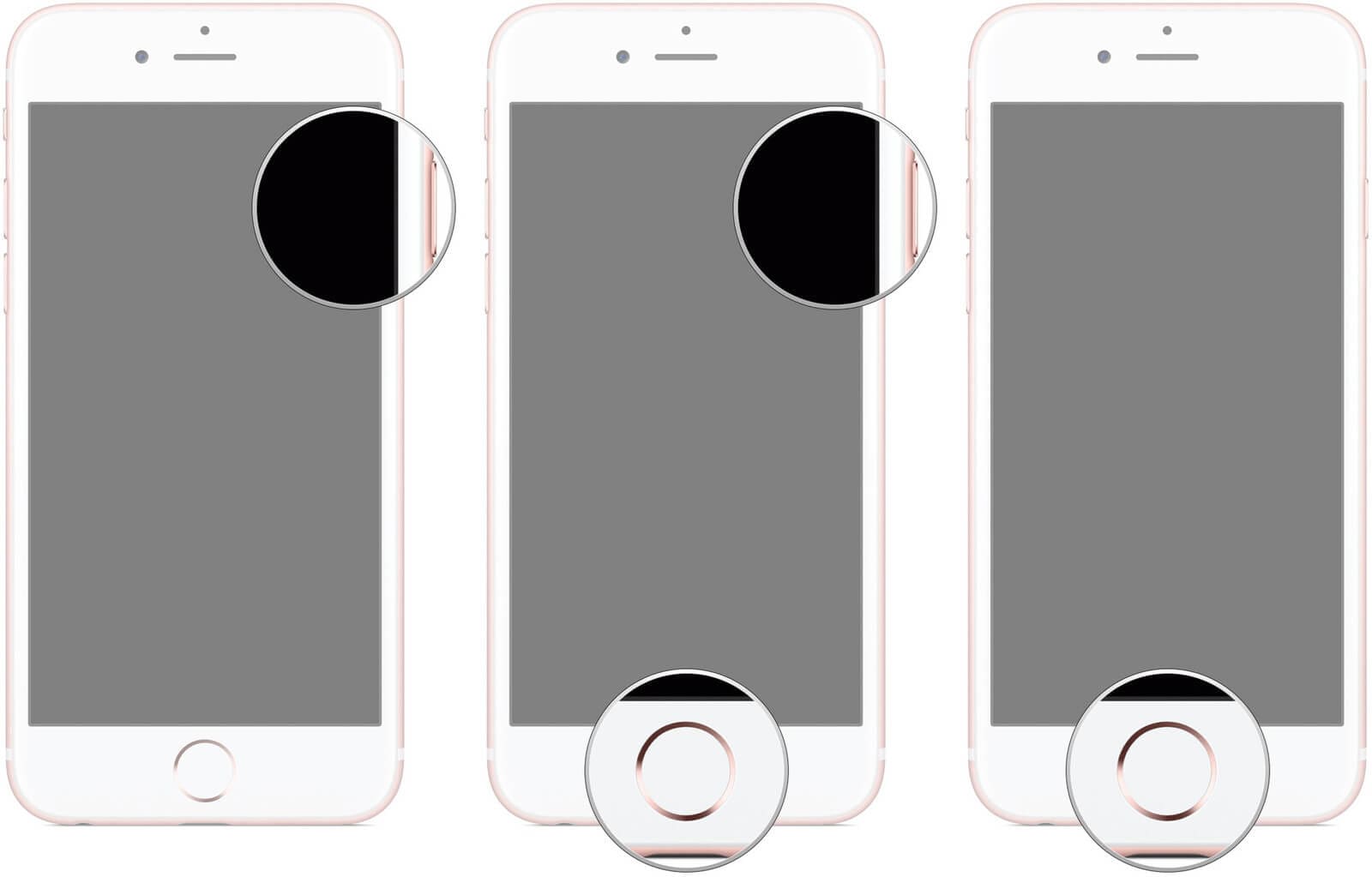 How to enter DFU mode: iPhone 7 and iPhone 7 Plus
1. Connect your device to a PC and open iTunes in your PC
2. Hold down the Lock button and Volume down button for 8 seconds
3. Release the Lock button while still pressing down on the Volume down button.
4. A message will pop up in iTunes, notifying that user that the device has been detected in recovery mode.
5. Use iTunes to restore your device.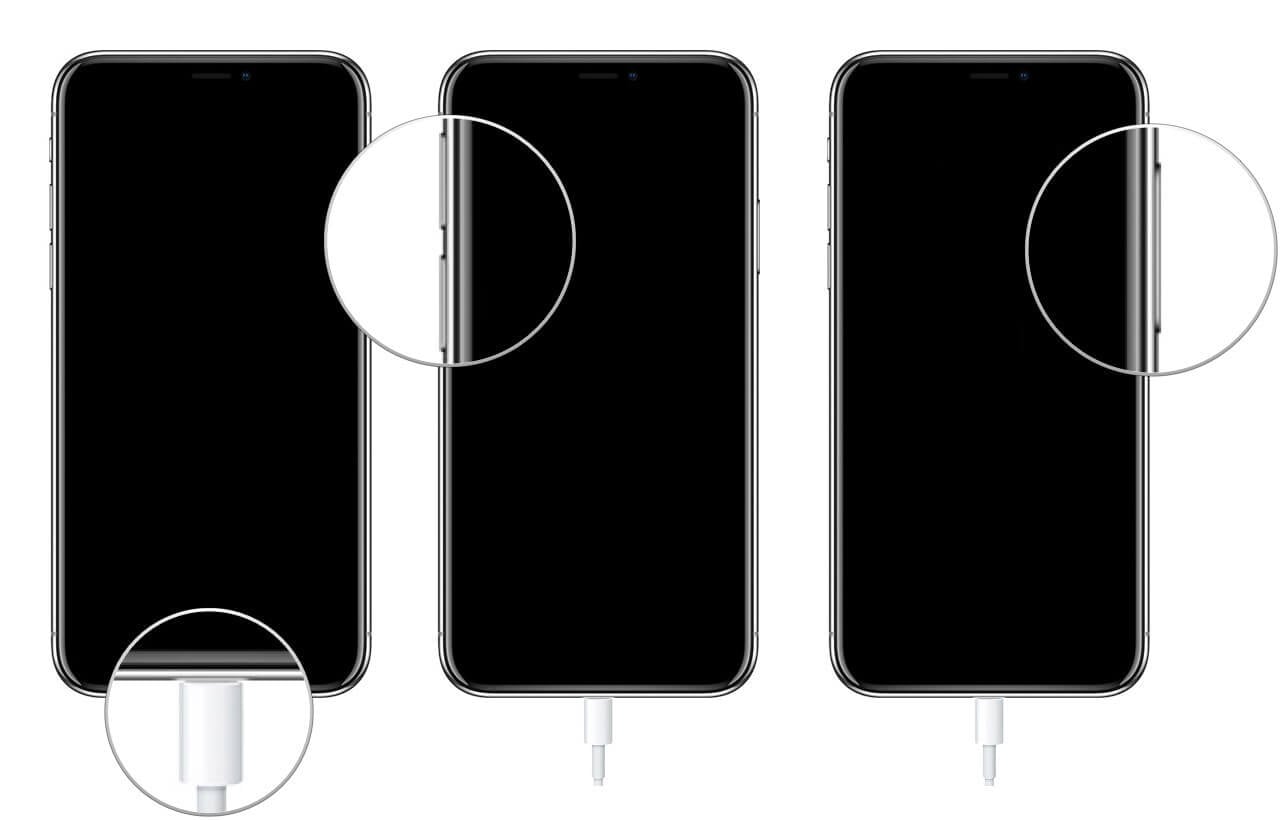 How to enter DFU mode: iPhone 8, iPhone 8 plus, iPhone X, and newer models
1. Connect your device to a PC and open iTunes in your PC
2. Quick press the volume up button once
3. Quick press the volume button down once
4. Hold the Lock button and wait for the screen to go black.
5. The moment it goes black, press and holds Volume down along with the Lock button.
6. Wait for 5 seconds and release the lock button without releasing the volume down button.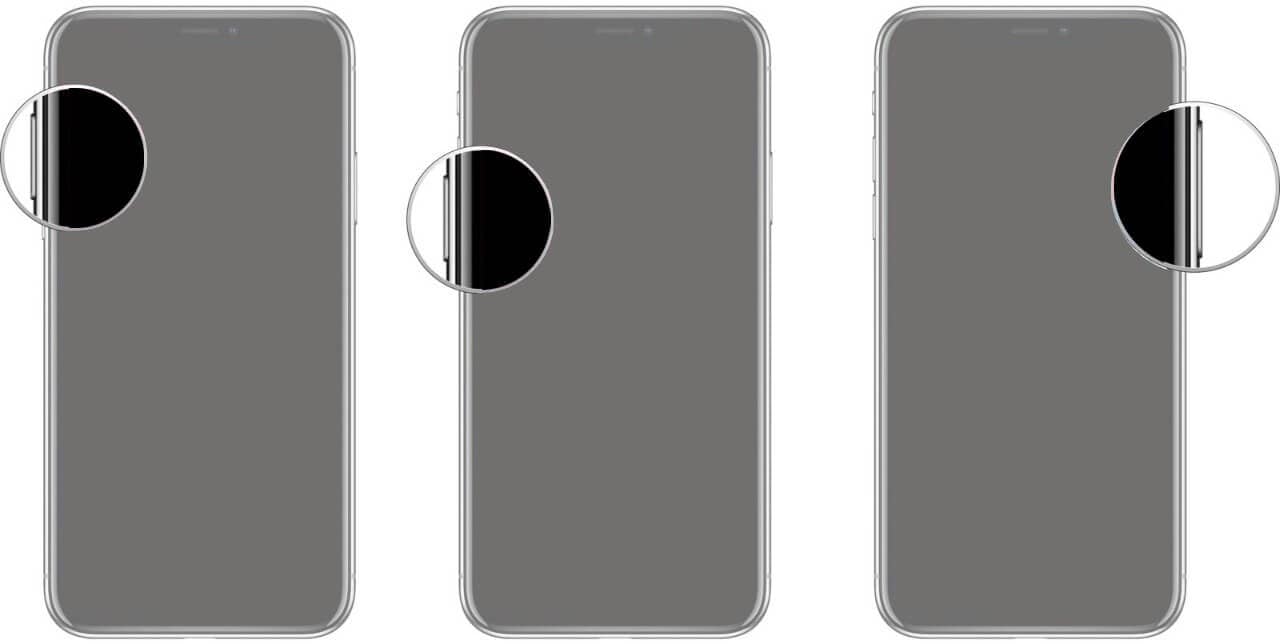 7. A message will pop up in iTunes, notifying that user that the device has been detected in recovery mode.
8. Use iTunes to restore your device.
And that's it, the full guide of how to fix iTunes error 50 when restoring iPhone! So the next time you see the message "iPhone could not be restored Error 4005", you know what to do! However, if you want to cut yourself the slack and need a safe way to fix your iPhone, we recommend using a reliable tool like the iOS System recovery by dr.fone.