One user on the Apple forum, AltSherma, made a desperate cry for help, after trying to download music that he had paid for. The issue was the fact that even after several attempts, he was getting the same message. "There was a temporary problem completing your request. An unknown error occurred (-42110). Try again later". The "later" never brought about any different results. The frustration was that the user could only get access to premium music, but the error was not allowing him to buy the music in the first place.
This is a common and very disturbing error since it basically shuts your device from accessing the files that you want to download.
This may make you feel like you are permanently going to be shut out from iTunes.
Well, if you are like AltSherma above, you can rest easy knowing that there are ways in which you can resolve the iTunes error 42110 rental movies problem.
Here you will get to know how you can handle this infuriating error and continue downloading movies, music and other files from iTunes.

Part 1. Common reasons lead to iTunes error 42110
There are several reasons why you could be getting the iTunes error 42110 Windows 10 problem. Here are some of the most common causes of this malady.
Older iTunes versions – If you are using an older version of iTunes, you may experience error 42110. iTunes is regularly updated and using an older version may cause this problem.
SC Info Folder – This is the folder installed by iTunes and plays a critical role in how iTunes communicated with the computer. All details about iTunes are stored in this folder. If it is corrupted, then you will get this error
Corrupt Registry – The registry is an important component of the computer system. If it is corrupted then the computer will not communicate properly with iTunes.
Firewall – The firewall settings may stop the computer from allowing proper communication between your iPhone and iTunes. Apart from the firewall, some third party security applications may also affect how our computer communicates with iTunes.
Purchases of music or video – It is common for the iTunes error 42110 to occur when purchasing music or video from the iTunes store.
Recently installed computer hardware or drivers – updating your operating system or other hardware without removing authorizations first may bring about this error. It is important that you remove authorizations before making system updates or changing any hardware on the computer.
Account authorization – Your account may have too many computers and devices authorized and this will lead to an error. You may only authorize up to 5 computers. Sometimes the computer may be running multiple authorizations at the same time.
iTunes store issues – sometimes the issues are related to how iTunes communicates with your computer, and not necessarily any fault on your end. There is nothing you can do about this apart from contacting the iTunes support staff.
Operating system file damage – if some critical files have been damages or altered, the iPhone error 42110 can occur. These files are required for iTunes to work properly from your computer.
Virus attack – a computer that has just recovered from a serious virus attack may also experience this error. It is common for viruses to affect critical computer files, which remain damaged even after the virus has been removed.
Part 2. 7 solutions on iTunes error 42110 when purchasing/downloading on iTunes
1. Remove the SC Info Folder
The SC Info folder is crucial if you want iTunes to work properly on your computer. If it is somehow corrupted, you will get the iTunes error 42110 and you may have to remove it in order to allow iTunes to recreate it afresh.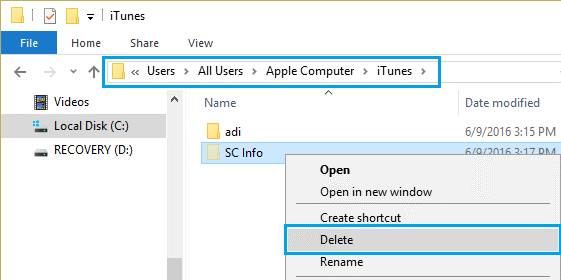 How to remove the SC Info folder from a Mac computer
First close all applications that are open on the computer and then launch the Finder.
Go to the bar at the top of your screen and then choose "Go > Go to Folder".
Type "/Users/Shared/SC Info" in the popup window.
Click on Go to get the folder.
If it cannot be found, then type in "/Users/Shared/", or simply input the requisite permissions to the folder.
If the Finder does not display items in a columnar manner, then you need to select "View > As Columns" from the menu bar.
Browse for the SC Info folder, and then drag it to the trash.
Once done, restart your computer.
Now restart iTunes
Now authorize your computer using your Apple ID. If you have several, authorize each one individually.
How to remove the SC Info folder from a Windows computer
Close iTunes and all other open applications
Hold "Control + Escape" keys simultaneously or click on the "Windows" key.
Click on the search feature and type in "%ProgramData%", then hit the "Enter" key.
Now show all hidden files from the results.
In the "Apple Computer" folder, open the "iTunes" folder too.
Find the SC Info folder and delete it.
Restart your computer and then go to your iTunes account.
Authorize the computer using your Apple ID, and if you have several, make sure you authorize them too.
2. Verify the Internet connection on your device
Go to the control panel of your computer and click on Network & Internet.
Click on the troubleshooter and let it run and diagnose what is wrong with your internet connection.
Follow the on-screen prompts so you can correct any connectivity errors in order to resolve the iTunes 42110 error message.
3. Update your computer system
One reason why you are getting the iTunes 42110 error message may be because there is a glitch with your computer system. Just as iTunes is regularly being updated, you need to update the operating system of your computer in order to get bug fixes that may address this problem.
Your computer settings may be obsolete and unable to work well with iTunes, or some other system related error could be the cause. Updating the system will fix such issues and allow you to access your videos and music with ease.
4. Update your iTunes or download an older version
You may have to update your iTunes, or sometimes simply go back to an earlier version.
Update your iTunes.
Go to your iTunes account
At the top bar of the screen, click on "Help" and then scroll don till you get to the "Update" option.
iTunes will scan the version of your iTunes and ask if you want to update it. Click on "OK" and then follow the prompts that appear on your screen.
After completing the update, reconnect your iPhone to the computer and then see if the error 42110 message will be removed.
Download an older version of iTunes.
In order to downgrade to an earlier version of iTunes, you have to start off by uninstalling the version that you have.
Once you click on uninstall, you will be presented with a "User Account Control" dialogue box.
Click on "yes" to continue.
Then proceed to uninstall the following features, in the exact order that they appear on this list
Apple Software Update
Apple Mobile Device Support
Bonjour
Apple Application Support 32-bit
Apple Application Support 64-bit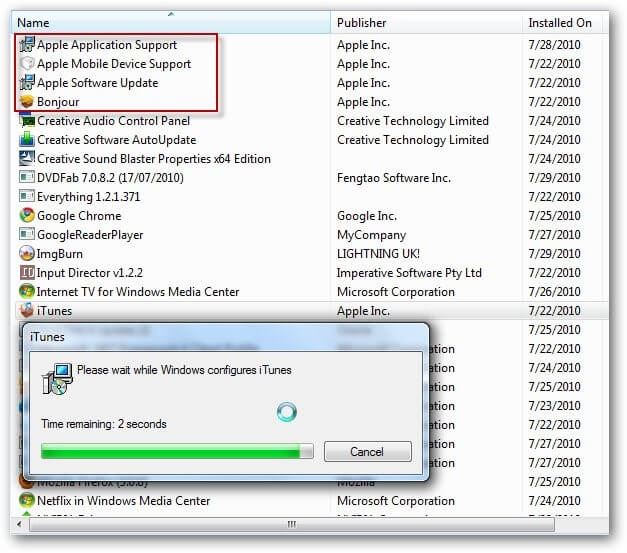 After uninstalling these, you should do some cleanup to make sure that all items installed in your previous iTunes version are removed.
Now reboot your computer when you are fully sure that all data has been deleted.
Go to Apple and find the older version that you want to install and then download it.
Now proceed to install this older version of iTunes, and make sure that you give it permission to install on the "User Account Control" dialogue box. Now you are good to go.
5. Check Date Time Settings
The date and time may not be in sync with that of the Apple servers and this can lead to the Apple error 42110 message.
Check Date Time Settings on a Mac
Usually, your computer will automatically set the date and time, but this may sometimes go awry and bring about the error 42110 on iTunes. In order to set the date and time properly follow these simple steps:
Select "Date and Time" in the "System Preferences".
Then double check that the "Set date and time automatically" option has been selected.
Go to the "Time Zone" section and make sure you have selected the correct one.
Finally click on Ok and the time is now set correctly.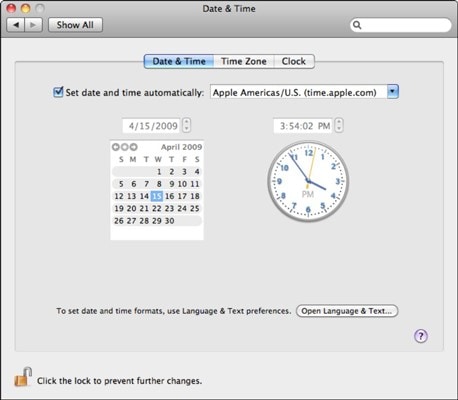 Check Date Time Settings on Windows
Go to the Taskbar and right click on the time
Now click on adjust date/time
Now check if the time zone is correct
If it is not, then click on "Change Time Zone" and then make the requisite changes
Click on the drop down arrow to select the correct time zone
The "Automatically adjust clock for daylight savings time" should be selected.
Click "Ok" and then exit.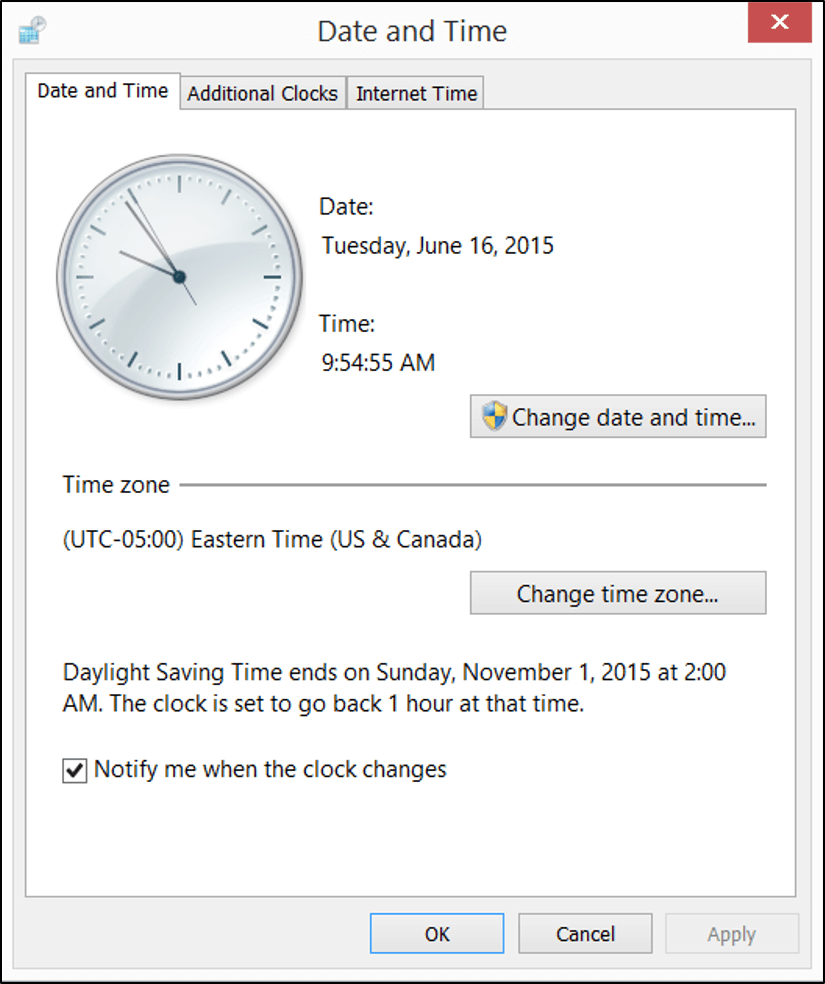 6. Check Your iTunes Account Authorization
Sometimes your iTunes account authorization may be causing the Apple error 42110 to occur. Check if it is correct and then try to download your files once more.
iTunes requires authorization of your computer in order to communicate with your apps, books, music, audiobooks, movies and other content.
It is possible to authorize up to 5 computers on your account. You need to check your authorizations to make sure that they are not the cause of the error 42110 iTunes issue.

Before you check on your authorizations, make sure that you have the latest version of iTunes.
Then Open iTunes and sign in with your Apple ID.
On a Mac: Go to the menu bar at the top and then select "Account > View My Account".
On Windows: Go to the menu bar at the top and then choose "Account > View My Account". In case you do not see the menu bar, click on Ctrl + B on the keyboard.
Now enter your account password, hit the Enter key or simply select "View Account".
When you get access to the Account Information Page, follow these steps:
Go down to the Apple ID Summary section. You will see a list of the number of computers that you have authorized using your Apple ID. If you have not authorized more than two computers, this section will not be accessible.
If you find that you have authorized more than 5 computers, you will have to de-authorize all of them and then authorize the one that you are using once more. If you are using more, then you will re-authorize each of them afresh.
For Windows users – If you have made system or hardware changes without removing authorizations first, then your computer may be running multiple authorizations. You should remove authorizations several times until there are no more.
Once finished, you can authorize the computer once more.
7. Scan and repair the registry
At times the error 42110 notification may be caused by errors in critical system settings such as the registry. If your computer has not been updated, registrysettings may be altered and affect how it communicates with iTunes. You have to scan and repair the registry.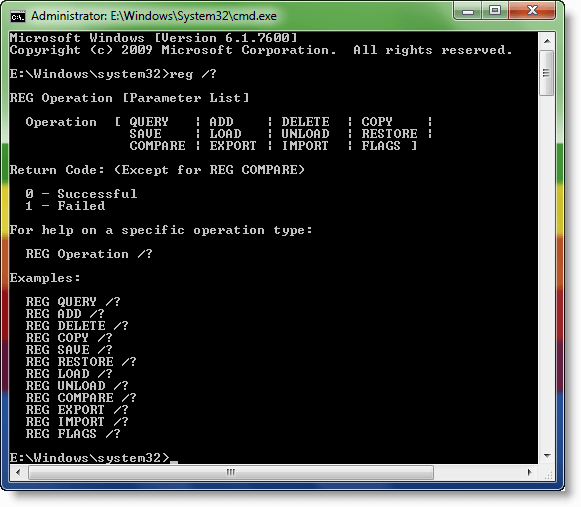 NOTE:
Modifying the registry can cause critical errors to your operatingsystem, so any changes that you make have to be carefully considered. It is always best to back up your computer before you make any changes to the registry.
In order to get into the registry, follow these steps:
Click on the Windows or Start button
Access the registry editor by typing "CMD" or "Command Prompt"
Run CMD as Admin by right clicking on it and choosing "Run as Administrator".
You will find a list of operations and commands that you can change.
After you have finished making the necessary changes, hit the Return key and exit command prompt.