When you try to download something from the iTunes, update, or restore your iPad or iPhone, there are times you might come across error messages that pause your iOS device's action. If the error message is something like 'err = 9006' or 'There was a problem downloading software for the iPhone/iPad. An unknown error occurred (9006).' Then it is sure that you are getting the iTunes error 9006. An unsuccessful or terminated download of iPhone software update accompanies this error message.

Why would iTunes error 9006 happen?
iTunes error 9006 possibly happens for a number of reasons, starting from a faulty USB, to outdated iOS or iTunes software, or corrupted IPSW file. Either the Apple server is pretty busy to communicate with iTunes or a poor network interrupting the updating of IPSW file or iTunes might be a reason too. But, the solutions are aplenty, starting from age old fixes to software tools like iSkysoft Toolbox to fix iTunes error 9006 with your iPhone/iTab.
Part 1: Fix iTunes Error 9006 with NO Data Loss
When your iPhone/iPad runs into error 9006 types of issues, depending on a trustworthy tool such as iSkysoft Toolbox - iOS System Recovery to prevent your iOS device is the best bet. Fixing iOS devices with this tool re-locks your unlocked device, reverses the jail-broken iOS and updates the iOS software to the latest version. Before going for fixing iTunes error 9006, let us get familiar with the features.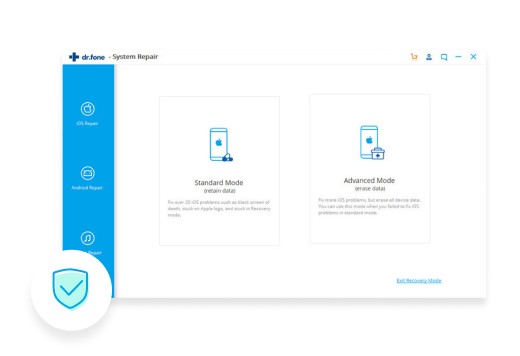 It can fix iTunes error 9006 along with almost all common iOS system issues. The issues include – device got stuck on DFU mode/recovery mode/frozen status/white Apple logo etc.
It brings back your iOS device back to life, without any data loss, in conditions such as frozen or unresponsive screen, slider not working to unlock/power off, or screen turned green/blue/black.
It is compatible with both Windows and MacOS.
It is supported by nearly all iOS devices.
Here is a quick step-by-step guide to let you understand how iSkysoft Toolbox – iOS System Recovery can fix a varied range of iOS or iTunes errors including iPhone error 9006.
Step 1. Download iSkysoft Toolbox and Connect iPhone
First of all download the software from the official website of iSkysoft into your PC. Make sure that you download it depending on your PC's operating system (Windows/macOS). Now, through a USB cable, connect the iPhone/iPad to the PC and launch the iSkysoft Toolbox. From the main screen of software, select 'System Recovery' and wait until the device is successfully connected. Now push the 'Start' button to proceed.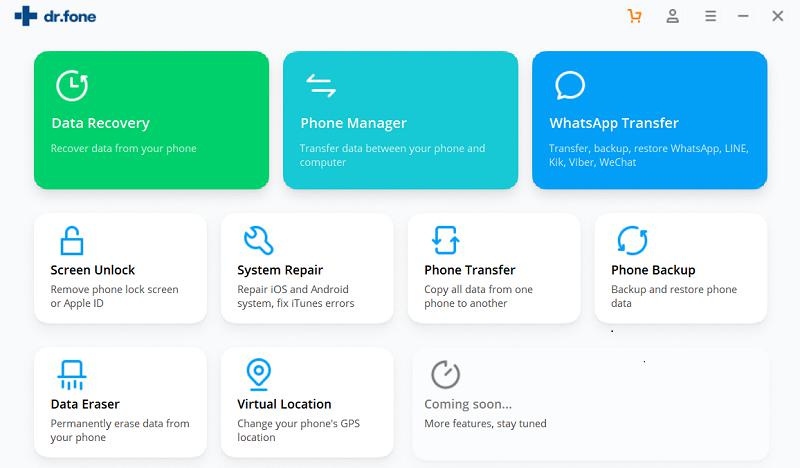 Step 2. Download the Firmware
The software suggests the latest firmware for your iOS device as soon as it detects the device. You need to select the correct information regarding the iOS device and click 'Download' to initiate the firmware downloading process.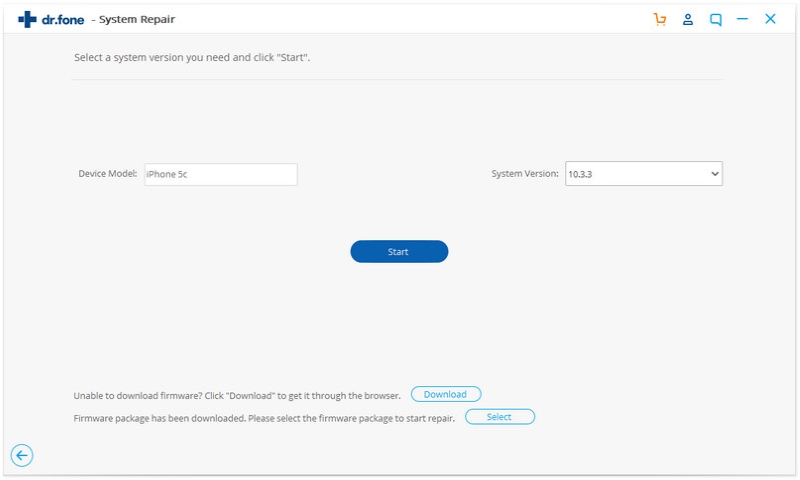 Step 3. Fix Apple Unknown Error 9006
Once the download is complete, the software starts repairing your iPhone/iPad on its own to make it as it used to be.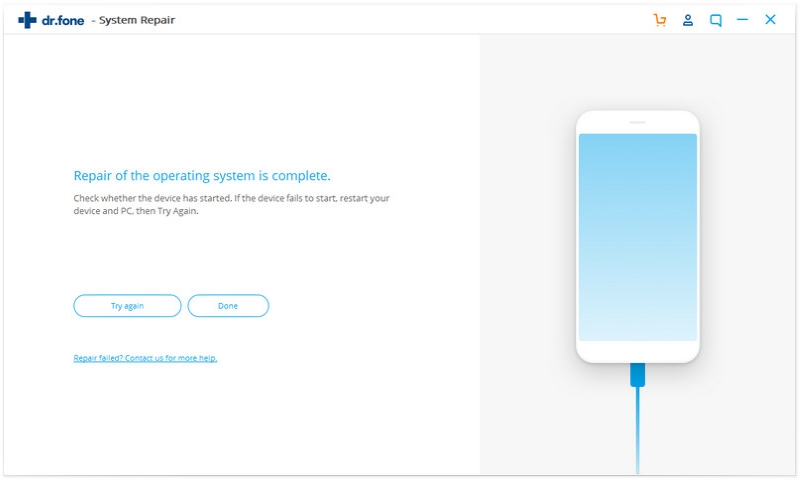 Part 2: How to Fix Apple Error 9006 by Updating IPSW
Take help of IPSW update in order to resolve iTunes error 9006. With this, we are hopeful that the issue will be fixed, as it updates the device software with an option of switching between different versions of iOS. Remove existing IPSW files from your computer if any, prior to carrying out the following process. The steps to update the IPSW file:
Step 1: Depending on your iOS device model, download the specific IPSW software to your PC.
Step 2: Establish connection between your PC and iPhone/iPad through a USB cable and launch iTunes. On the iTunes screen, from the top left menu select your iPhone/iPad.
Step 3: Now, hit the 'Update' button.
For MacOS – Hold down the 'Option' button on your keyboard and then click 'Update' button on iTunes.
For Windows – Push 'Shift' and hold it down on your keyboard. Then click 'Update' button in iTunes.
Step 4: Now, the explorer window will pop out and you need to locate your iPSW file on your computer.
Step 5: Post locating and opening your iPSW file, confirm you actions and the update will then start to begin. Once iTunes is done with updating your iPhone, reboot your device and you're done.
Part 3: Fix Unknown Error 9006 by Restoring in DFU Mode
Another way to get rid of the iPhone error 9006 is by restoring the device with iTunes in DFU mode. Here are the steps to resolve iTunes error 9006 and make sure to follow them carefully.
Step 1: Hold down the 'Sleep/Wake' button for around 5 seconds and then along with it, hold down the 'Home' button as well for another 15 seconds.
Step 2: Now, let go of the 'Sleep/Wake' button only and keep holding 'Home' button.
Step 3: Your iPhone goes into DFU mode and you will be prompted to connect your device with iTunes.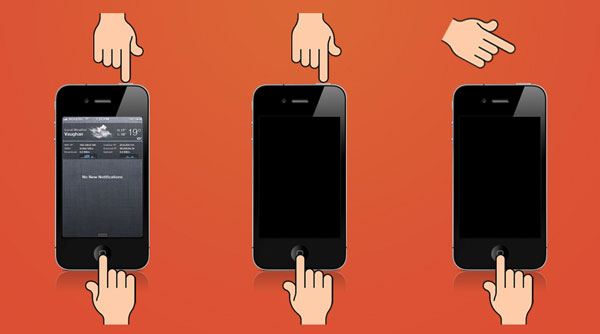 Step 4: Launch iTunes in your PC and get your iPhone connected to it through a USB.
Step 5: From the main screen of iTunes, hit on your iPhone and tap 'Summary' tab on the left panel. Now, click 'Restore iPhone' and confirm your actions. The iPhone will reboot once the restore process is over. That's it!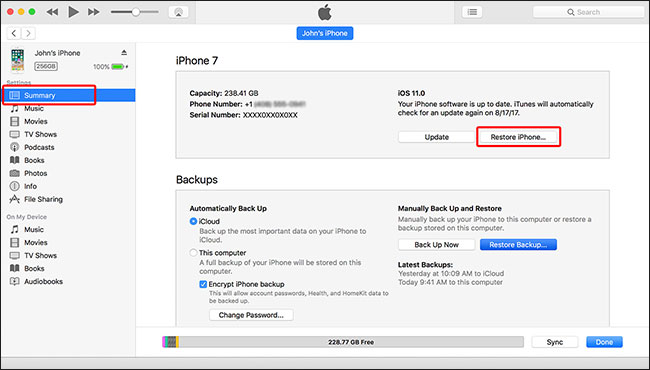 Part 4: Update iTunes to get iTunes error 9006 fixed
iTunes error 9006 in your iPhone might popup because of outdated version of iTunes or a corrupted iTunes. In such a case, you need to update to the latest version of iTunes and get rid of this iPhone error 9006. If you are clueless about how to check the version of iTunes, you can simply download it from the official website.
Step 1: Launch the iTunes application on your computer and to check for updates on your computer, follow the below mentioned instructions.
For Mac – Go to the 'Menu Bar', search 'iTunes' and tap on it.

For Windows – Click on 'Help' in the 'Menu Bar'.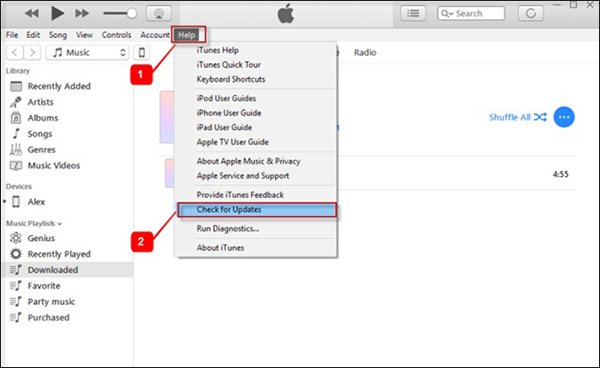 Step 2: Now look for 'Check for Updates' and tap on it. In case there is an updated version available, the system will prompt you with a 'Popup'. All you have to do is 'Agree' to confirm and go along with the instruction. Once you update the iTunes, your problem is sorted.
Part 5: How to Fix iTunes Error 9006 by Checking Network Connection
In various occasions, iTunes error 9006 result out of a weak network connection, a virus affected computer or a USB that is not supported with your iOS device. To resolve the issue, you can do the following.
Step 1: Make sure that you have a stable internet connection and it doesn't timeout while you carry out "update or restore" function for your iPhone. You can restart your PC and re-launch iTunes as well as your iPhone to ensure that the problem is sorted.
Step 2: Try using another computer to connect to iTunes and see if it works fine for you.
Step 3: Change the USB cable, if it's faulty or unresponsive and we hope the new one works well.