Have you ever connected your iPod to your iTunes and suddenly a message on the screen read "iTunes has detected an iPod on Recovery Mode. You must restore this iPod before it can be used with iTunes." Imagine if you cannot recover precious files on the iPod and have to build your music library again - definitely a situation that you would not want to be in. You tried to restore it, but somehow, the iPod gets stuck on recovery mode. How to get iPod out of recovery mode?
There are few main reasons that could trigger your device to get into recovery mode and not being able to get out of it. Most of the time, this issue can be associated with the software. Of course, from time to time, you would want to update your iPod with the latest firmware so that you can enjoy the best that Apple can offer. Unfortunately, firmware can be unsuccessfully installed; prompting the device to keep on restarting and immediately goes back into recovery mode. Some users might experience the same issue when they try to jailbreak their device. For others, it might happen when they try to restore their iPod with an earlier backup. But now you can get easy solutions to get iPod out of recovery mode.
Part 1. The Best Method for Taking iPod out of Recovery Mode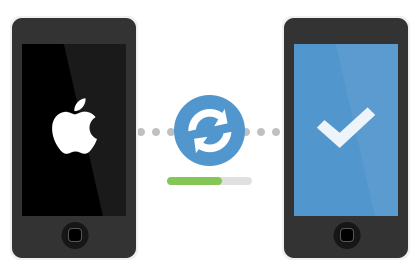 Why Choose This Software to Get iPod out of Recovery Mode:
It is certainly a hassle, having to build your music library entirely from scratch all over again! But, with dr.fone - System Repair (iOS), you never have to worry about this anymore.
The program's "System Recovery" feature is able to repair iOS (iOS 10.3 included) devices that are stuck in recovery mode loops.
It just needs 3 clicks to safely fix your iPod issues without data loss.
Step-by-Step Guide to Get iPod out of Recovery Mode
Step 1. Connect Your iPod
Launch dr.fone - System Repair (iOS) software and select the "System Recovery" menu from all the feature list. After that, by using a cable, connect your iPod to a computer and select "Start" to initiate the process.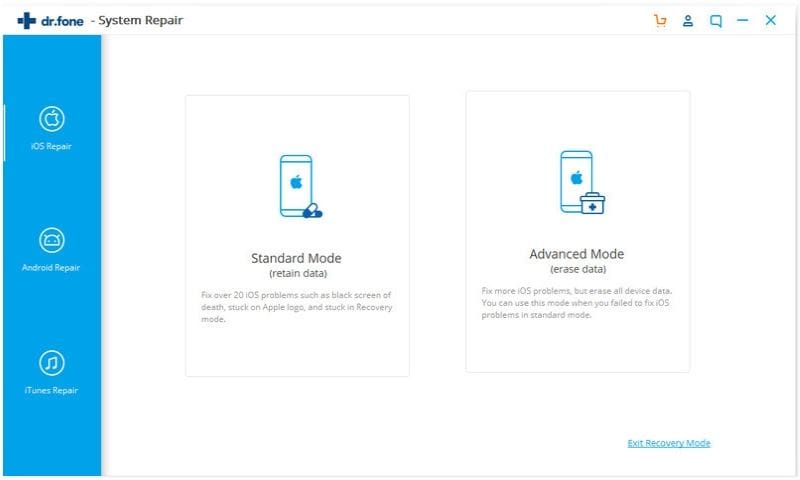 Step 2. Firmware Download
The software will display the latest version that is available for you to download. Download the firmware of your choice manually by clicking the "Download" button.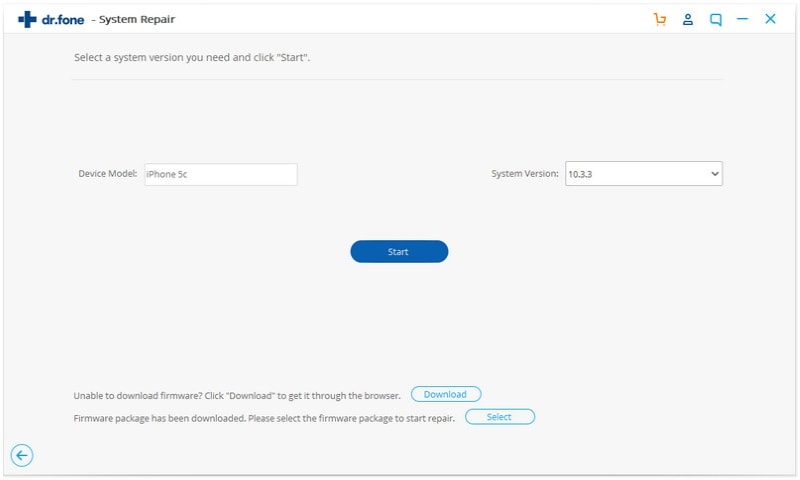 Step 3. Get Your iPod out of Recovery Mode
Once the iOS you chose is downloaded, the data recovery program will continue to repair your iPod. The program will inform you that the iPod is working normally.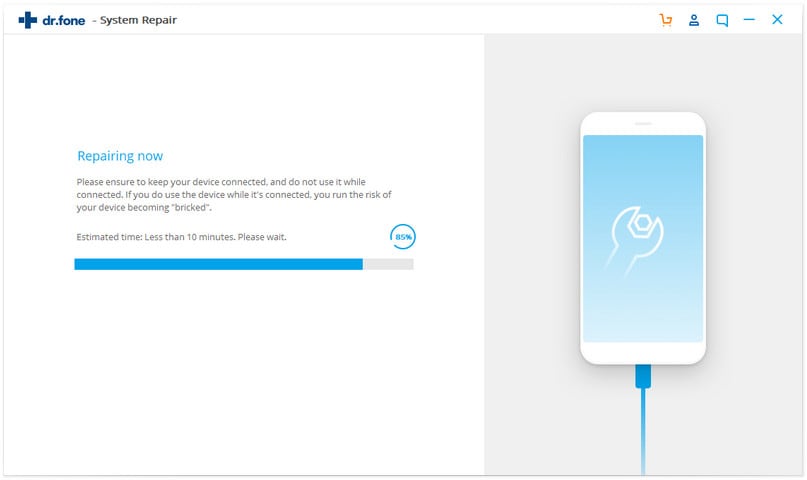 Part 2. Common Steps for Getting iPod out of Recovery Mode
If an iPod is stuck in recovery mode, the first thing that people will try to do is to restart the device. Unfortunately, this might not solve the problem and the iPod will go back into recovery mode. If this persist, the next best thing to do is to restore your iPod. You can utilize any backups that you have done previously, but if you have never done that then you will have to restore it to its factory settings. Please note however, you will lose any new data that was not in the backup files while restoring your iPod to the factory settings will incur total data losses from your iPod.
It is advisable if you can ensure that you have the latest version of iTunes. This is because, during the restoration process, iTunes will check if there are any new updates available to be downloaded and installed. This can delay your restoration process. You can follow the following steps to restore your iPod to its factory settings:
Step 1. Connect Your iPod to iTunes
Firstly, connect your iPod by using a USB cable for iPod to your computer. iTunes should launch automatically. If it doesn't, simply click on the iTunes logo to start the application.
iTunes should automatically detect your device. Else, select your iPod from the list of devices listed under iTunes manually.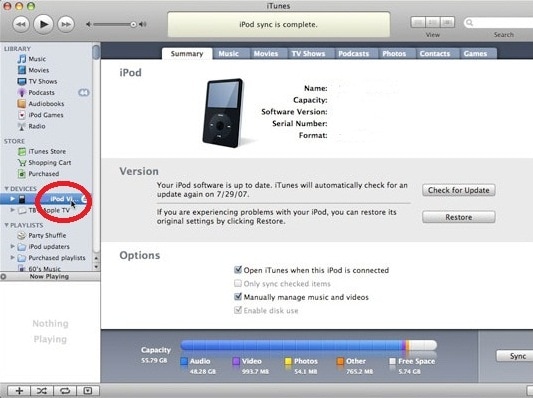 Step 2. Restore Your iPod
Next, click on the "Restore" button located under the "Summary" panel. Then, another window will pop out to ask for your confirmation on the "Restore" action. Click on "Restore" and the process will start.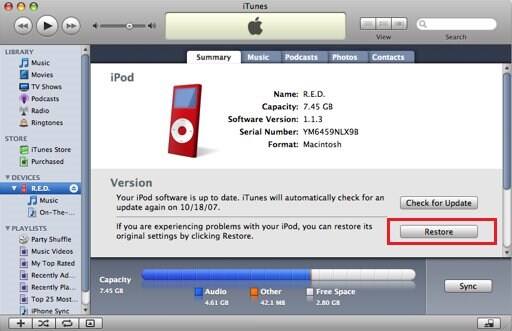 Step 3. Follow Setup Assistant
After the restoration process is completed, the device will be restored to its original factory settings. You will then see the welcome screen and kindly follow the steps as guided by the Setup Assistant.