Your iPod, just like any other gadget, is prone to technical issues. One of the major glitches that almost every iOS user has had to face is the issue of their device getting stuck in the recovery mode. This is a common problem found to have affected all the different iOS devices including iPod too. Here are a few reasons behind an iPod getting stuck in recovery mode:
Recovery mode got unintentionally activated or was activated to resolve another issue
You attempted to jailbreak your iPod and it wasn't successful
You had recently updated to the latest version of iOS that triggered the recovery mode issue
When this problem occurs, your iPod device would not switch on or at times you may even find that it is going through multiple cycles of the boot up process but never shows the home screen. Now, let's learn what you should do when iPod stuck in recovery mode.
Part 1. Common Solutions to the "iPod is Stuck in Recovery Mode" Issue
Apple is aware of this "iPod recovery mode stuck" issue and suggests some official ways to rectify it as well. However, you stand to lose all your data with these methods, as given below.
Step 1. Connect iPod with Computer
To begin, download and install dr.fone - iOS Toolkit. Now, connect your iPod with your computer and launch the application. From the main screen of the app, select the option of "System Recovery". Once the iPod is connected with the application, hit "Start".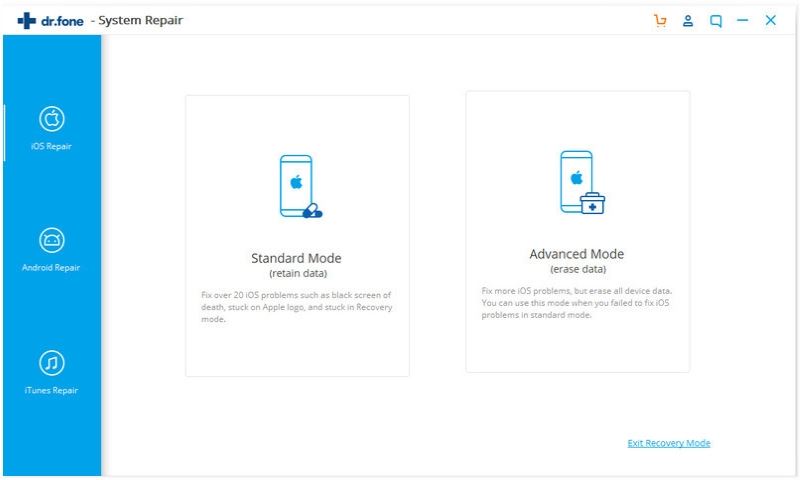 Step 2: Restore Your iPod to Normal without Data Loss
Now, it should automatically list the latest version of iOS for you to select and download for your iPod. Click on the "Download" button to do that and that's it. Your job is done now. Even after the download of the latest firmware is over, the tool will keep on repairing your iPod and at the end display the message to you that your device is starting to normal.