Your iPod, just like any other gadget, is prone to technical issues. One of the major glitches that almost every iOS user has had to face is the issue of the iPhone/iPad/iPod stuck in the recovery mode. This is a common problem found to have affected all the different iOS devices. Here are a few reasons why iPod stuck in recovery mode:
Recovery mode got unintentionally activated or was activated to resolve another issue
You attempted to jailbreak your iPod and it wasn't successful
You had recently updated to the latest version of iOS that triggered the recovery mode issue
When this problem occurs, your iPod device would not switch on, or at times you may even find that it is going through multiple cycles of the boot-up process but never shows the home screen. Now, let's learn how to get iPod out of recovery mode.
Part 1. Fix "iPod Stuck in Recovery Mode" with iTunes
Apple is aware of this "iPod touch in recovery mode" issue and suggests some official ways to rectify it as well. However, you stand to lose all your data with these methods, as given below.
Step 1. With your iPod in Recovery mode, connect it to your computer and launch iTunes. It is possible that you may need to press and hold the Home button while you do this. iTunes should now detect your device and give an option to restore it from a backup. If your iPod is not in Recovery Mode, then skip this step.

Step 2. With the iPod disconnected from your computer, turn it off. Press and hold the Sleep button for a few seconds till you get the red colored slider. Now, use the slider to power off your iPod. In case this doesn't work, press and hold the Sleep and Home buttons together to reboot your iPod.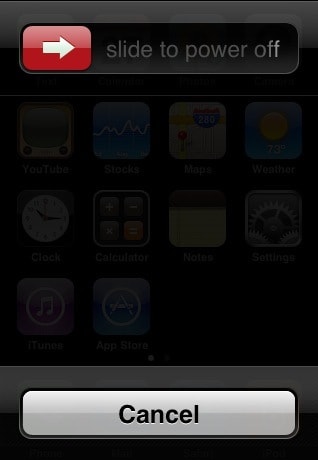 Note: Make sure that your iPod has enough charge, if needed plug it into the charger for 10 or more minutes.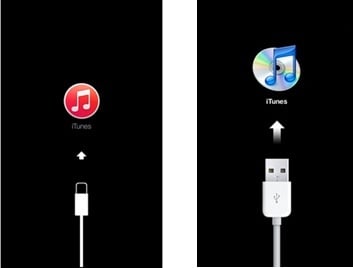 Step 3. Now, press and hold the "Home" button while you connect the iPod with the USB cable, which should switch it on. Don't release the "Home" button yet though. Keep on holding till you see the image as given, with the iTunes logo and the image of the USB cable appearing on the screen.
If iTunes is not running yet, launch it so that it can detect the iPod connected to the computer. Once iTunes detects your iPod in recovery mode, it should be very easy to restore it than by simply following the instructions.
Part 2. How to Get iPod Out of Recovery Mode Without Losing Data
This is certainly the most exciting part of this article, where we will introduce you to the amazing software called iSkysoft dr.fone - iOS System Recovery, which is an excellent data recovery tool for iOS devices and is also fully compatible with iPod. We highly recommend that you use it in order to avoid any data loss while getting your iPod out of the recovery mode and fixed.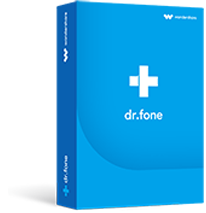 Take iPod out of recovery mode without data loss
Fix almost all iOS system problems, such as stuck in recovery mode, DFU mode, white Apple logo, black screen of death, frozen status, etc.
100% data protection - The reason why people panic when they see errors on their devices is because they do not want to lose their data. With this tool, you will exit iPhone recovery mode without losing any data at all.
Full iOS compatibility - It does not matter which iOS device you are using or what version of the operating system is running on your device.
Ease of Use - You do not have to be a computer geek in order to use this tool. It comes with an intuitive user interface that simply guides you through the steps that you have to follow.
4,290,481 people have downloaded it
Step 1. Download Dr.Fone and connect your iPod, then select System Repair.
Open Dr.Fone and click on the "System Recovery", and you need to connect your iPod to PC/Mac using its USB cable.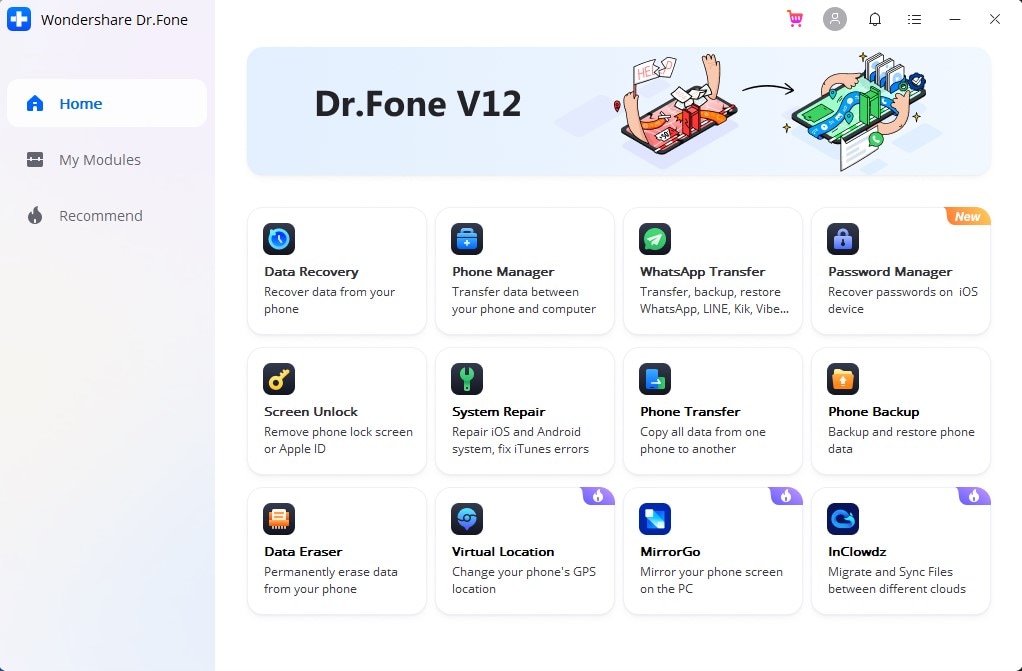 Step 2. Select the repair mode according to your need.
Here you can select the repair mode - Standard Mode to exit iPhone recovery mode while keeping your iPhone's data, or choose Advanced Mode to make a more effective repairing process.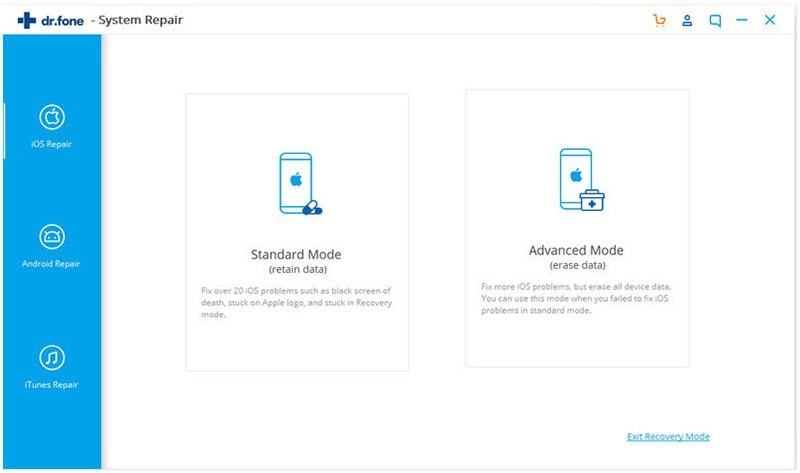 Step 3. Activate DFU mode and download firmware.
Here you need to activate your iPod into DFU mode according to the instructions below.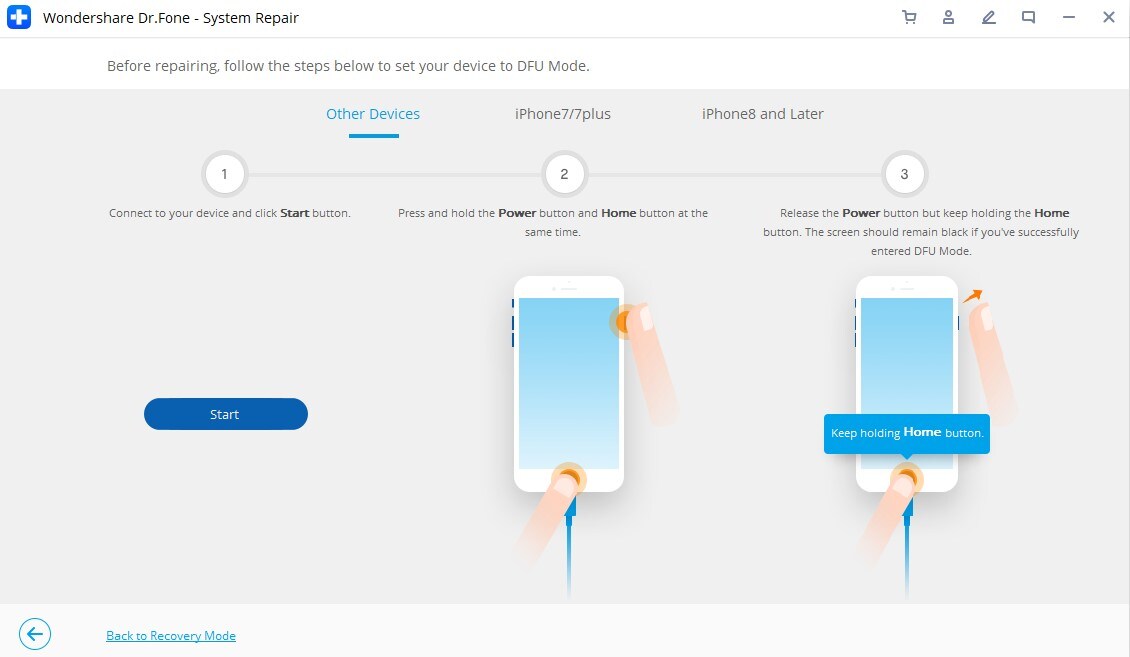 Then Dr.Fone will detect the information of the iPod, and you need to download the firmware to start the repairing process.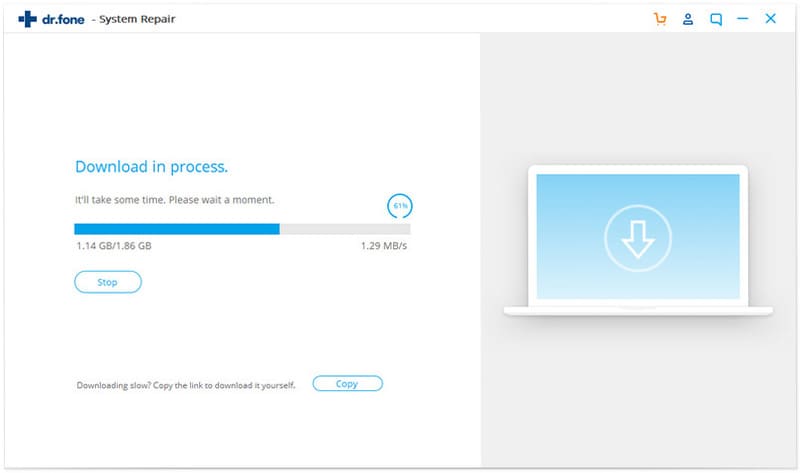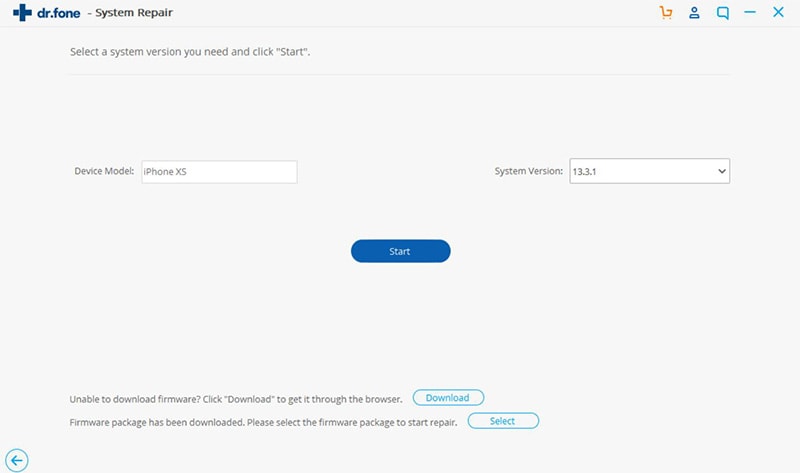 Step 4. Exit iPod recovery mode.
After the firmware is downloaded, you can click Fix Now to start to fix the iPod system and get iPod out of recovery mode. After the repairing process finishes, your iPod will be repaired successfully.