Not all USB flash drives available out there are same. In fact, every flash drive is different in various aspects, such as speed, looks, the usage, storage capacity and much more. There are many users who want to buy a USB flash drive, but don't have much idea about it, for instance, the difference between USB 2.0 and 3.0. If this sounds you, then you will be pleased to know that you're in the right place.
In this article, you will get to know about different types of USB flash drive based on various aspects so you pick the right one while buying. Before that, we will help you to understand about USB flash drive in detail.
Part 1: What Is a USB Flash Drive?
USB flash drive is also known as a pen drive, jump drive, thumb drive, and USB memory stick. It is a device used to store data on a tiny flash memory chip. Data can be read and store on it. All USB flash drives share one crucial trait and it is that you can connect them to any computer and all credit goes to their USB (Universal serial bus) port compatibility.
These types of storage devices are in a smaller size as compared to a typical storage disk and their size is similar to the thumb size. That's why some people called them thumb drives or pen drives.
But, there is a difference between the pen drive and flash drive. Flash drive can be USB or pen drive. For instance, your memory card is a type of flash drive. Moreover, even the chip in your pen drive is a flash drive. And flash drive features multiple users. You can use it internally as well as externally. On the other hand, the pen drive is used externally only.
Before buying a USB flash drive, there are several factors you need to consider so you pick the right one. So, let's give a closure look at different factors- speed, storage capacity, uses and looks.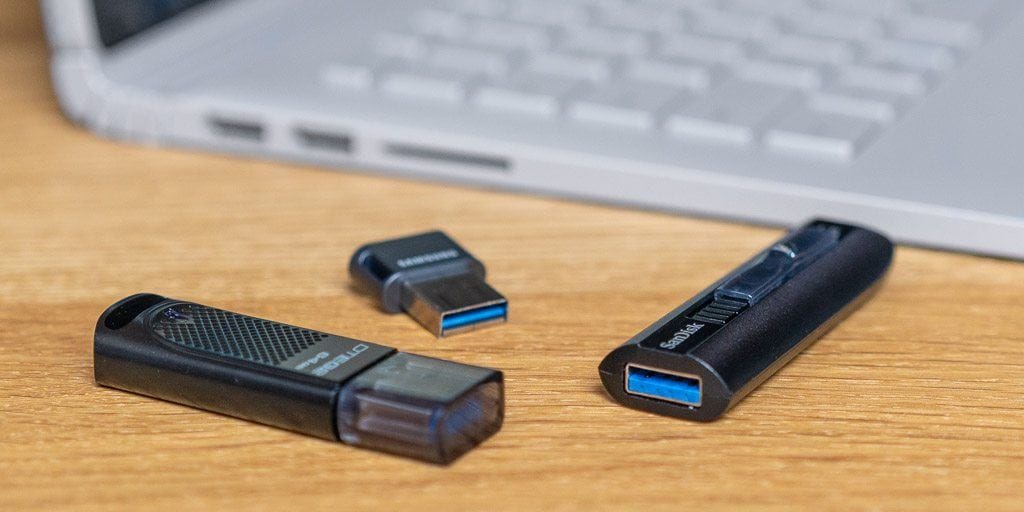 Part 2: Different Types of USB Flash Drive Based on the Speed
The USB port is responsible for creating a connection between a flash drive and a computer. At present, there are numerous different types of flash drives are available based on ports. The main difference among them is the speed.
1. USB 3.1 and USB 3.2 flash drive
Well, USB 3.1 and USB 3.2 are fastest and latest ones available in the world of the flash drive today. The write and ready speed of USB 3.1 is up to 1250 MB/sec and USB 3.2 is up to 2500 MB/sec.
2. USB 3.0 flash drive
USB 30.0 flash drive is known to have much faster speed than USB 2.0 flash drive. Also, USB 3.0 flash drive is capable of dealing with data at the 625 MB/sec speed. This flash drive has become a popular choice for flash memory stick users and all thanks go to USB 3.0 speed that is quite fast in reading, writing, and data transfer.
If you would like to purchase either USB 30 flash drive, then you can consider buying SanDisk USB 3.0 flash drive.
3. USB 3.1 Type-C
The USB 3.1 type-C flash drives come with a read and write speeds of 530 MB/sec. This type of flash drive has reversible USB type-c connector on one end and a conventional USB connector on the other end, enabling you to transfer data between tablets, computers, and smartphones easily.
4. USB 2.0 flash drive
It is the standard memory stick. The data transfer rate is up to 60 MB/sec. Now, it is mostly used in many systems. That's why, even if users transfer data with above USB 3.0 thumb drive, but the transfer speed will limit to the system 2.0 port. In other words, you can use a USB 3.0 pen drive into a USB 2.0 port. But, it can't perform at its maximum speed in the USB 2.0 port.
Part 3: Different Types of USB Flash Drive Based on the Storage Capacity
There was a time when the USB flash drive used to have only 256 MB of space for storage. But now, you can get access to a flash drive which has more storage capacity than your smartphone or laptop. Whether you want to buy a USB 2.0 flash drive of 2GB or you need a 128 GB Pen drive with 3.0 speed, you can get them online and offline easily. The different storage capacity for flash drives is explained below.
Usually, it is the documents, images, music, videos, video games, and software applications which are stored on a USB flash drive. The good thing is that not all these components need big storage space. If you are planning to store only documents or images, then you can use a smaller size USB. But if want to store computer applications or video games, you will need a larger size USB drive.
The common range of the drives is from 1 GB to 1TB. The primary factor that determines the size of the flash drive you should buy is the usage and what you need to store on it. But prior to getting to the different options, you need to understand what these GB, TB, PB terms exactly mean.
1 Kilobyte (KB) has 1024 bytes
1 Megabyte (MB) has 1024 KB
1 Gigabyte (GB) has 1024 MB
1 Terabyte (TB) has 1024 GB
1 Petabyte (PB) has 1024 TB
The biggest size available in the market is 4 TB SanDisk's Prototype but you can easily get your hands on SanDisk 64gb USB 3.0 flash drive. The size is combined with speed and then it is decided which USB flash drive would be perfect for you. Generally, the storage capacity you will find in the market for flash drives varies as:
2 GB which can store 582 minutes of songs and 51,200 documents.
4 GB which can store 1,164 minutes of songs and 102,400 documents.
8 GB which can store 2,328 minutes of songs and 204,800 documents.
16 GB which can store 4,656 minutes of songs and 409,600 documents. Kingston Digital 16 GB Data Traveler comes at a great price for this storage capacity.
32 GB which can store 9,132 minutes of songs and 819,200 documents. To get the best feature, you can pick Samsung 32 GB metal flash drive online.
64 GB which can store 18,624 minutes of songs and 1,638,400 documents. For this size of the USB drive, you can use SanDisk Extreme Go 3.1 64 GB as it can transfer 4k movies in just 40 seconds.
128 GB which can store 37,248 minutes of songs and 3,276,800 documents. The best example for this size is SanDisk Extreme Pro which gives a blistering speed faster than the USB 3.0 drive.
256 GB which can store 74,496 minutes of songs and 6553,600 documents. The best choice for this storage capacity flash drive is Kingston Data Traveler Vault with USB 3.0 and AES hardware-based encryption.
There are also bigger size USB drives available in the market like 1 TB USB 3.0 flash drive to a capacity of TB and PB. But as the size increases, the price range increases as well.
Part 4: Different Types of USB Flash Drive Based on the Uses
Apart from speed and storage capacity, the purpose of buying a USB flash drive also matters. According to the usage of the drives, they are categorized into 3 parts. Let's take a look.
1. Security Flash Drive
It is one of the best USB drives available in the market. A normal USB drive can be used for sharing, backup, and other purposes, but the security feature in this drive protects the data. This USB flash drive is bundled with physical and logical security to ensure that the data isn't compromised under any circumstance. Take an example of Cryptex. It has a combination lock which restricts the users to access data without unlocking it. Flash drives as IronKey comes with a mechanism like encryption or password protection for additional security. But don't worry, you can remove or add write protection as you see fit to make the drive more secure.
2. Music Flash Drive
This type of drive is designed for sharing music files from one device to another. Most of the drives are designed to be small in size to make them portable. The main reason behind this is because most people like to carry their music collection with them. And it becomes easier when you have a specific drive for those files. The most popular Music Flash drive is Trident these days but there are other drives present in the market which are capable of storing a large number of audio files. But you can settle for a SanDisk Cruzer CZ36 64GB USB 2.0 flash drive.
3. Boot Flash Drive
A boot flash drive as the name already suggests is the drive which is used for operating system installation. It is just a normal flash drive which has made bootable so that it can act as an external boot system. When a computer is missing an Operating system, this Boot Flash Drive can be used instead to operate the system. It is very beneficial for standby reasons.
Some USB flash drives are also for updating motherboard firmware, application carriers, backup, etc. You can buy the drives online and offline but make sure that you take a deep look at the specification to make sure that you are purchasing a branded USB drive.
Part 5: Different Types of USB Flash Drive Based on the Looks
There are different USB flash drives available out there on the market based on the appearance. If you want to make your purchase on the basis of the look, then you can consider buying one of the following USB flash drives.
1. Credit Card Hard Drive
It is a USB flash drive that looks similar to a credit card. You can further customize these flash drives to display owner name and fake credit card number. People come up with different reasons to buy such a USB flash drive. One of the reasons to purchase them is that you will never forget your drive at home as it can fit into a wallet with ease.
2. Keychain USB Flash Drive
Keychain USB flash drive has been designed in such a way that you can carry it around like you carry a typical key chain. Moreover, such types of USB flash drives come in handy for those who are quite forgetful and end up losing their drive often. Also, such USB flash drivers are beautifully designed and it means that it will avoid you to look old-fashioned. You can even add keychain USB flash drive to your car keys and that's one of the biggest reasons why people go for such types of flash drives.
3. Branded USB Flash Drive
Are you a die-hard fan of a specific brand? If so, then it's time to show your love to that brand by purchasing branded flash drives. There are a lot of branded USB storage devices available out there, and you can purchase a USB flash drive of that brand you like.
4. Dummy Head USB Devices
There are also some funny and interesting USB flash drives available out there on the market. There are dummies of famous figures such as movie stars and football players. You can pick from the different selections available according to your preference.
5. Wristband Flash Drive
Last but not the least USB flash drive you can choose on the basis of look is wristband drive. It is the right fit for those who would like to wear their flash drive on their wrist. But, one thing you need to keep in mind is that such types of USB flash drives aren't waterproof and thus, don't take it along with you into the shower room.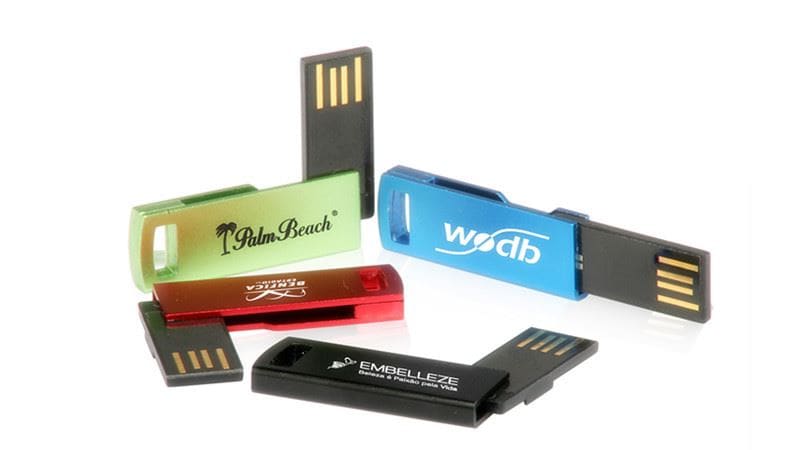 Bottom Line:
When you are picking out the best USB flash drive, you need to be aware of all the specifications and features they offer. Only then it will be possible for the users to stay up-to-date with the ongoing trends and latest updates of USB flash drive. So, the next time when someone asks you which USB drive is the best, you will have the most appropriate recommendation for them.