"I have just realized that a big volume of my files are missing. Can anyone please tell me how I can recover data that I recently lost from my flash drive?"
- a question from Quora
If you are reading from the same script, don't worry; mistakes are inevitable, especially when it comes to flash drive. Sure, flash disk drives are the best portable storage device to carry along. You can readily upload data, easily access it, and effectively delete data from your flash disk drive. It saves the effort. But with such efficiency comes the vulnerability of data loss. Your flash drive can malfunction, stop working, and lose your data. There are plenty of ways you can lose data from your flash disk drive. But losing essential data can bring a full-blown panic attack. More often, we are not aware of the real risk of data loss and how to avoid it—until it happens. Then we opt to flash drive data recovery services. But before going for any software for flash drive data recovery, let`s check out common reasons that cause data loss on your flash drive to avoid future mishaps.
Part 1. Common Reasons that May Cause Data Loss on a Flash Drive
1. Accidental Deletion
Dozens of people accidentally delete their data from their flash drives. Accidental deletion is either intentional or unintentional.
Intentional deletion is when you deliberately delete a file, but moments after your execution, you realize you still need the data.
On the other hand, unintentional deletion is when you execute deletion without realizing you`ll need the data future—until you realize later that you need the data. But it is already gone.
2. Accidental formatting
Accidental formatting results in instant loss of data. And how can you help when it happens?
It is pretty easy to undo data formatting. Choose the correct service of flash drive data recovery and unformatted your drive.
3. Computer Viruses and Malware
It is a world of viruses out there. New malware emerges every day. And they can be a menace on files on your flash drive.
If you don't have a powerful antivirus, viruses target your files and corrupt them, leading to loss of essential data.
Suppose you lose data as a result of virus attack, a powerful flash drive restore tool can help rescue your data.
4. Mechanical Damage of Storage Drive
Flash disk drives are comparatively less sensitive, but any form of mishandling would result in distortion. There are few ways you`d recover data from faulty flash drives. But it doesn`t mean it is impossible.
Some recovery software are tremendously powerful and recover flash drive data from slightly damaged flash drives. But it can be costly, though.
The worst part is that when you have severe damage with your flash disk drive, you have no guarantee that even a professional will fully recover your data. Some damages are extreme beyond recovery. Thus, data loss is permanent.
5. Software and System Malfunction
One of the most common reasons for data loss is a hardware failure. System component such as motherboard, processor, RAM, power supply unit may fail or crash during a routine operation.
This is majorly a result of overheating. When hardware gets damaged, it might result in a system crash, software failure, flash drive corruption, and unsaved data loss.
This might happen when you`re crafting an essential document or making edits to some photos in a photo editor and suddenly the app halts or crashes. Before you know it, you have lost volumes of data.
6. Electrical Problem/ Power outage
A power failure has got two fatal flaws in data loss:
First off, when power fails when writing a long article and you are halfway, and you haven`t saved it yet, you`ll lose your data. Or worse, you are working with a sophisticated database or designing a graphic illustration—you get the idea of -what can happen when power fails during work.
The second flaw, and even the deeper problem, when power failure affects operational systems or hardware to shutdown improperly, you might face bad times rebooting next time. This operational inconvenience might cause a chain reaction on your data, making them inaccessible.
Now you know occasions that risks your data on a flash drive. Let`s dive now into how to recover lost data.
Top 10 Best Flash Drive Recovery Tools
The web is a sea of recovery tools for flash drives. You can enjoy free flash drive recovery services or upgrade for a variety of features. But not all of them will do the work. This guide will reveal the world`s best flash drive recovery software, and help you chose the best one for you. Let`s start with the topmost.
Top 1. Recoverit (IS)
This recovery flash disk will recover nearly all type of data loss on a flash drive with ease.
Recoverit (IS) is a powerful data recovery software, correctly knitted with a line-up of sophisticated utilities that dig deep into your drive to offer you excellent data recovery services for flash drives.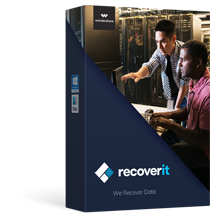 Features of Recoverit (IS)
Compatible with multiple devices such as camera, music players, Windows system, macOS, Linux, and Android.
Supports rescue of over 550+ types of files formats including videos, photos, archives, audio, document, etc.
Recovers data from flash drives in two customizable scans—Quick Scan and Deep Scan.
Presents All Round Recovery for hidden and archived files.
Recovers all types of data loss, deleted files, formatted files, trashed files, virus attack recovery.
A user-friendly interface that a non-techie user readily access

3,165,867 people have downloaded it
Guide: How to Use Recoverit (IS) to Rescue Data Lost in a Flash drive
Step 1

Install and Launch iSkysoft Data

Download the app and then install and launch it on your computer.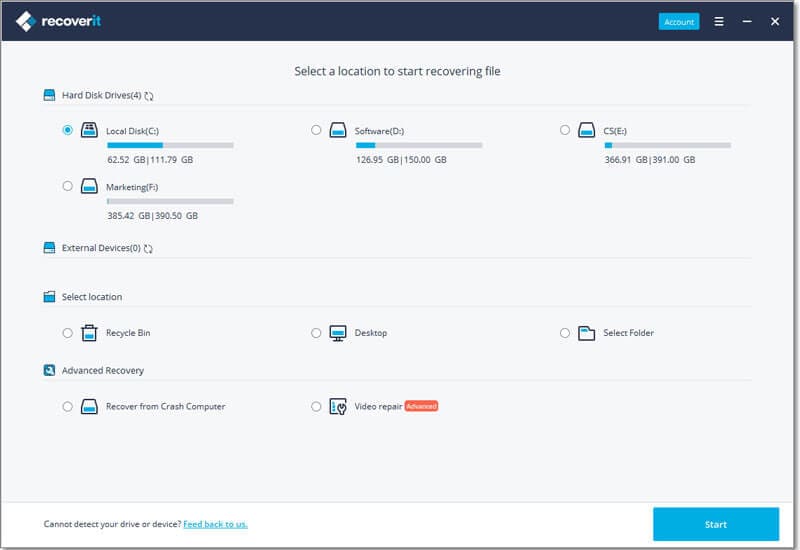 Step 2

Select External Device Recovery to Proceed to the main screen

Choose the external drive that you need to do a flash drive data recovery from. Then proceed to connect the USB to the system.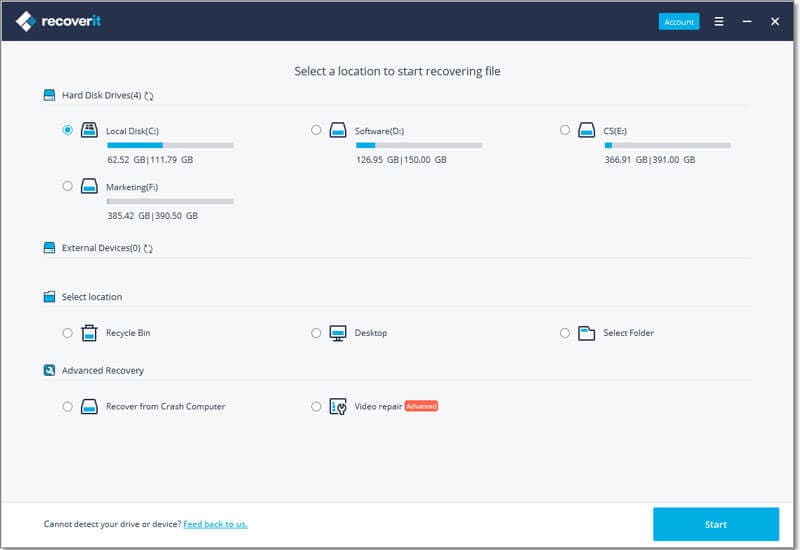 Step 3

Connect the USB to your System

Several external devices will unlock on your screen. Choose "USB Flash Drive" and hit the "Next" button.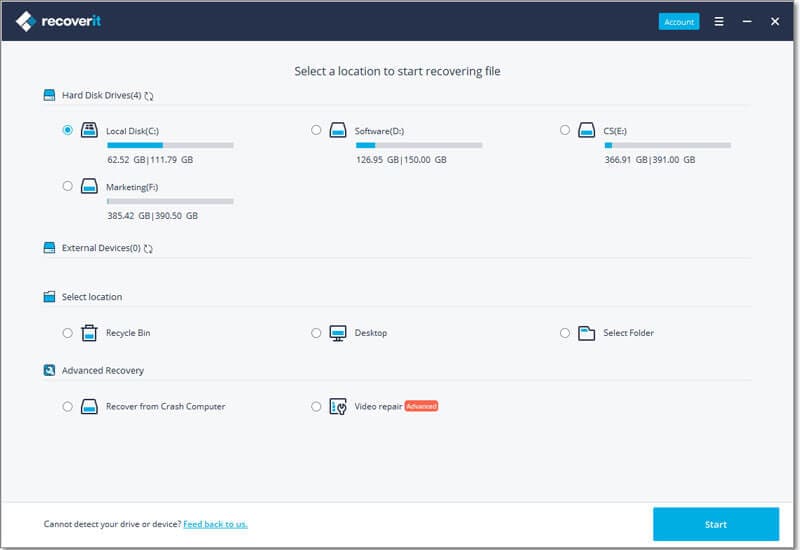 Step 4

Select the USB drive for scanning

Your Flash drive location will display in front of you. Select it and initiate the scanning by hitting the start button.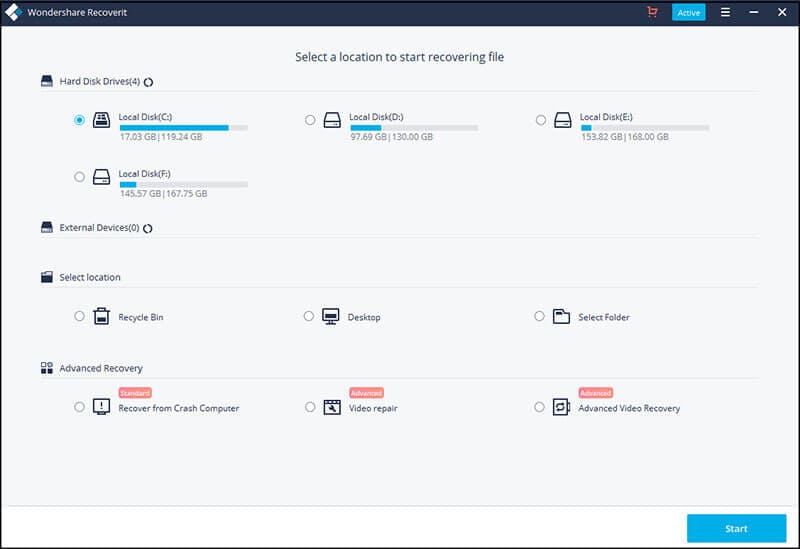 Step 5

Preview the files for recovery

After the quick scan, you`ll view the retrievable data, each in its category. Sort out relevant files you desire to recover and press the "Recover" option.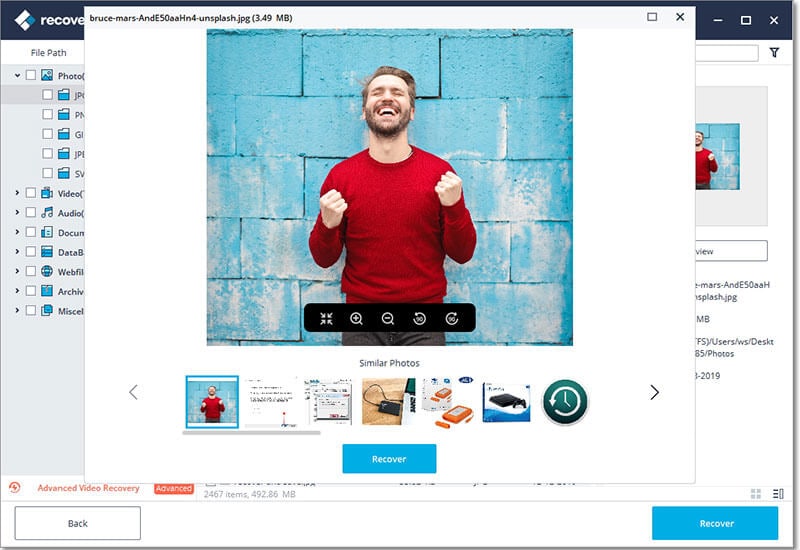 ---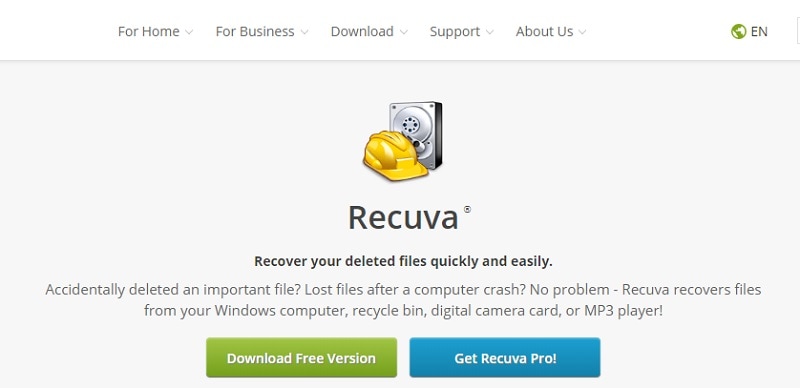 Retrieve thousands of your lost file on Windows for free.
Recuva has managed to build up a dedicated following, and it isn`t difficult to tell why. It is no secret. This freeware has tremendously powerful ability to recover deleted files from the flash drive. Better yet, it is a superior option to retrieve data if you`re looking for free flash drive recovery.
So, what makes it a mightier option?
First off, it offers what other recovery tools offer—it let you connect your USB drive and rescue nearly all type of lost files including photos, emails, videos, doc, etc. And it has no hard part for you to access.
Second, it gets now smarter: it is mighty, recovering data even from damaged or formatted flash drives. And even more, it has a portable version that requires no installation.
Pros:
Very simple to use
Have the power to recover a file from a damaged flash drive
It has an inbuilt file eraser utility that deletes data forever and makes it unrecoverable
Support both internal and external storage media
Advance deep scan
Cons:
Cannot preview files you want to recover
The scan engine is relatively slow
It lacks the option to compress recovered data
---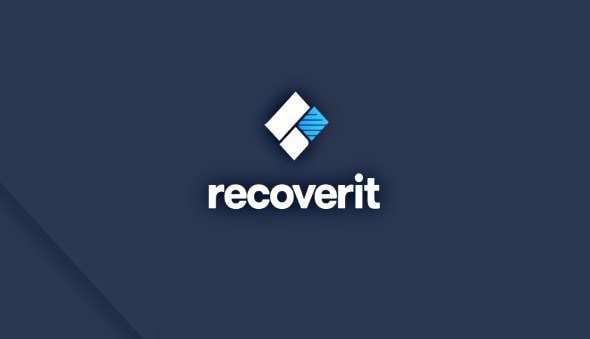 Recoverit is a premium data recovery software that can get deleted data from a flash drive and other storage devices. It rescues data of different variety and can restore lost data from a formatted or corrupt storage media.
Pros:
Simple user interface
Restore over 550+ file formats
RAW drive recovery
Supports multiple file system such as NTFS, APFS, exFAT, etc
Cons:
Demands license key to save recovered files
No compression option
---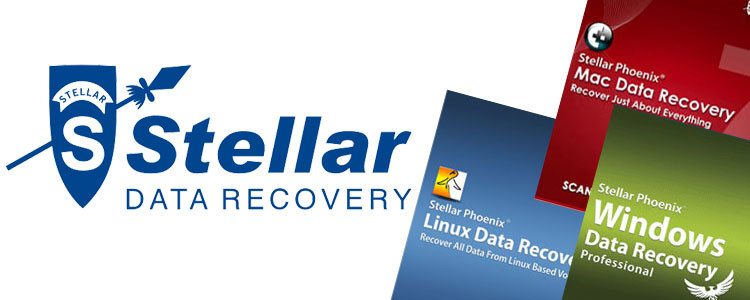 Dig deeply into every corner of your flash disk drive to scan and recover virtually all of your data.
Stellar Data Recovery is renowned DIY software for flash drive recovery for over 25 years. The software restores virtually every type of file from plenty of storage media.
It employs an intuitive user interface that facilitates data recovery in a three-step process: Select, Scan, and Recover. Even a beginner can readily use the software to recover a flash disk drive.
Pros:
Faster scans and recovery with intuitive UI
Has no limit to the type of file it can recover
Recovers data even from formatted, and corrupted flash drives.
Enables file previews before downloads
Overwrites protections
It has Search, Sort, and Filter utilities for quick and precise recovery
Has a unique Drive Monitor feature to safeguard flash disk recovery
Provide access to disk smart data
Cons:
Preview option does not work for multimedia files
You cannot pause scans
Relatively expensive
---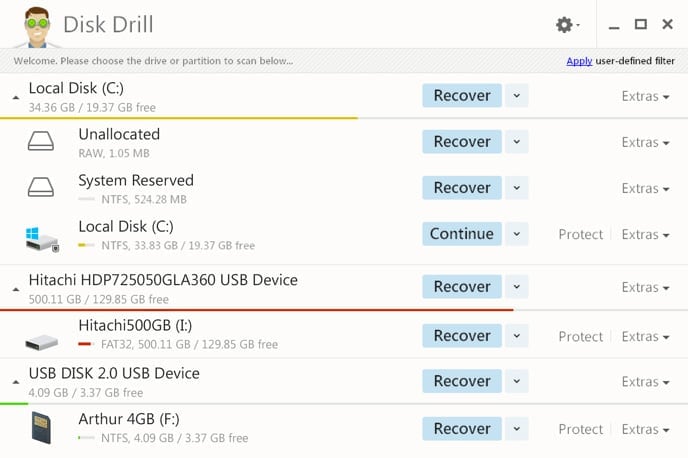 Drill deeply into your flash disk drive and rescue data lost in any way.
Disk Drill is another mighty-powerful data recovery software. It has a unique feature called "Extended Recycle Bin" that provides an extra level of protection.
This premium data protection utility keeps the info, not the actual data about the permanently deleted files and data emptied from the recycle bin. This makes a recovery faster in case you accidentally delete a file from your flash drive.
Pros:
User-friendly interface
Recovers even formatted and corrupt flash disk drives.
Rescues 350+ file formats
It has a fast scan engine
It has an option to resume incase anything intervenes recovery process
Cons:
No file preview before recovery
Demands product key to save recovered files
No drive monitoring and protection
May fail to recover music and video files
---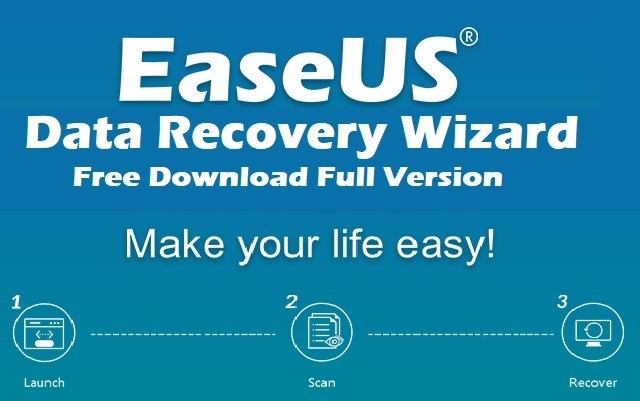 Get a superior in-depth flash drive scanning and recover almost all of your lost data.
EaseUs Data Recovery is rising in prominence in the data recovery world. That comes with no surprise. This flash drive recovery tool has a lineup of powerful utilities that can recover any of your lost data in your flash disk. Even though there are tons of data recovery software out there, few of them are close to EaseUS Data Recovery.
It is a free software for flash drive recovery that is free for only the first 2GB data of recovery.
Pros:
Free data recovery for the first 2GB
Recovers almost all type of data
Supports plenty of file system like FAT, exFat, NTFS5, NTFS
The graphical user interface is simple and distraction-free
Previews scanned files
Stores scan results to recover files later
Cons:
You cannot scan a single folder—you must scan the whole media
Preview option has a file size limit of 100 MBs and neither work for video and audio files
The quick scan must precede deep scan. You cannot access deep scan without a quick scan
It is not free after you`ve recovered the first 2GB
Relatively expensive
---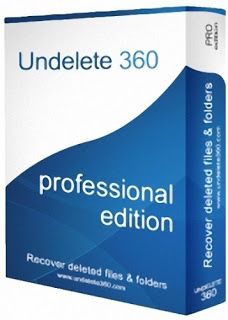 Undelete any of the mistakenly deleted files of your flash drive.
This is super powerful flash drive recovery software that many users overlook maybe because of its simple and slightly outdated user interface. But don't let that make you think that it doesn`t get the work done.
Launching the application unlocks several options to recover a flash disk drive. It presents to your Basic search, Deep Search, Photo Search, and Signature Search.
After inserting your flash drive, chose the option that suits your data recovery desire, then click the "Next" to scan your drive.
Pros:
You can use Data Doctor Recovery to rescue data from multiple drives
It has a straightforward use interface
It has a free trial version
Cons:
It occasionally retitles the first the letter of a file with a different character inconveniencing identification of a file
---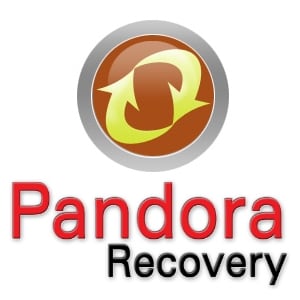 Recover permanently deleted files from flash drive readily.
This is a straight forward (yet powerful) data recovery tool.
So, what makes Pandora Recovery stands?
First, it is fully packed with correct utilities to ease flash drive recovery. You can preview, search, browse, and retrieve data removed from the NTFS, and FAT volume without regard of type of file.
Better yet, Pandora recovery is powerful enough to recover encrypted data, archives, hidden or compressed files.
Pandora merged with Disk Drill. But its software is still available but has no upgrades.
Pros:
Recovers deleted files that are not yet overwritten
Relative small download
Cons:
Recovers deleted files only. It cannot recover formatted files
The interface appears more cluttered
---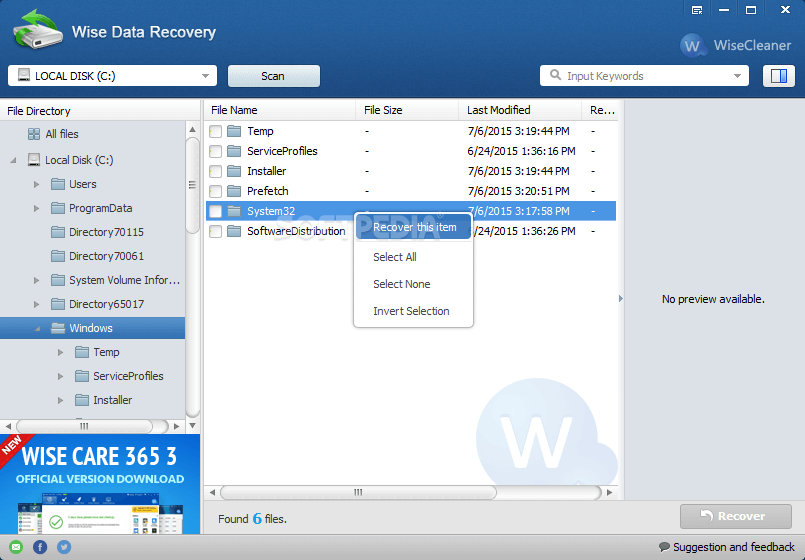 Recover your flash drive data wisely in no second.
If you were wondering about fast flash drive restore tool, Wise Data Recovery is a freemium software that rescues flash drive data in no time.
Here is a unique software that executes scans and let you know the difficulty level of recovering your flash disk. Moreover, it has an advanced search option which enables quick identification of data you wish to recover.
Better yet, Wise Data Recover has a portable version that allows you to install without the need for installation.
Pros:
It supports dozens of languages
Cons:
It only recovers files that it can detect
---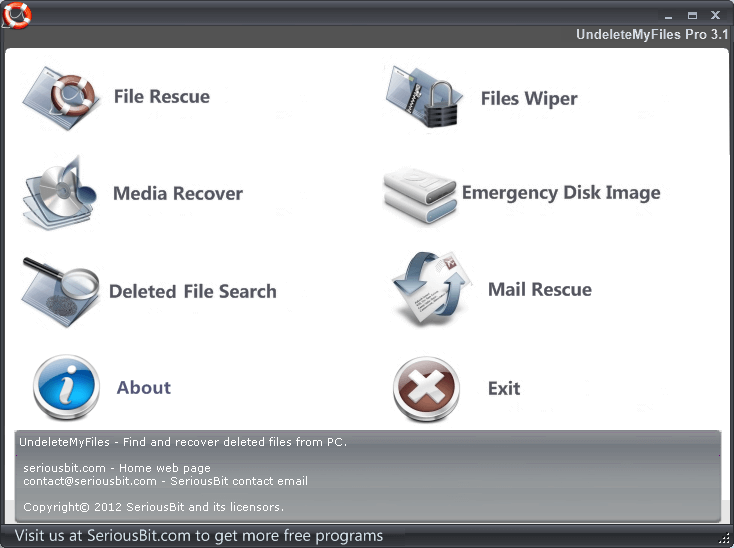 Rescue lots of deleted data (For free)
Undelete My Files Pro might sound like a pay-for edition. But that`s not the case. It is entirely free and comes fully packed with tools to recover your data.
Pros:
Free software
Has deep scan
Cons:
Deep scanning is pretty slow
It cannot rescue files from a damaged or inaccessible flash drive
---
Value Matters
There you have it: 10 of the world`s best premium data recovery software—in terms of quality. But iSkysoft is a mighty fine option when it comes to recovery flash disk. It is an optimally powerful piece with a line-up of utilities to ease and correctly recover your flash disk. It recovers almost all file formats in two customizable scans in a relatively great speed. Even though data loss is a largely experienced act, you don't have to panic. With the best data recovery software for flash drives, you can readily recover your accidentally deleted data.