Case: Recently, I noticed my computer won't read my flash drive. So, I formatted my drive to fix the unreadable error. Even though formatting helped me to fix the problem, I ended up losing my data. So, I am now wondering is there any way to recover lost data after fixing the unreadable USB flash drive?
A USB flash drive or pen drive stores the data in its memory in the same way as hard drive stores. USB drives have the advantages of being lighter, portable, smaller, etc over other hard drives and other storage media. But, there are still many situations in which USB drives get corrupted.
Further, USB flash drive corruption results in unreadability and inaccessibility issues. In other words, unreadable USB hard drive makes data inaccessible to you. When it comes to fixing the unreadable USB flash drive error, formatting seems to be the first fix that many users think about. But, this could lead to data loss from the drive.
That's why we come up this guide to provide you several different methods along with formatting to fix the flash drive not reading problem. Here, we will also introduce to method on how you can get back your lost data after resolving the unreadable error.
Part 1: Reasons for the Error "The Disk You Inserted Was Not Readable by This Computer":
There could be a number of reasons for the USB port not reading flash drive/ pen drive. Following are the most common ones you aware of them:
Sudden USB flash drive removal from the computer, while data transfer is in progress, may damage/corrupt the flash drive and thus, making it unreadable.


If the USB flash drive gets infected by malware or virus, then it will not allow your system to read the USB drive.


Abrupt system shutdown that can be due to sudden power failure while the USB flash drive is connected to the system causes file system corruption. Eventually, it makes the flash drive unreadable.


If the file directory structure of the flash drive is broken, then the data stored in it becomes unreadable or inaccessible.
Well, it doesn't matter how your USB flash drive becomes corrupted/unreadable. You will be glad to know that there are some possible methods available that can probably help you to fix the "USB flash drive won't read" error.
Part 2: How to Fix Unreadable USB Flash Drive Error?
Following are some methods you can give a try to resolve unreadable USB flash drive error you're getting on your computer:
Method 1: Repair Logical Errors
Luckily, Windows come with the built-in repair tool you can use to scan common error issues on the drives and it may also help you repair found problems.
Here's what you need to do repair logical errors.
Step 1 To begin with, connect your USB flash drive to your computer. Next, you need to open "This PC/My Computer".
Step 2 Now, you need to right-tap the "Removable Disk" that now represents your USB flash drive and then, select "Properties".
Step 3 Next, click on "Check" under the "Tools" tab to begin the scan process to look for the errors.
Step 4 Once the process completes, if any errors were found, then you can continue with the wizard to resolve the errors.
Step 5 After resolving the errors, safely eject your flash drive and re-connect it to your computer again to see if it is now readable.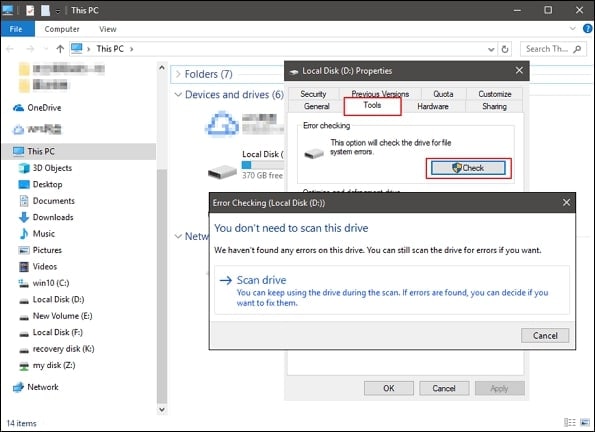 Method 2: Fix the Corrupted/Unreadable USB Flash Drive using the CMD:
If you're good at using the command prompt, then you can fix the error using CHDDSK command. This method will keep your important data intact and repair a corrupted flash drive. Thus, you can give a shot to this method.
Step 1 Connect your USB flash drive to the computer.
Step 2 Next, go to the "Start" menu, enter "cmd" in the search field and right-tap on "cmd.exe". Next, select "Run as Administrator".
Step 3 After that, you need to enter chkdsk *: /f /r /x. Here, replace * with the drive letter you would like to repair.
Method 3: Format the Corrupted/Unreadable USB Flash Drive in Disk Management
If the above methods fail for you and still wonder how to read a flash drive again, then you need to format the flash drive in disk management. But, keep in mind that this method will delete data. So, if you're ready to take that risk, follow the below steps:
Step 1 To start with, you need to press "Windows + R" keys to open the Run box.
Step 2 Now, you need to type - diskmgmt.msc and then, hit Enter.
Step 3 Next, find the unreadable flash drive and check out its disk information in the Disk Management. If it's displayed as a RAW file system, then just right-tap on it and then, select Format.
Step 4 Now, select a file system like FAT32, NTFS or exFAT and then, check the box that says "Perform a quick format" and click "Ok" button.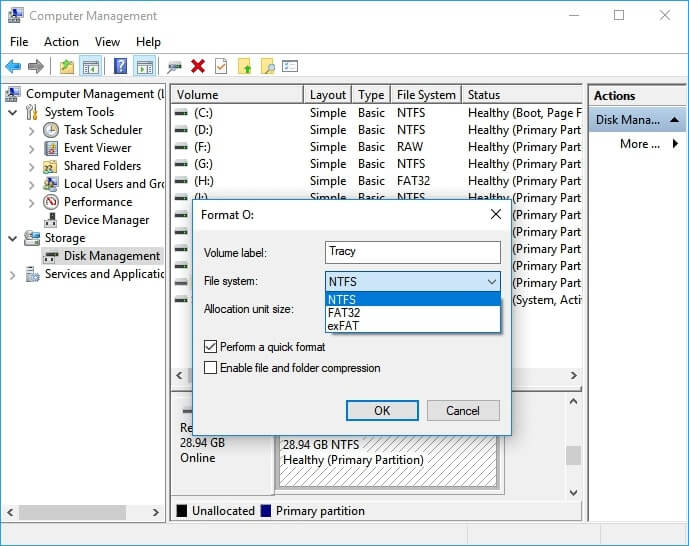 Method 4: Create a New Partition on the Corrupted/Unreadable USB Flash Drive
If formatting the flash drive doesn't help you to fix the problem, then the Disk Management tool can also help you to erase and create a new partition on the unreadable drive. This will help you restore the drive to its normal state.
Step 1 Again, open Disk Management as instructed in method 3. Next, find the corrupted drive and right-tap on it to choose "Delete Volume".
Step 2 Now, confirm your delete operation. Once the USB flash drive becomes the unallocated space, just right-tap the unallocated space and then, you need to choose "New Simple Volume".
Step 3 Next, rename the drive and set the file system to FAT32/NTFS on the USB drive. Then, just follow the instructions to create a new partition.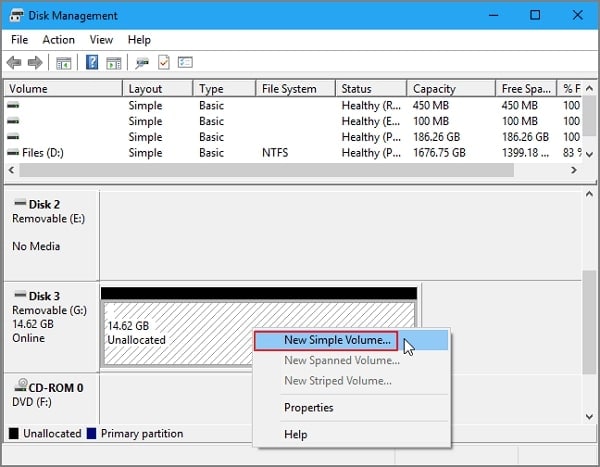 Once you're able to create a new partition on your USB flash drive, you can use it normally again.
That's all on how you can enable your system to read USB drive/pen drive again. If you end up losing data after resolving the corrupted/unreadable USB flash drive error, then check out our next part to get your data back.
Part 3: Recover Lost Data after Fixing the USB Flash Drive Unreadable Error
It's common to face data loss situation after fixing "computer not reading USB device" problem. The good news is that you can still get back your lost data with the help of the professional data recovery program like iSkysoft. It is an all-in-one data recovery tool that works on both Windows and Mac system to recover data from various storage devices, which include USB flash drive. Plus, it can help you to restore various files types including photos, videos, documents, etc in just a few minutes.
To learn how to recover lost data using Recoverit (IS)y, get it from its official site on your computer and follow the below steps:
Step 1

Select a location

Install and run iSkysoft on your computer. Next, connect your USB flash drive to the computer and select the connected drive as a location from where you want to recover lost data.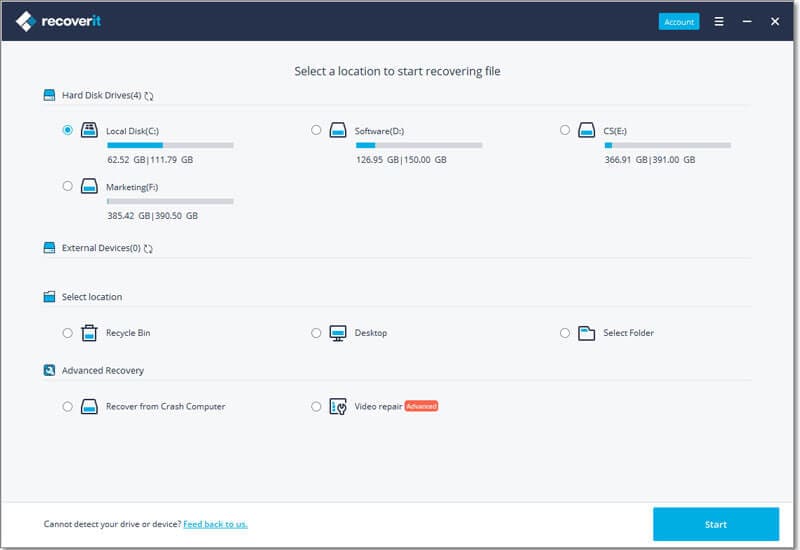 Step 2

Scan the selected location

Now, the software will start the scan process to look for the lost files in the selected location. Here, you can customize the scan process by specifying the selections and selecting filter options.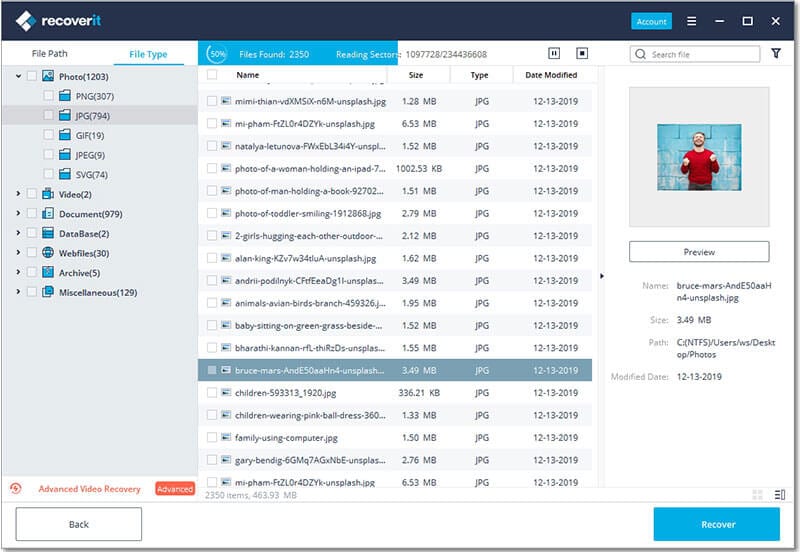 Step 3

Preview and recover data

Once the scan process completes, you can preview the lost files and select those you would like to recover. Finally, hit the "Recover" button to get them back.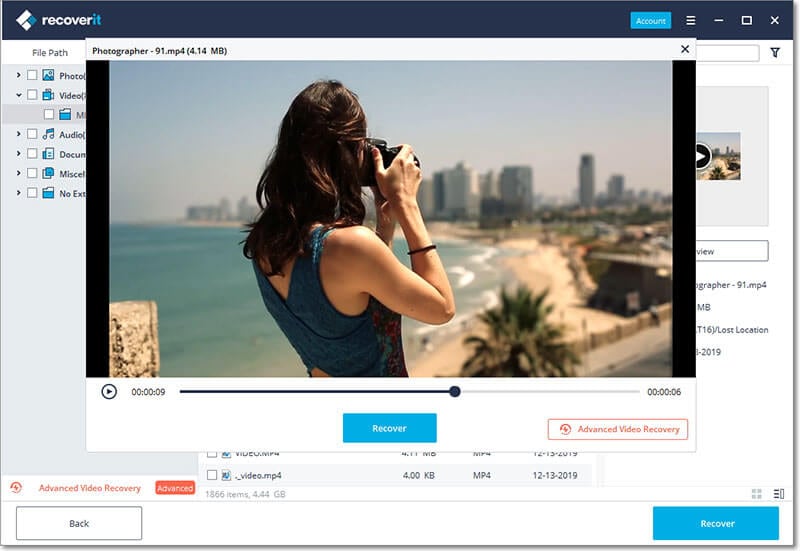 While saving the recoverable data, don't save them to the location from where you lost them in the first place. Instead, go for another safe location.
Bottom Line:
That's all on what you can do when your computer does not read the USB flash drive/USB memory stick/pen drive. As you can now see that there are various possible ways in which you can easily fix the USB flash drive unreadable error. The best thing is that if you also met with data loss situation after fixing this error, then Recoverit (IS)y software can help you rescue your lost data.