Introduction:
People store a lot of important files on their USB drive. But the main issue with removable storage media is that they are more prone to damage and virus/malware attacks. Even a small malfunction can affect the working of a USB drive. From sudden removal to a power outage, you can never know what might lead to corruption of files and data loss. Thus, you should know how you can recover corrupted files in USB.
So, if you want to find out the methods that can be used for USB file recovery, then you are on the right page. Here, you will get to know how to fix corrupted files on USB and get them back as soon as possible.
How to Recover Corrupted Files from USB:
We have enlisted two methods that are efficient in data recovery of corrupted files.
Method 1: Recover corrupted files from USB using CMD
Command Prompt is one of the best in-built tools that can be used to repair and recover files that are lost on the Windows system. We are going to teach you how to recover corrupted files from USB using the command prompt. Whether you lost the files from a USB drive, pen drive, or any other external storage device, CMD can help to fix those files and get them back.
Follow the steps below to retrieve the files on any version of Windows OS:
Step 1 Press the Windows Key + R at the same time to open the run program window. Type CMD in the field and hit enter.
Step 2 Plug in the USB drive and let Windows detect the drive automatically. In the command prompt window, type chkdsk H:/f and press Enter where H is the drive whose files you want to recover.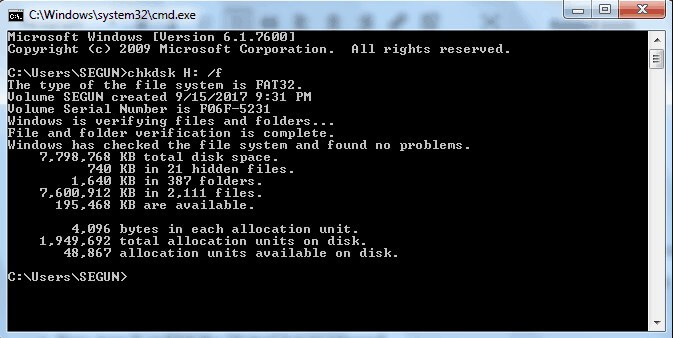 Step 3 Now type Y and press the Enter key once more. Type H and once again hit the Enter key. Finally type H:> attrib –h –r –s /s /d *.* and press the enter key one last time.
Now, all you have to do is to wait for the process to complete. By the time command prompt is done with the drive, the files will be restored inside a new folder in the drive. By default, the format of the files will be .CHK. You will have to change the file format to use them.
This method will work the same for the external hard drive, memory cards, and any other storage device.
Method 2. Recover corrupted files with free USB Drive recovery software:
Hopefully, CMD will recover the files but if the command prompt failed to retrieve some files, you can try out a better alternative for file recovery in a USB drive. The best tool you can use for all kinds of recovery is Recoverit (IS) Software. You can rely on this third-party software to carry out the task for you. No matter what the situation is, iSkysoft can help the users to recover data from corrupted USB.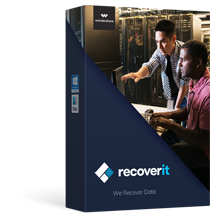 The key features of this software will help you to understand the capability of the software in a better way:
All-in-one data recovery software for both Mac and Windows Operating System.
Recover the files which are deleted, emptied from recycle bin, formatted disk, lost partition, virus attack, system crash, or lost due to any other reason.
Support for over 1000+ types of files including documents, photos, videos, audios, graphics, archives, and others with a wide array of format support.
Recovery from hard drive, Solid State Drive, RAID, SD card, memory card, USB drive, pen drive, or even floppy disk.
Data recovery in 3 simple steps with a 100% guarantee and security.

3,165,867 people have downloaded it
You can download the software from the official website and install it on any computer. Once the application is installed, follow the steps below to restore corrupted files in USB:
Step 1

Run iSkysoft:

Double click on the software icon to launch it. When the home interface opens up, you will see several options for data recovery. If you know how you lost the files, then you can choose a particular mode for data recovery.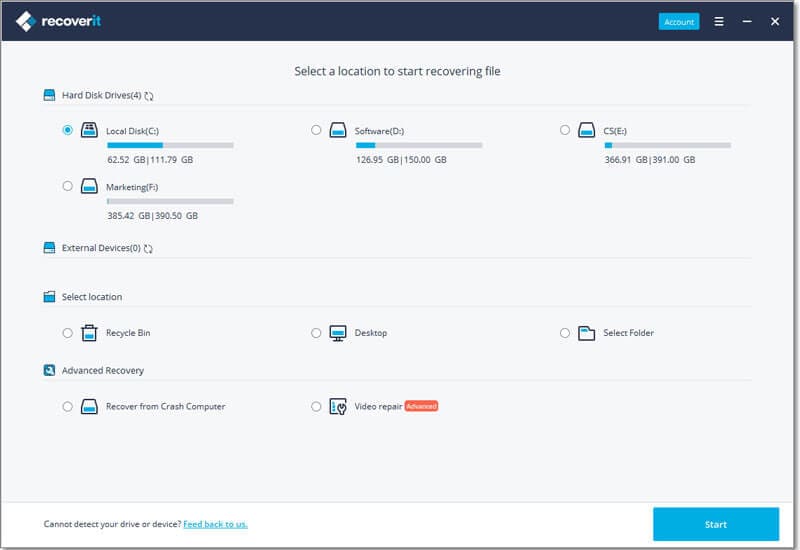 Otherwise, you should opt out for the All-Around Recovery mode to get the optimal results. Don't forget to connect the USB drive.
Step 2

Scan a Location:

On the next screen, select the USB drive for scanning and wait as the scanning finishes up. Usually, the normal scan works out for the users to locate their deleted or lost files.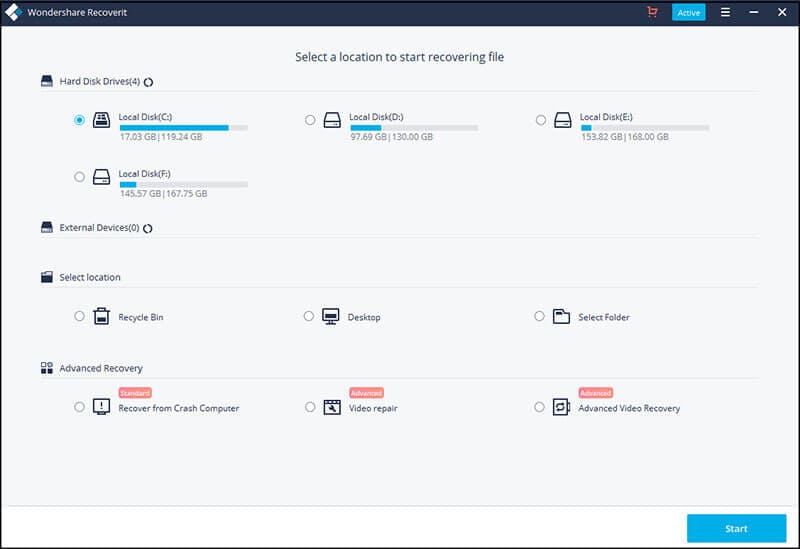 But if the normal scan doesn't work for you, then you can switch to Deep Scan Mode. It will take more time as compared to the normal scan but it will be worthwhile.
Step 3

Preview and Recover:

The files in the scan results will be sorted out according to their format and file type. Select the files and have a preview to ensure that they are in perfect condition. You can perform selective recovery of the files.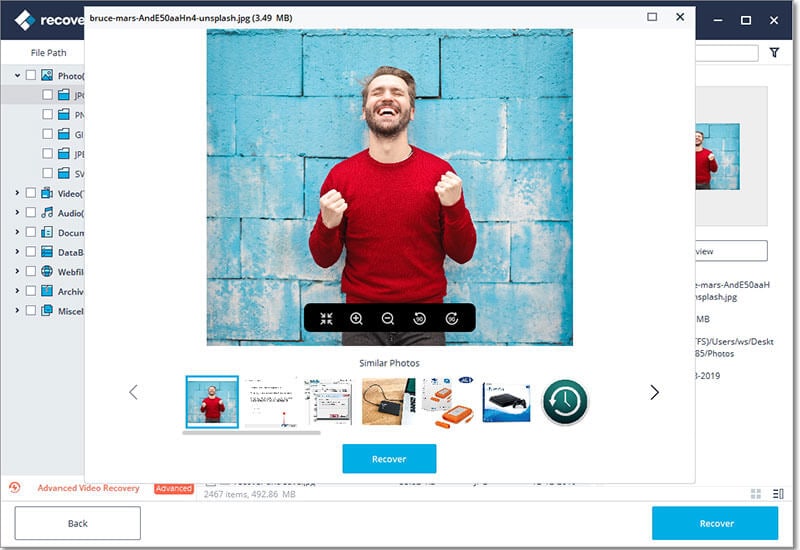 Choose as many files as you want and finally click on the Recover option. The software will initiate the data recovery process and all the files will be saved on your system.
You might know how to recover corrupted files in usb using command prompt but using iSkysoft is a much better and efficient method of data recovery as you can save space and avoid file redundancy.
Tips to Protect USB Data from Getting Corrupted:
Here are some tips that might help you to avoid situations like this. It is very common to get the USB flash drive corrupted due to mishandling or exposing the drive to viruses. But if you pay attention then you can avoid looking out for methods trying to fix corrupted files on USB. Take a look at the tips and it will help you to avoid a similar situation in the near future.
Shut Down System Properly: Shutting down system abruptly interrupts the working of drives. Thus, the entire file system is at great risk. So, prefer having enough battery on your system or keep it connected to a power source and shut it down using the standard ways.


Don't Delete Files Readily: While you are trying to free up some space on your drive, ensure that you check whether the files are necessary or not. Sometimes, users end up deleting important system files which ultimately corrupts the files.


Safeguard against Malware and Virus: Keep an effective anti-virus and anti-malware software installed on your system. It is important to detect the risk from the start and eliminate it as soon as possible.


Avoid Mishandling: Never mishandle the storage devices. Removing the drives in the middle of an ongoing process or inserting it carelessly might harm the drive physically. As a result, the drive will become inaccessible and the data will be lost forever.


Keep a Backup: Sometimes data loss is evident, but if you have a backup of your files, then you don't have to stress about the file recovery. So, always keep a backup of your files.
Conclusion:
Now, you know what you have to do whenever the files on your storage device are corrupted, lost, or deleted. You can use Command Prompt to retrieve the lost files. But it is iSkysoft which can assure you that you will have a full recovery without any additional work. You can fix corrupted files on USB, but there is always a risk that they might not become accessible ever again. But iSkysoft assures the users that the files can be restored in their original condition easily. So, tell your friends about iSkysoft and help them in a situation like this.