"I accidentally formatted my friend's pen drive. Can you help me recover her pen drive data by using a reliable and tested software, please?"
- a question from Quora
Introduction
Even though your external storage has all its contents deleted, trust me, it's not the end of the road for you. But how, you may ask. Let me explain. When your files get lost on whatever drive you have for whatever reason, they are never gone forever, as today, Recoverit has made recovering deleted files from pen drive even simpler.
With Recoverit Data Recovery, you can recover all your files from your pen drive as intact as they were when they got lost. Yes, all your data because it retrieves not only your documents but also all kinds of formats of music, videos, and even your emails.
How it does that? Well, this article discusses all that and more in the points below:
Part 1: Reasons for File Deletion from Pen Drive
You can lose your files in an instant depending on what method you used to erase them. At times it's all by accident, other times it's for a purpose. Let's take a look at some of the reasons why files get deleted.
With virus corruption, I believe you can testify that they always destroy data. Performing a quick scan with your favorite antivirus usually gets rid of any viruses. But at times it's too late.
Therefore, when this happens to your pen drive, you have to format it to give it a clean start.
Have you ever selected a different drive accidentally? You have, especially if you are a Windows user. Drive tabs usually are so close to each other on file explorer's left pane. For this reason, you risk formatting a drive you didn't mean to have formatted.
Are you a fan of keyboard shortcuts? If you are, you also know how fast they are at getting things done. Unfortunately, shortcut keys such as Shift + Delete permanently get rid of content fast. None of it goes to the recycle bin, which makes it challenging to get back the files.
When partitioning a drive, files can easily get lost due to poor resizing, damaging of data, and other related problems.
You have done this one before. To a novice user, it is an easy way of ejecting the drive, by simply pulling out the pen drive from the computer port. However, what you don't realize is that files can get lost in the process.
Why so? It is because pulling out your pen drive cuts short some processes in the background. However, when you eject your pen drive, you are notified to pull out the pen drive after these processes are complete.
These were some of the instances which can cause deletion of files from a pen drive.
Part 2: Best Pen Drive Data Recovery Software
Now that you know of all the possible ways of losing your files, why should you go with Recoverit software? I mean, what makes it so unique?
Recoverit software can recover all your lost data irrespective of any of the methods by which it got lost as mentioned above.
It can efficiently work with your pen drive, internal hard drives, micro SD cards, and any other device or storage media you can think of, including your Mac computer.
Also, Recoverit offers you free 100MB worth of data to recover if you want to test its prowess.
The capacity to perform both a quick and deep scan to find your files.
You should know that a quick scan, as the name suggests, is fast and will be able to spot original unhidden files. However, a deep scan will most certainly increase your chances of finding your original data, even the most hidden and encrypted files, including the damaged and corrupted files.
It allows for quality check.
You would always want your files back. To add to that, you would prefer that they should be as original as they were. In the scanning process, Recoverit allows you to do a spot check on the authenticity of your files for your satisfaction. The preview window shows files such as images in an enlarged view.
Recover all types of data.
With Recoverit Data Recovery, whether your files have been corrupted, deleted, or formatted, you can safely get them back. It also goes further to supporting a variety of file formats such as .mp4, .wav, .midi, .rtf, .zip, .gzip, .rar, .pdf, amongst even the most unique of formats available. There is no limit to the recovery of files with Recoverit.
Recover files no matter the size.
It doesn't matter how big your pen drive is or how large the files in it were. From as little size as 1kb to 100GB, Recoverit software can handle them all.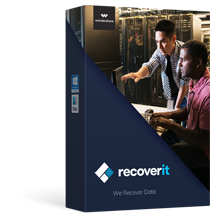 A Life Saver to Solve Your Data Loss Problems!
It is compatible with both Windows and Mac operating system.
It supports a large number of storage device type including hard drives, USB flash drives, SD cards, etc.
All major types of files can be recovered including music, images, video, documents, emails, and archives.
It has a deep scan features for in-depth scanning of the hard drive for searching files to recover.

3,165,867 people have downloaded it
Part 3. How to Recover Deleted Files from Pen Drive with Recoverit
So, you have known Recoverit features and all the modes by which it works. Next, read on details on how to recover files from your pen drive.
Step 1

Launch the Program

Now, you'll have an Recoverit main page on your computer screen. Ensure that your pen drive is connected.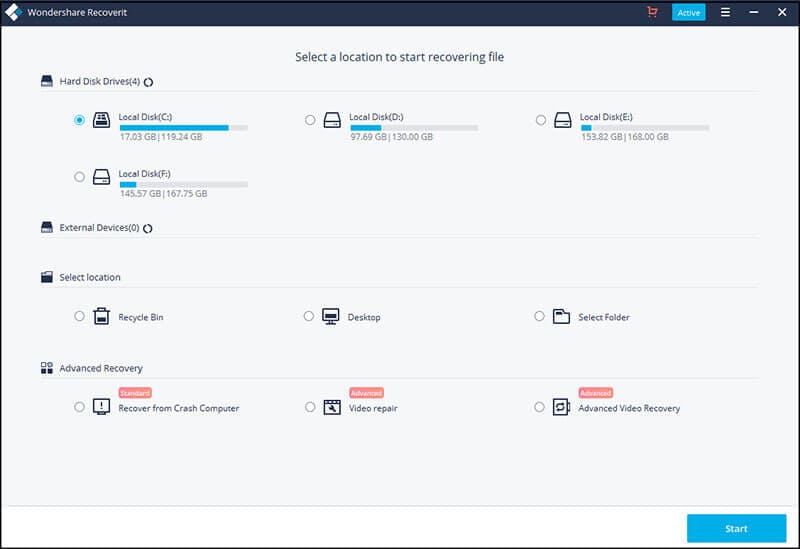 Step 2

Start Scanning Process

On the main page, you will notice various toolsets, including Recycle Bin Recovery, Formatted Disk Recovery, External Devices Recovery, amongst others. Click on the External Devices Recovery tab. Then you can click on Start button to continue.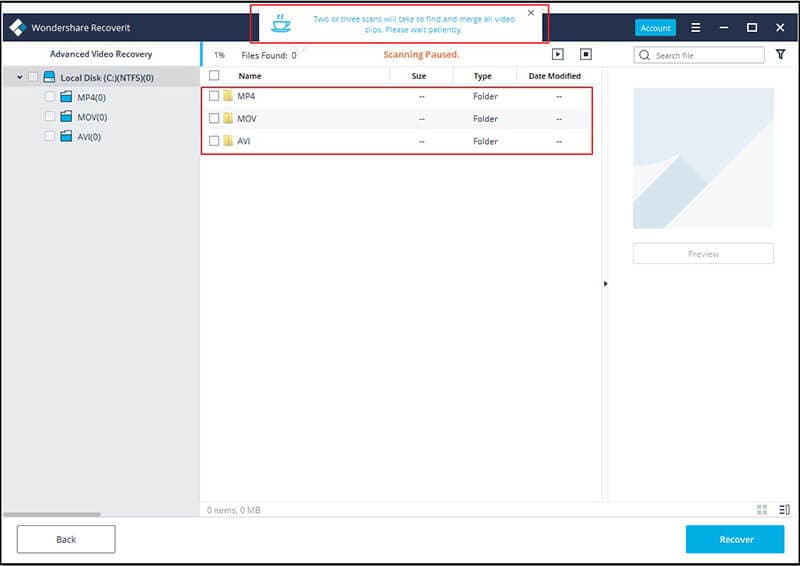 Step 3

Recover selected data

After the scan is complete, you will find that the files listed in clustered tabs on the left. When you click on a tab, you get to see its details on the larger window. There is a checkbox. Do not forget to mark the files you need to recover. The 'Recover' button on the bottom right allows you to recover selected files back to your pen drive. Before recovering data such as images, you can click on them to preview how well they look. It facilitates quality inspection of your files.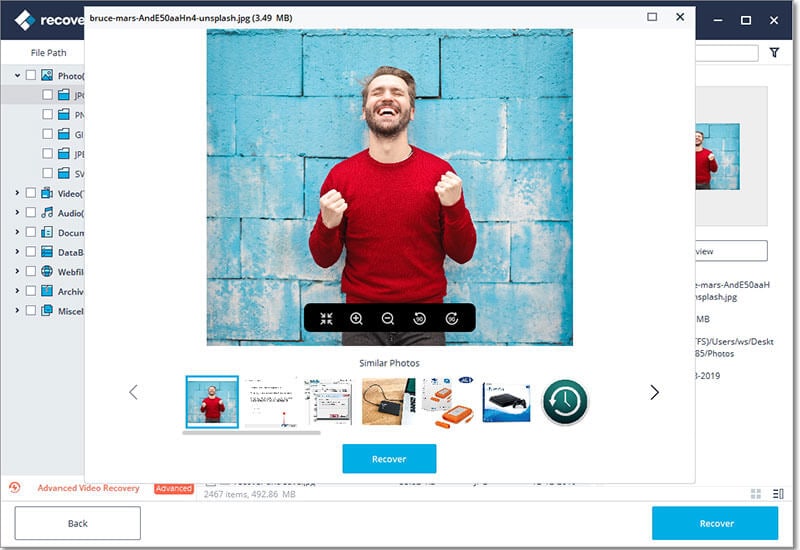 Recoverit software is fast, efficient, and easy to use. With no need for any technical know-how, you'll have back your files in no time.
Bonus Tips: Recover data from pen drive using cmd.
Isn't it interesting that you have a means of recovering data right in your pc! You can recover corrupted/unreadable files from your pen drive without having to use any third-party software. Unfortunately, it can only accomplish just that. Also, beware that you don't end up using the wrong commands.
So, how can you recover deleted files from your pen drive using cmd?
Let's take a look at the steps involved.
Step 1 First of all, you'll connect your pen drive to the computer. Usually, it makes a sound when successful.
Step 2 Now, open cmd as an administrator. There are several ways of doing this.
Using Windows + X shortcut and selecting 'Command Prompt (admin).'

Right-clicking on start and selecting 'Command Prompt (admin).'
Searching for cmd and right-clicking on the results to select 'run as admin' option.
Step 3 Once open, type the pen drive letter as indicated on your pc. E.g., D:
Step 4 Press Enter. Another entry line comes up. On this line, type "attrib -h -r -s /s /d *. *."
Step 5 Lastly, press Enter.
There you go, on your pen drive files would be now restored successfully.
Conclusion
You can now see how easy it is to recover files from Recoverit software and off-course, the cmd. While it is possible to recover corrupted files using the cmd, I would advise against it unless you know how to use the various commands.
So, however you lose your files, Recoverit has no limitations that can hold it back from satisfying you. With the various recovery modes, recovery of data has never been more natural. Furthermore, the steps involved are few and easy to understand.
Therefore, take the chance today and show your friend how they can recover deleted data from a pen drive and any other storage media.