"I am trying to transfer some important information from my USB Flash drive to my computer but it is just indicating that there are USB driver issues. How can I recover data from corrupted flash drive?"
- a question from Quora
There are many improved devices that are currently used to store and transport data. Flash Drives make a bigger percentage of such devices. They are easy to carry along and are in a position to carry enormous amounts of data. Furthermore, it is convenient to use one flash drive from one computer to another due to their compatibility nature. What then happens when your drive can no longer transport data due to corruption or virus attack? You may be wondering what next you can do. Well, here's the kicker; It is possible to learn how to retrieve flash drive corrupted file in simple ways. This is exactly what we are going to do next; but first, let's learn what could possibly lead to your flash drive inaccessible.
Part 1. Why Would Your Flash Drive Suddenly Become Inaccessible?
As much as external storage devices like flash drives are useful, they also have their bad days. You may be trying to transfer files or save more data to your flash drive but then you realize that it is not yielding any fruits. Here are the reasons why broken flash drive recovery service may be knocking at your door.
The OS is a vital part of software management. Whenever your device experiences a failure or an abrupt crush on this system, it may suddenly cause corruption on any gadget such as a flash drive that is under use at that time.
Improper Disconnect Procedures
Yes! As much as it sounds weird, if a flash drive is not correctly ejected, it may lead to a sudden shock. This is the number one cause of a USB being inaccessible or corrupt. The best solution is to safely remove the flash from the USB port.
There are drivers that need to be installed on your computer to enable it to operate with a flash drive. If such is not correctly installed, there is a high possibility of a flash drive being corrupt.
Just like a sudden halt on your motor-vehicle can cause severe damage, a sudden power loss is no good either. Whenever there is no backup and power suddenly goes off, a lot of memory is lost from any device under operation.
Part 2. How to Recover Data from a Corrupt/Inaccessible Flash Drive
When all hell breaks loose, you have to act pretty fast. There is no point of losing important data and then you fold your tail like a lost dog. Simply look for ways to recover files from corrupted flash drive using the recommended recovery tool. Recoverit (IS) tool will salvage your lost data within minimal time. Furthermore, it has the power to recover data from your computer and other external drives.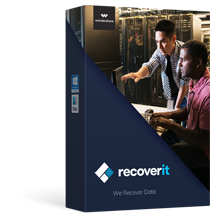 Reasons that put Recoverit (IS) tool at the front line.
It is All-in-one Data recovery software that has the power to do lost partition recovery, recycle bin recovery, virus attack or a system crash data recovery; and much more.
This tool can also do a complete broken flash drive recovery from all types of storage devices. These include recovery from hard drives, laptops, micro SD card, music player, USB drives and other devices.
Use it to bring back over 1000 data types such as graphics, documents, videos, and other files.
The recovery process is also as simple as 1-2-3.

3,165,867 people have downloaded it
Step-by-step Guide on How to Recover Data from a Corrupt/Inaccessible Flash Drive Using Recoverit (IS)
In the event that you have lost your data due to corrupt or inaccessible USB drive, this tool has all the wonders to enable you to retrieve them. Furthermore, you can also recover data from broken flash drive, formatted flash drive or from any other extreme causes in just 3 steps.
Step 1

Launch the program and choose a recovery mode

Once you download and install Recoverit (IS) on your computer, it becomes easy to do a quick recovery. The next process is to launch the program and then choose a recovery mode. In this case, "External Devices Recovery" mode is the ideal option.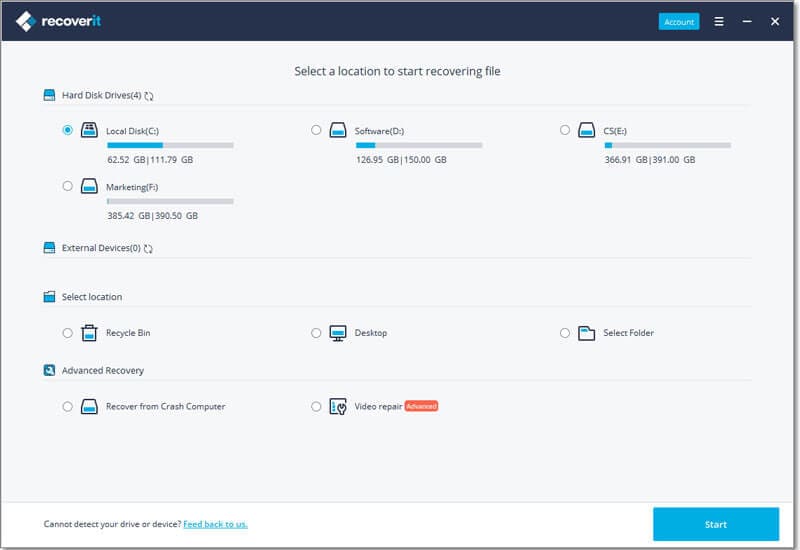 Step 2

Choose a disk to Scan

You will have to go to your USB flash drive, which is an external device. Then click on the 'Start' button to start the scanning process.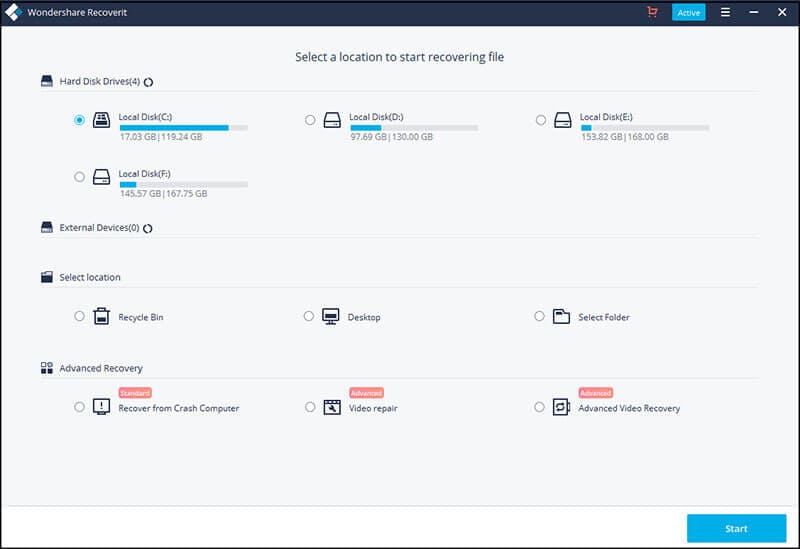 Step 3

Preview scanned data

This is a crucial part of your recovery process. Ensure you select all the data that you need to recover from the preview feature. Simply locate your target files and then tick the boxes against each of them before you move to recovery.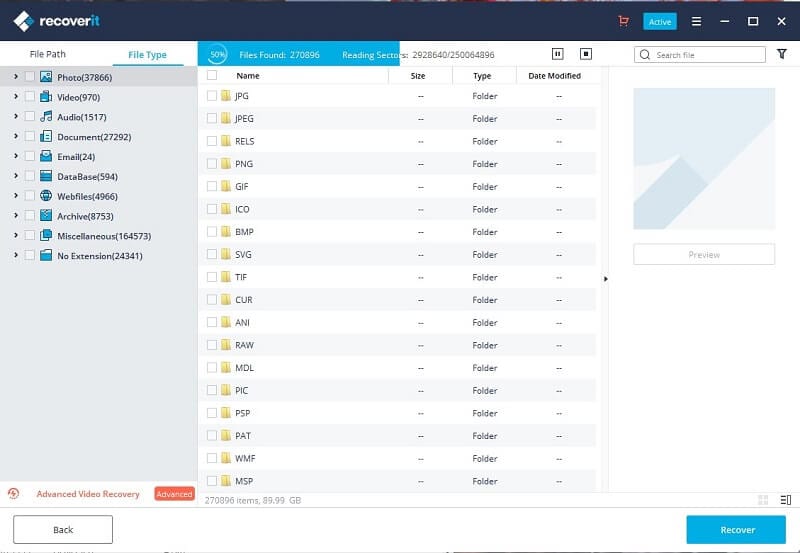 Step 4

Recover data from corrupt flash drive

This is the last step in data recovery. Confirm that all the data you need to recover have been selected. Next, hit the 'Recover' button and save them to your computer.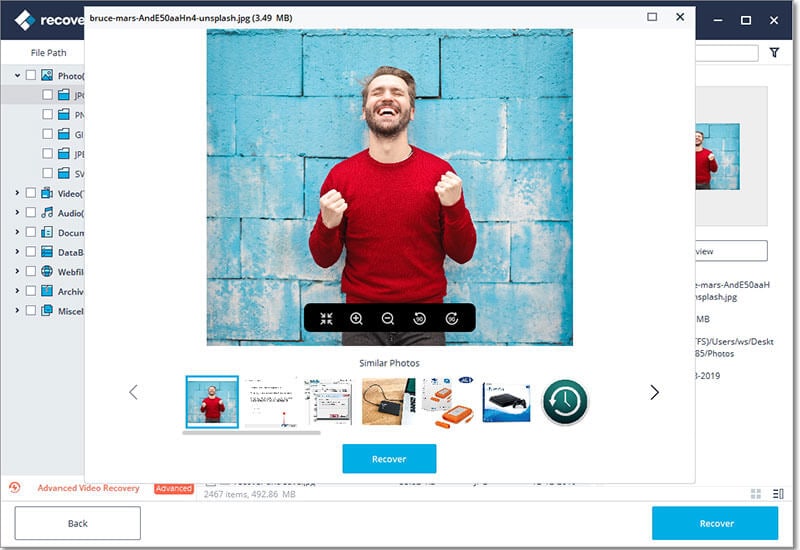 Part 3. How to Avoid Flash Drive Being Corrupted as Well as Losing Data
Whatever the magnitude known on how to recover files from corrupted flash drive, it is also vital to pinpoint ways to avoid your flash drive from being corrupted.
The major reason for your flash drive going corrupt or inaccessible is an improper ejection. On that note, avoid losing data by enforcing more patience. Ensure you safely remove your flash drive from your computer at all times.
It is also useful to have a power backup in order to arrest cases of sudden power loss. A small UPS (Uninterruptible power supply) by the side of your desktop can automatically save you from lots of damages.
Viruses are known to cause great havoc when it comes to using external drives. A regular scan will ensure that there are no traces of viruses even whenever you move files from one computer to another using one flash drive.
You can take advantage of the many cloud backing options like Google Drive, iCloud and One Drive among others. Data backed on such platforms are easy to trace, as compared to using external devices no matter where you are. Simply log in to your drive account and find all your saved data.

Tip:
Please keep in mind that in order to get back lost data, you need to take a few precautions on your flash drive.
Stop further usage of your USB drive until you have recovered all the missing data. You may accidentally format it in the process of continued use.
Do not add any other new data as this will over-write what you are trying to recover.
How to recover files from corrupted flash drive just got better with the right tool. Data loss can be a devastating affair especially when you don't have a proper backup mechanism in place. Our recommended recovery tool, Recoverit (IS), will leave no stones unturned. Use it to quickly recover over 1000 data types from your corrupt flash drive. Otherwise, the best way forward is to ensure that your data is backed up to avoid extreme losses from never-ending eventualities.