"My son accidentally formatted my flash drive. I am wondering how I can recover formatted flash drive data. Please help?"
- a question from Quora
Flash disk often stores, backup, or transfer essential files like photos, videos, back up of a database etc. Thanks to its durability, portability and reliable transfer speed. But the data in a flash drive is prone to lose for various reasons like unintentional deletion, damages, corrupted media file, virus attack, or accidental formatting. Plenty of issues can turn flash disk into an inaccessible drive.
Accidental data formatting may mean the end of a business—or loss of precious data. The immediate thought that runs on your mind after unintentional formatting is: How do I recover files from a formatted flash drive?
Before anything, it is critical that you don`t write any data on a formatted flash drive. Or else the formatted data may not retrieve whichever the method or recovery tool you try to use.
So, let`s introduce a do-it-all data recovery solution that runs a high-impact drive scan, give you a preview of recoverable data, and get back your formatted data on flash drives.
Method 1: Recover Data from Flash Drive with Recoverit (IS)
Leverage the extensive, most accurate flash drive scanner that crawls your flash drive, uncover your deleted files and retrieve all important data. One of the most comprehensive data recovery tool for formatted data out there, in terms of reliability, efficiency, and ease of use is Recoverit (IS). It is well knitted with a unique lineup of utilities to deep-scan into your flash drive, identify your formatted data, and recover them in good time.
The tool is tremendously powerful and readily recovers nearly every kind of file including videos, audios, photos, emails, document, or any file you might have formatted from your flash drive.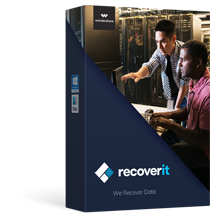 Features of Recoverit (IS)
Intuitive user interface—even a beginner can readily use it
Recovers over 550+ formats including archive files, photos, audio, video, documents, etc
All-Round-Recovery utility that executes an in-depth crawl on your flash drive to get you data that normal scan couldn`t find
Presents preview of recoverable files distinguishing between valid and invalid files
Recovers lost data with their complete file name, and file folder

3,165,867 people have downloaded it
User Guide: Step-by-Step Guide to Recover files Form Formatted Flash Drive Data
Step 1

Download and Launch iSkySoft Data Recovery Software

Install and start the Recoverit (IS) tool. It opens on the main screen, which presents different recovery options.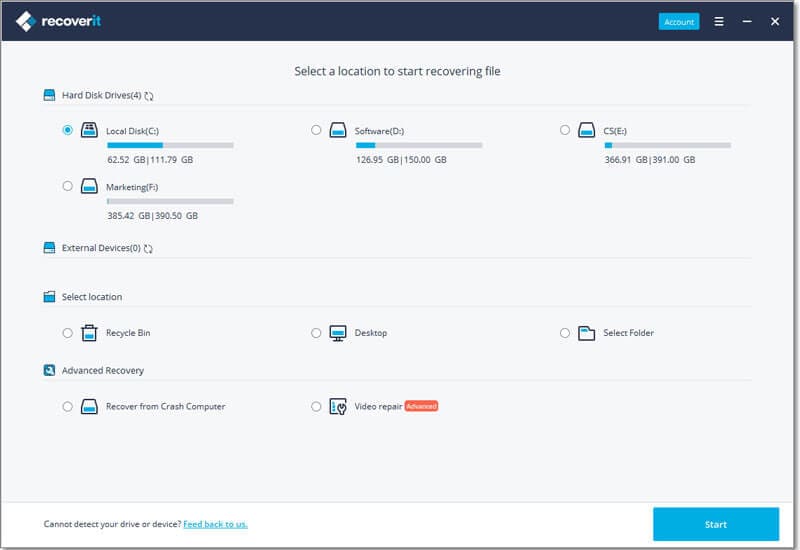 Step 2

Choose a Recovery Mode

On the main menu, select the "External Device Recovery" option to direct you to the external drive you desire to recover. The screen will ask you to connect your external drive on your computer.

Connect your formatted flash disk drive and click "Next" button.
Step 3

Select a Disk

Pressing "Next" button opens a window enlisting the partitions of the connected external drives. Select your formatted flash drive and click the "Start "button to initiate the scanning process.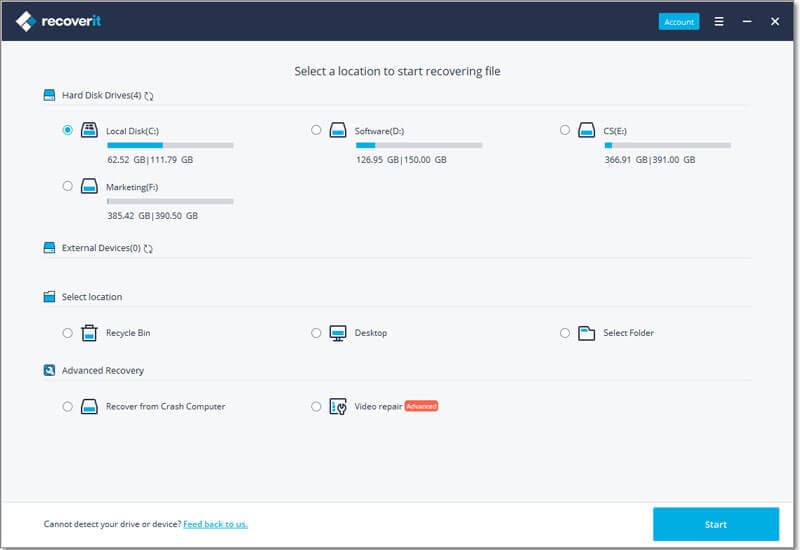 Step 4

Recover Data from Your Formatted Flash Drive

The software will scan for all the formatted data, and all types of files and categorize them according to the file format. What`s more, you can filter your recovered data according to the name and the date of modification.

Select all the targeted data and hit the "Recover" button to get your files back.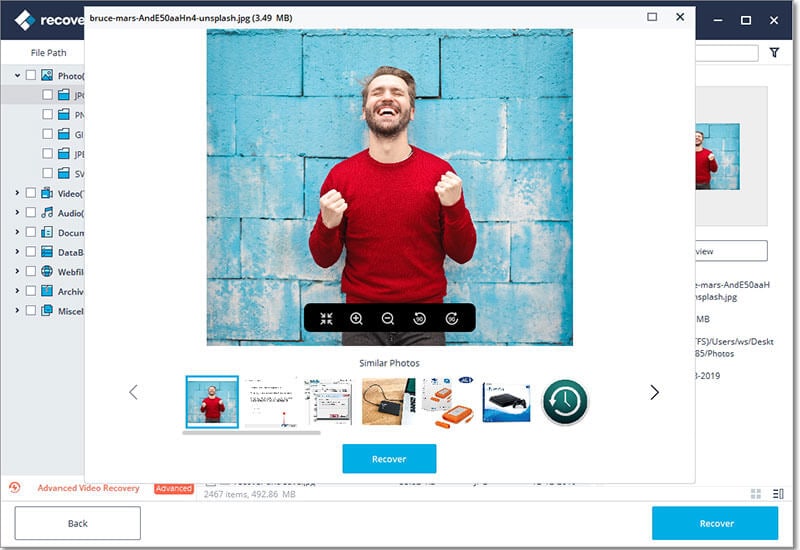 Advantage Plus of Recoverit (IS)
Head over to the All-Round Recovery utility suppose you didn`t identify your file of interest from the first scan. The feature utilizes the data analyzer engine to execute an in-depth scan on your flash drive to identify all the recoverable data from your flash drive.


Save the scan information suppose you intend to pause and resume the recovery later


The recovery tool presents a preview Window which will give you a glimpse of the content of files like emails, photos, audio, video, documents, etc


Check on the Validity utility. It tells the good and bad sector that defines ease or difficulty to recover a file using the software.
There you have it: one of the world`s most accurate piece of software for flash drive recovery and how to get the best out of it.
But let`s check an alternative way to recover formatted flash drive using CMD.
Method 2: Restore Formatted Files Using CMD
If you`re using windows 10/8/7, and you`re looking for a free way to get your formatted flash disk drive back, here is a free method to recover your data with CMD.
But take caution when using CMD for data recovery. Any slight flaw during operation on the cmd might result in severe complications.
Let get started
Step 1 Connect your Flash Drive to the System. Click on the Windows icon on your keyboard to open the "Search" tab for windows 7. For Windows 8 and 10, right-click on windows icon, select "Search."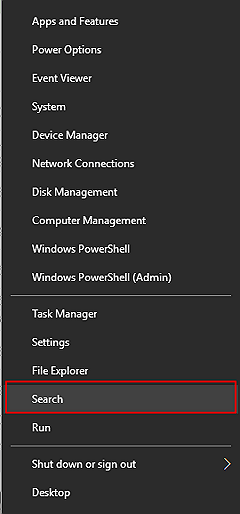 Step 2 Key in "command prompt" on the search tab. Command Prompt app will pop and right-click on it to select "Run as administrator." Then click "Yes" to run the administrator.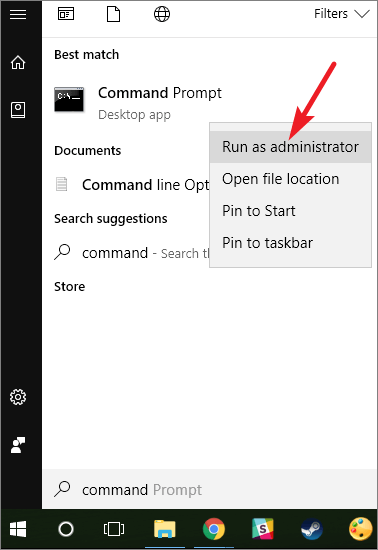 Step 3 Type: chkdsk F: /f in the command prompt and hit "Enter." (Replace F: with the device letter of the flash disk drive you want to recover.)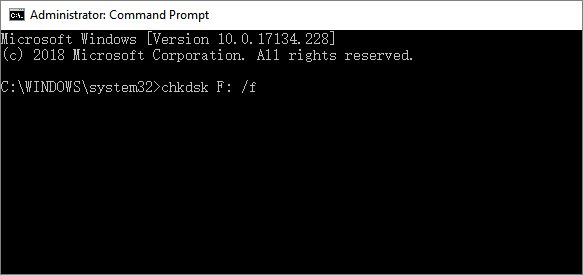 Step 4 Type Y and hit enter to continue. Lots of commands will run on your cmd windows. This process is one of the data recovery processes. Typing "Y" answers these command prompt questions.

Step 5 Type F: and press enter again. Replace F with the drive letter of the storage device you wish to recover.

Step 6 Key in :F:\>attrib –h –r –s /s /d *.* and hit Enter.
(Replace F with the drive letter of the flash disk drive you desire to recover.)
After step 6, check your lost files on your formatted drive. CMD will create new folders where you`ll find your data.
Yes, CMD is a free tool.
But there is a catch:
You must change the extension of the recovered files to normal format if you want to use them. And if you are not familiar with the CMD, it would be difficult to use it to recover your data. And even more:
A slight mess on CMD can translate to a severe operational problem


Data retrieved on CMD are not on their previous formats. You must adjust file format if you want to access it.


CMD slightly changes the name of your files


Cannot recover flash drives recognized as RAW file systems

Tips: Backup Your Data before Formatting your Flash Disk Drive
Backup saves all the data recovery hustle. If you don't have an up-to-date backup of your important data, then the torture of data loss should encourage you to make one. Before you head up to formatting your flash disk drive for any reason, back up your data to avoid their total loss.
Conclusion
If you`ve already formatted your flash drive, and you`re looking toward to recovering your data for free, try the CMD method. And if this method is unsuccessful with your flash drive, or doesn't meet your data recovery desire, go ahead and chose the powerful alternative.
Execute a better recovery in less time.
Compared to using cmd and backup files, Recoverit (IS) provides excellent flexibility in terms of recovery of files from formatted flash drive. The all-in-one data recovery tool offers an outstanding family of file recovery solution for every need.