"Windows 10 on my system is not able to recognize my USB drive, "the last usb device you connected to this computer malfunctioned". Is there any way to fix this error?"
- a question from Quora
There are multiple ways to fix the issue in which Windows can't recognize USB drive. You can try to fix it via formatting your drive, or you can update the drivers, but all the methods only work when you are aware of the actual reason behind Windows not detecting the USB drive. So, you need to try basic methods first, to see if there is some major issue or not. In this article, we have listed 5 effective methods to fix USB drive not getting recognized issue.
Part 1. 4 Common Reasons Why USB Drive is Not Recognized in Windows
Corrupted software or bugs can be one of the reasons behind USB drive not getting recognized on Windows 10 or any earlier version of it.


If your USB drive has received any kind of physical damage through falling, excessive temperature, excessive pressure, dust, or water, then there are very high chances of your USB drive not getting recognised by Windows.


Outdated drivers or incorrect USB drivers can also be the reason behind your USB drive not getting recognised by Windows 10/8/7 or earlier versions of Windows.
Part 2. How to Fix USB Device Not Recognized/Detected
There are many methods you can try to fix the USB drive not recognized the error. Try all these below-listed methods one by one in sequence to fix your issue.
Method 1. Restart Your PC
Sometimes when you face the problem of your USB drive not getting recognized by your system, it might be a simple error in your system. You need to unplug the USB drive, shut down your system, and restart it again. Once restarted, try to plug in the USB drive again. If it's not your USB's fault or any other major issue, then your PC should recognize your USB drive while reconnecting.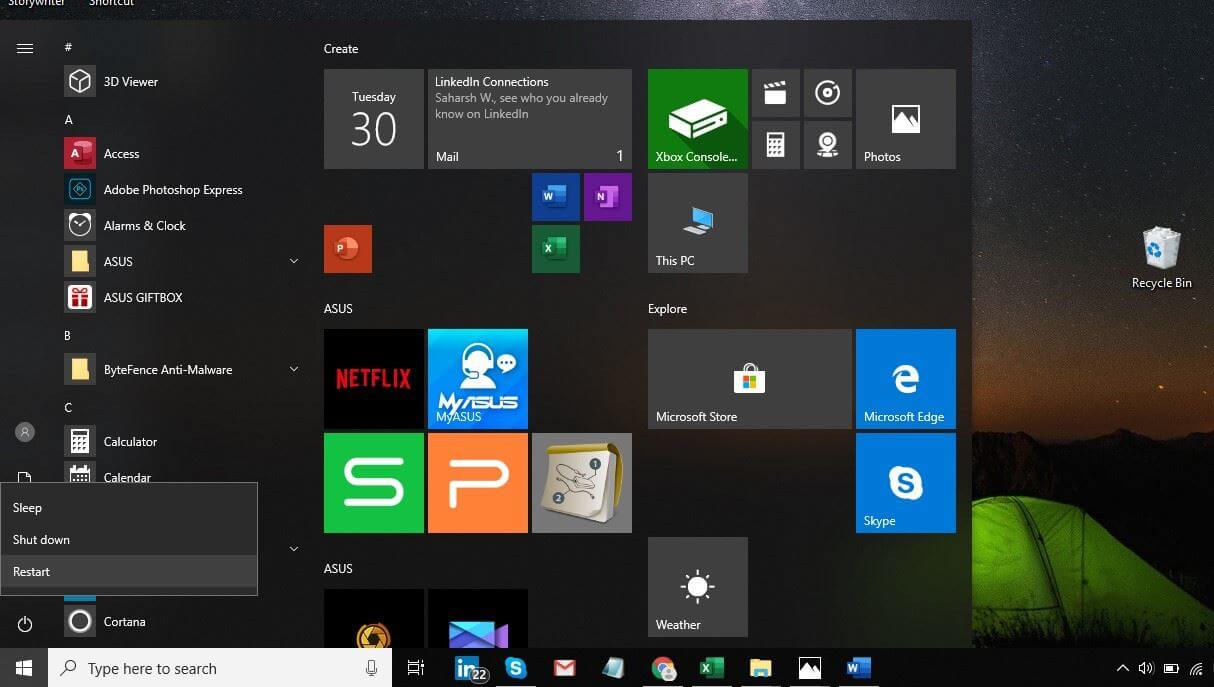 Method 2. Update the USB Drivers
If none of the above-mentioned methods works for you, and your USB drive is still not getting recognized by the PC, then the problem lies in your drive. One of the issues with your drive might be outdated drivers. So, you should follow the below-mentioned method to update the drivers of your drive, and see if your USB gets recognized or not.
Step 1
First connect the USB drive to your PC. Now, go to the search panel on your home screen and search "Device Manager", you will see a Device Manager program in the results with an icon, click on it to open it.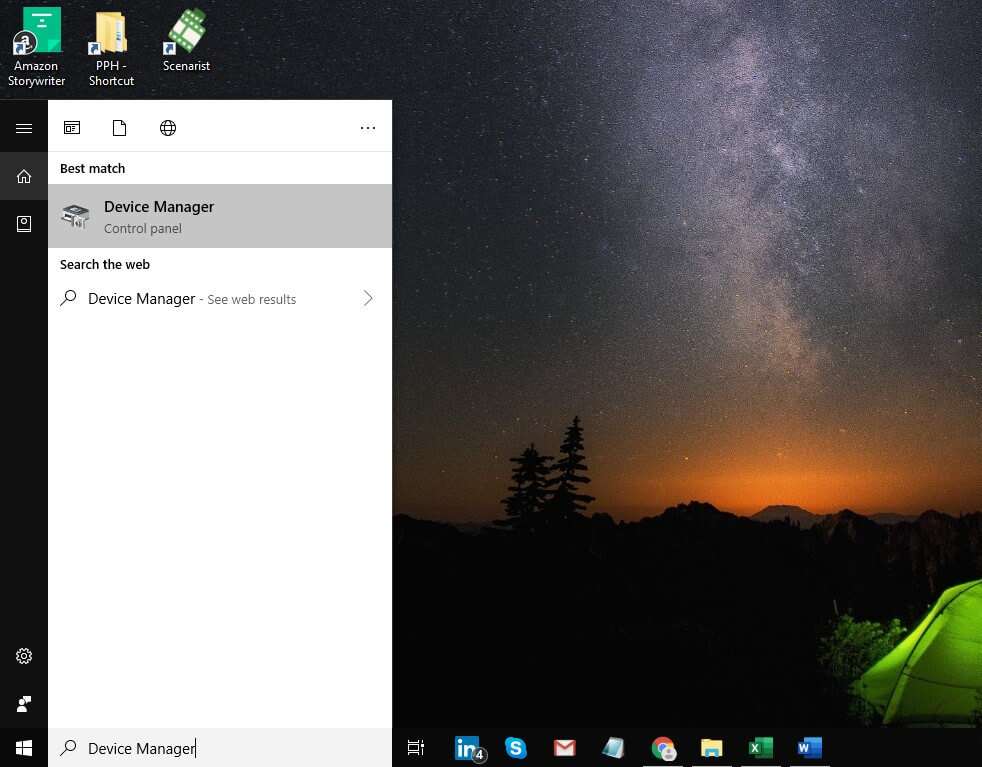 Step 2
Once you are into device manager, simply try to spot the "Disk Drivers" option in the list and click on it, this will bring a dropdown menu in front of you consisting of all the disks on your system including your USB drive.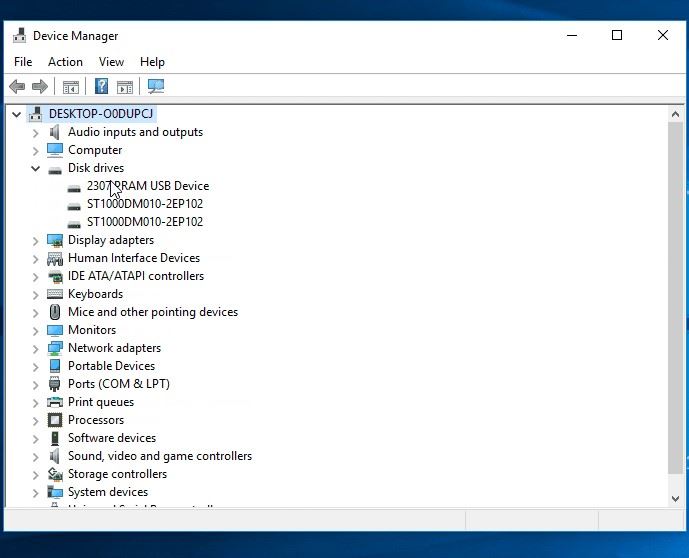 Step 3
Now, right-click on your USB drive, and choose "Update Drivers" options from the appearing options. Once you choose to update drivers, it will ask you to search automatically for the updated drivers or browse manually, click on the option "Search automatically for updated drivers".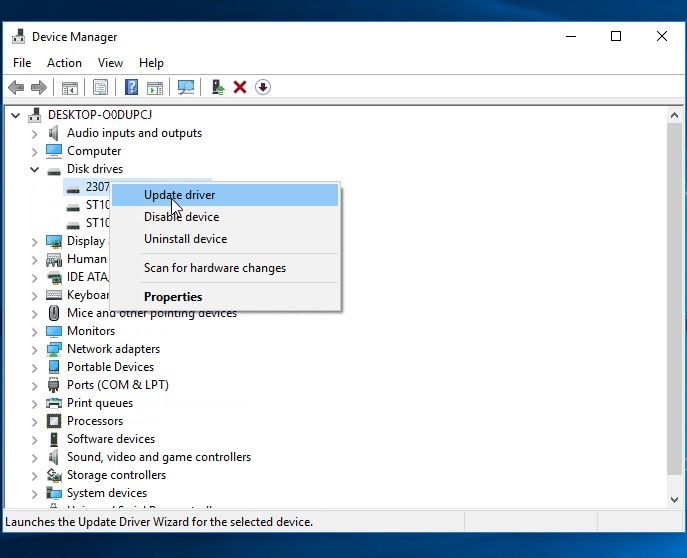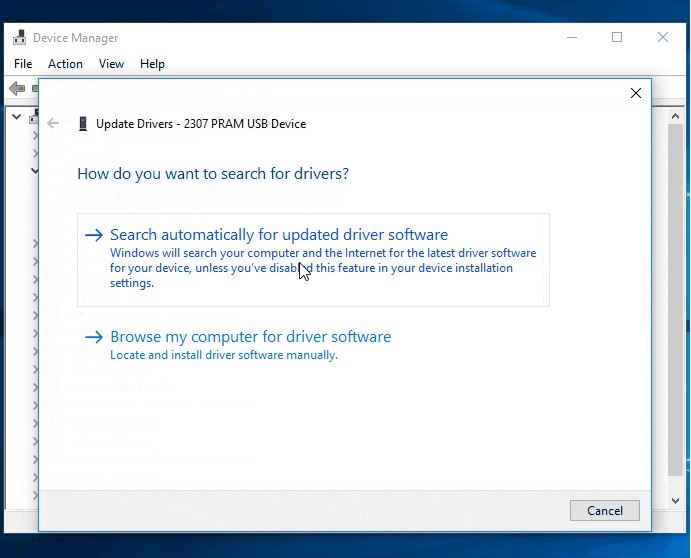 This will update the drivers of your USB drive on the system, and hopefully, the device will recognize your USB drive when you reconnect it.
Method 3. Reinstall the Drivers of the Disk
Step 1
From the search panel on your home screen, search for "Device Manager" and enter the Device Manager program.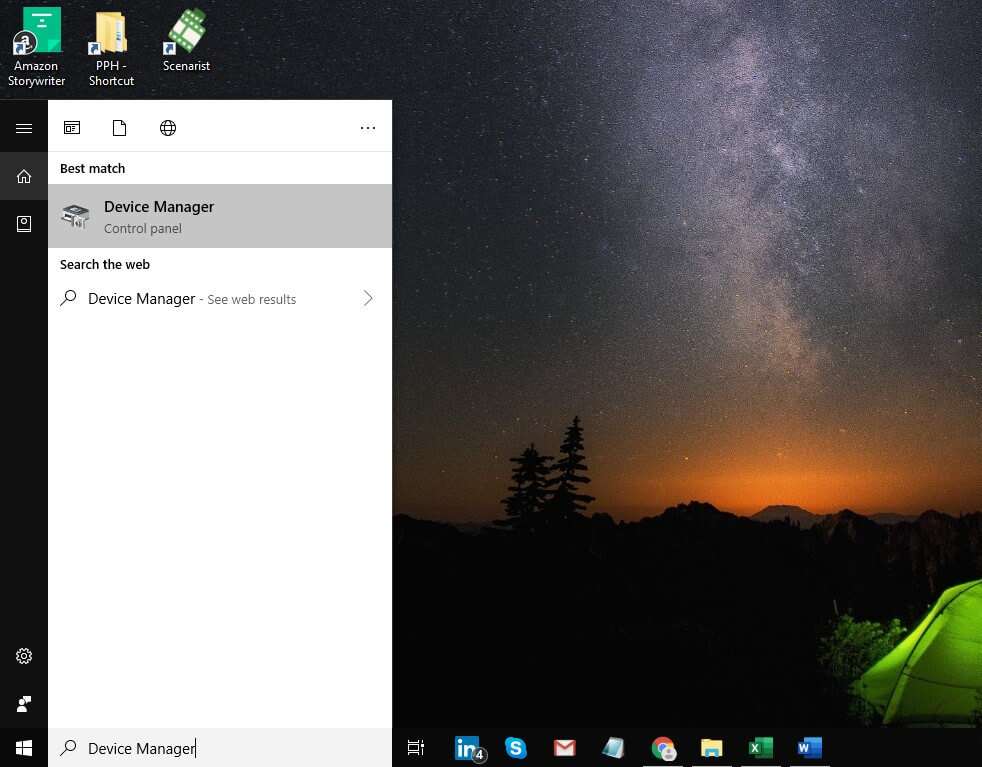 Step 2
Once in the Device Manager, click on the "Disk Drivers" to see your connected USB drive. Now, right-click on the USB drive and choose the options "Uninstall Device".
Step 3
You will be required to click" OK" in the next prompt window, once done, the process of uninstalling the device will start, wait for the completion of the process.
Step 4
Now you can plug out your USB drive and restart your PC, once restarted, plug in the USB drive again, this will install the new drivers in the system.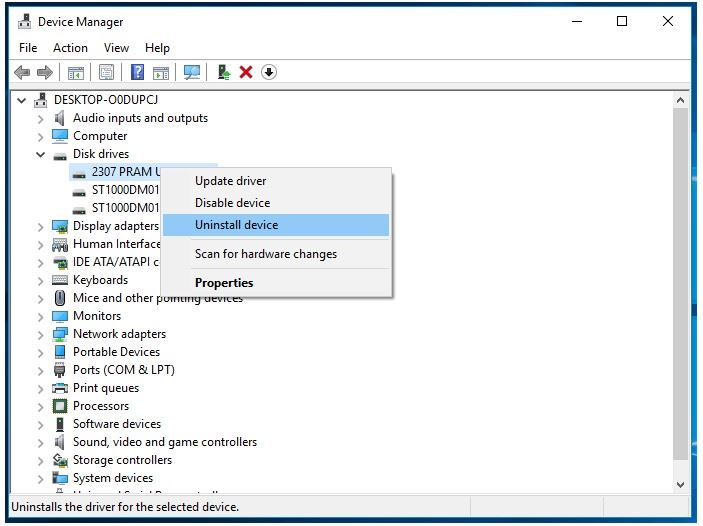 Once the new drivers are installed for your drive, your drive should get recognized in Windows 10 or any other version of Windows.
Method 4. Format your USB drive
If all the above-mentioned methods fail, the last thing that you can try to make your computer detect the USB drive is to format the USB drive. It's not one of the very safe options, as it will wipe out all of your data, but it might fix the problem of your USB drive.
Note: This method doesn't work when your system totally fails to recognize your USB drive. However, if your system is able to at least detect your drive, but is not able to show the data of your drive, in that case, you can use this method.
Step 1
Once you have your USB drive connected, you need to go to the "My Computer", or "This PC" and spot your USB drive listed there under external devices.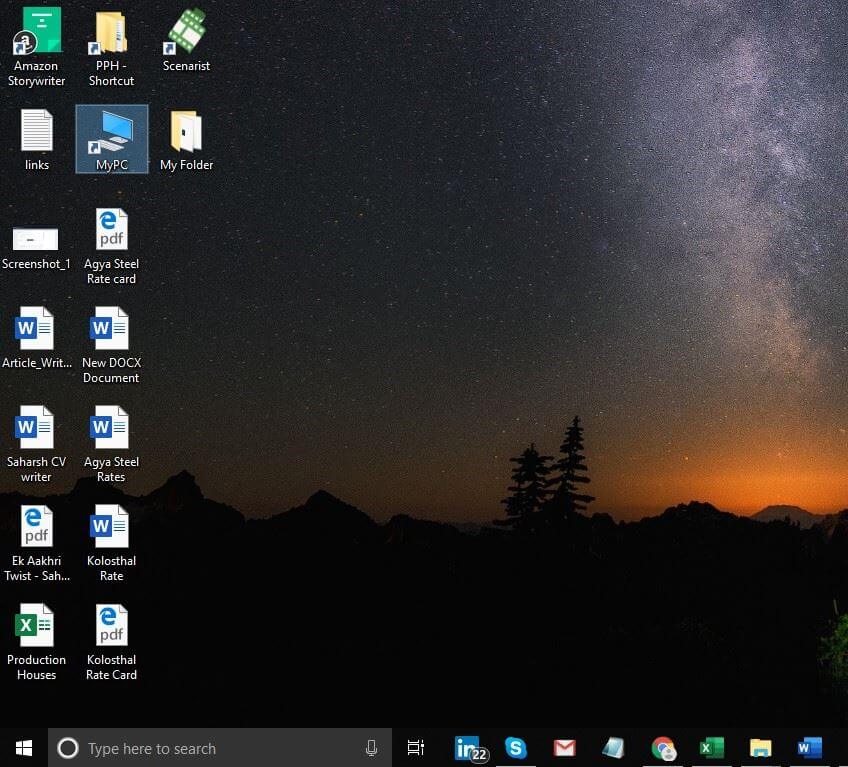 Step 2
Now, right-click on your USB drive, you will see a lot of options in the Windows popup menu, click on the "Format" option, this will take you to a new window.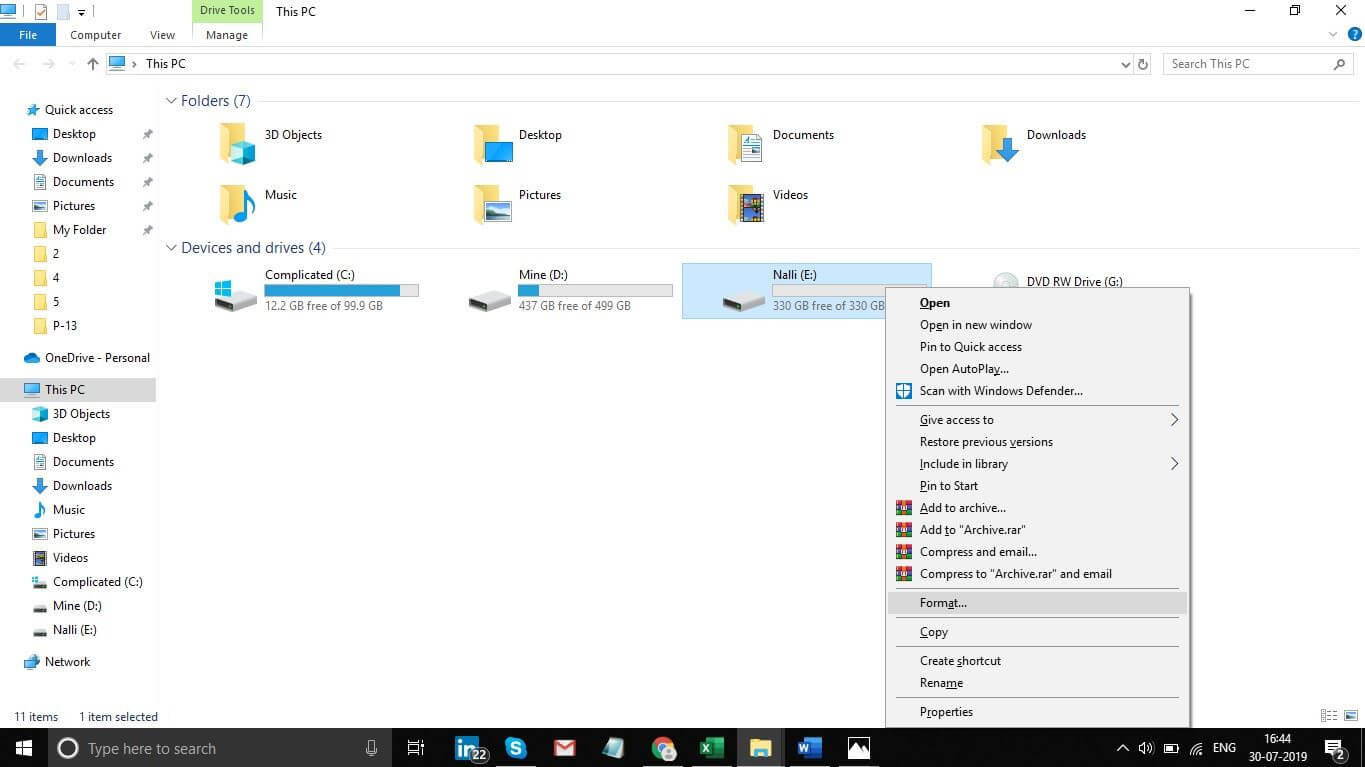 Step 3
You will see a lot of options in the new window related to the formatting of your Drive. Configure all the options accordingly, including the File system, Capacity, etc. Keep the "Quick Format" option disabled for a deep scan.
Step 4
Once everything is configured, click on the "Start" button to start the process of formatting your drive. Once the formatting is done you will see a success message appearing.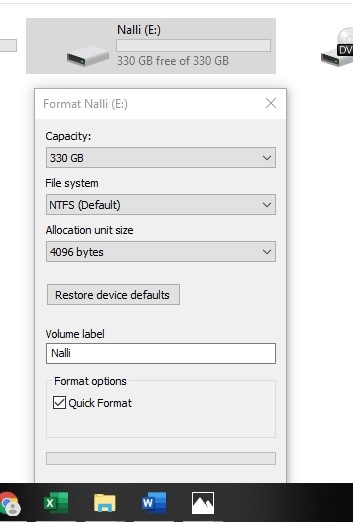 Formatting your USB drive should correct the problem of your computer not recognizing your drive. Now, as you know, once you have formatted the USB drive, all of your important data is lost from your USB drive. But don't worry, you can recover all of your formatted data very easily with the help of Recoverit (IS) software.
Part 3. Recover Lost Data after Fixing the USB Drive Not Recognized/Detected Error
Yes! You can recover all of your lost data from a formatted USB drive by using Recoverit (IS) tool.
Whenever you lose data due to an accidental delete or by intentional formatting, the data remains hidden in the storage of drive unless overwritten. So, if you take immediate action and use a powerful data recovery tool like iSkysoft, then you can easily recover all the data.
The reason behind recommending Recoverit (IS) tool is that it's one of the highly trusted and most powerful data recovery tools out there. It provides you with all the features that you require in a data recovery tool, and on top of it, it comes with a super easy recovery wizard. So, whenever your data is at risk, you have the best option by your side.
Five Most Powerful Features:
iSkysoft allows you to recover data from the crashed window by using its bootable recovery feature.


iSkysoft allows you to recover data from your USB Flash drive, SSD, Pen drive, PC, Mac, Android, iPhone, Digital Cameras, etc.


iSkysoft allows you to recover data like Videos, Audios, ZIP files, Documents, etc. and over 1000+ file types under such data categories.


iSkysoft can scan a specific file type or a specific folder on your drive for more precise scanning.


iSkysoft has multiple data recovery modes to suit your data recovery scenario, it chooses the best data recovery mode automatically for the most effective recovery.
User Guide of Recoverit (IS) Tool
Step 1

Installation

Simply download the Windows's version of iSkysoft on its official website, install it on your system and launch it. Meanwhile, connect the formatted USB drive to your system.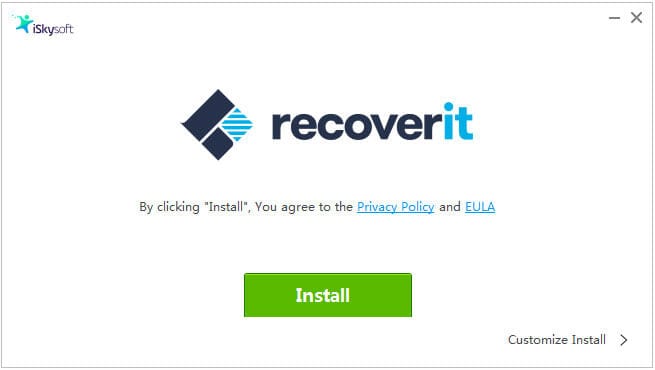 Step 2

Drive Selection

The welcome window of the iSkysoft tool will have all the storage drives and partitions of your PC listed on it, including your formatted USB drive. Choose your formatted USB drive from the External Devices section, and click "Start". This will initiate the scanning process for all the formatted files on your drive.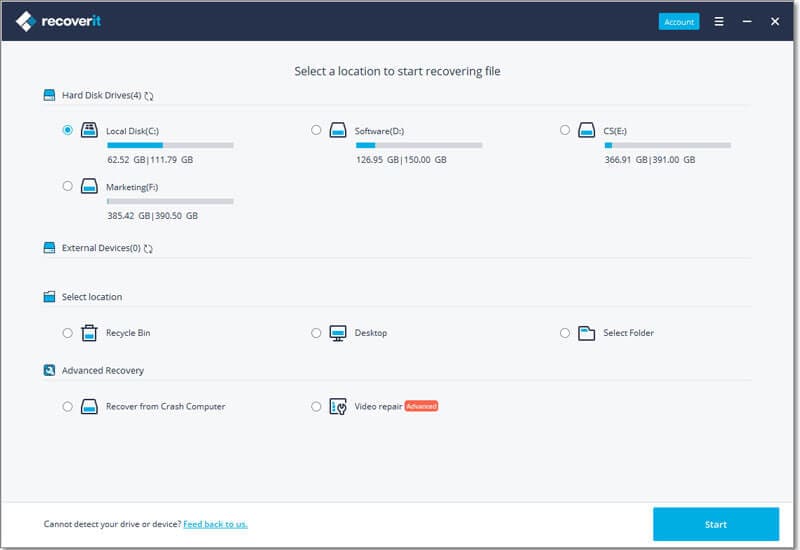 Step 3

Recovery

As a result of the successful scanning, you will see all of your lost files listed for preview and recovery. You simply need to preview the files and select those files you want to recover. Now, click on "Recover", and choose a secure location on your PC to restore all the files.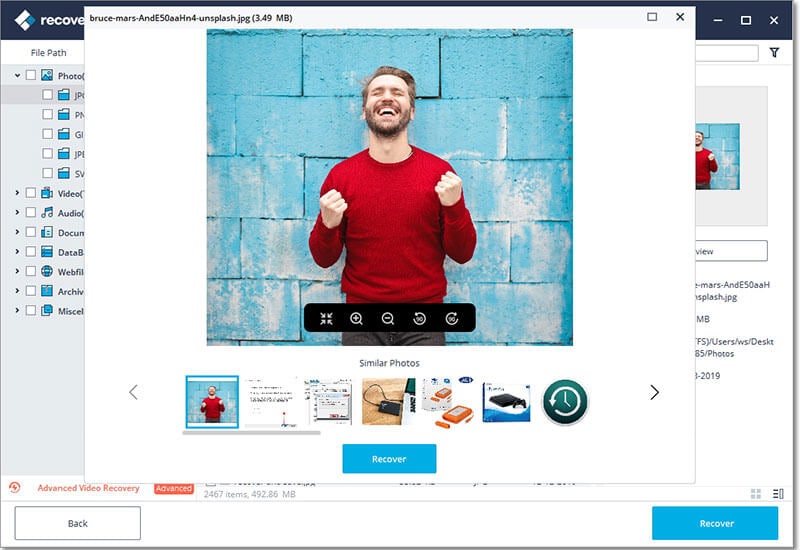 With the completion of this process, you can be assured that all of your files lost during formatting are back and has been restored.
If your USB drive is not getting recognized in Windows 10/7/8 or any of the earlier versions, then you can try all the above-mentioned methods one by one. But if the reason for your USB Drive not getting detected in Windows is the physical damage, then all these steps might not work for you. In any case, you should back up your data or try to recover it safely using Recoverit (IS) tool.