It doesn't matter how much you try to avoid an unwanted loss of data, you might end up losing your important files out of the blue. While you can take some preventive measures, keeping a data recovery freeware application handy is a must! It will help you get back your lost or deleted content from all kinds of sources in less time. Since there are so many data recovery tools out there, picking the best option can be a tedious job. Don't worry – we are here to help you with our handpicked list of some of the best file recovery freeware applications. Read on and get to know about these freeware data recovery software that are used by leading experts.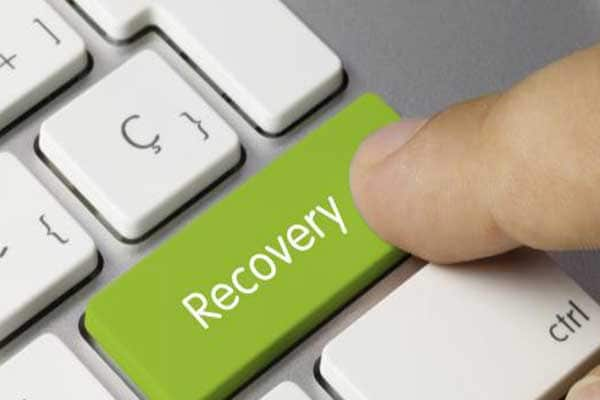 Part 1: The 6 Best Data Recovery Freeware Options
Without waiting anymore, let's get to know about the top 6 data recovery Mac and Windows freeware applications.
1. Recoverit (IS)
If you are looking for a one-stop data recovery solution, then Recoverit (IS) would be an ideal tool for you. It works on every leading Mac and Windows version with an extremely user-friendly interface. It is out with the latest release, Recoverit (IS) 5.0 that has a sleek interface and a highly advanced data recovery algorithm. It doesn't matter what kind of data loss scenario you are facing, this freeware recovery software will certainly yield positive results.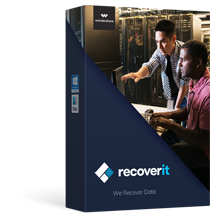 A Life Saver to Solve Your Data Loss Problems!
With Recoverit (IS), you can get back your lost photos, videos, audios, documents, compressed files, and so much more.
It supports accidental data recovery, data lost due to a lost partition, corrupt storage, malware attack, and every other scenario.
Apart from recovering files from your computer's internal drive, you can perform data recovery on an external device as well. That is, it can also be used as an SD card recovery freeware.
It is compatible with every major file system like HFS+, APFS, NTFS, exFAT, etc. Also, the recovery of even raw data from external sources is also supported.
A preview of your extracted data will be displayed, letting you select the respective files you wish to save.
The basic version of Recoverit (IS) is available for free, but users can later upgrade to its premium version as well to enjoy its advanced services.

3,165,867 people have downloaded it
Platforms: Windows and Mac
Rating: 9/10
---
2. Recuva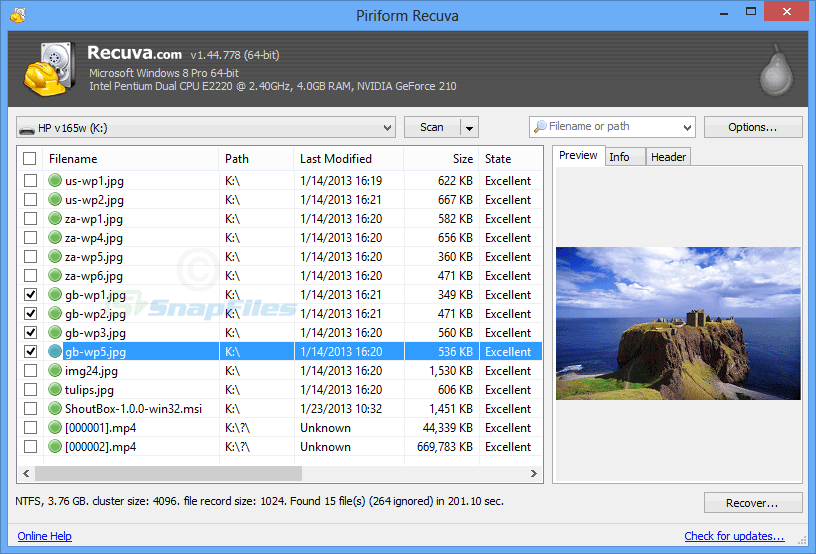 Recuva by CCleaner is another popular disk recovery freeware application that you can consider trying. While the basic version of the tool is available for free, the pro features would require a premium purchase. Using it, you can get back all kinds of lost or deleted content from your Windows internal drive or USB drive storage.
It can recover your lost photos, videos, documents, etc. from almost every possible location.
It supports leading Windows systems and other external sources like MP3 players, hard disks, USB drives, etc.
The application performs a thorough scan of the data source, yielding high data recovery results.
There is also a provision to preview the extracted photos and videos on the native interface.
Platforms: Windows
Rating: 8/10
---
3. Disk Drill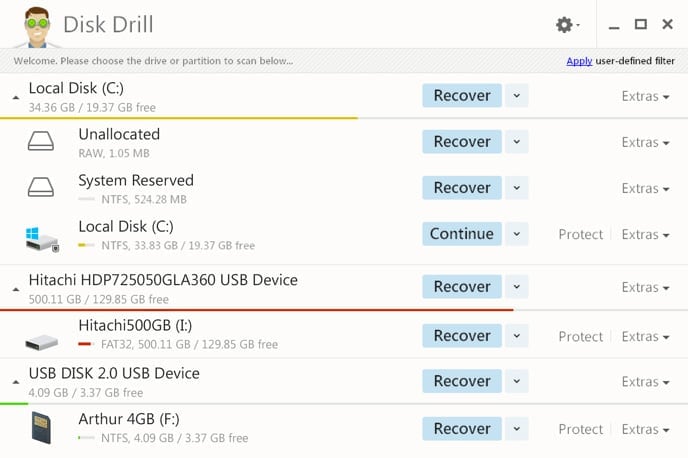 Originally known as 7 Data Recovery, the application has recently been branded as "Disk Drill". It is a 100% freely available data recovery application for Mac and Windows PC that you can install by visiting its official website. Though, it comes with a catch. The free version has a data limit of 500 MB and you need to upgrade to its PRO (paid) version to recover unlimited data.
The photo recovery freeware supports every major kind of picture format like JPEG, PNG, BMP, GIF, TIFF, and so much more.
Apart from photos, it can also recover all kinds of other data types like videos, audios, documents, etc.
The file recovery freeware also supports SD cards, USB drives, MP3 players, and even mobile phones.
The tool is used by over 10 million people and provides a simple recovery process.
Platforms: Windows and M ac
Rating: 7.5/10
---
4. Recover My Files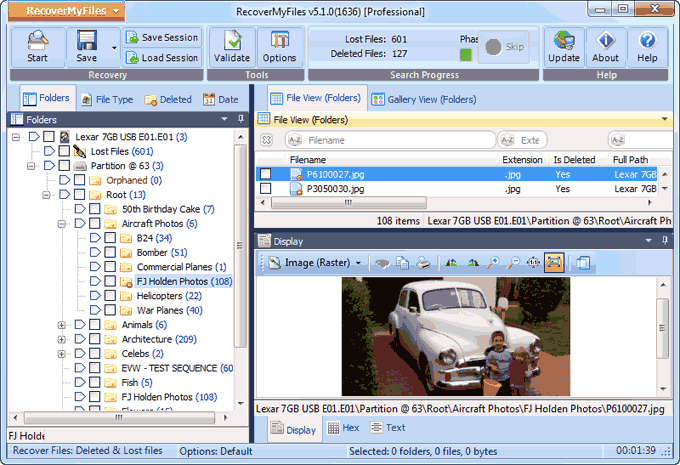 If you are a Windows user, then you can also take the assistance of this raw data recovery freeware. Yes – you have read it right. It can even recover raw data from Windows drive or any other external device. The only problem is that the application hasn't been updated in a while and its results are not as good as it used to be.
It runs smoothly on leading Windows systems and provides a seamless data recovery solution under all scenarios.
The application can recover accidentally deleted data or files infected by a malware.
It also yields positive results for scenarios like lost partition, corrupt storage, etc.
The interface also provides a preview of the recovered data beforehand.
Platforms: Windows
Rating: 7.5/10
---
5. Wise Data Recovery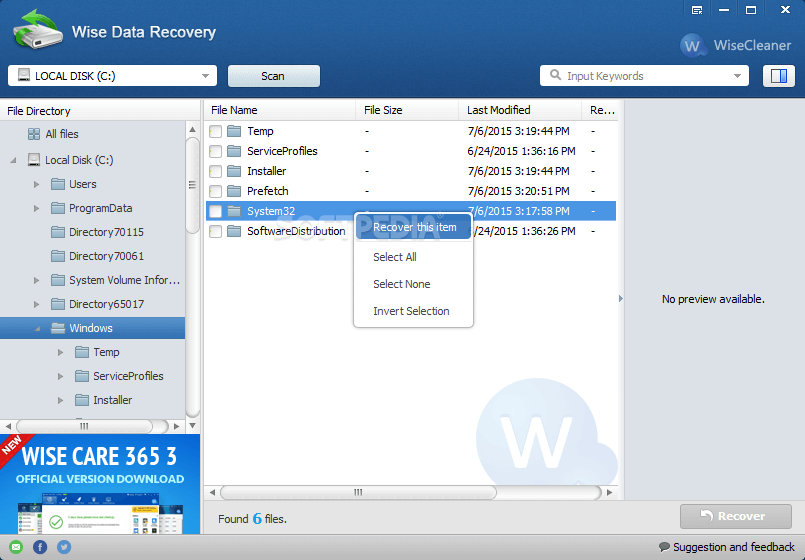 This is a well-known photo recovery freeware that supports other media content recovery as well. The freeware data recovery software is available for leading Windows versions, running on both 32 as well as 64 bit. The tool is pretty compact and is available in different languages.
It can recover data from Windows internal drive or an external device like an SD card or a USB drive.
It supports all the leading Windows file systems like FAT16, FAT32, exFAT, NTFS, etc.
The time taken by the recovery process is less and it can even extract raw files from a source.
A health indicator (red, yellow, or green) will show the chances of getting the file back.
Platforms: Windows
Rating: 7/10
---
6. FreeUndelete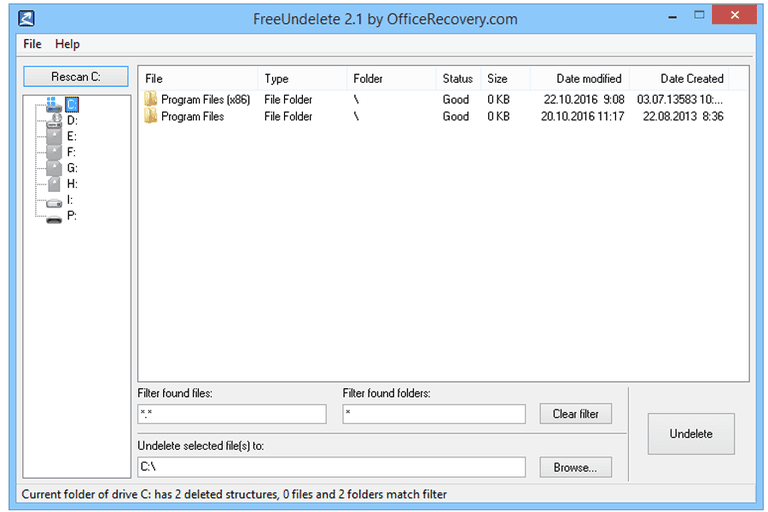 As the name suggests, FreeUndelete by Office Recovery is a freeware recovery software that you can try without spending a single dime. While the overall interface of the tool is that not friendly, it will yield satisfactory results for sure.
The entire data recovery freeware application is available for free, without any catch.
While the application is lightweight, the recovery results are lower than other options.
It can recover numerous kinds of data like photos, videos, audios, documents, etc. and lets us preview them as well.
It fully supports every kind of file system like NTFS, exFAT, FAT32, and so on.
Platforms: Windows
Rating: 6.5/10
Part 2: How to Recover Lost Files with the Best Freeware Data Recovery
Now when you know about some of the best data recovery freeware tools, you can pick an ideal option. From the above-listed solutions, Recoverit (IS) is a go-to recovery tool considered by experts. If you wish to recover deleted files using this freeware, then simply follow these steps:
Step 1

Select a source to scan

Firstly, install and launch the latest version of Recoverit (IS) 5.0 on your Windows or Mac. Now, from the home screen, select a location to scan. You can pick any disk, partition, or folder from here. If you want, you can connect an external device and select it as well.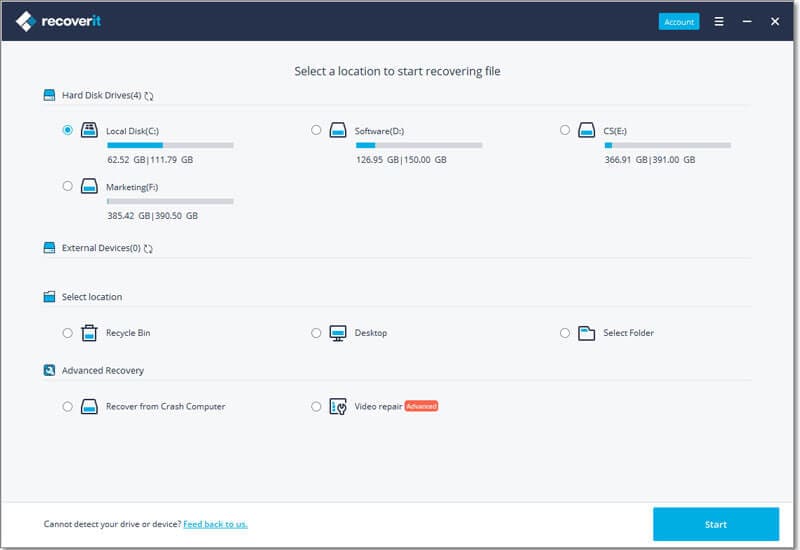 Step 2

Scan the location

Click on the "Start" button and simply hold on for a few minutes as Recoverit (IS) would scan the selected source.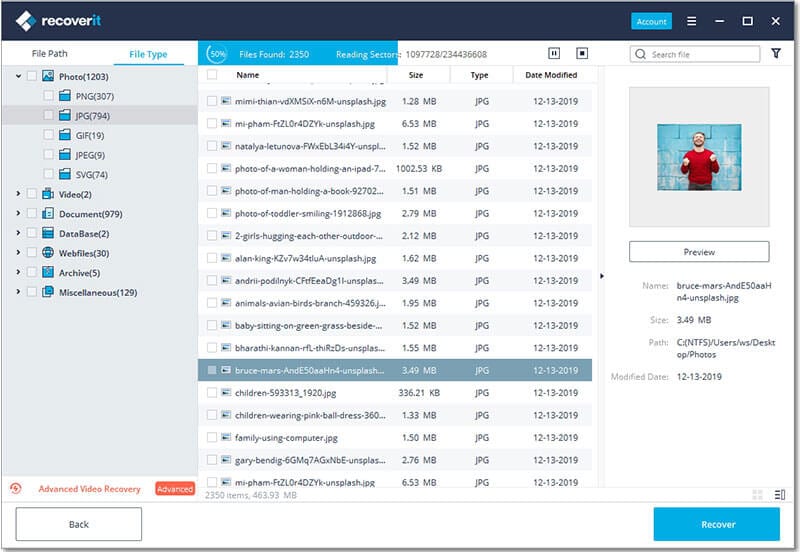 Step 3

Recover your data

That's it! Once the recovery process is completed, the interface will display the extracted content under different categories. You can just preview your files or look for specific content from the search bar. Select as many files as you wish and click on the "Recover" button to save them to a secure location.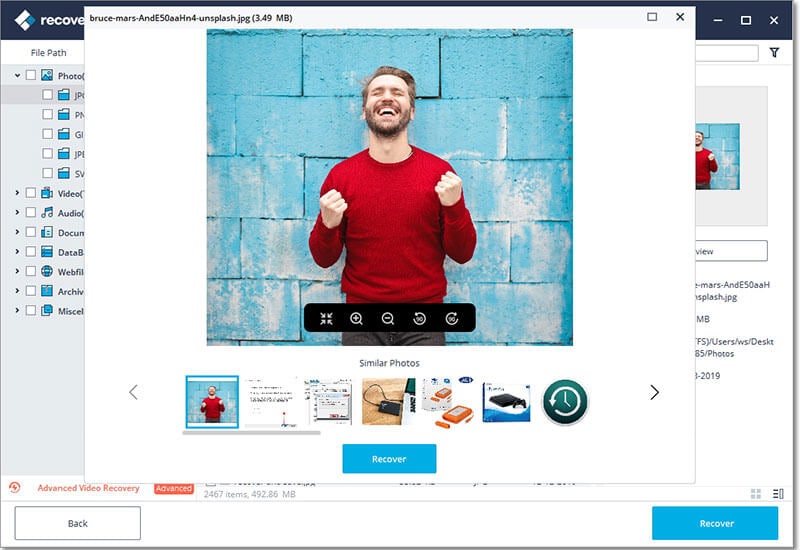 Part 3: How to Avoid Data Loss in Future
By now, you would be able to pick an ideal file recovery freeware for sure. Though, if you want to avoid an unwanted data loss scenario altogether, then consider the following suggestions:
Always keep a backup of your important data, so that you can extract your files from its second copy in an unwanted scenario.


Don't connect your system to a public WiFi or your SD card/USB drive to a public computer. These activities can make your data vulnerable.


Avoid installing applications from unreliable sources to your computer or handheld device.


Make logical partitions on your system's disk and have enough free space on it to keep your data safe.


Don't close an application or power off the system when a file is still being accessed by it in the background.


Avoid overwriting data, pressing Shift + Delete, or formatting a disk by mistake.


Enable the firewall on your system or use an anti-virus tool to keep your files protected.
From the discussed solutions, Recoverit (IS) is one of the best data recovery freeware tools that you can try. You can consider keeping it handy as it can help you recover your deleted, lost, or inaccessible content under all scenarios. The tool is available for free and can be downloaded to your Mac or Windows PC from its website without any trouble.