"My laptop had water spilled over it and since then, I've not been able to retrieve some data including my memorable photos. Anyone, please assist me on how to recover photos from laptop hard drive?"
- a question from Quora
It is always painful to lose any crucial data you had kept for future use. This is something that most videographers and photographers experience, where you find your photos missing from the hard drive the minute you need them for editing and the deadline is also demanding. Occasionally data loss comes as a result of corrupted hard drive, damage, accidental deletion or when the storage device is stolen, an incident that can hardly be reversed. At times this happens when you have no backup at all.
Ideally, you need to have a backup of your important data, but if you don't have any do not panic, there are simplest ways to retrieve all photos you lost successfully.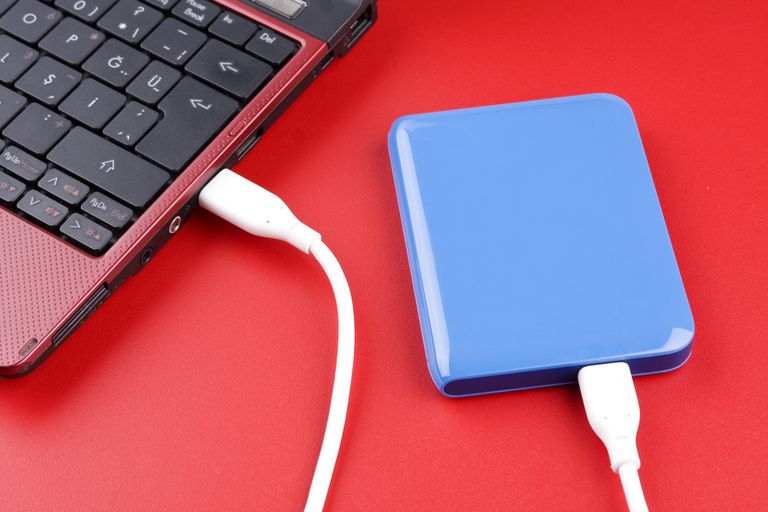 Part 1: Common Photo Loss Scenarios in Hard Drive.
Whenever you are performing disk photo recovery you need to understand different scenarios that lead to photo loss from the hard drive. This makes the lost photo recovery process as simple as possible.
Hard drive failure
The most fragile part of your computer is the hard drive as compared to other parts. Any small imprecision can easily affect its functionality. These drives become useless with time. But some scenarios lead to pre-mature failure such as; overheating, power outage, water or fire damage, exposure to magnetic fields and impact of being dropped.
Accidental deletion
Updating images and deleting them unknowingly is an everyday activity that we encounter. But Windows recycle bin can prevent you from losing your data. Windows also provide a safety net, though, in some scenarios you cannot bank on recycle bin. The scenarios include; file deletion by command prompt, files deleted from the drive, permanent deletion by pressing Shift and delete at ago. This is why it is essential to perform regular backups of your essential data. Regular backups save your time as well as photos in the listed scenarios.
Corrupt partition
At times a section of the hard drive becomes corrupted. When that happens the photos stored becomes inaccessible or the entire partition loses data. An abrupt shutdown of your computer or forceful restart due to power failure can damage the hard drive by making it inaccessible. Take note of third party application as it also leads to corruption.
The correct way of shutting down your computer allows all the programs to be closed properly. The better way is to start by shutting down all the running programs before shutting down your computer completely.
Repartitioning
This process leads to data loss due to many unexpected factors such as interruptions during the partition process and accidental formatting.
Part 2: Best Disk Photo Recovery Software Free Download - Recoverit (IS).
This software is placed at the top of the list because of its powerful features and ability to recover deleted photos from laptop hard drive easily.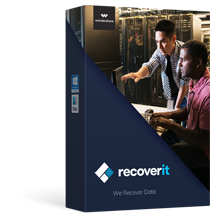 Feature List
High ability to recover images of various formats such as JPEG, Raw, and PNG among many others.
Recoverit (IS) software can recover any type of document namely videos, zip files, emails, songs and many more.
The software lets you recover all your photos whether you lost them due to virus attack, accidental deletion, or physical damage to the storage device.
With its Deep Scanning feature, you can recover all the lost data without leaving anything behind.
It is simply the best in the market today, with only 3 steps to recovery and a high success rate.

3,165,867 people have downloaded it
Part 3: How to Recover Photos from Hard Drive.
To recover your photos will depend on how you lost them. If you deleted your photos by simply clicking 'deleting' option or by right-clicking on the photos and hit delete button then you can just get them back from the recycle bin. However, if you chose the 'shift+delete' then you automatically bypassed the recycle bin and deleted the photos forever. But nothing is lost as you can get them back again by using professional Recoverit (IS) software just in three steps.
Step 1

Select the partition which harbors your lost data

Immediately the program is launched, you need to remember where to find your lost photos as this will speed up the recovery process. Majorly, data is saved in different locations like from internal disk or external drive. Choose the location that contains your photos and then press the 'Start' button for the scanning process to start.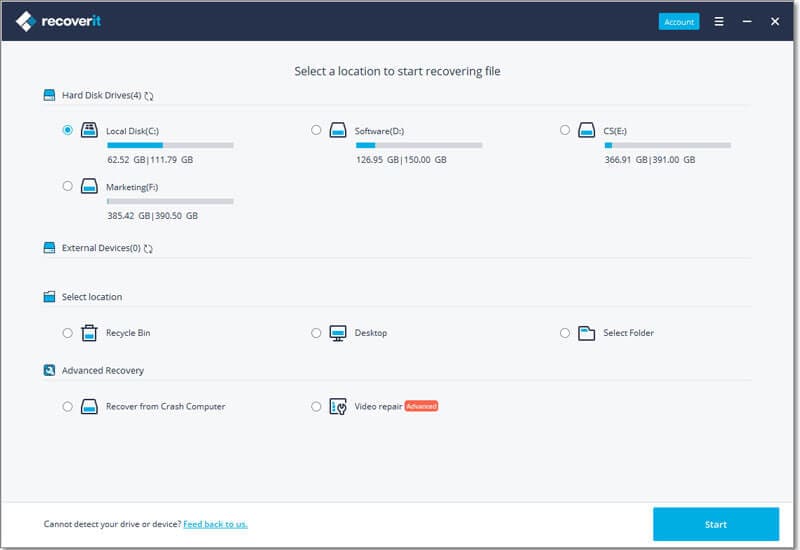 Step 2

Scan the location for your lost data

The next step is for you to let the software scan through your lost photos. It will then populate a list of recoverable photos for you to preview.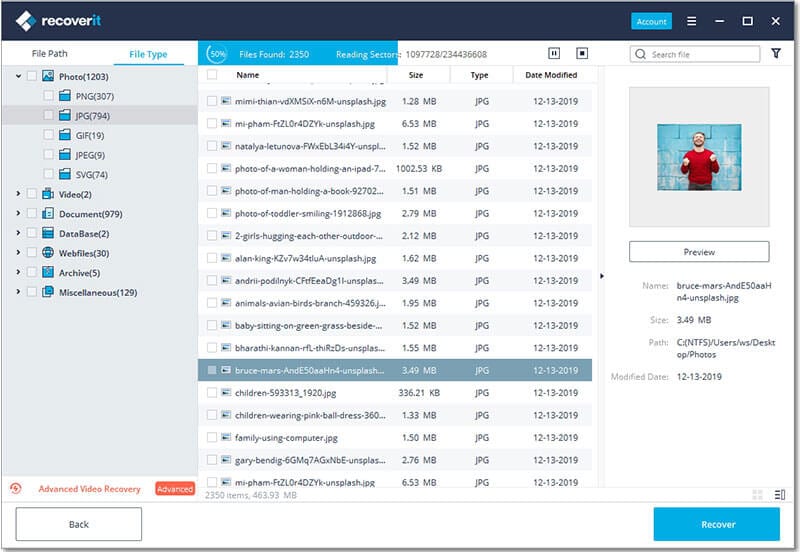 Step 3

Preview your photos

This software offers you the opportunity to preview your lost photos before retrieving them. Pick every photo you need to retrieve by checking the boxes against all the photos you are targeting.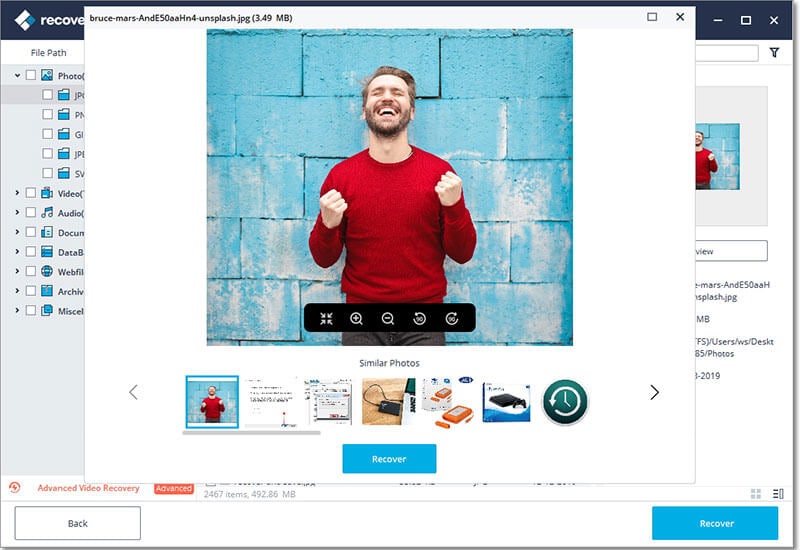 Step 4

Recover photos

This is the final phase of recovering your photos. Once you know all the photos you selected are there, press the 'Recover' button positioned at the far right bottom of the monitor. Save your photos to any device of your choice, but, avoid saving the retrieved photos in the hard disk or where they were initially lost. Better choose a different location or an external hard disk to save them.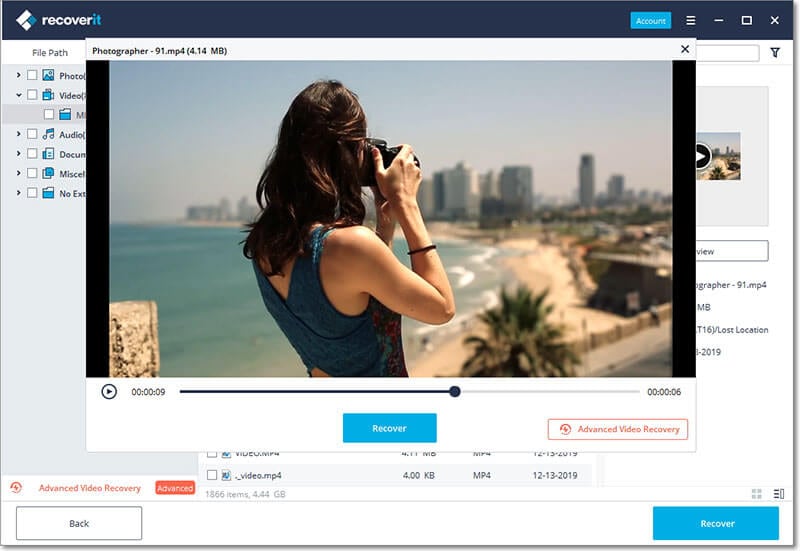 The Bottom Line
Anyone can lose data anytime. But with powerful disk recovery photo, you should not panic when your data disappears. Try the free download Recoverit (IS). It can retrieve all your photos without tampering with the quality. With its fastest and all-round recovery scan model, the software can as well retrieve all file systems and disk types with ease, putting your stress at bay. You can try the trial version and later purchase the licensed version which suits your need.