"How to format USB or External Hard Drive to FAT32 using Diskpart? Are there any simple methods to do so?"
- a question from Quora
Yes! Formatting USB or External Hard Drive to FAT32 using Diskpart is very easy when you know how to do it correctly. When you try to format your Drive to FAT32 using Diskpart, it happens via the Command Prompt window. So, if you don't know the exact commands, you might end up formatting your Drive incorrectly. Thus, it's recommended to follow the steps very carefully while trying to format your Drive to FAT32. Go through the article and discover the best way to format Hard Drive to FAT32 using Diskpart.
Part 1. What is a FAT32 System?
In non-technical terms, FAT32 is a system that helps the Windows in storing the data and then locating it. FAT means File Allocation Table, and "32" in FAT is the improved version of FAT16, which is the second version in the FAT series by Microsoft after FAT12. FAT was initially designed for Floppy Disks, but then got adapted as a file system architecture for the Computers using Hard Drives all over the world. The FAT32 system is a major improvement to any other previous generations of FAT System, as it identifies the clusters on the Disks by using a greater number of bits, making it one of the fastest and efficient Systems for Locating files on your Drives. Right now, the FAT32 system can support the Disks having up to 2TB of storage space.
Part 2. Format Hard Drive to FAT32 using Diskpart.
You can format your Hard Drive to FAT32 System using Diskpart by simply giving a few commands. But formatting your Drive means the loss of entire data stored on your Hard Drive. Thus, we recommend you to take a backup of your Drive before you start to format your Drive.
Step 1 First, if you want to Format an External Storage Drive to FAT32 System using Diskpart, you will need to connect the External Drive to your PC using a USB cable. Make sure it gets connected properly and gets recognized by Windows. If you want to format an Internal Storage Drive to FAT32 using Diskpart, then you need to identify your Drive first through it's Drive Letter and the Drive Size.
Step 2 From the Home Screen, go to the Search Panel at the Task Bar and search for "Diskpart". You will see "Diskpart" in the search results, click on it to enter the Command Prompt window.
Step 3 Now, to see all the Drives of your System on the Command Prompt window, enter the command "list disk". All the Drives of your system will get listed on the window, including the External connected Drives. Now, you need to identify the Drive that you want to format with FAT32 system, identify it by its size.
Step 4 Now, type "Select Disk 1" and press the Enter button to give the command. You will see a display line on the window stating "Disk 1 is now the selected disk". Once you see the line, you need to give the command "list partition", this command will list all the partitions of your Disk.
Step 5 Give the command "Select Partition 1" to select the partition that you want to format with the FAT32 System. You will see a display line on the Command Prompt window stating "Partition 1 is now the selected Partition".
Step 6 Once the Partition is selected, you need to enter the final command "format fs=fat32". Let the command process successfully.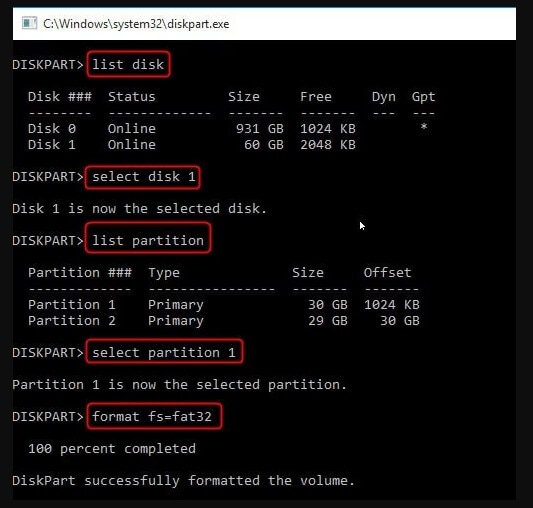 Once the command is processed successfully, you will see a message stating "Diskpart successfully formatted the volume", this means that your selected drive is now formatted to the FAT32 system.
Part 3. How to Recover your Data after Formatting your Drive? Use Recoverit (IS) Tool
Congratulations! You have successfully formatted your Drive to FAT32 system by using Diskpart. But formatting your Drive means loss of all the data stored on your Drive. Hopefully, if you have a backup, you will be able to recover all of your lost data from the backup, but if not, then all of your data is permanently deleted.
Don't worry if your data is permanently deleted, because it can be recovered. All you need is Recoverit (IS) tool that comes with powerful scanning modes, great features, useful features, and much more. With the help of iSkysoft Data recovery tool, you can easily recover all the lost data from your Drive.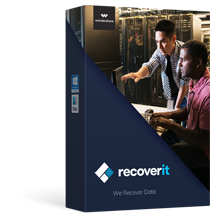 Check out some amazing features of Recoverit (IS)
You can recover lost data from Drives running on any kinds of systems including the FAT32 system.
You can recover all types of files from your Hard Drive like Documents, App Data Files, Zip Files, Audio Files, Video Files, etc.
It comes with two powerful scanning mode i.e. All-around scan and Deep Scan.
It allows you to recover data from all kinds of OS and Storage Devices like Windows, macOS, Hard Drive, Pen Drive, SD Card, Floppy Disk, Digital Camera, etc.
It allows you to preview scanned files before recovery.
Bootable Data recovery feature allows you to recover data from a crashed Windows.
The Free version allows you to scan and preview files lost from your Drive.

3,165,867 people have downloaded it
User Guide to Recover Data from Formatted Drive
Step 1 Launch the iSkysoft tool on your PC, and go to the Disk Drive selection window (default window). On the Drive selection window, you will see all of your System's storage devices listed on it, including the external storage devices. Look for your Drive on which you want to perform the data recovery. If it's an External Drive, look for it in "External Storage Devices" section, or if it's an Internal Drive, look for it in "Storage Drives" section. Select your drive and click on "Start".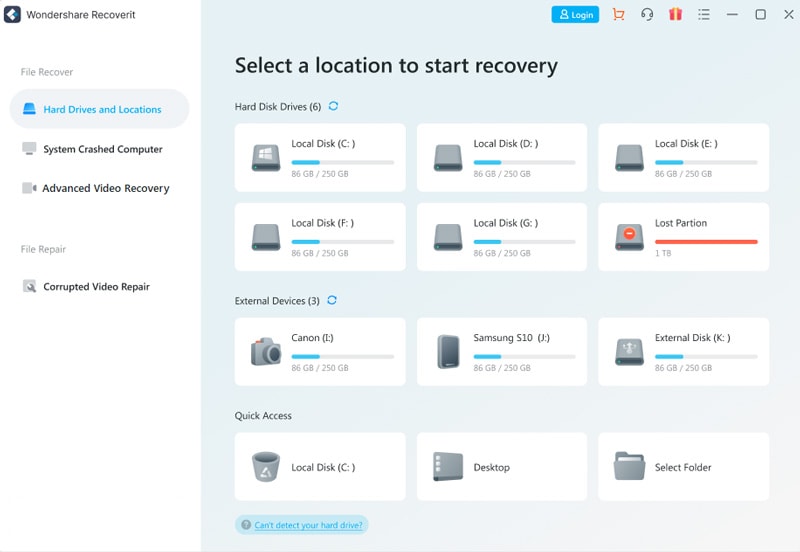 Step 2 Once you have selected the Drive and have clicked on the "Start" button, the program will initiate the All-Around scan for your selected drive. This scanning process will look for all kinds of recoverable files lost from your Drive due to Diskpart clean or any other reason, and it may take a while. During this process, the program allows you to Pause the scanning and Resume it again at any time. You can also start the recovery process by pausing the scanning. iSkysoft also allows you to filter your scanning process according to specific file type or location.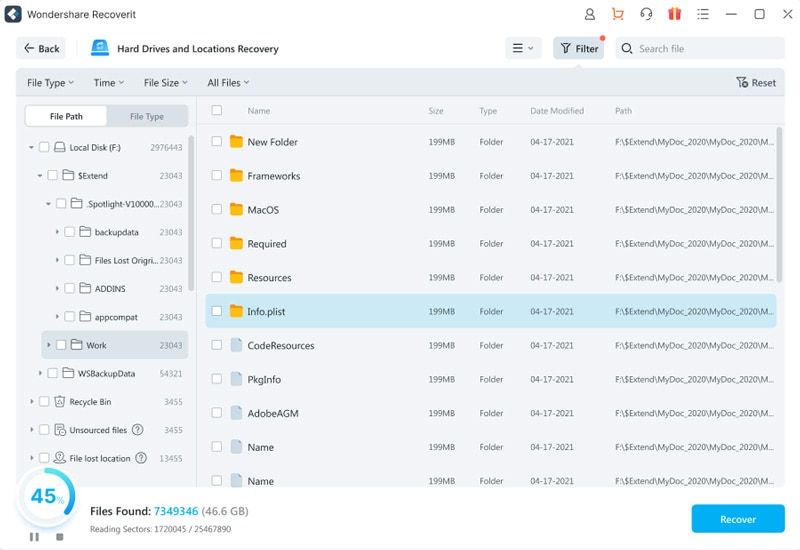 Step 3 You will see all the scanned files on the same window once the scanning process is done. All these listed files are those that were lost from your drive and now can be recovered with the help of Recoverit tool. You need to select the files you want to recover by finding them through the Search Bar, or by navigating through all the listed files. You can also preview the files before recovering them. Select all the files that you want to recover and click on "Recover".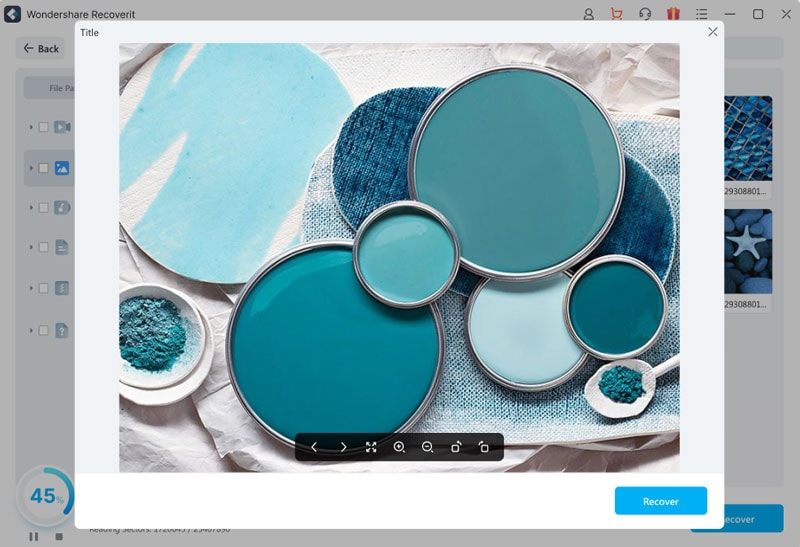 In a few moments, all of your selected files will be recovered on the location you chose. You can then simply access all the files by navigation to the location.
Conclusion:
If you are planning to format your Drive to the FAT32 System, then using Diskpart is the best way to do so. Formatting Hard Drive to FAT32 has many benefits if done properly, and it can also boost the performance of your System in most of the cases. Thus, we recommend you to properly follow the steps mentioned in the article to successfully format disk to FAT32 System.