PS4 is a home gaming console through which we can connect to the virtual world very easily. It provides an awesome gaming experience with many good features. Generally, we have to use an external drive as extended storage on PS4 due to different reasons. There are some points to keep in mind which we should follow. One of the most important things is to make sure that the external hard drive or SSD is formatted correctly, without this step, the hard drive will not work properly. Here we will let you know how to format hard drive for ps4 and different reasons to format PS4 hard drive.
Part 1: Reasons to Format PS4 Hard Drive
The original mechanical hard drives in the original PS4 and PS4 Pro have a capacity of 500G and 1TB. Now games of forty to fifty gigabytes are very common. After the long-term operation of the game, the capacity is even as high as 100G. The original PS4 hard drive is in terms of storage capacity and read speed. They are already somewhat unable to keep up with the development of the times. If you are facing problems like capacity and super slow read and write speed of the original hard drive, then you can format the hard drive to solve these types of issues.
There are many benefits of formatting PS4 hard drive. The following are some main benefits of this process.
Better performance
If your PS4 becomes slow, you must format it, this will restore the drive into its original state and you can enjoy gaming in a better way. Furthermore, the full format of a drive once a year keeps the drive in a better condition.
Fix crashes and errors
If you face different types of errors while playing games, formatting of drive should be your first choice. A full format will fix the bad sectors of the hard drive and other issues.
Better gaming experience
Generally, we need fast-speed hard drives for gaming purposes. In this era of gaming and technology, there are different games that take time for loading and formatting of drive can solve this problem efficiently. You can have a better gaming experience by formatting the PS4 hard drive.
Part 2: Format PS4 Hard Drive to exFAT and FAT32
When the user inserts a new U disk or mobile hard disk on the Windows platform, the system will automatically pop up a window that needs to be formatted, providing 3 different file formats: NTFS, FAT32, and exFAT. Many users know very little about these three formats, they just operate according to the instructions of the pop-up window, and Windows does not provide detailed explanations for the three formats. The file system is basically how data is stored on a drive. File systems of different formats are related to how data is stored on the disk.
File names, file permissions, and other attributes are also different. Windows supports three different file systems including FAT32, NTFS, and exFAT. NTFS is a modern file system in the current Windows system, currently the most widely used; most of the built-in hard disks are in NTFS format. FAT32 is a relatively old file system. It cannot support many modern file format attributes like the NTFS format. However, it has good compatibility with different system platforms and can be universally used on Linux, Mac, or Android system platforms. ExFAT is an alternative to the FAT32 file format. This is best for many devices and operating systems.
Differences between exFAT and FAT32
ExFat is the most suitable file format for USB flash drives is customized by Microsoft for flash drives. It has better protection and good technical support. It keeps data safe and avoids different types of damages. The main benefits include enhanced interoperability between desktops/notebooks and mobile devices, a maximum of 16EB for a single file, improved space allocation lines in the remaining space allocation table. It is best for different types of external hard drives.
FAT 32 is the common format of the traditional file format of the Windows platform, any USB storage device will be pre-installed with the file system, which can be used on any operating platform. The second edition of Windows 95 was introduced for the first time, replacing FAT16 (supporting a maximum file capacity of 2GB). The compatibility is very good, but the disadvantage is that there is a limitation on the file size, and files over 4GB are not supported.
How to format PS4 Hard Drive to exFAT and FAT32?
If you want to use an external drive as extended storage on PS4, the formatting process is not that simple. This is because PS4 uses its own encrypted file system when using hard drives or SSDs as extended storage. PS4 hard drive format is a very simple process and can be done in the following way. We can format PS4 hard drive in windows 8 in several steps.
Step 1.

Attach your device to pc and open disk management by right-clicking on the top of the start menu.
Step 2.

From the menu choose disk management, you will see all the hard drives, just right-click on the drive that you want to format and then click "New Simple Volume".
Step 3.

After clicking Next, leave the size of volume at maximum value, then assign your desired letter to drive, and you can change it later.
Step 4.

In the format partition section, select exFat or FAT according to your needs.

It is important to format the drive completely before processing, a message will appear that formatting will erase all the data.
Step 5.

Done.

In this way, we can easily format PS4 hard drive to exFat and FAT32 file systems. If you are looking for how to format external hard drive for ps4 this is the easiest way to perform this operation. However, if you want to convert NTFS to exFAT or FAT32 without data loss, you can use any reliable data recovery tool.
Part 3: Can I Recover Data from Formatted PS4 Hard Drive?
With time PS4 starts losing its speed and energy due to different reasons and that really affects your gaming experience. It will become slow and take time to load different games. One main reason behind this is the internal storage device. We can fix different gaming-related problems by formatting the internal storage drive of PS4. But the question is can we get data back after ps4 external hard drive format? Yes, we can get all the data back by using Recoverit - a professional data recovery tool.
Why choose Recoverit?
Recoverit is professional data recovery software that fully covers all data loss scenarios of a variety of devices such as hard drives, memory cards, USB flash drives, SSDs, etc., and quickly retrieves lost data in very simple steps. With Recoverit, you can recover lost data from formatted hard drive easily. The following are its main features: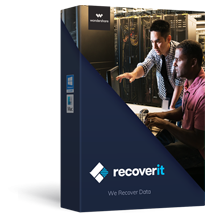 Why Choose This Hard Drive Recovery Software:
Recover data from formatted hard drive and many other devices as long as it can be recognized by your system.
Recover everything on your hard drive, support 1000+ types of data.
Support all scenarios that lead to data loss, such as disk formated, system crash, virus attack, etc.
It supports raw recovery that can deeply search your drive, deep scan tracks down all the lost files thoroughly, increasing the recovery success rate.
Preview found data to check how many files can be recovered.

3,015,629 people have downloaded it
Steps to recover data from Formatted PS4 Hard Drive
Step 1.

Download Recoverit on your PC/Mac and select Hard Drive and Locations, then connect your formated drive and select it to proceed.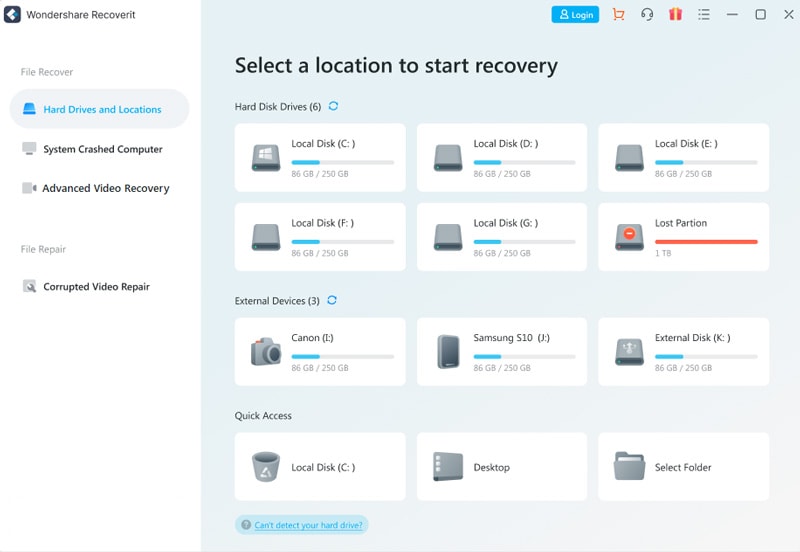 Step 2.

Select data from your formatted drive, you can filter the target data type by clicking the Filter button.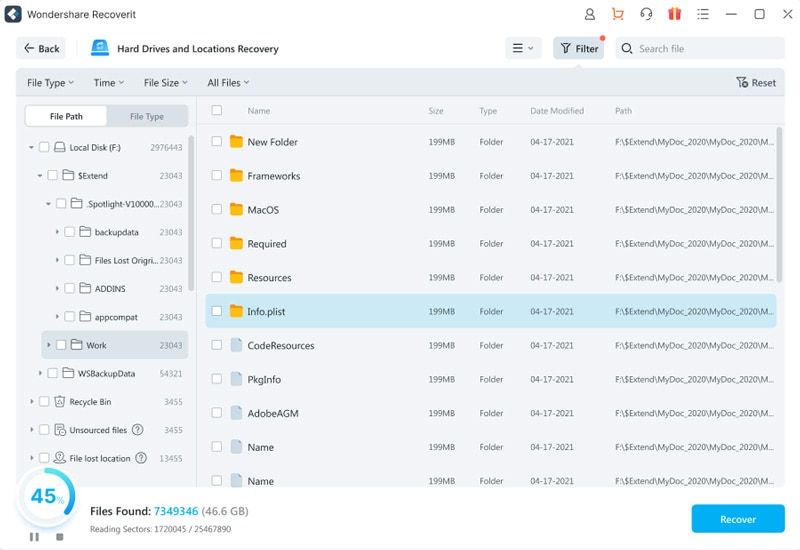 Step 3.

Preview and Recover data.

After the data scanning process finishes, you can preview the target data and click the Recover button to get it back.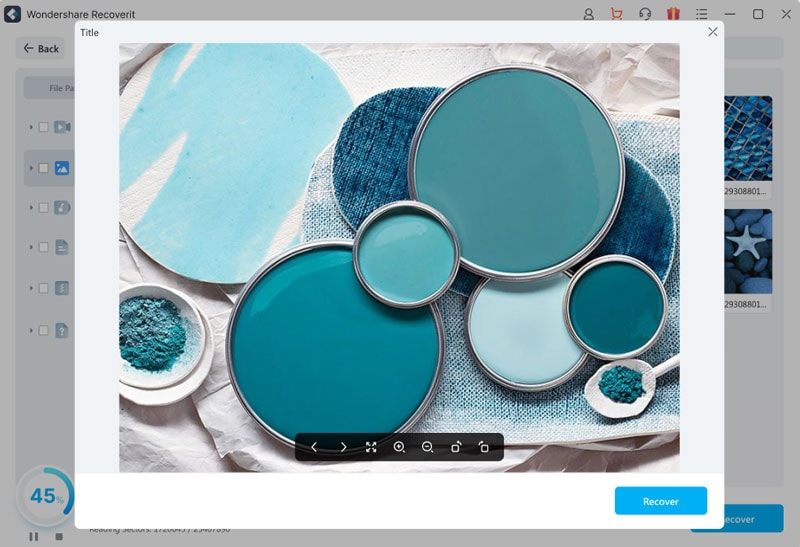 In this way, you can easily recover lost data (like PS4 game) from the formatted hard drive with Recoverit.