"How to format hard drive to NTFS? My disk is formatted in FAT32, and I want to change its file system to gain access to NTFS's vast features and store individual files with a larger size, but I don't know how to do that. Can it be formatted to NTFS format?"
- a question from Quora
To tackle software diversity, manufacturing companies tend to design their USBs and external drives in formats like FAT32 or exFAT. While these file format systems are convenient and compatible with both Windows and macOS, they do not provide the luxury and features of NTFS(Windows) & HFS+(macOS). So sometimes, it becomes necessary to change the format to more OS-oriented ones. Here, we will discuss the working and characteristics of NTFS format and the most convenient way to format hard drive to NTFS in Windows. As a bonus, you'll also know the method to recover data from an NTFS formatted hard disk.
Part 1: What is NTFS Format?
NTFS or New Technology File System is the default file format system for Windows ever since the introduction of Windows XP. It supports storage of larger individual files, security permission for files, encrypts them, allows you to recover previous versions of data and create back up, and several other characteristics. NTFS offers all the handy features that aren't available to FAT32 and exFAT. However, you can not use this format to write data on Mac computers with macOS. Furthermore, it is not feasible with Sony's PlayStations. Here is the comparison of features between FAT32 and NTFS:
| | | |
| --- | --- | --- |
| Features | FAT32 | NTFS |
| Max File Size | 4GB | 16TB |
| Max Partition Size | 32GB | 2TB |
| Cluster Size | 32KB | 4KB |
| Compression | No | Yes |
| Native Encryption | No | Yes |
Part 2: Can I Reformat my FAT32 Drive to NTFS?
Choosing the right file format for your external hard drive is crucial if you intend to transfer content from one place to another without any hassle. Most of the removable devices are manufactured in FAT32 format, which doesn't allow you to store individual files with size more than 4GB. But you can change your luck by merely reformatting your FAT32 Drive to NTFS with the assistance of Windows' built-in utilities such as Disk Management or using the "Diskpart" command in MS Command Prompt.
Part 3: How do I Format Hard Disk to NTFS?
As mentioned earlier, there are two quick and approachable methods to format hard drive to NTFS from FAT32. You'll learn to manage both of them by simply reading our list of instructions:
1. Format to NTFS using Diskpart in Command Prompt:
To format the hard drive to NTFS using cmd is relatively simple and does not require much technical knowledge. All you need to do is follow the guide and perform the format while reading it to avoid any mistakes.
Open command prompt by hitting the Windows key+R and simply typing cmd in the dialogue box. You can also run the application by typing cmd in the taskbar.

Enter Diskpart to initiate the disk partition mode.


Hit list disk command to display all the available volumes on the computer.


Select your disk by entering select disk 2. You can write any number depending on where your drive is listed.


Enter clean to remove the partition or volume associated with the disk in focus.


Once disk partition cleans the drive, enter create partition primary.


Experts recommend to perform a conventional format than "quick format," but it is entirely up to you. Enter the command format fs=ntfs or format fs=ntfs quick (for quick format).


You'll be notified once the utility completes the format.


Enter Exit to leave the Diskpart mode.
2. Format External Hard Drive to NTFS from FAT32 using Disk Management:
Disk Management not only allows you the opportunity to change the format of the hard drive to NTFS, but it also assists in assigning a new letter of the USB, helps create multiple partitions, and keeps a thorough check on the health of the hard drive in focus. You can change the format to NTFS by following the listed procedure below:
Launch Disk Management by going to Windows setting and entering dskmgmt in the search bar.

Locate your hard drive and right-click on it.


Press Format from the menu.

From the newly opened dialogue box, change the file system of your drive from FAT32 to NTFS. You can also change the name of your disk.

Click on OK. Disk management will start formatting your HDD.

You'll be notified once it formats the hard drive to NTFS. Congratulations! You have done it!
The methods to turn hard drive to NTFS can also come in handy if your disk gets corrupted and turn RAW. Moreover, if your PC has crashed, then you can use the command prompt facility through the system's BIOS and access Diskpart mode to convert the hard disk from RAW/FAT32/exFAT to NTFS.
Part 4: How to Recover Data from a Formatted NTFS Hard Drive?
We have discussed the methods mentioned above for your external hard drives/USBs only as the inbuilt volumes of a standard PC are always in NTFS file format. So, it is essential to store the content inside the soon to be formatted hard drive someplace, where you can reaccess them. But, if you forget to create a back up for those files and accidentally erase them during the formatting function, you can still regain all of them back.
The most secure method to regain the formatted files is to use Recoverit (IS)y program for Windows. It does not matter if your drive has turned RAW or it has bad sectors, iSkysoft toolbox can recover everything against all the odds. Here are some of many other characteristics, that will undoubtedly attract your attention and inspire you to retrieve items from your newly formatted NTFS hard drive.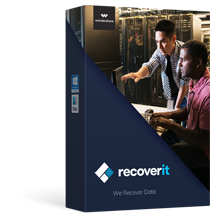 A Life Saver to Solve Your Data Loss Problems!
It is available for free on both macOS and Windows.
It not only recovers content from formatted drives, but you can use it to retrieve deleted files from lost partition, recycle bin, and data erased due to a virus/malware attack.
It covers every external device available in the market, which includes external hard drives, USBs, SD cards, mp3 players, audio/video players, cameras/camcorders, and much more.
There are roughly more than 1000 different file formats available online, and Recoverit (IS)y application supports and retrieves all of them for your audio, video, graphic, email, document files.
Accidents can happen at any time! If your computer has crashed all of a sudden and you fear to lose the valuable data inside, then with the help of Recoverit (IS) Ultimate, you can create a Windows Preinstallation Environment and recover everything using a bootable media.
The application's sturdy recovery scan will dig in deep and analyze every individual sector of your external storage device.

3,165,867 people have downloaded it
Here is the three-step guide that will assist you through the data recovery function and help you save the files to a safe location.
Step 1

Select your new NTFS Drive

Upon opening the application, under the external devices section, you can select the freshly formatted drive and hit the Start button to initiate the recovery action.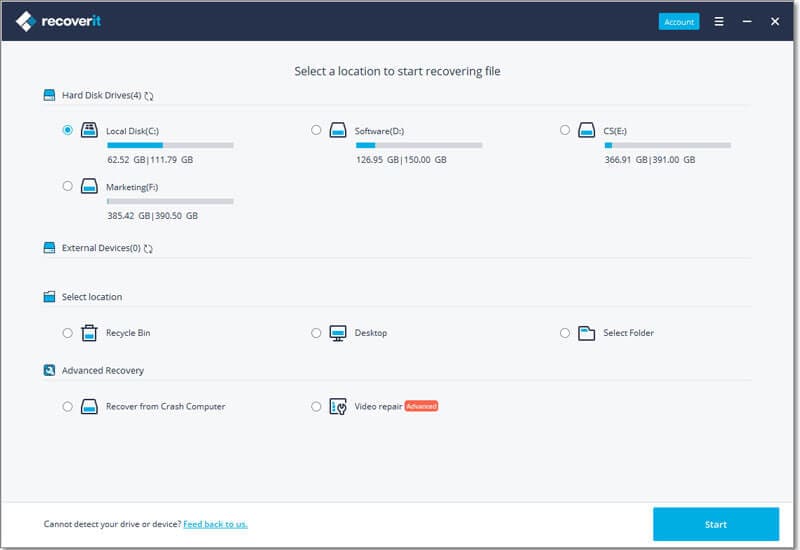 Step 2

Recovery Scan

Depending on the size of the formatted drive, you will have to wait a few minutes until the application completes its job. You have the authority to stop or pause the scan whenever you feel to view the semi-recovered items. iSkysoft also provides the option of filtering the search, which you can define by selecting and choosing the type of items that you are looking to retrieve.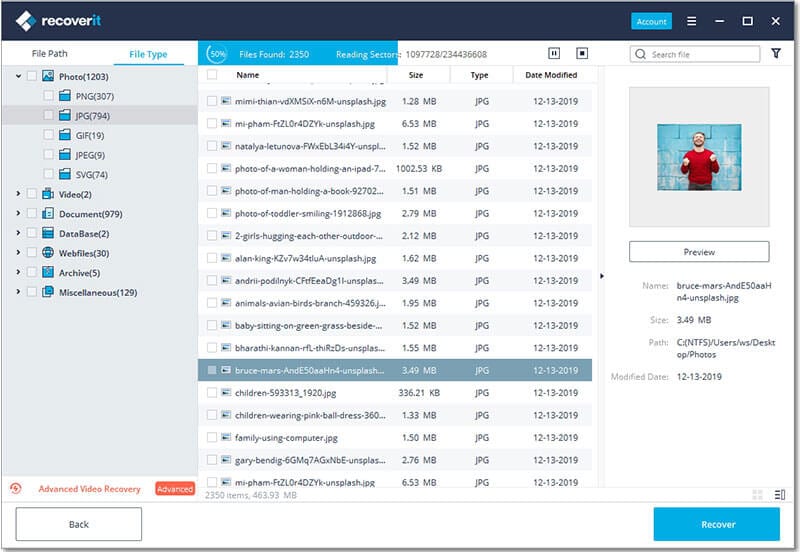 Step 3

Save your Data to any Location

Once the app completes the scan, you will then be offered to review the content with iSkysoft's handy preview feature. You can also view the files in the form of a list and icons. If, for some reason, you are unable to access the preview option, then by following the program's useful inbuilt tips, you can fix the issue. After carefully analyzing every single item, select the ones you want to retrieve and hit the 'Recover" button, and save them to any location you wish to.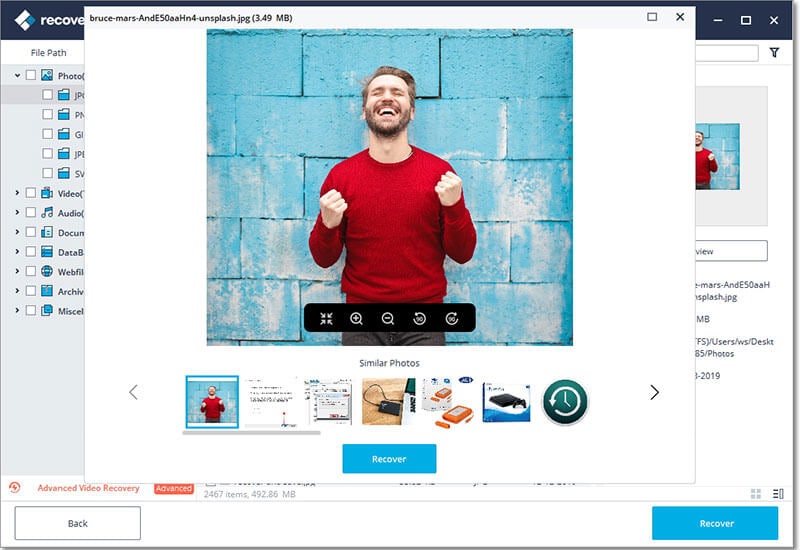 Conclusion:
Manufacturers only design formats like FAT32 to offer convenience in file sharing across multiple platforms. If you only function around Windows, then picking NTFS is a no brainer, which gives you much more freedom as compared to other formats.
Now, you know what NTFS is and what makes it more unique than other file systems. You have also learned the two most approachable techniques to convert your FAT32 external hard drive to NTFS. If, under any circumstances, you lose any of your valuable content on the hard drive, then you can retrieve it all with the help of Recoverit (IS)y application for Windows.