There are various system errors you may encounter, but hard drive 3F0 error is the most common issue faced by Windows users. The worse thing is that the error occurs unexpectedly, without giving you a chance to take action.
But, the good news is that you can fix this problem with ease. In this post, we'll help you to understand what does hard disk 3F0 error means, why it occurs and what you can do to fix 3F0 error Windows 10.
Part 1: What Is Hard Disk 3F0 Error
Generally, the error occurs when you try to power on your system and it may seem inexplicable and vague to you as it is. However, what does it mean is that your system can't communicate to your hard disk, which a part of your system containing your operating system, your programs and apps, and data.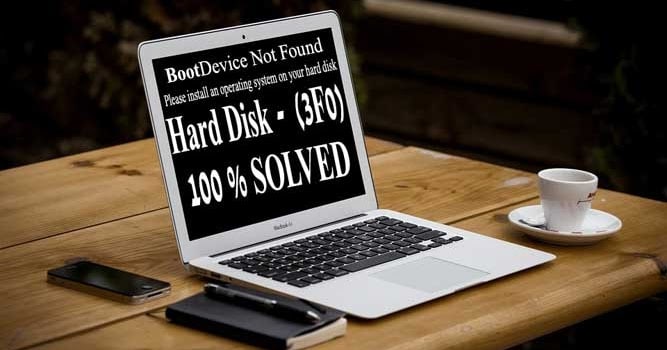 Thus, without it, your system is a giant brick. In other words, the error occurs when your hard disk doesn't support the boot process of your system.
During the booting operation, the operating system loads into RAM. To get the task done, a setup process begins and BIOS (Basic Input-Output System) takes charge. The BIOS system tries to access specific files from the bootable device - hard disk. However, when the hard disk isn't accessible, you get a hard disk 3F0 error on your system screen.
A hard disk 3F0 error is quite common boot error seen on HP computers. Along with this error message, you're told that your system can't locate a boot device. That's why it is also known as hard drive boot device not found 3F0 error.
Part 2: What Causes Hard Disk 3F0 Error
If you can determine the reasons for the hard disk 3F0 error, then you can take appropriate measures for hard drive 3F0 fix. The common causes of this boot device not found error include:
Incorrect or wrong boot sequence in the BIOS.
Boot sector or Master Boot Record (MBR) is corrupted or damaged.
Hard disk connection issue.
Virus or malware attack.
Corrupted or damaged the hard disk.
Corrupt hard disk partitions.
These are possible causes of hard drive 3F0 error. Fortunately, there are numerous methods available to help you come out of this annoying error. Continue reading this post to get the error fixed.
Part 3: How to Fix the Hard Disk 3F0 Error
Following are the recommended common solutions you can try to resolve your hard drive 3F0 error on your Windows PC.
Method 1. Test and fix hard disk bad sectors
If the system doesn't start normally, then you can check the hard drive for error and bad sectors. Follow the below steps to learn how to test and repair hard disk bad sector error.
1. On Windows 10/8: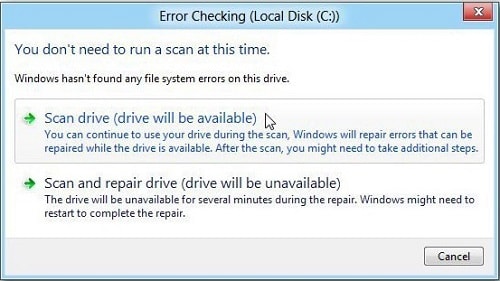 Step 1 To start with, go to "This Computer" and right-tap on the disk that is acting weirdly.
Step 2 Next, you need to choose "Properties" and then, move to the "Tools" menu.
Step 3 Now, click the "Check" button and you can "review" the scan result.
Step 4 After that, tap on the "Scan and Repair Drive" option and select when to repair the file system.
Step 5 After the scan and repair process completes, you should restart your system.
2. On Windows 7: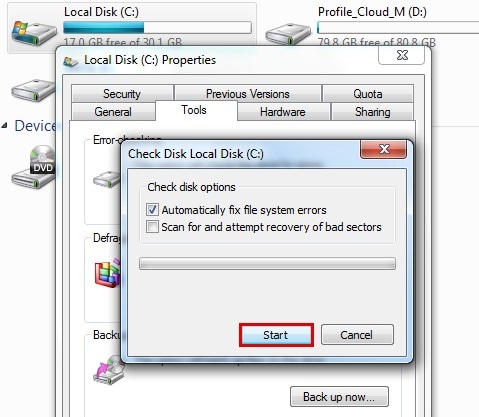 Step 1 To start with, click "My Computer" and right-tap on the hard disk from that you would like to text and fix bad sectors.
Step 2 Now, choose the "Properties" option.
Step 3 Next, move to the "Tool' tab and click the "Check Now" option.
Step 4 After that, click the "Scan" option and hit the "Start" button to begin removing the bad sector problems.
Step 5 Finally, you have to review the check disk report. In the report, if you receive 0, it means no error was found.
That's how you can text and repair bad sectors on the hard drive that is behaving strangely.
---
Method 2. Check and restore BIOS Default Settings
If your hard drive still doesn't work, then another thing you can do is to try restoring the default settings of BIOS for hard disk 3F0 error fix. In fact, when your computer gets configured to boot from some unbootable disk, this method can help you to make the system to boot from bootable one.
Here's what you need to do to restore BIOS default settings -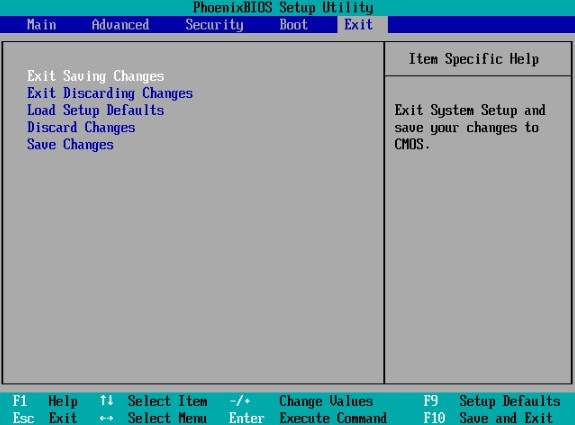 Step 1 To start with, switch off your computer and wait for several minutes.
Step 2 Press the "Power" to turn it on again and after that, tap F10 key repeatedly to enter the BIOS setup menu.
Step 3 Now, press F on the BIOS setup menu in order to load and restore BIOS default settings.
Step 4 Once loaded, press F10 to "Save and Exit". Next, choose "Yes" and then, hit Enter when it says "Exit Saving Changes".
Step 5 Finally, follow the on-screen instructions to reboot your system.
---
Method 3. Fix damaged MBR
If you're good at using the Command prompt, then it may be easy for you to fix the damaged MBR manually. So, follow the below steps:
Step 1 First off, you need to boot your system using the Windows bootable drive and then, press any key to boot from DVD or CD.
Step 2 Next, follow the instructions to choose "Repair your computer">" Troubleshoot">" Advanced">" Command Prompt".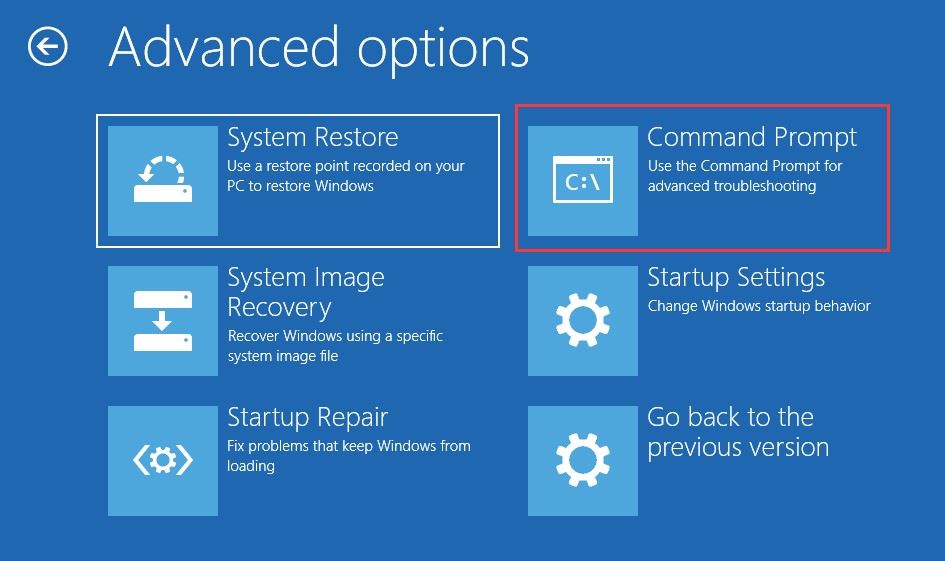 Step 3 Now, you need to enter the following commands on the command prompt.
Bootrec /fixmbr
Bootrec /fixboot
Bootrec /scanos
Bootrec /rebuildbcd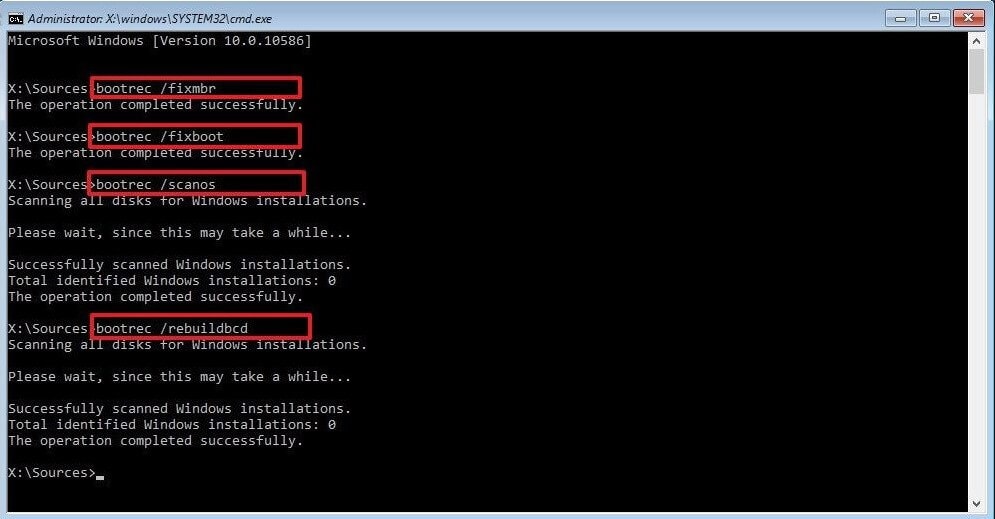 ---
Method 4. Seek Professional Hard Drive Recovery Services
If none of the above methods help you to fix HDD error 3F0 on your computer, then it's time to look for professional hard drive recovery services. You can easily find both offline and online professional assistance for your hard disk recovery.
The best thing is that most services will not only help you repair your hard drive but will save data. When you take help from professional hard disk recovery services, you will get the following benefits.
Managing the entire process itself can be quite hard to deal with. This task surely needs a lot of effort and skills and that's why it's best to seek professional help.


Reliability is one of the biggest benefits of taking these services. They are experts and have access to remote backup technology to recover corrupted data.


After taking the professional service, you will get back your system working as usual again.
Part 4: How to Recover Lost Data after Fixing the Error
If you're looking for a way to get back files you lost after hard disk 3F0 fix, we recommend you to give Recoverit a try.
This is a professional and reliable data recovery software designed to help users rescue their data under various data loss scenarios. With its click-through data recovery process, you can get back various file types in a few minutes.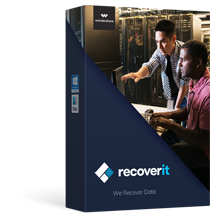 Here are its key features
It can recover photos, videos, audio, documents, email, etc.
Supports to recover due to accidental deletion, virus attack, system error, etc.
It recovers from any storage device including external hard drive, memory card, digital camera, laptop, etc.
Works for both Windows and Mac systems.

3,165,867 people have downloaded it
To learn how to use Recoverit Data Recovery, download it from its official site on your system and then, follow the below instructions:
Step 1 Select a Location
After downloading and installing it, run it and select a targeted location or hard drive from where you would like to recover your lost files.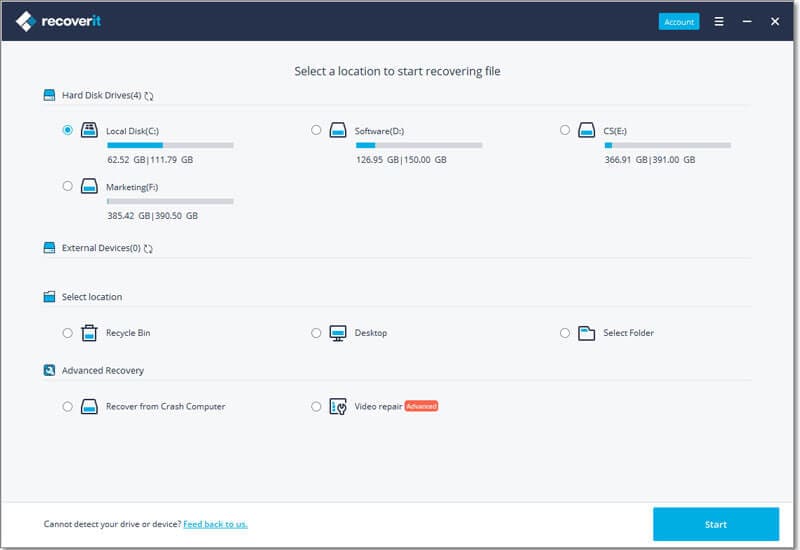 Step 2 Scan the Device
In a while, the software will begin with the scanning process to look for the lost files in the selected location. Here, you can choose filters to customize your scan process.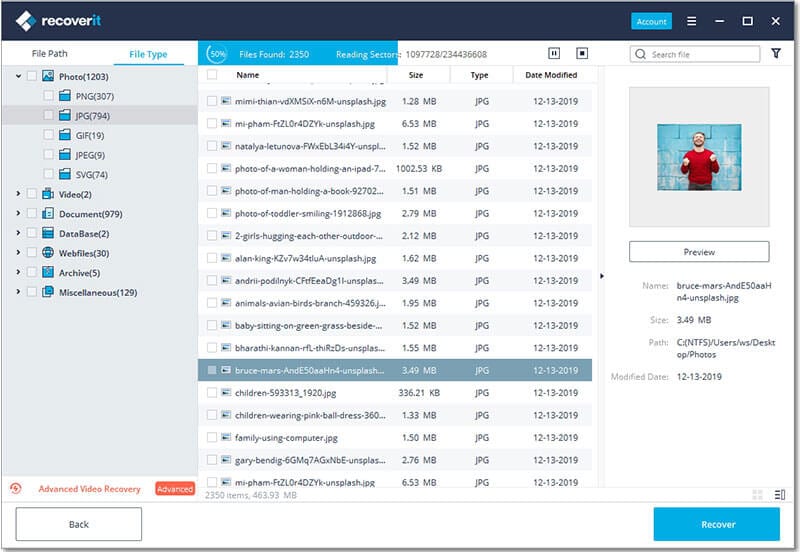 Step 3 Preview and Recover Data
Once the scan completes, the software lets you preview the data before recovery. You can select the files you want to recovery and finally, hit the "Recover" button.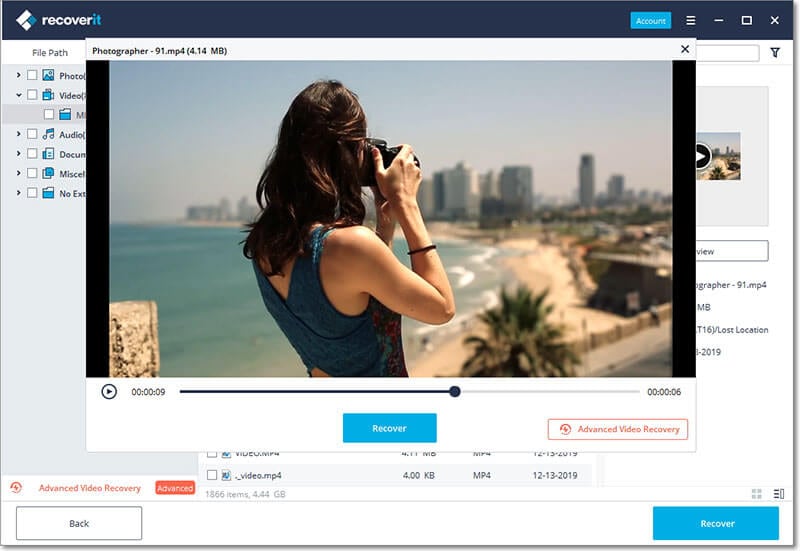 Tips:
Don't save the recoverable data in the location from where you lost in the first place and select another safer location.
Conclusion
That's all on what you can do to fix a hard disk 3F0 error on your Windows PC. We hope that the methods mentioned here have helped you to get the error resolved with ease. If you end up losing your important files after fixing the error, Recoverit is the best solution you can try to rescue your data.