My external hard drive not initialized! How to fix the disk not initialized error?
- a question from Quora
If a similar query has brought you here, then this would probably be the last guide that you would read on the disk not initialized error. This is quite a common issue that Windows users face, which stops them from using their hard drive the usual way.
While the situation is more common with external hard drives, even the internal disk of your system can encounter this problem. Don't worry – we will teach you how to perform hard disk not initialized fix in this in-depth guide.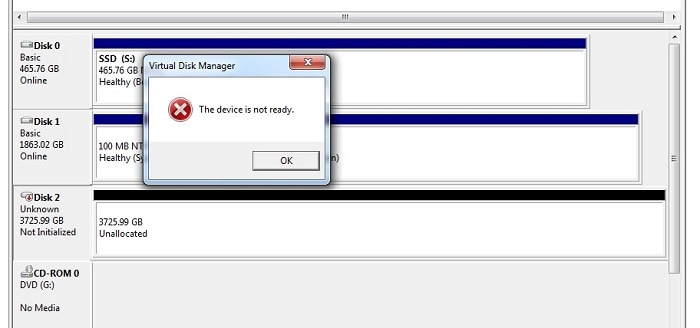 Part 1: What Does Hard Disk Unknown Not Initialized Mean?
The hard disk not initialized is a common Windows error that does not allow us to access the disk space. It can happen when the disk space becomes unavailable or can't be detected by Windows. Ideally, there are two different kinds of situations for the disk unknown not initialized error.
Situation 1: Disk is unknown, not initialized, unallocated
When you visit the Disk Management application, you can see two instances of disk unknown not initialized. The first situation happens when the operating system is not able to initialize the disk due to unallocated space. It occurs when the disk has a corrupt storage or a missing sector. The file system of the disk can also be not supported by the application. Thus, it is just marked as an "unallocated" space.

Situation 2: Disk is unknown, not initialized, no disk space
Sometimes, users also get the "no disk space" prompt with the disk unknown not initialized issue. Ideally, it happens when the disk has no space that can be accessed by Windows. There could be a cartridge problem or the drive can be blocked entirely. A malware could have blocked the entire disk space, making it unavailable.
Part 2: What Causes Hard Disk Not Initialized Issue
In order to do the hard disk not initialized fix, you need to first diagnose the problem. Following are some of the major reasons for causing the issue on your drive that should be avoided in the future:
The Master Boot Record (MBR) on your system could have been corrupted.
A virus or malware could have corrupted your hard drive.
There might be some connectivity issues with your hard drive and the system's components.
The hard drive could be suffering from a bad sector or a lost partition.
There can be some firmware related issue or a problem with your system's Disk Management.
The hard drive could be formatted in an unsupported partition table or file system.
There can be any other physical damage with your hard drive, making it unavailable.
Part 3: How Can I Recover Data from a Non Initialized Hard Drive
When the hard disk becomes unavailable, users can no longer access its stored content. Though, with the help of a recovery tool like Recoverit, you can easily extract content from a non initialized hard drive.
It is a highly professional data recovery tool that works efficiently under different scenarios. Using it, you can extract your photos, videos, documents, etc. from the hard drive that your system can't initialize or access anymore.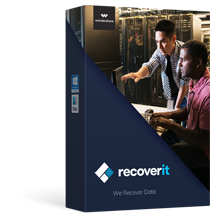 A Life Saver to Solve Your Data Loss Problems!
With the help of Recoverit, users can easily get back their lost, deleted, and inaccessible content from their hard drive.
The application supports data recovery under different scenarios from Windows internal drive or any other external hard drive as well.
It is compatible with all kinds of file systems like NTFS, FAT, exFAT, and so on.
Recover photos, videos, music, documents, compressed files, and almost every other kind of data.
Preview your data first before restoring it to the location of your choice.

3,165,867 people have downloaded it
You can simply follow these easy steps to extract data from a hard disk that can't be initialized or is not available.
Step 1 Select a target location to scan
Firstly, just launch the Recoverit application on your Windows and select a target location from its home. You can choose the entire drive from here or even an external hard disk that is connected to your computer.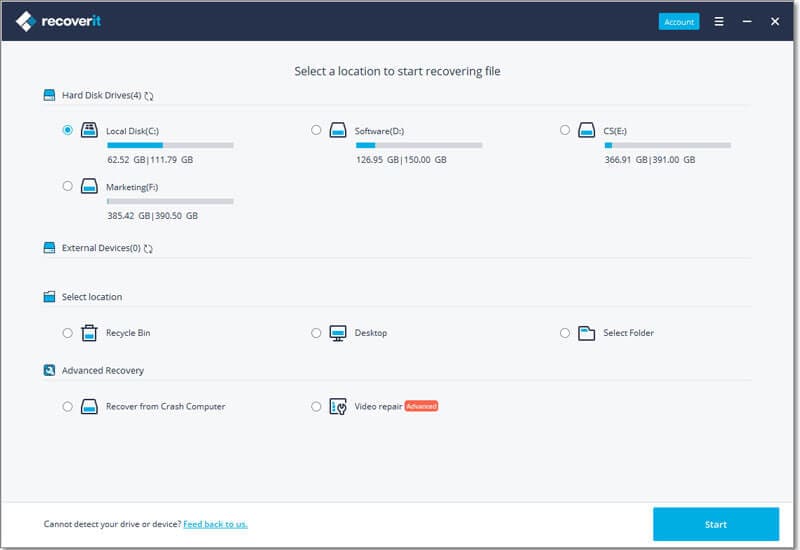 Step 2 Perform Scanning Process
Once you click on the "Start" button, Recoverit would look for all kinds of lost or inaccessible content from your hard drive. You can just wait for a few minutes and let the application complete the process.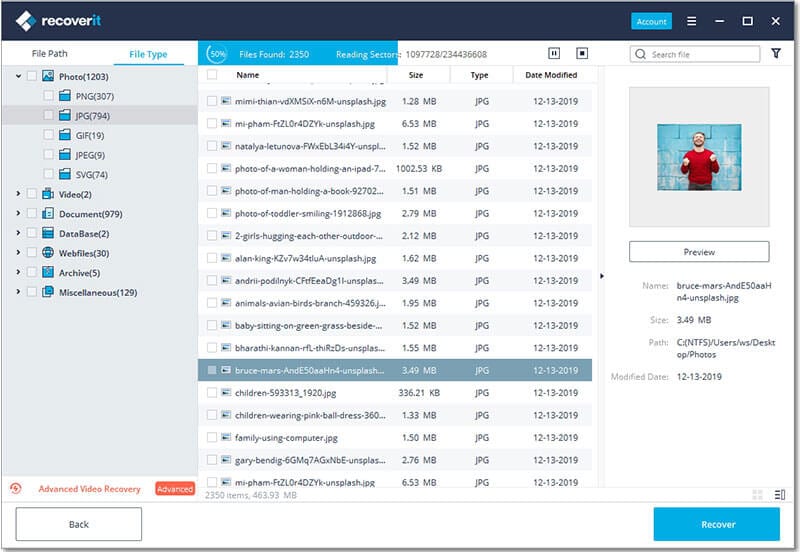 Step 3 Recover your files
When the data recovery process is completed, you can view the extracted content on the native interface of the application. Now, just preview your data and choose the files (or folders) you wish to save. As you would click on the "Recover" button, a browser window will open so that you save your files to any location.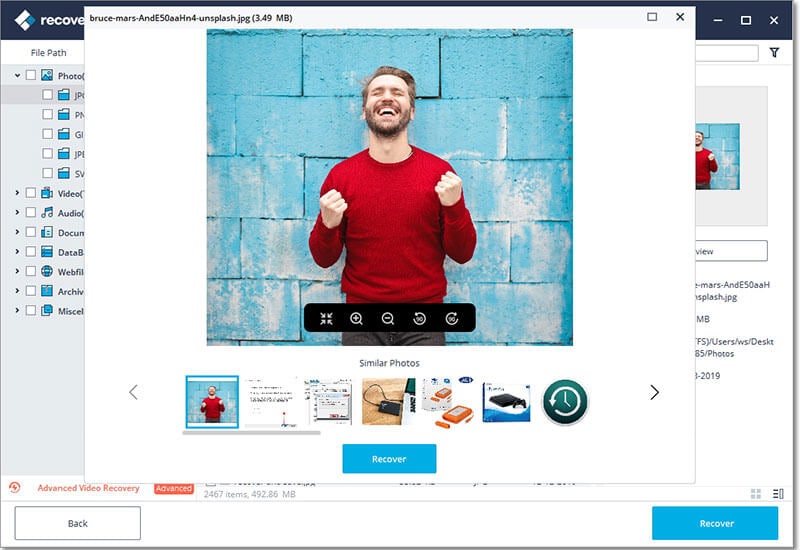 It is recommended to recover your files to any other partition or drive and not on the same location from where it was lost before.
Part 4: How to Fix Disk Unknown Not Initialized Issue in Windows 10
Apart from using Recoverit to access your unavailable content, you can also take some steps to fix the disk not initialized error. Here are the commonly recommended solutions you can try for hard disk not initialized fix as well.
Situation 1: Disk is unknown, not initialized, unallocated
If the Disk Management application shows that a partition is unallocated, then you can consider the following suggestions:
Fix 1: Initialize the Disk
If you have recently formatted the disk, then you might get the error as the partition has not been initialized. For an easy disk unknown not initialized fix, just launch the Disk Management application from Windows Settings or Control Panel. Now, select the unallocated space here, right-click, and choose to initialize the disk.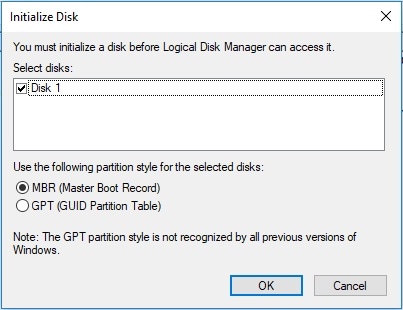 A pop-up wizard would launch for you to initialize the disk. Select a partition style like MBR or GPT and follow a click-through process to initialize the connected disk.
Fix 2: Rebuild MBR
MBR, which stands for Master Boot Record, has crucial data about all the partitions and meta component of the drive. If you are getting the hard disk not initialized problem, then there could be an issue with its MBR.
The good news is that you can easily fix it with the help of Command Prompt. Just go to the Start menu and from here, launch Command Prompt as an administrator.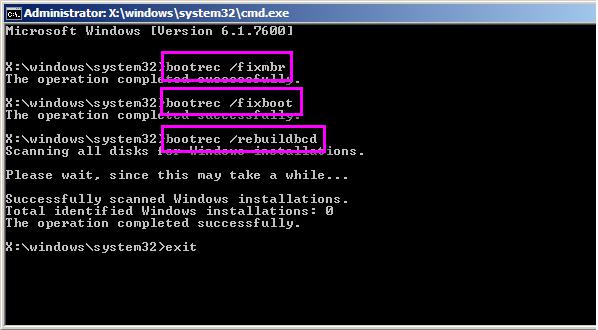 Enter the following commands and wait for a while as it would rebuild MBR on your system:
bootrec /FixMbr
bootrec /FixBoot
bootrec /ScanOs
bootrec /RebuildBcd
---
Situation 2: Disk is unknown, not initialized, no disk space
This is something that occurs in external hard drives when Windows can't initialize the disk and marks it as "no space". These 3 suggestions can help you do hard disk not initialized fix of the no disk space problem.
Fix 1: Check the USB connection
If you are using an external hard drive, then make sure it is connected to your system correctly. You can just disconnect it from your system first and clean the USB port from dirt or debris. Try reconnecting it again to check if you still get the same error.
Fix 2: Format the drive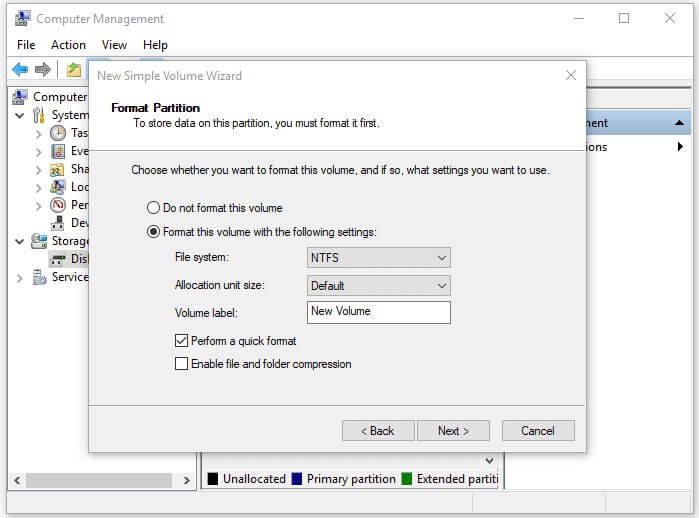 If the hard drive has an unsupported file system, then you can format it to do the hard disk not initialized fix. For this, just go to the Disk Management application and select the unallocated space. Right-click and choose to create a new simple volume by clicking on the respective option.
This will launch a dedicated wizard from where you can format the hard drive to a compatible format like NTFS or exFAT.
Fix 3: Update Disk Drivers
If your system is running on outdated drivers, then it can also cause the disk not initialized problem. Thankfully, it can easily be fixed by updating the disk drivers. Just go to the Start menu and launch Device Manager from here. You can also launch it from the Run prompt or Windows Settings.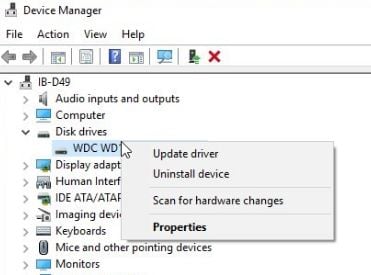 Simply expand the Disk Drivers option, right-click the relevant disk, and click on "Update Driver". This will launch a dedicated wizard, letting you update the disk driver and access its unavailable partitions.
Conclusion:
That's a wrap, everyone. I'm sure that after reading this guide, you would be able to fix disk not initialized problem. If you are worried about the inaccessibility of your data, then simply take the assistance of Recoverit.
Besides that, you can also implement the above-listed solutions to do hard disk not initialized fix. These solutions would work with almost all the major versions of Windows like 10, 8, 7, or XP. Go ahead and give it a try and feel free to share any other solution for the problem that we could have missed in this guide.