"I somehow lost all my files from my Drive, it's an SSD drive. Is it possible to recover data from an SSD drive?"
- a question from Quora
Yes! It's absolutely possible to recover data from an SSD drive, and it is super easy. Whenever you store your data or files on a System, there's always a risk of losing it due to a mistake or system malfunction. But let it be an HDD or SSD, you can always recover the deleted or lost data from the drives. You can take help from the SSD data recovery tool to recover your data without any hassle.
Part 1. What is an SSD (Solid State Drive)?
An SSD (Solid State Drive) is a type of data storage disk that can also be termed as a better alternative for HDDs. Unlike the HDD that uses moving parts, the SSD contains no moving part and uses integrated circuit assembly to store data. Similarly like an HDD, SSDs too use non-volatile memory in terms of reading and recording the data.
SSDs are super fast compared to HDDs as they lack any moving part, but at the same time, they are comparatively expensive and have less flexibility over the size of the storage drive. Nowadays, SSDs are coming preinstalled on PCs or Laptops, and they can also be upgraded to later to upgrade the performance of a system.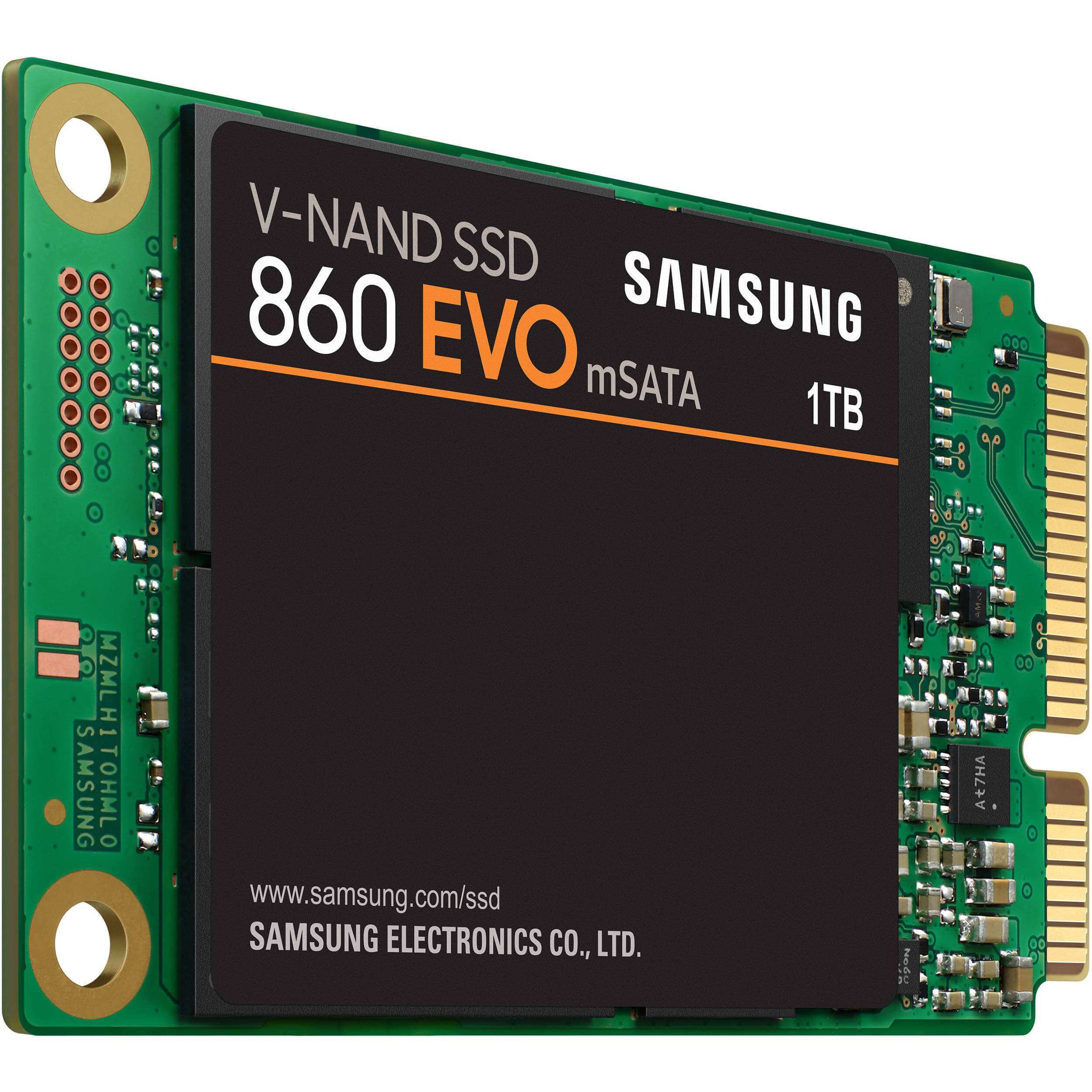 Part 2. Is it Possible to Recover Data Deleted from an SSD?
Yes, you can recover deleted files from an SSD drive. The deletion of files on your System works similarly for an HDD and an SSD. When you delete a file from your system, it doesn't get permanently deleted from your Solid-State Drive on which the data is stored. The deleted data from your system remains stored on your SSD while the address of the files gets deleted, this way you don't see the files on your system and assume that they are permanently deleted from your system. With the help of a powerful data recovery tool for SSD, you can easily recover the deleted data from the SSD in your system, until the data gets overwritten by the new data.
Part 3. How to Recover Data from an SSD drive? Use Recoverit (IS) Tool
Recovering Data from an SSD drive is as easy as it is to recover data from an HDD drive. The deletion method works the same for both kinds of drive, thus, the recovery method is also similar. To recover deleted data from an SSD drive, all you need is a good and reliable SSD data recovery tool.
You can use Recoverit (IS) tool to recover data from your SSD drive. iSkysoft makes the SSD data recovery super easy and super-efficient, as it has the easiest 3-step recovery wizard. What else makes iSkysoft worth trying is the list of powerful features it carries. iSkysoft comes with all sort of powerful recovery features that can make the data recovery from SSD very easy and effective for you. Also, iSkysoft is one of the most affordable data recovery tools out there. It even lets you preview the recoverable files for free.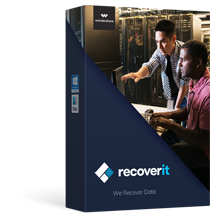 Powerful Recovery Features of Recoverit (IS) Tool:
You can recover deleted files from all kinds of storage devices like SSDs. HHDs, SD cards, Floppy Disks, Pen Drives, etc.
It supports all the Operating systems like Windows, macOS and Android.
It can recover 1000+ file types like Audio Files, Video Files, Zip Files, Documents, etc.
It allows you to Pause and Resume the Scanning process at any time.
You can choose from two powerful scanning modes i.e. All-around scan and Deep scan.
iSkysoft allows you to recover files on your SSD drive from any scenario like Physical Damage, Water Damage, Malware attack, etc.

3,165,867 people have downloaded it
User Guide to Recover Data from your SSD drive:
Preparations:
First, go to the iSkysoft website and install the iSkysoft tool for Windows or Mac by clicking on the "Download" button for the respective OS versions.


Second, if it's an external SSD from which you want to recover the deleted data, then you need to connect the SSD drive using a compatible cable or dongle. Once connected, please make sure your system identifies it successfully.
Step 1

Choose the SSD drive

Launch the already installed iSkysoft Data recovery tool on your PC. It will take you straight to the window that will have all of your Systems external and internal storage drives listed, including your SSD. Now, to recover data from the SSD drive, you will be required to select that SSD drive from all the listed drives. Select the drive and click on "Next" to start the scanning.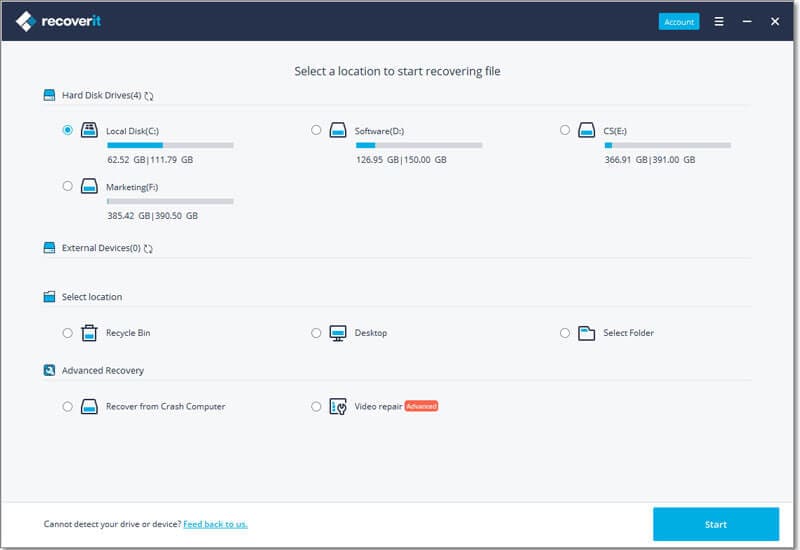 Step 2

Scanning

Your selected SSD drive will be scanned, and you will see all of the scanned files listed on a new window. You can also Resume and Pause the scanning process at any time. Or, you can also start the recovery process by pausing the scanning process.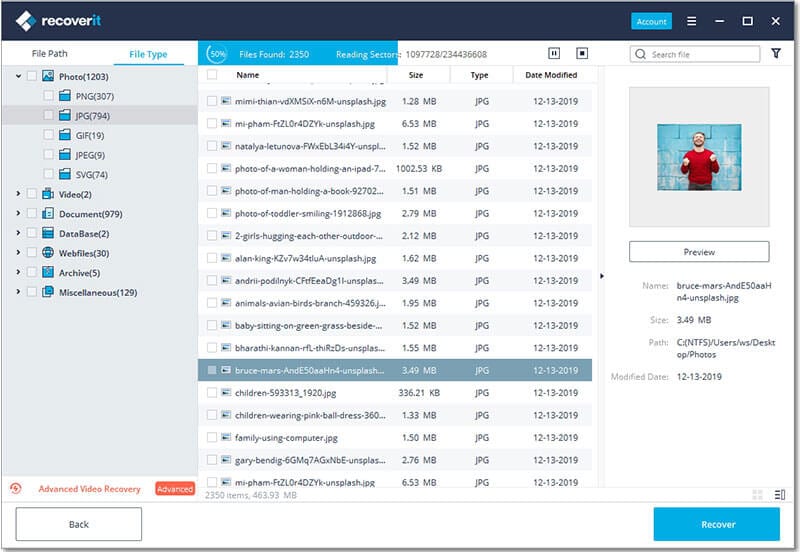 Step 3

Preview and Recover

Once all the scanned files are listed for SSD drive recovery, you can simply search for the files that you want to recover and preview those files using the preview feature. Now, to successfully recover the file on your SSD drive, select the files that you want to recover from the same window, and click on the "Recover" button located at the bottom of the window. Choose a secure location to restore the SSD files.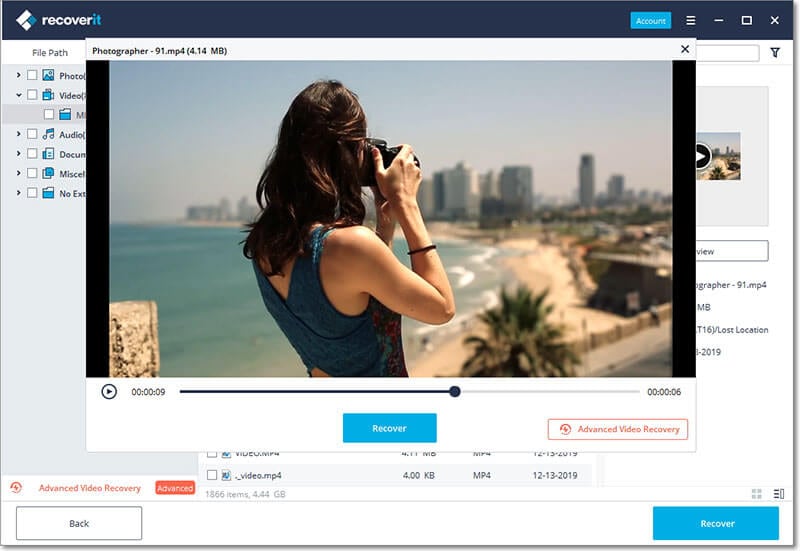 Once the recovery of the files from SSD drive is completed, you can easily access those files from the selected location.
Bonus Tip: How Can I Make My SSD Good for Long Term Usage?
It's well known that your SSDs are very durable and reliable, especially when compared to HDDs, but there are cases when you SSD can wear out soon. Yes, an SSD can handle extreme temperature, falls, system crashes, but it can lose its charm with the unnecessary writing and relocating of data over it. Every time you write data on your SSD, the lifespan of your drive will get decreased slightly. But does that mean that you shouldn't use an SSD or shouldn't write data on it? No. All you need to do is to take some precautions and stop the unnecessary writing of data over it to increase its life span.
Avoid Defragmenting

Defragment is a process in which the system rapidly writes and deletes data on your drive. In case of HDD, it works as a method to improve its storage performance. But in case of SSD, the rapid writing of data decreases its life span. To keep your SSD in the best of its health, make sure that you have the Defragmentation disabled.

Keep SuperFetch disabled

SuperFetch is a Windows service, that in terms of increasing the performance and speed, preloads the frequently opened or accessed files on your Drives. It is helpful when using an HDD, but while using an SSD, it doesn't make a big difference, and only decreases the life span of your SSD. It's recommended to keep the SuperFetch disabled.

Avoid Benchmarking

Running a Benchmark on your System to analyse its performance is a very common fashion. But when you run a benchmark to test your system and drive, a major quantity of data gets written on it, again and again, that can decrease the lifespan of your SSD. Thus, you should avoid running Benchmark unnecessarily.
Conclusion:
It's an easy task to recover data from SSD drive. But if you don't know the correct method, or the right SSD data recovery tool, then you can risk your deleted data. Thus, it's advisable to do the necessary research before opting for the data recovery from an SSD drive. It's better to always use a reliable SSD data recovery tool like Recoverit (IS) to recover all of your data without losing any of it.
People Also Ask:
Q1. How much does the SSD data recovery cost?

There are various answers to this question. There are tools that can help you with SSD data recovery for free, but they are not reliable enough. There are some expensive SSD data recovery tools as well in the market that can cost yours over a $100 to recover data from your SSD. But if you choose

Recoverit (IS)

Tool, it allows you to preview the deleted data from SSD for free, and you can recover the data on your SSD for as low as $59.95.

Q2. Can Data be Recovered from failed SSD?

Yes, you can definitely recover your data from a failed SSD drive on your PC. There can be various reasons behind the failure of an SSD. But you can use a reliable and powerful data recovery tool to detect the SSD and recover your data safely. These tools can find the data on your SSD and recover it even if your system shows the SSD drive as "Not Detected".

Q3. Can SSD be securely erased?

Yes, you can securely erase SSD drive on your PC. To securely erase the data from your SSD, you will need to overwrite the hidden data on your SSD with new data. You can use various data overwriting tools that can overwrite the existing data on your SSD with binary data and help you in securely erasing the SSD.

Q4. Do SSDs last longer than HHDs?

Yes, SSDs are more durable, and they last longer than HDDs. HDDs contain moving parts, that makes them prone to early wear and tear. HDDs are also less feasible under extreme temperatures. On the other hand, SSDs can perform better even in extreme temperature, and they lack any moving parts, making them last longer than HDDs.