Most of the mobile device users have a preference for one of the most popular operating systems: iOS or Android, but it also happened many times that they jumped from one to another. The important data transition seems complicated, for example, users who decide to get iCloud Email on Android will struggle to find a solution. Good news here, even if you are not an IT expert, if you follow our steps, you should be able to do it properly. Furthermore, it is important to enter all the information we provide you just as you see it here, in order to avoid and errors or other issues.
Part 1. One Click Restore iCloud Backup to Android
It exists commonly to restore and transfer data between one device to another. If you find it tricky and wonder how to restore any iCloud backups to Android devices without hassle, dr.fone - Phone Backup (Android) is the best helper for you.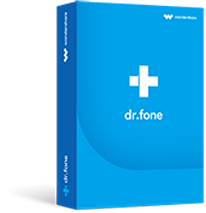 Best Way to Recover iCloud Backup to Android
It enables you to restore contacts, messages, apps, calendar, and more from iTunes backup or iCloud backup to Android in 1 click.
it works well on phone to phone transfer across a wide range of platforms like iOS, Android, BlackBerry, and Symbian.
You can use to selectively backup data on your device. This means that you can choose to back up one of the data types on your device instead of backing up all of them.

2,965,271 people have downloaded it
Simple do the transfer as follow:
Step 1. Install and launch dr.fone - Phone Transfer. Go to "Restore From Backups" > "iCloud". After that, please keep your Android device and computer connected with a USB cable.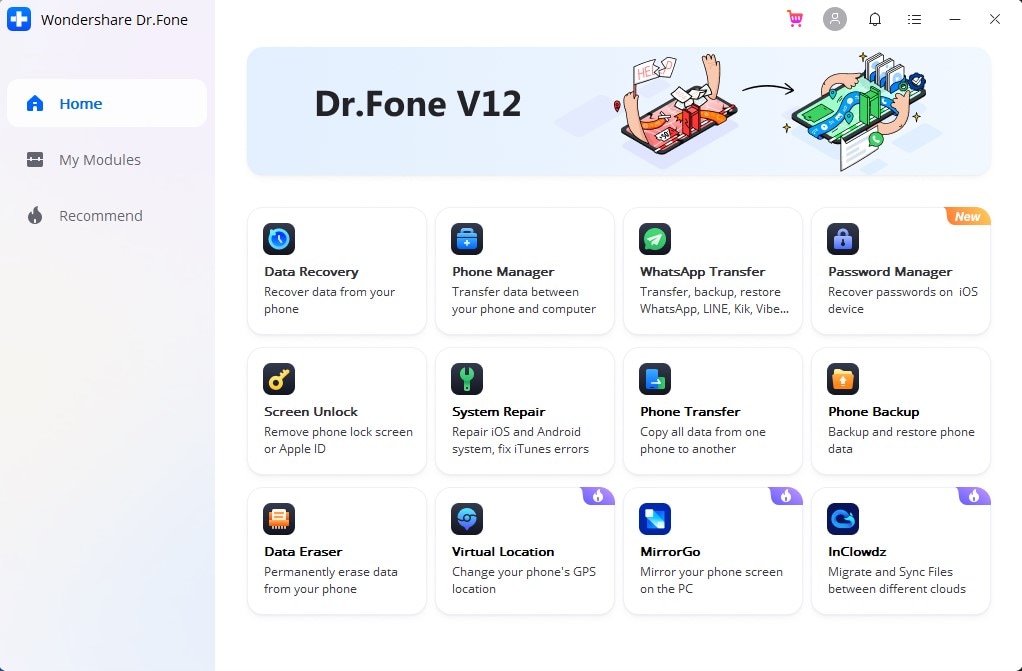 Step 2. Log in iCloud and access iCloud backup files. Move on to click "Restore" on next screen. If you already turned on two-factory authentication for your iCloud, you need to verify it by typing in the code that's sent to your Android equipment.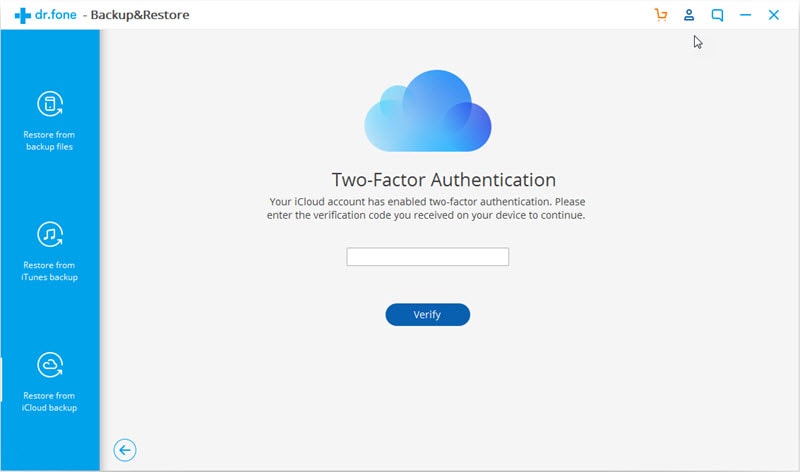 Step 3. After your iCloud is accessed on computer, the program will list the types of iCloud backup files in the interface. In this page, please select one of them and tap on "Download" to save backup file on your computer. Then click on "Restore to Device" and "Continue" buttons to prepare for restoring these data.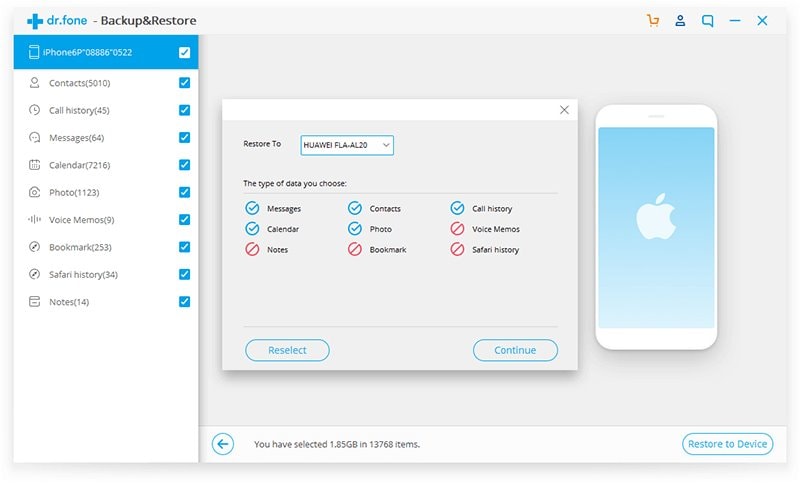 Part 2. The Step-by-Step Guide for Getting iCloud Email on Android Devices
If you have used iOS for a long time, and you just switched to Android, follow the next steps to set up your iCloud email account on your Android phone or tablet:
Step 1 On your Android phone or tablet, open the stock Email client. The steps we are introducing here actually work on many other third-party Play Store email clients.
Step 2 Once you have entered the email client, you must enter your iCloud username and password, the ones you have been using on your iOS device. Simply check the screenshots and try to do the same. The next thing you must do is to tap on the "Manual Setup" button, and then on "IMAP".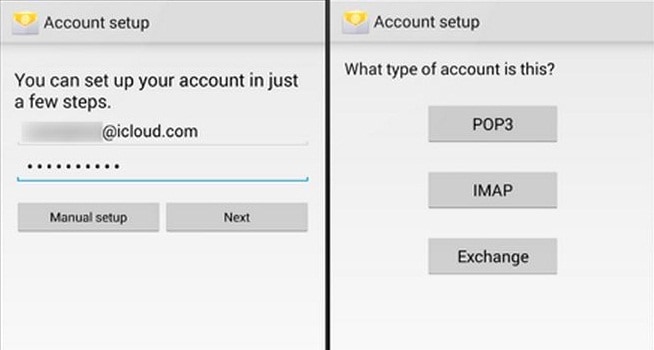 Step 3 At this step, you should be already at the inbound IMAP server, and you will need to set it up. When you get the special fields, you will need to enter all the information bellow:
IMAP server: imap.mail.me.com
Username: [your username]@icloud.com
Password: [your Apple password]
Port number: 993
You will also see that the certificates are set to "SSL". If they are not, set it to "SSL". If you see any type of error, try to set the certificates to "TLS" instead. When you are ready, just press the "Next" button.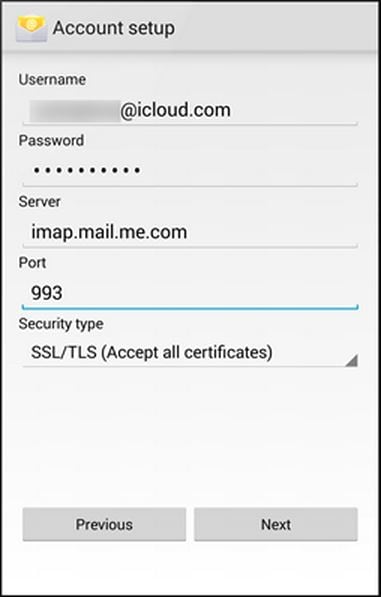 Step 4 In this step you will need to configure the SMTP server for your outgoing email. Here is the information you need to enter:
SMTP server: smtp.mail.me.com
Username: [your username]@icloud.com
Password: [your Apple password]
Port number: 587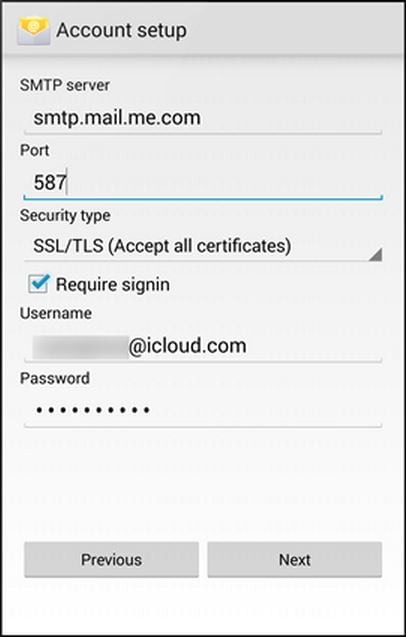 This is it! You just finished attaining your iCloud email on Android smartphone or tablet. You should be able to run your iCloud email account on Android with no problems, and have full access to your iCloud storage.
Write in the End
It is important to keep in mind, in case you have any problems with the certificates, to switch between them, because all of them are accepted. Pay attention when you set up both the IMAP and the SMTP server.
If you are a switcher, don't panic you lose all the cool stuff from iCloud once you moved to Android. There are always options to use the applications you liked. However, you must pay extra attention when you configure it on your new device, but if you follow our steps provided here, you should not have any problem. If you are not sure about it, ask from some help, or drop a line in the comment section bellow.