As per recent complaint by an iPhone user "I decided to install iOS 12 version in my device but repetitively an error occurs when I try to download and install iOS 12. I am weary of trying it many times but still, I am unable to install iOS 12 in my iPhone. Are there any solutions that will lend me a hand in this?"
If you too are facing a similar issue on your iPhone after installing iOS 12, then move on to read some straightforward techniques in this article today.
Part 1: Why it shows an error when installing iOS 12?
Installing and updating a new iOS version is really a challenging task. Sometimes, it is easy like a piece of cake but it can at times get irritating and confusing like an unsolvable puzzle. iOS version 12 is currently the latest version at present and many users encounter error and backlogs when they try to install it in their device.
Some of the errors encountered by users during downloading and installing iOS 12 have been demonstrated in this session.
First and foremost reason is that iOS 12 doesn't get downloaded easily at the very first time. In such circumstances, you will receive a pop-up stating "Software Update Failed".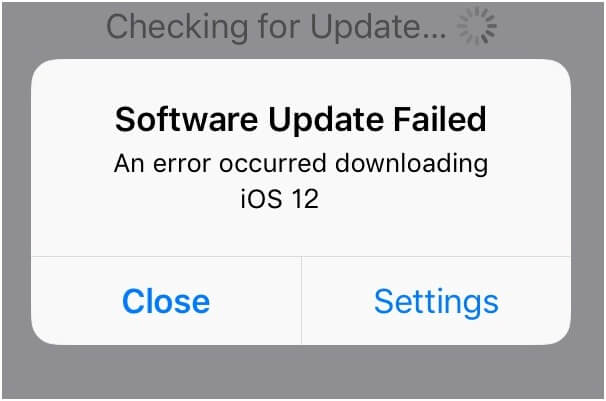 The second reason is when you receive an error during installation is that you get stuck in the mid of the updating process.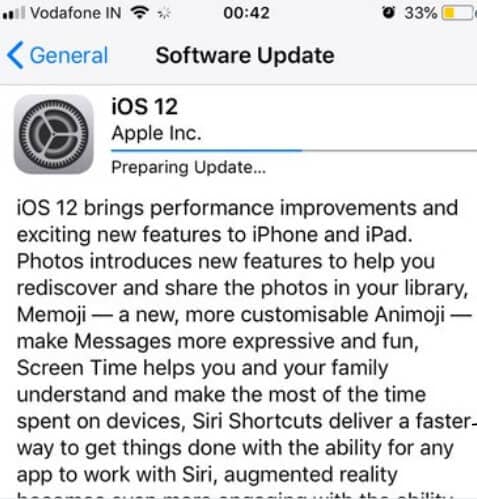 Network disconnection is also another reason due to which iOS 12 won't get installed in your device.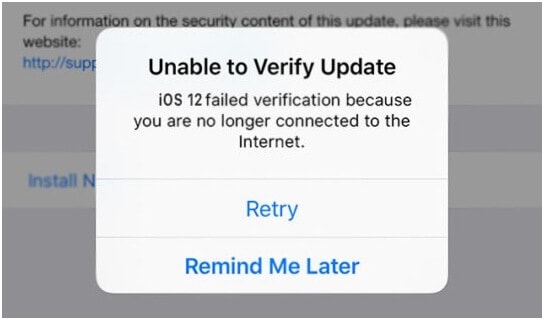 Some of the common facts like low availability of space in your iPhone and unable to connect to the server are also error factors that will occur during installing iOS 12 on your device.
During the update, some devices will get stuck with a black screen or Apple logo representing an interruption in the installing process.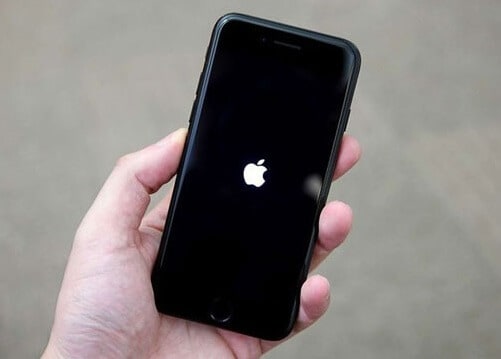 Some users encounter a rare error that is none other than unavailability of update of the new iOS version while checking for new version.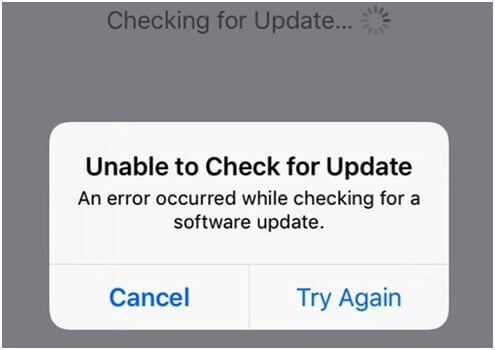 Part 2: 6 Common ways to fix iOS 12 won't install
In the previous part, we discussed some of the factors due to which iOS 12 won't get installed in your iOS device. Now, we shall talk about some common solutions to fix this problem:
1. Update your iPhone with iTunes
If you receive an error related to unable to install iOS 12 on your device or if it's not working well, you can choose to update your device to iOS 12 with the help of iTunes. It is a trusted and tried effective method to update the iOS version. However, before proceeding to the update, you can take a backup of all your data to a computer with the help of a software. The main advantage of updating your device to iOS 12 with help of iTunes is that it removes the previous version and updates without any issues.
Here is the process to complete your updating process with the help of iTunes:
To start with, on your PC, update and install the iTunes latest version.
Now, with the help of USB, connect your device to PC and open iTunes session.
Thereafter, open iTunes icon and check for the latest iOS version.
Lastly, click on "Check for Updates", it will reflect the update availability for iOS 12 version. Choose to update and wait till it finishes the update process.

2. Check the network availability and Wi-Fi connectivity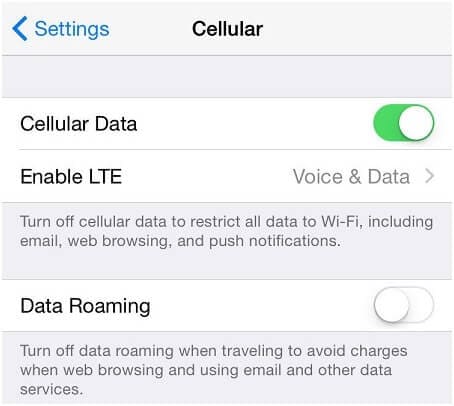 iOS won't install error is also caused when your network settings get changed or your Wi-Fi connectivity is disrupted in any way. In order to overcome this error, network access should be available throughout the downloading and installing process.
To check the network availability on your iPhone, Go to "Settings>Cellular data (On)" or you can try to reset the Network settings by clicking on "Settings>General>Reset>Reset Network Settings" and change the respective passwords too.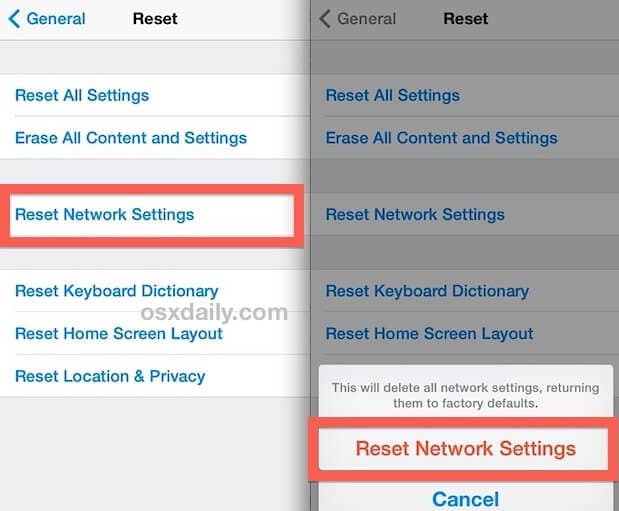 3. Force Restart your iPhone Again
During iOS 12 update, users have faced another unusual situation wherein, although the download gets completed, but the installation and update is stuck at 100%. This in turn displays a black screen or the Apple Logo. To overcome this type of problem, there is no other option other than force restarting your device.
To force restart, you can follow the step by step guide below:
For iPhone 6s or earlier
You need to hold the Power and Home button, and keep pressing them till the time you see the Apple logo.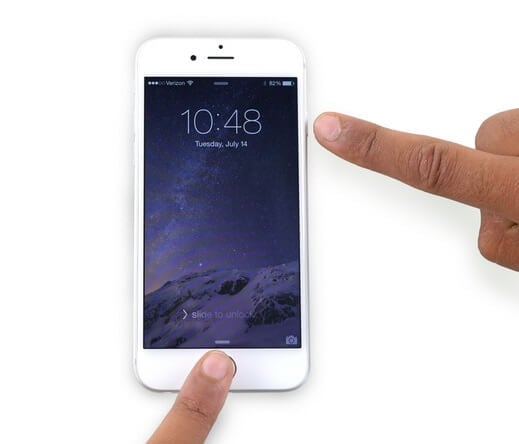 For iPhone 7, 7 plus:
First of all, hold down the Power Key and Volume Down Key, and keep hold till you see the Apple Logo. Then enter the passcode (if any)to access your iPhone.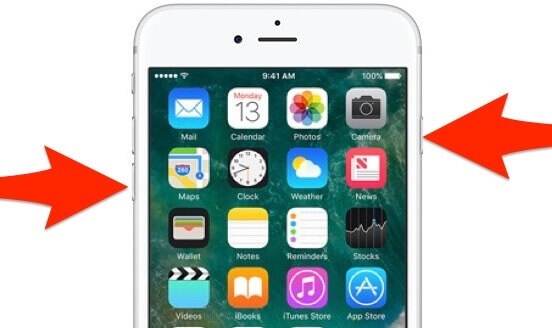 For the latest iPhone 8, X versions
Hold the Volume Up Button and release it quickly
Then hold down the Volume Down Button, and release it quickly
After that hold down the Power Button to see the Apple Logo.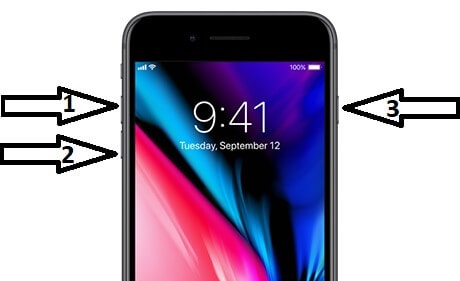 4. Clean your iPhone for more space
Before installing iOS 12 in your device, make sure that you have enough memory for it as iOS 12 requires a free space of 4GB and Apple devices do not have extendable memory facility like Android devices. If the iPhone memory is low, during the installation of iOS 12, you will receive a notice like "Insufficient Space for Download".
To overcome this problem, Go to "Settings>General>iPhone storage". Here you can select the unnecessary data like apps, photos, videos, songs etc which you can delete.
To make more space, you can also uninstall some of the game apps too. After the cleaning process is complete, you can try installing the iOS 12 once again.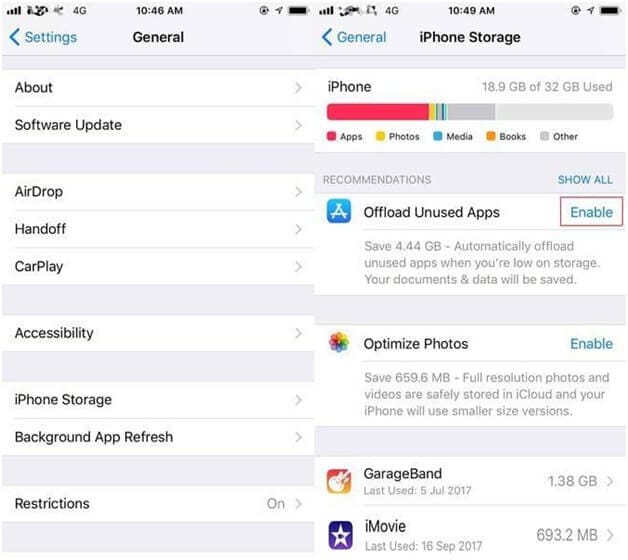 5. Delete the update file and Try the installation process again
If you are unable to install iOS 12 in your device, you can proceed to delete the update file you have downloaded at first and reinstall the iOS version again. But, you have to completely delete it and to do so; you have to take a backup of all data from your device so that the risk of losing your data will be low.
To delete the updated iOS file and to download it again, you can follow the below steps:
First of all, go to "Settings>General>Storage".
Then, in the apps listed on the screen, search for iOS software and delete it.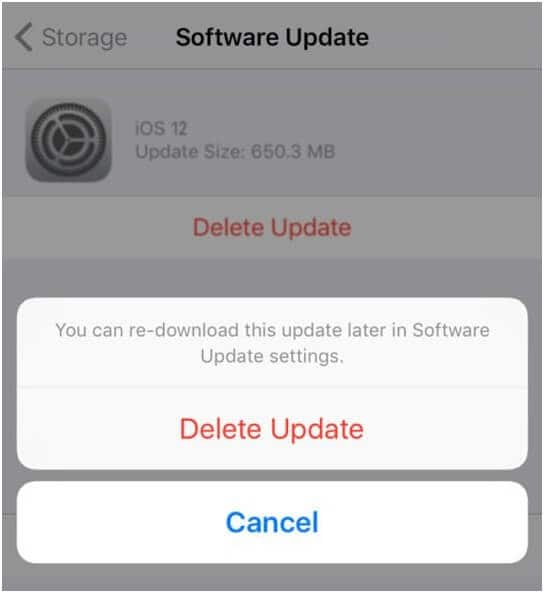 Now restart your device by tapping "Settings>General>Shut down".
Once your device is powered up, try to download and update the latest iOS 12 again by going to "Settings>General>Software Updates".
6. Check for compatibility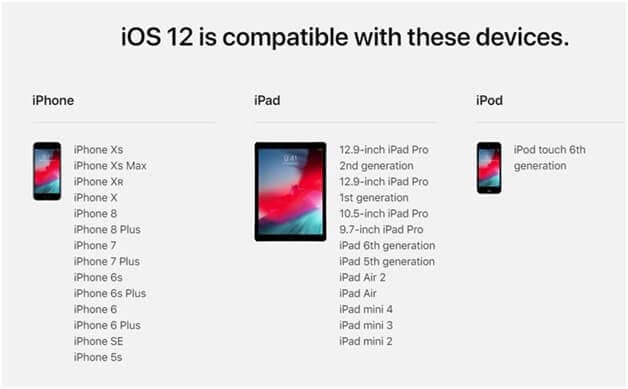 It's not that iOS 12 might be compatible with all types of iOS devices. There are certain restrictions and some devices that do not support the present iOS 12 version. The above image shows iOS models that are compatible with it. If you are about to upgrade your device, you should first check whether your model is present in the above list.
Part 3: The ultimate solution to fix an error occurred during installing iOS 12
In the last section we have written about some of the common steps to resolve the error that occurs during the installation of iOS 12. In this part, let us take a look at the ultimate solution which is dr.fone that will help you when you are unable to install iOS 12. dr.fone - System Repair (iOS) is software for iOS devices that helps in system recovery. To repair the issues and difficulties you face during an iOS update, you can make use of iOS system recovery feature and sort it out easily.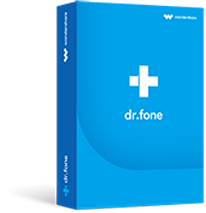 Wonderful iPhone/iPad system error fix tool
This software is applicable and designed for all types of iOS-based devices.
It is capable to solve all issues like white screen, the software update failure issue that takes place in iPhone, iPod, and iPad.
You can protect your data as well as clear all the errors that occur during the installation or updations of any iOS versions.
4,290,481
people have downloaded it
Let's take a look at how dr.fone can help you in case you face an error during installing iOS 12 on your device:
To start with the recovery process, you have to first download dr.fone from its official website.
Step 1: Once the downloading process is done, install the software and with the help of a USB cable, connect your respective iOS device with the computer or PC. Now launch the software and on the welcome screen you will see the option, "Repair", click on it.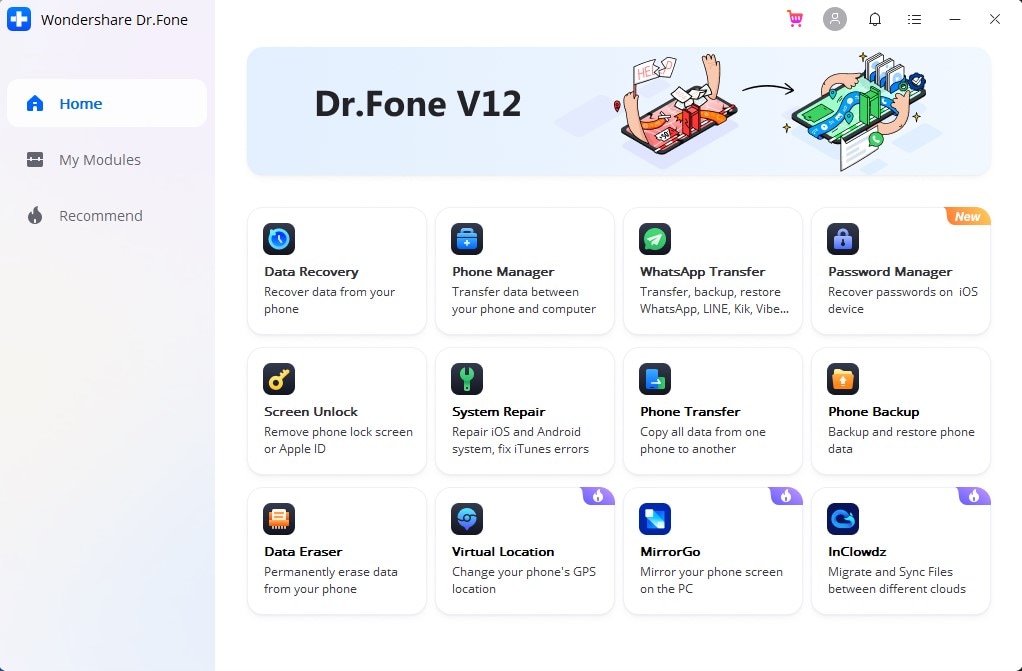 Step 2: When the device gets detected and if it is connected successfully, click on the "Start" button.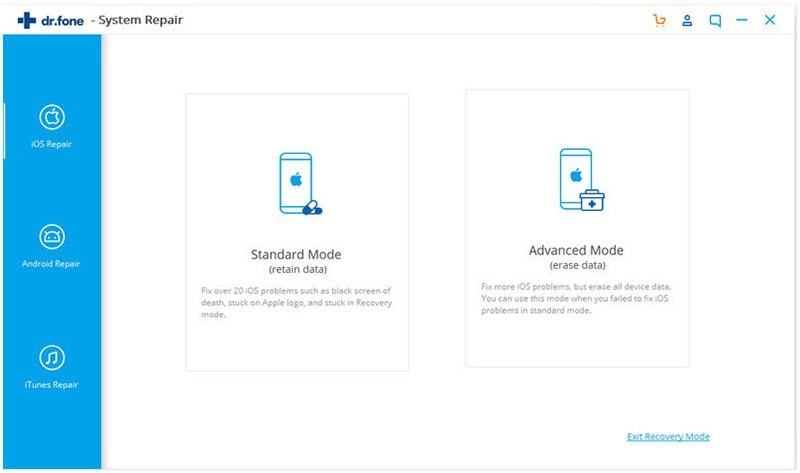 Step 3: Now follow the steps shown on the interfec to enter your iPhone/iPad into DFU mode.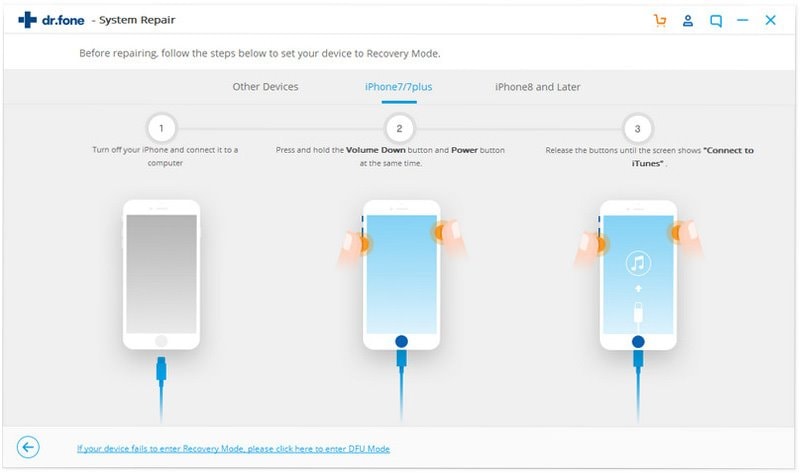 Step 4: To fix the error that is stopping your iOS device from being upgraded to the latest iOS 12, the dr.fone will suggest a Firmware based on your iOS device model. It is necessary to download it to fix the problem so that you can proceed further.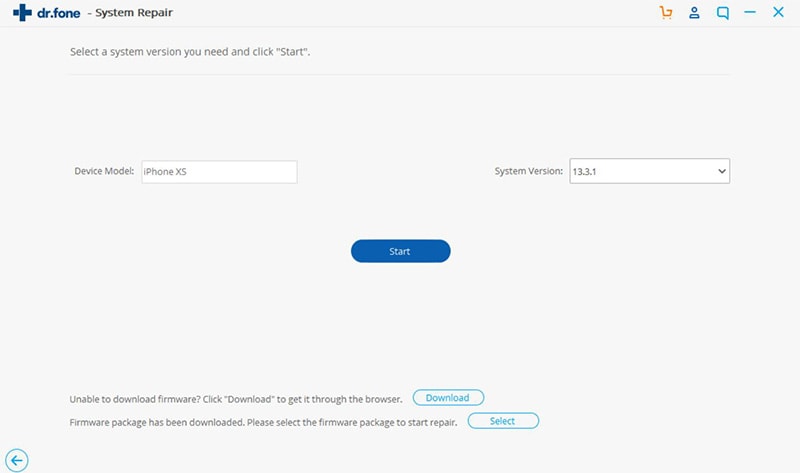 The firmware application will now be downloaded.
Step 4: Now, dr.fone will start fixing the error that was restricting the installation of iOS 12 version in your iPhone, iPod or other devices. This fixing option will not harm any data in your device but instead will make your iOS system to work normally.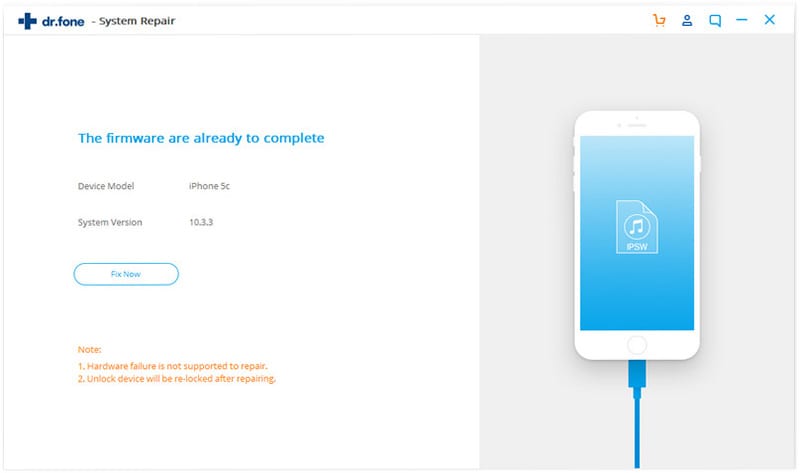 Step 5: Once the repairing is done, you will be notified that "Done".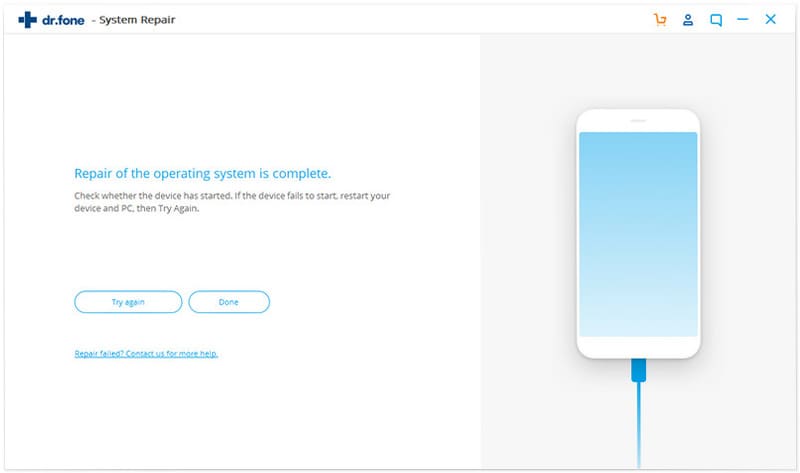 As you can witness, with the help of dr.fone, the error that was blocking your device from being installed with iOS 12 is eliminated completely without any data loss and a simple operation. The "Repair" option is not only suitable when you are unable to install iOS 12, but also is highly useful and recommended for all kinds of iOS systems.
Conclusion:
This article comprises of all the possible ways to tackle the issue of unable to install iOS 12 update. Going through each one of them will enable you to come out of the situation quite easily. However, we would highly recommend you to opt for dr.fone – System Repair (iOS) as it is the most admired software due to its user friendly interface and easy handling of all the issue faced by iOS devices.