Dr.Fone - System Repair (iOS)
Repair Your iOS System Issues At Home
· Fix various iOS system issues like white Apple logo, boot loop, etc.
· Fix most iOS issues without data loss
· Work for all models of iPhone, iPad, and iPod touch.
· Fix the iOS system with a few clicks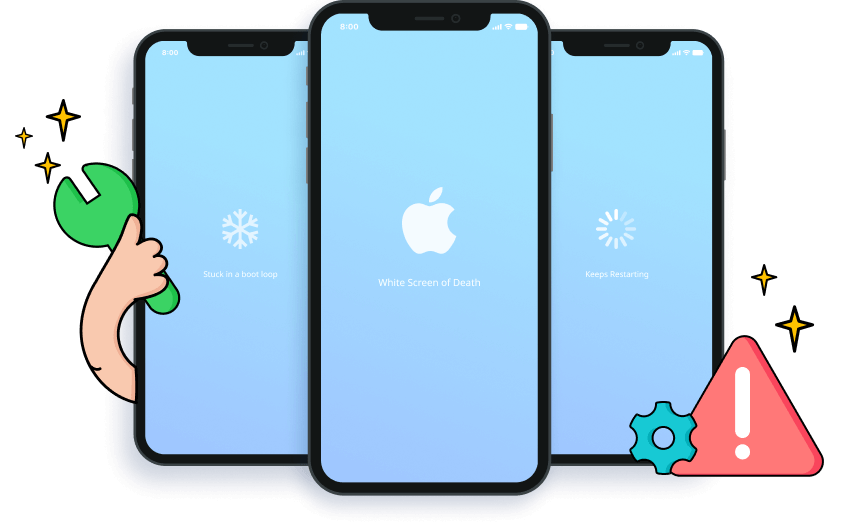 Fix All iOS System Errors Like a Pro
Dr.Fone - System Repair enables you to fix various iOS system errors, such as black screen, recovery mode, white screen of death, etc. Dr.Fone has made this process so easy that anyone can fix iOS without any skills.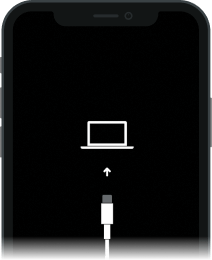 Stuck in Recovery Mode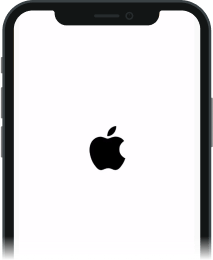 White Screen of Death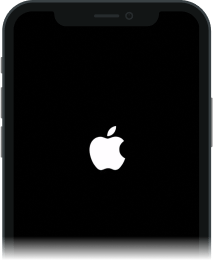 iPhone Black Screen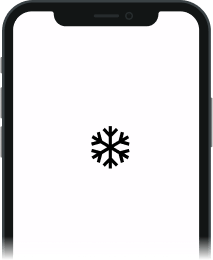 iPhone Frozen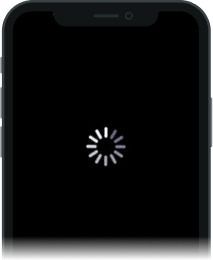 iPhone Keeps Restarting
Fix iOS without Any Data Loss
Compared to iTunes restore or other methods, Dr.Fone can fix various iOS system errors without data loss in most cases. All You need to do is connect your device and proceed with a few clicks.
Downgrade iOS Without iTunes
Dr.Fone is now able to downgrade iOS. And most importantly, this downgrade process will not cause data loss on your iPhone. No jailbreak is needed.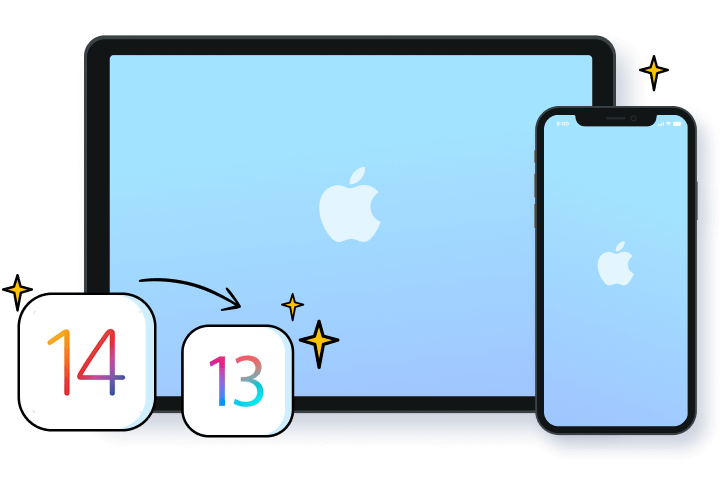 How to Fix iOS System Issues?
With Dr.Fone-System Repair, you can fix all iOS system issues with a few clicks. In addition, Dr.Fone provides two optional modes.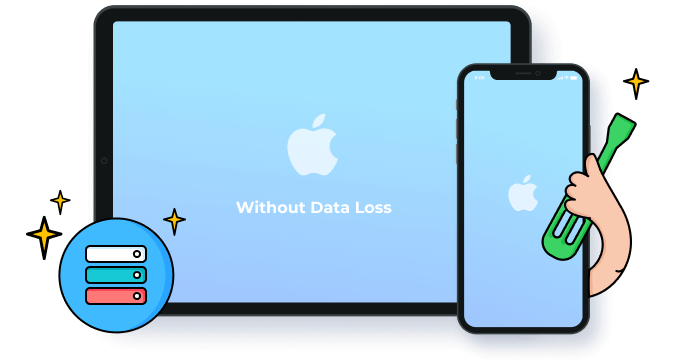 Standard Mode
With Standard Mode, we can fix most iOS system issues without data loss.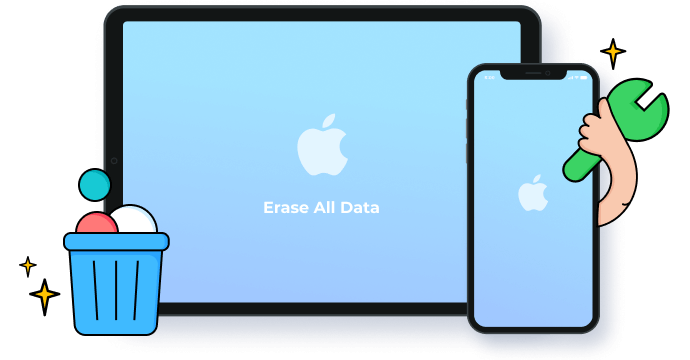 Advanced Mode
Advanced Mode is able to fix more serious iOS issues. But it will erase all data on the device.
Steps for Using Dr.Fone - System Repair (iOS)
Dr.Fone is undoubtedly not the only solution to fix iOS system issues, but it is the easiest iOS system repair solution with the highest success rate.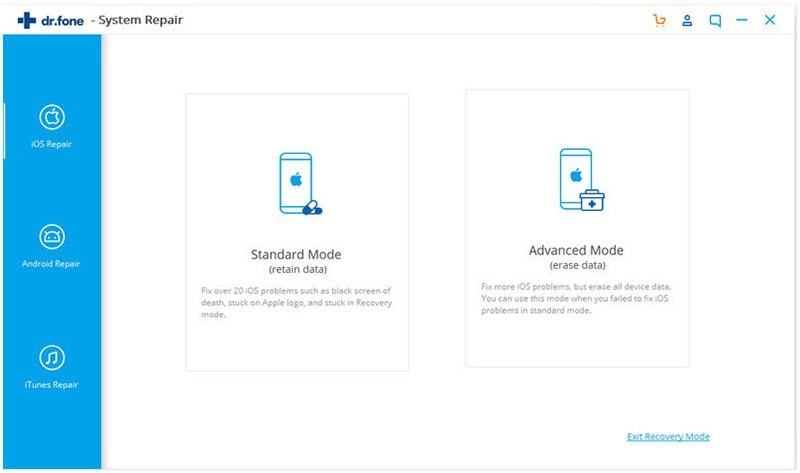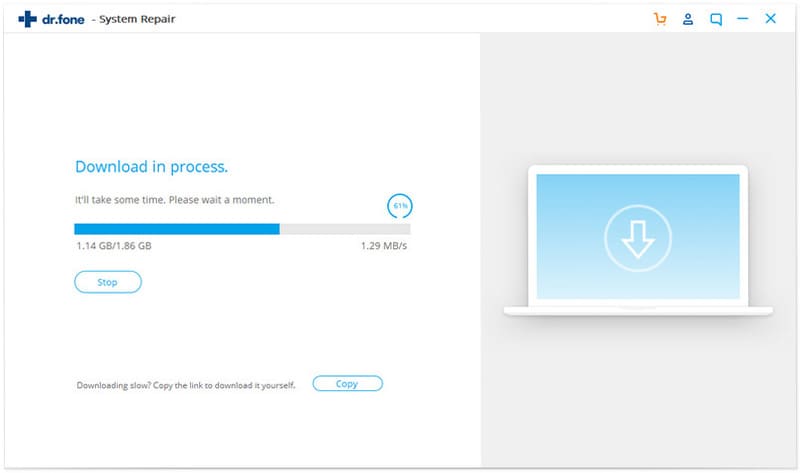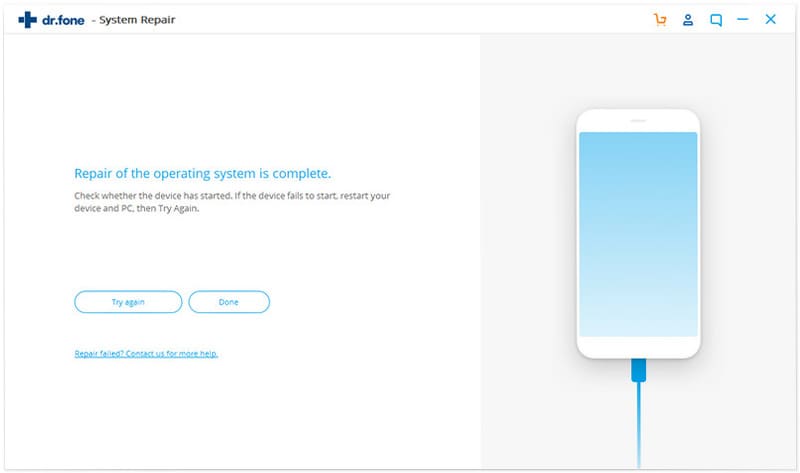 01 Select system repair mode
Launch Dr.Fone, click "System Repair" and choose the repairing mode.
02 Download the iPhone firmware
Start to download firmware on your device.
03 Click "Fix Now" to fix iPhone to normal
Wait for the system errors to be fixed successfully.
Tech Specs
CPU
1GHz (32 bit or 64 bit)
RAM
256 MB or more of RAM (1024MB Recommended)
Hard Disk Space
200 MB and above free space
iOS
iOS 15, iOS 14, iOS 13, iOS 12/12.3, iOS 11, iOS 10.3, iOS 10, iOS 9 and former
Computer OS
Windows: Win 11/10/8.1/8/7
Mac: 12 (macOS Monterey), 11 (macOS Big Sur), 10.15 (macOS Catalina), 10.14 (macOS Mojave), Mac OS X 10.13 (High Sierra), 10.12(macOS Sierra), 10.11(El Capitan), 10.10 (Yosemite), 10.9 (Mavericks), or 10.8
iOS System Repair FAQs
What is Recovery Mode and DFU Mode on iPhone?

iOS users may often hear about Recovery Mode and DFU Mode. But probably most users don't know what exactly is Recovery Mode and DFU Mode. So now, let me introduce what they are and their differences.

Recovery Mode is a failsafe in iBoot used to revive your iPhone with a new version of iOS. It uses iBoot to restore or upgrade your iPhone.

DFU Mode, known as Device Firmware Update, allows the iOS devices to be restored from any state. It is a port of the SecureROM which is built into the hardware. So it can restore the device more thoroughly than the Recovery Mode.

What do I do when my iPhone won't turn on?

When your iPhone doesn't turn on, you can try the steps below to restart it.

Hard reset your iPhone. Press and hold the Power button and the Home button for a few seconds and release them when the Apple logo appears.
Use Dr.Fone to "fix iPhone won't turn on" without data loss. Download Dr.Fone on your computer, connect your device and follow the instructions to download the firmware. It will then fix your iPhone automatically.
Restore iPhone using iTunes.
Restore iPhone in DFU Mode. It is the ultimate solution to fix iPhone problems. But it will erase all data on iPhone.

Why did my iPhone go black?

When an iPhone screen goes black, we should first determine whether it's caused by software or hardware issues. A corrupted update or unstable firmware can also cause the iPhone to malfunction and turns black. Usually, this can be resolved by a hard reset or restore. You can follow the solutions here to fix iPhone black screen for software reasons.

If none of them fix the issue, the chance is hardware problems cause your iPhone to black. Unfortunately, there usually isn't a quick fix. So you can visit the Apple Store nearby for further help.

What should I do if my iPhone is stuck on the Apple logo?

If you see your iPhone stucks on the Apple logo screen, try these steps:

Force restart your iPhone.
Fix iPhone system with Dr.Fone. It is the fastest and easiest way to fix iPhone system problems without data loss.
Restore iPhone with iTunes. If you don't have an iTunes backup, it will erase all your data.
Restore iPhone in DFU mode to fix all iPhone system issues. But unfortunately, it will also erase all your data.
Repair iOS System Erros
With Dr.Fone - System Repair, you can easily fix various iOS system issues and get your device back to normal. No worry about data loss.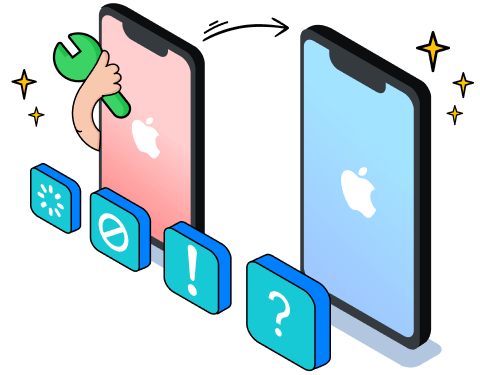 Our Customers Are Also Downloading
Screen Unlock (iOS)
Unlock any type of lock screen from iOS devices in any scenario.
Phone Manager (iOS)
Transfer all types of data between your iOS devices and computers. No iTunes needed.
Phone Backup (iOS)
Backup and restore any iOS data automatically and wirelessly. No data loss.