iCloud activation is the main security function used by the iOS system for iPhone, iPad, iPod touch, and Apple Watch. When you accidentally lose your iPhone, you can try to find the lost device by activating the "Find My iPhone" service. This is the best option to keep the phone secure. Although it has many benefits still we have to bypass iCloud activation lock due to different reasons. There are different types of tools and applications available to bypass activation lock. In this article, we will discuss details about iCloud activation lock and different methods to remove iCloud lock.
Part 1. What does iCloud Activation Lock Mean?
Activation lock is what we usually call ID lock, called Activation Lock in English. Activation Lock is a new anti-theft feature added by Apple on the iOS system. Nobody can sell your device without your permission if your device has this feature. As long as you turn on "Find My iPhone" in the iOS7 or higher system, the activation lock will start to work immediately. To turn off the Find My iPhone function or wipe your device, you need to use your Apple ID and password. No matter you upgrade and restore or flash the machine in DFU mode, you need an ID password to activate it.
Part 2. Why We Need iCloud Activation Lock Removal Tools?
The activation lock on the Apple mobile phone can ensure the safety of our equipment and information. When the device is lost or stolen, the activation lock can help us reduce losses. This is the best feature of Apple devices that keeps devices secure. Although, iCloud activation lock is really helpful for protecting your iPhone/iPad, and can prevent it from being lost or stolen. However, when you buy a second-hand iPhone and find that it is locked by iCloud, this security system can also cause problems. Sometimes you forgot the passcode of your phone due to different reasons. Unless you remove the activation lock, you will not be able to use the device.
Activation lock is not easy to remove; it takes time and requires different tools. Therefore, professionals use different activation lock removal tools to remove a lock efficiently. Tools play an important role when we talk about iCloud activation lock removal. Without tools, we can't do it efficiently. Therefore, we require iCloud activation lock removal tools for the best results.
Benefits of bypassing iCloud lock
There are many benefits of bypassing iCloud lock as we can use the phone in a normal way. You can get access to all the apps on your phone after bypassing the iCloud lock. You can use any secondhand or used phone very easily after bypassing iCloud lock. It is very important to use reliable tools to bypass iCloud lock to avoid any kind of inconvenience.
Part 3. Best 8 iCloud Activation Lock Removal Tools
There are different types of tools and applications available in the market which we can use to remove iCloud activation lock. Each tool has its advantages and disadvantages. We can use these tools accordingly. Here are the 8 most common iCloud activation lock removal tools. All the tools are reliable and affordable.
Forgetting the passcode of a phone is a very serious problem. It can happen due to different reasons but we can solve this problem within seconds by using Dr.Fone. Dr.Fone allows you to remove phone locks within seconds in a secure way. We can remove Touch ID, icloud activation lock, face ID and other passwords with this tool when we lose or forget the passcode.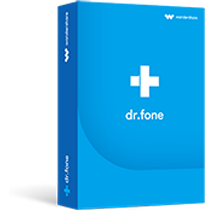 Unlock iPhone, iPad, and iPod touch screen and Apple ID within minutes
Unlock locked iCloud by providing a really easy way.
Unlock Apple ID (iCloud ID) for all devices of iOS 15 or an earlier version.
It removes the lock screen passwords and other security protocols without the use of iTunes.
Effectively remove the iPhone lock screen without the passcode.
2,985,172 people have downloaded it
We just have to install dr.fone on pc and follow the steps given below.
Step 1.

First of all download and install Dr.Fone on your pc and select Screen Unlock.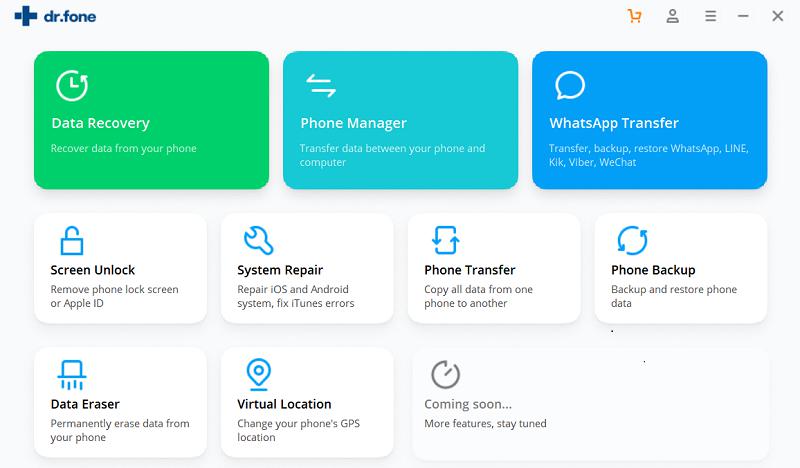 Step 2.

Now you have to Choose Remove Active Lock and Navigate to Unlock Apple ID.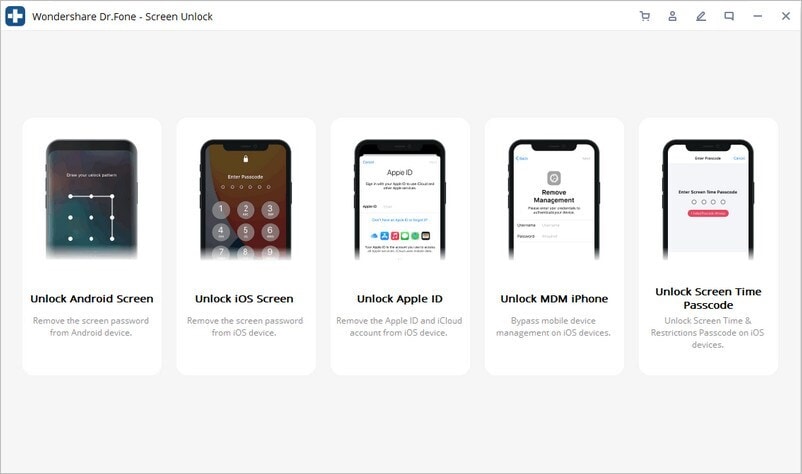 Step 3.

Now Select Remove iCloud account in Unlock Apple ID.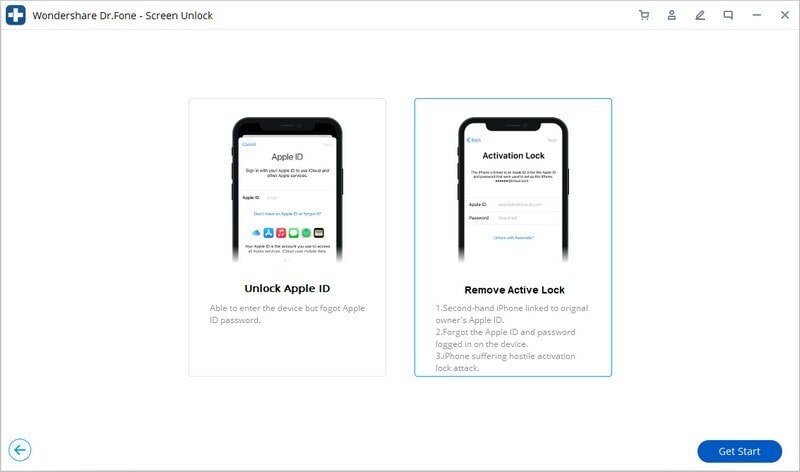 Here you have to jailbreak your phone on your pc to continue the process.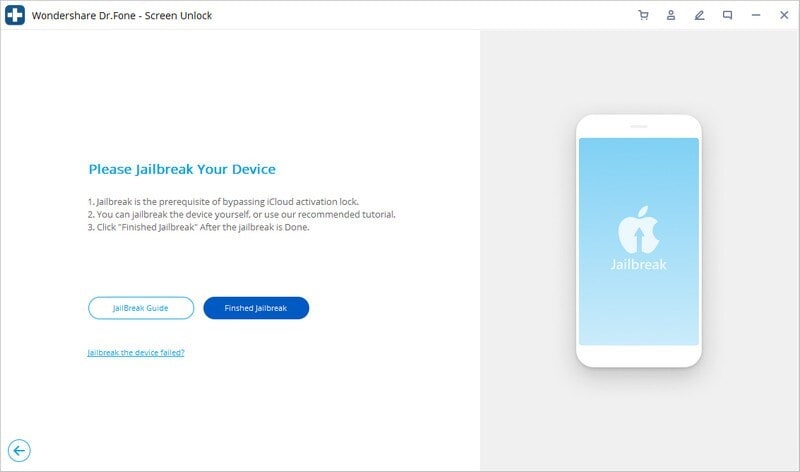 Confirm and agree on terms and conditions.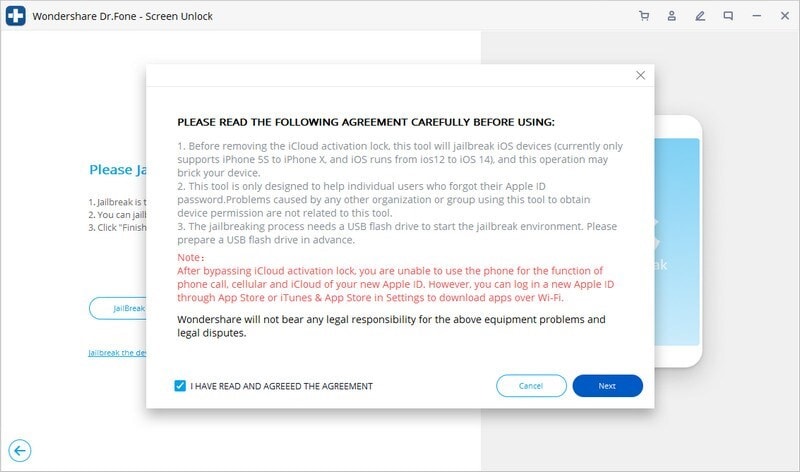 Step 4.

Confirm information of your device, then click Start Unlock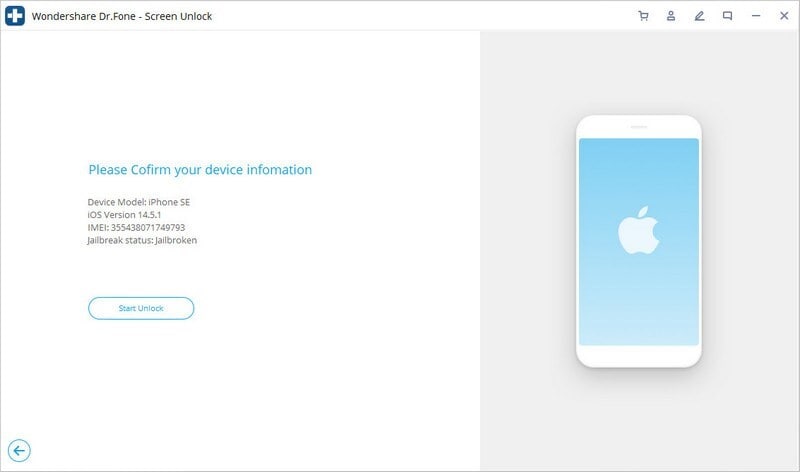 Step 5.

Now Your phone will Start to remove the lock and it will be like a normal phone within seconds.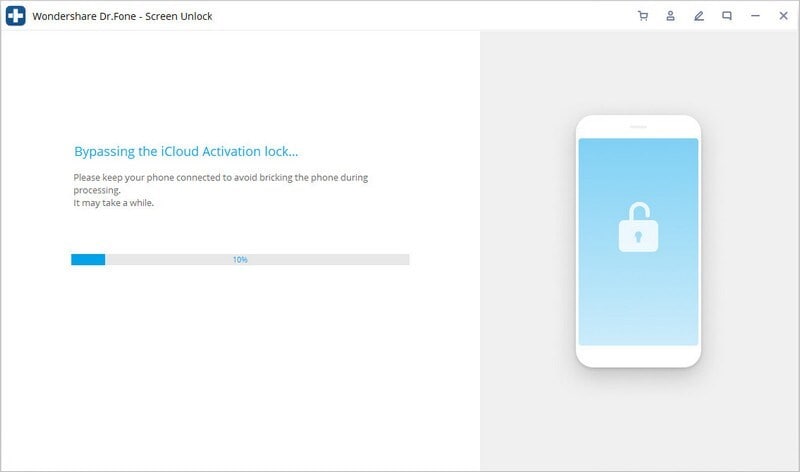 After the Process complete, your phone will not have any kind of lock, and you can use it as a normal phone. We can bypass iCloud activation lock very easily with this too.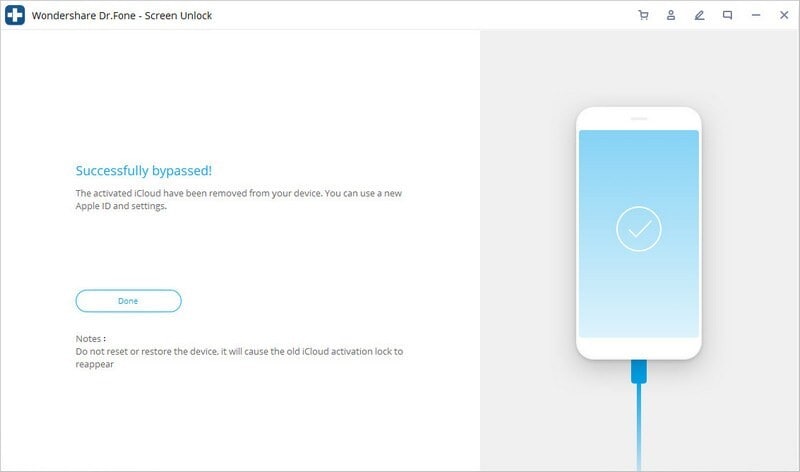 2. FoneGeek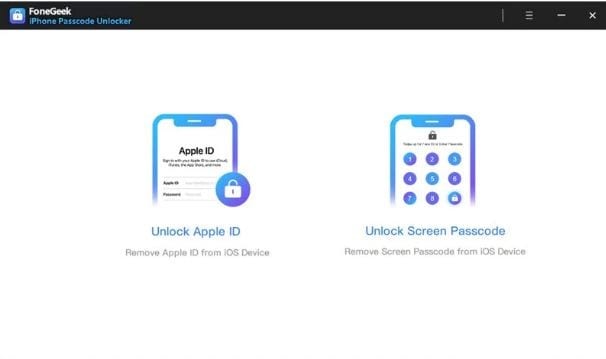 If you are looking for a reliable iCloud activation removal tool, you should not miss the FoneGeek iPhone unlocker. With this tool, we can easily remove the iCloud account within seconds. It supports different unlocking mods and you can choose one accordingly. It is best if you want to remove face id, 4-digit lock, or touch id. It supports all activated iOS devices.
Pros
Can instantly remove all types of screen locks
100% success rate
24/7 customer support
Cost-effective
Cons
It only works on activated iPhone
Does not support old android versions
3. iCloudin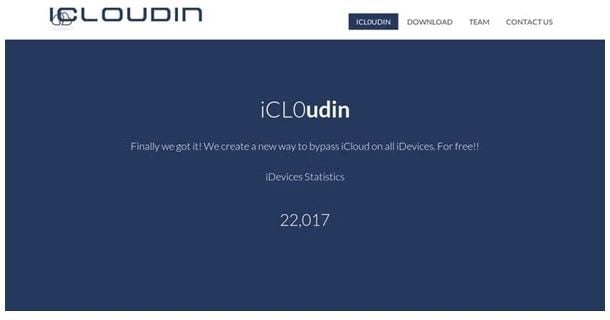 This is also reliable and free iCloud activation lock removal software that we can use to remove different types of locks and passwords. It is simple to use and we don't need any kind of IT knowledge to run this tool. There are different options available to remove a specific type of passcode.
Pros
It works for all types of iPhones and iPads.
Very simple interface
It is free of cost
It provides complete tutorials about passcode removal
Cons
Only available for windows
Requires iTunes
There are chances of failure
Only compatible with iOS 9 or earlier versions
4. Doctor Unlocker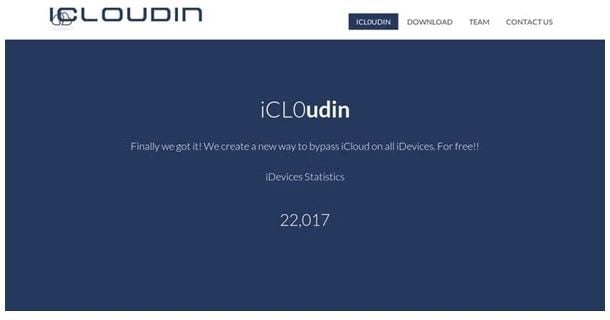 It is the best online iCloud activation removal tool that we can use to remove any kind of password. Professionals always prefer this tool due to its very high success rate. You can unlock your phone within 3 simple steps. First of all, you have to submit your IMEI, then the tool will whitelist your IMEI, and finally, you will get an email about unlock of your phone. You don't need to install any software on your pc or mobile.
Pros
It is a reliable and effective tool
We don't need to install any software to use this tool
It is affordable
Easy to use
Cons
You have to pay fees to use this online service
More chances of data leakage
cybersecurity problems
5. iRemove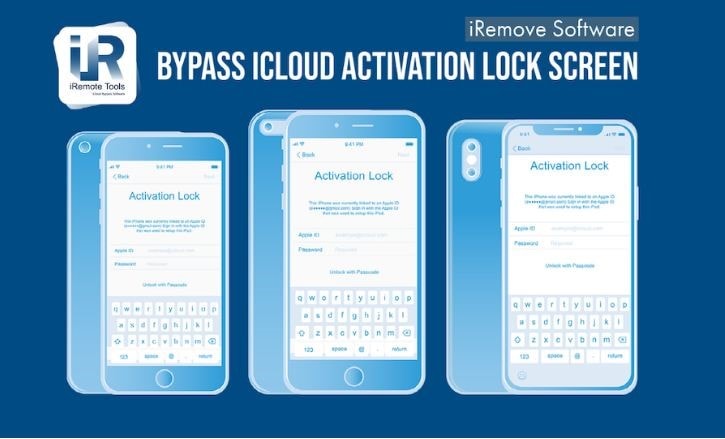 This is the best tool if you want to bypass iCloud activation lock, SIM lock bypass, and iCloud system PIN lock. This is a very user-friendly tool with many straightforward solutions. It supports all types of Apple devices. it is fast and simple with full customer support. It provides different possible ways to remove the lock of any kind of iPhone.
This is a very reliable tool and it works without jailbreak. You can remove different types of locks within few seconds. You just have to connect your device to pc and run this tool. It will check your device and automatically suggest to you the best unlock possibility. You have to pay fees to use this tool.
6. IMEIUnlockSIM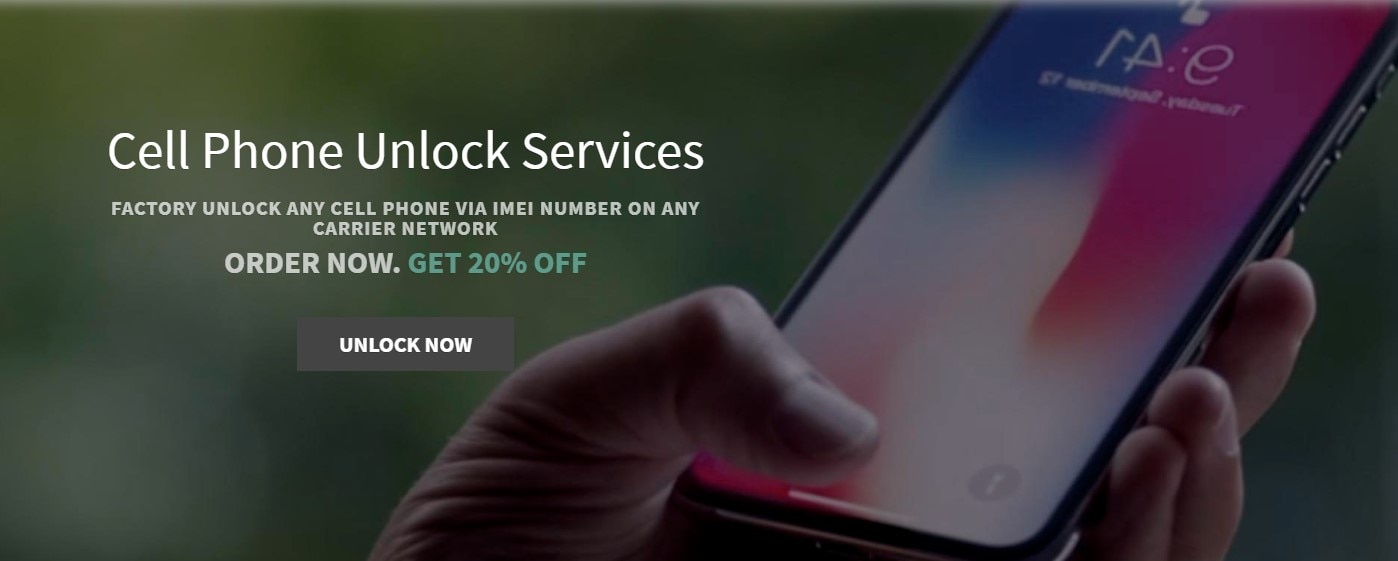 This is the verified method to remove or bypass the lock screen. In this method, we can remove a passcode with IMEI and SN number. You don't need to download or install any third-party tool on your pc. Just provide your IMEI number, choose your device and provide other basic information. Within 5 to 10 days your phone will be unlocked.
This is a fully trusted method to bypass the lock screen of different iPhone devices. You have to pay $18.95 to avail of this service. This is the official method to unlock iPhone.
7. iMyFone iBypasser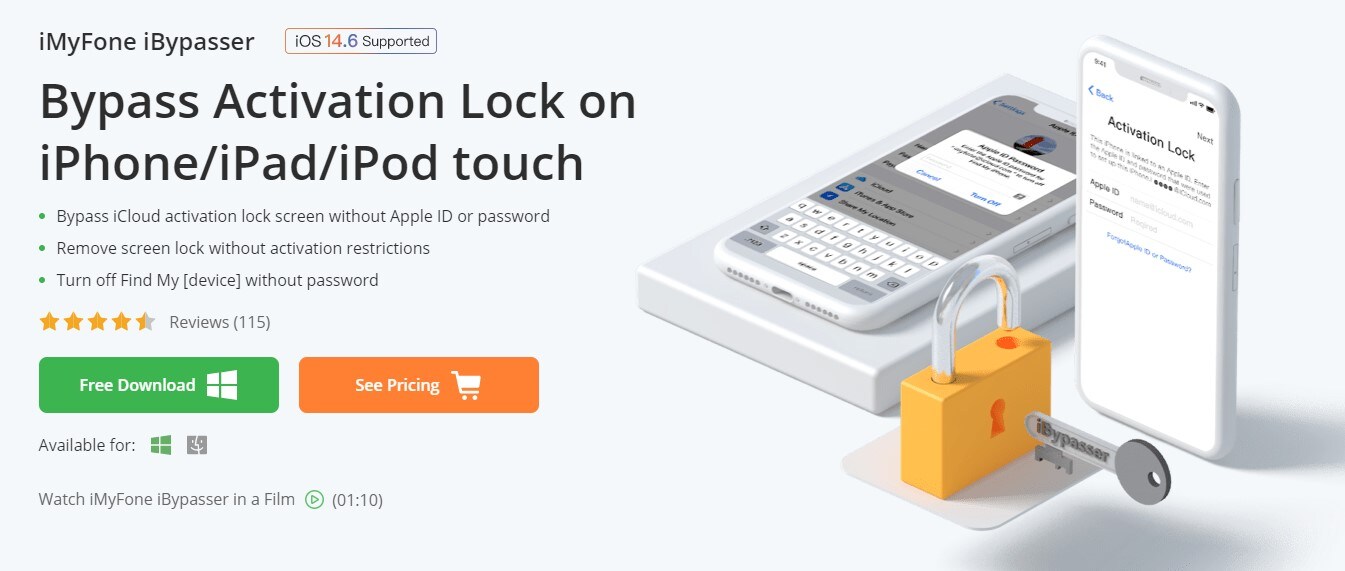 You can bypass iCloud activation lock very easily with this tool. It is best for all types of Apple devices. No matter if you have a second-hand phone or locked phone, just use this tool to bypass iPhone lock. You can renew your device at home by using this tool. Within 3 simple steps, you can bypass the lock screen.
First of all, select mod, install the jailbreak, and then unlock your device. It is a very affordable tool and doesn't need any technical requirements. They also offer free lifetime updates. It supports different iOS versions and devices.
8. GadgetWide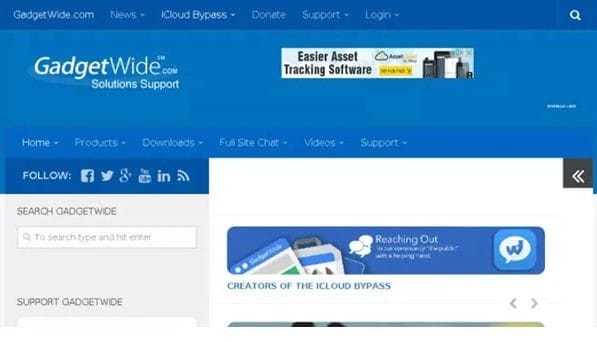 This tool bypasses and removes the lock within few seconds. It is a cost-effective and user-friendly iCloud activation tool. It works for almost all types of iOS devices. It has pre-configured settings that make the process simple and easy. It is reliable if you want to remove Face ID, and 4 digits or 6 digit lock screen.