Apple phones are known for their severe security measures for the system in their devices, which is extremely helpful if your iPhone 6/7 gets stolen. In addition, the iCloud lock will safeguard your iPhone from the wrong hands. In this manner, getting to your confidential data will be challenging without entering the Apple ID credentials if the activation lock is enabled.
However, the issue is once you forget your iCloud information or purchase a second-hand iPhone from Amazon or eBay and find it locked. In such cases, you need to bypass iPhone 6/7 activation lock.
So here, we will find out how to perform iPhone 6S iCloud bypass and utilize your iPhone. Different methods are available, but the safest is using a professional tool to do the job for you.
Part 1: How to Easily bypass iPhone 6/6S/7 iCloud activation lock
Remove the activation lock with the previous device owner
The primary thing you can do to bypass iPhone 7 is to contact the individual you purchased this gadget from. Then, get information about the Apple ID so you can enter them on the lock screen.
In like manner, you can ask the owner (the seller) to enter the account credentials without anyone else. This way, you will not get humiliated by getting some data about such vital data about their ID.
This strategy applies if the past user lives close by and you can meet them. Precisely, they should have their Apple account details saved. It is the best way to deal with bypassing iPhone 7 since it requires no technical information.
In addition, you don't have to run an additional mile by paying for the unlocking process since you can do this process free of charge. Here is what the previous owner needs to follow:
Step 1.

Visit the www.iCloud.com site through a browser.
Step 2.

Go to Find My choice, click "All Devices," and select your iPad to eliminate/bypass.
Step 3.

Click "Erase [device]," and from that point forward, click the "Remove from Account" button.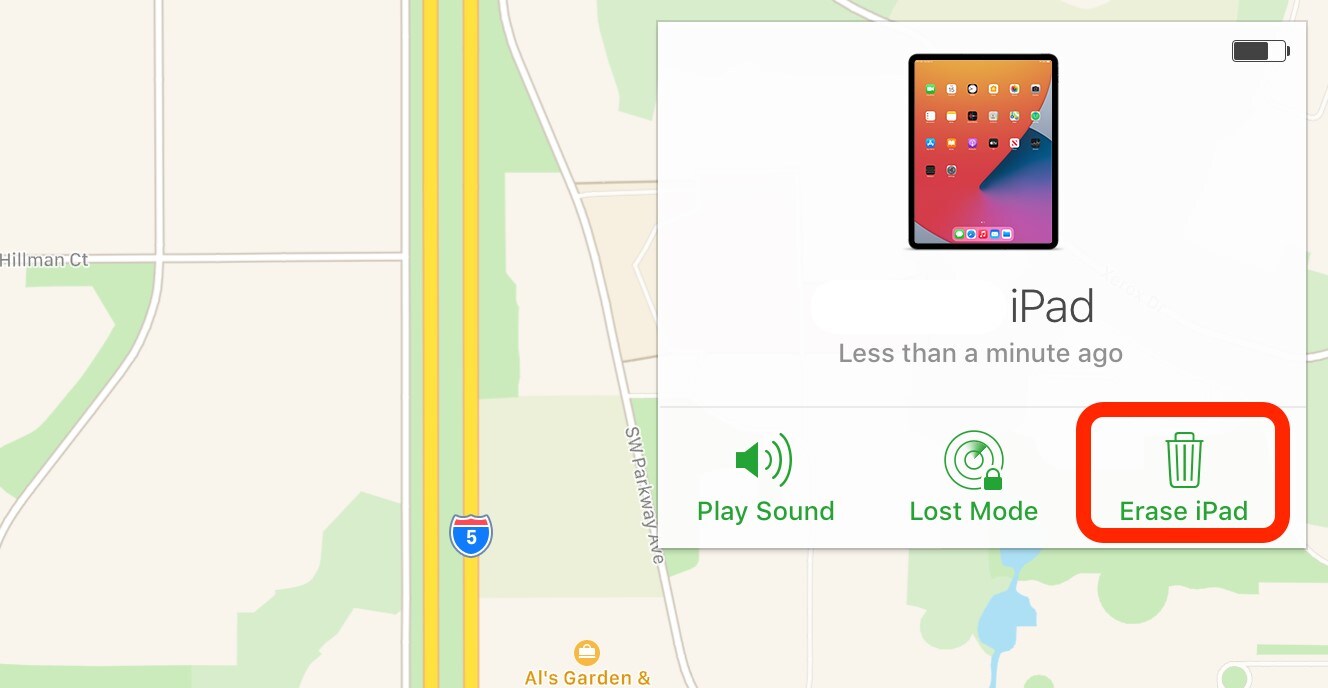 Use iCloud DNS Bypass
iCloud DNS Bypass is to bypass an iCloud activation lock by controlling the DNS server. Specifically, it implies diverting the activation process of your iPhone from Apple servers to a few different servers for affirmation.
Why DNS Bypass?
When you buy a second-hand iPhone 6 or 7, you can find that the phone has an initiated lock. Before you can set up your iPhone, the phone will demand the Apple server to enact it. The technique for getting around this lock is entering the correct Apple ID.
iCloud DNS bypass is suitable when you need to bypass iPhone 6 and don't know anything about the past proprietor. It's similarly viable if you can't remember your iCloud ID details.
Key Features of DNS Bypass:
You can genuinely change the DNS address in WIFI settings.
If it works, you can utilize different elements and applications on your iPhone 6/7.
Cons of iCloud DNS Bypass:
There is no assurance that it will unlock on your iPhone.
You will be unable to get to every one of the features of your device after bypassing the lock.
It doesn't work for all iOS versions, particularly the new ones.
Steps to Bypass Activation Lock through DNS:
The steps in DNS bypass are elemental; this is the way to do it:
Step 1.

After switching on your iPhone, pick your favored language and location from the menu.
Step 2.

Click "Proceed" to enter the WiFi settings page.

Look for the "I" symbol close to the WiFi to connect it.
Step 3.

As of now, disconnect the WiFi, go to "Connection Settings," and snap "Forget this Network."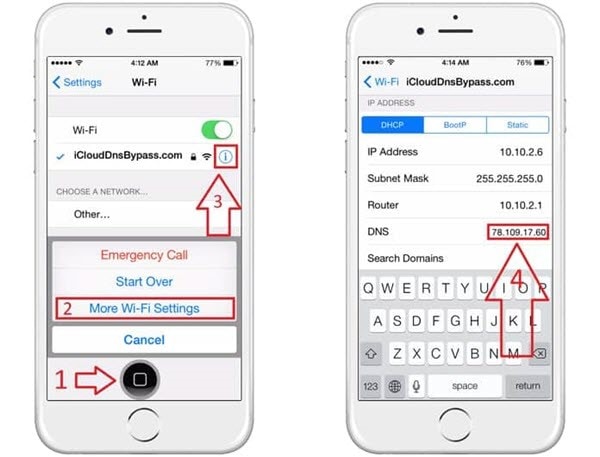 Step 4.

Click the "I" symbol and enter a DNS server IP address to bypass the activation lock.

You can pick your IP address as per your region:
USA: 104.154.51.7
South America: 35.199.88.219
Europe: 104.155.28.90
Asia: 104.155.220.58
Australia and Oceania: 35.189.47.23
Other Places: 78.100.17.60
Step 5.

After that, click the "Back" option on the left side of your screen.

Then, turn on WiFi, select your WiFi from there, and enter the details, like the password.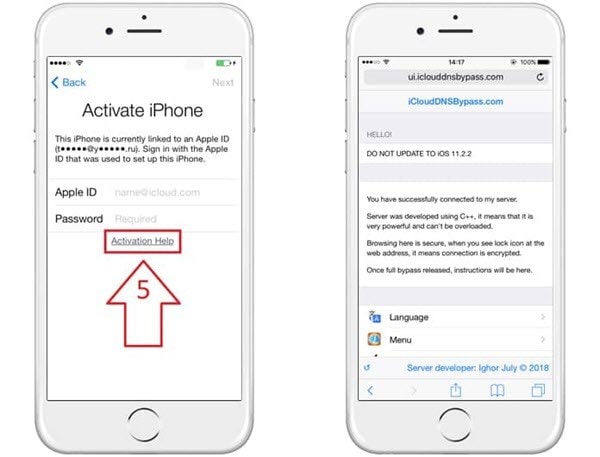 Step 6.

Click "Next Page" and snap "Back" to enter the iCloud bypass screen.
Step 7.

Set up your applications and surf through your iPhone 6/7 as you like.
The most straightforward way is to get a specialist activation lock bypass tool to stop the issue. This strategy doesn't expect you to be specialized or learn new ideas. Instead, you have to look for the ideal software that you can find and download it. Then, you can wrap up the task simply by adhering to the rule given by the software.
Hence, we advise you use Wondershare Dr.Fone - Screen Unlock to bypass iPhone 6. Dr.Fone is an expert application with various iOS choices. It can immediately unlock the screen lock, Google lock, and activation lock. To bypass the activation lock, follow a couple of simple tasks and comply with the guide.
This software is secure, and you don't have to stress over safety issues while utilizing this program. Moreover, it is the one where anyone could find a solution for iPhone 6/7 iCloud lock immediately.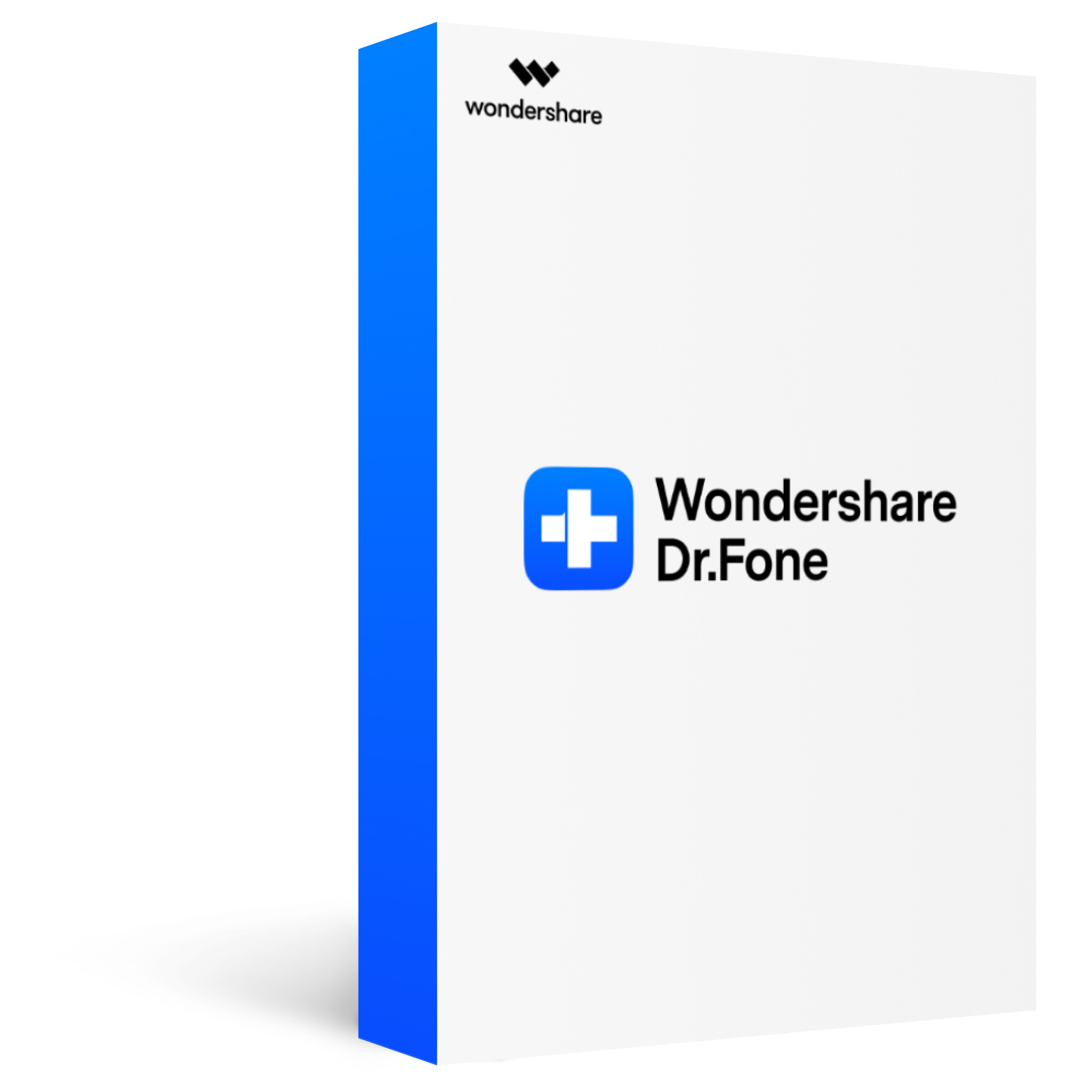 Dr.Fone - Screen Unlock (iOS)
Bypass/remove iCloud Activation lock on iPhone/iPad with simple steps
2,985,172 people have downloaded it
Remove iCloud Activation lock without password/Apple ID in any scenario anytime.
Bypass Activation lock in any scenarios anytime, such as forgot passcode, the device is disabled, second-hand device, unknown passcode, etc.
Unlock iCloud activation lock and iCloud account without iTunes.
Unlock all types of screen lock on iOS device within clicks, including iCloud Activate lock, MDM lock, 4-digit/6-digit passcode, Touch ID, Face ID, screen time passcode, etc.
Support to bypass activation lock for iOS from 12.0 and up to iOS 14.8.1. Compatible with iPhone 5S up to X.
Bypass iCloud Activation Lock with a 100% success rate.
The steps underneath will direct you on how you can get help regarding iPhone 6S iCloud bypass:
Step 1.

Install and open the Dr.Fone program on your PC and send it off.

Then pick the Screen Unlock device from the landing page.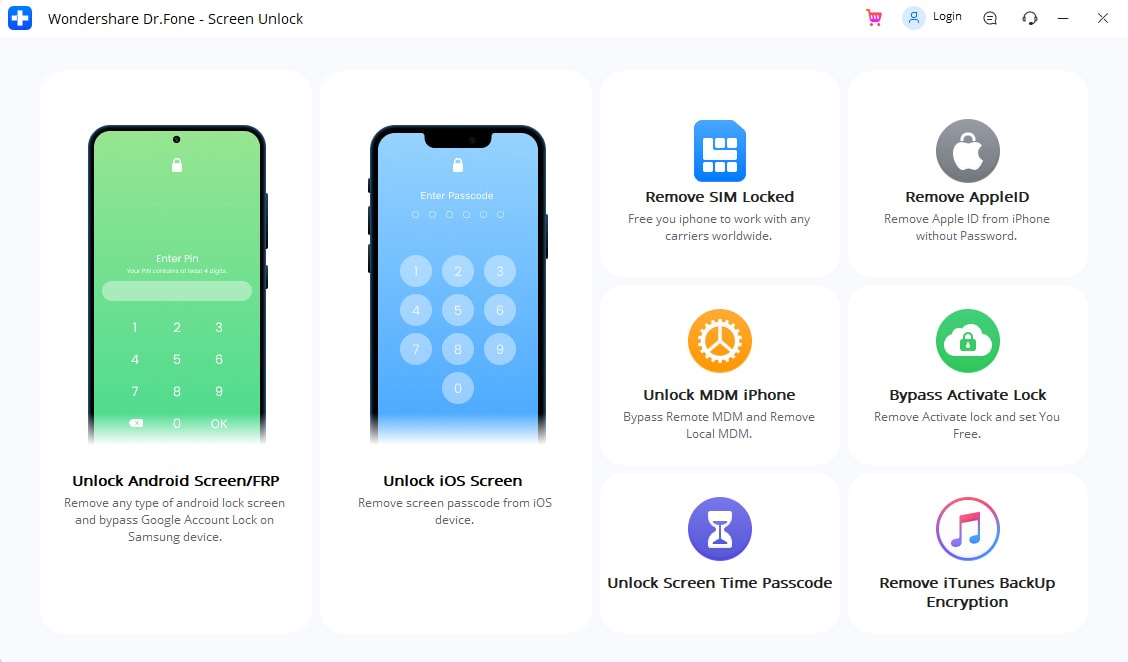 Step 2.

Pick "Bypass Activate Lock."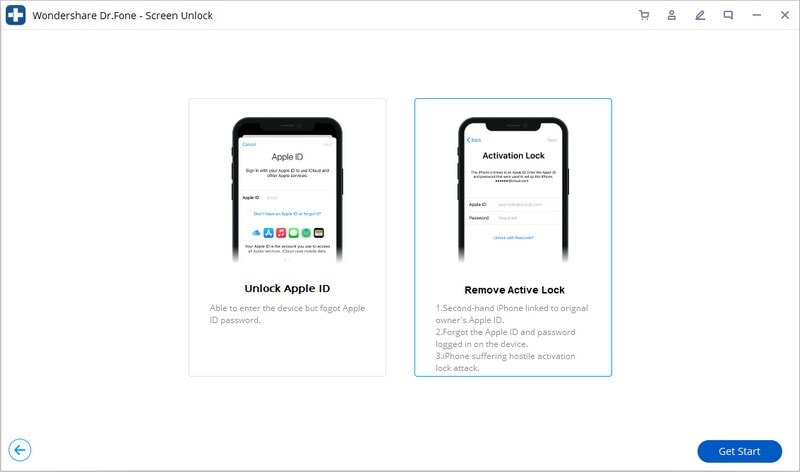 Step 3.

Jailbreak your iPhone.

<>Before you start, follow the "Jailbreak Guide" to jailbreak your iPhone on your Windows PC. Any other way, you can click "Finished Jailbreak" if your iPhone 6/6S/7 is in a jailbroken state.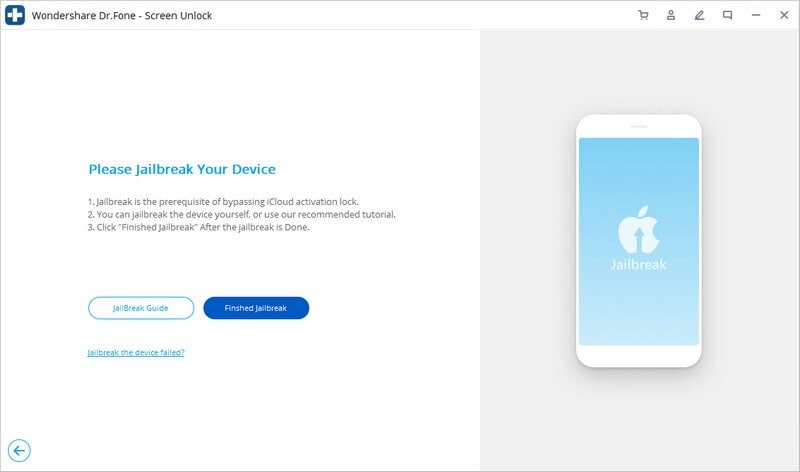 Step 4.

Confirm the iPhone Information.

Tick the check box to agree with the agreements. Then, at that point, confirm the iPhone model information.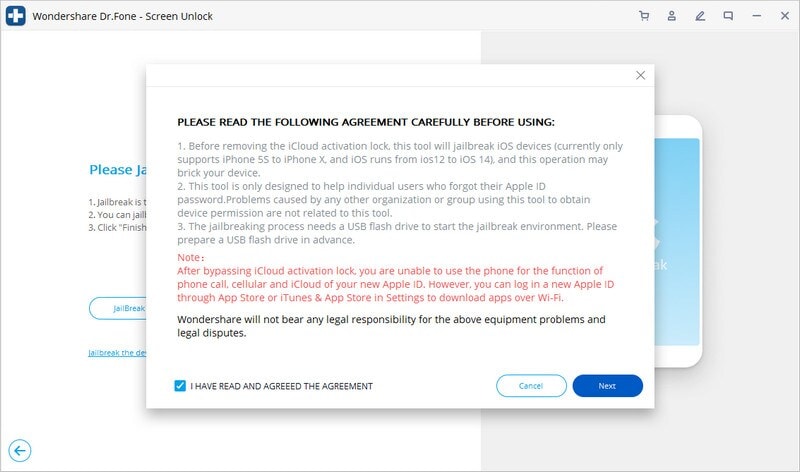 Step 5.

Start to Remove the iCloud Activation Lock.

Begin eliminating the lock and wait briefly. After stopping the activation lock, the phone will open without any password.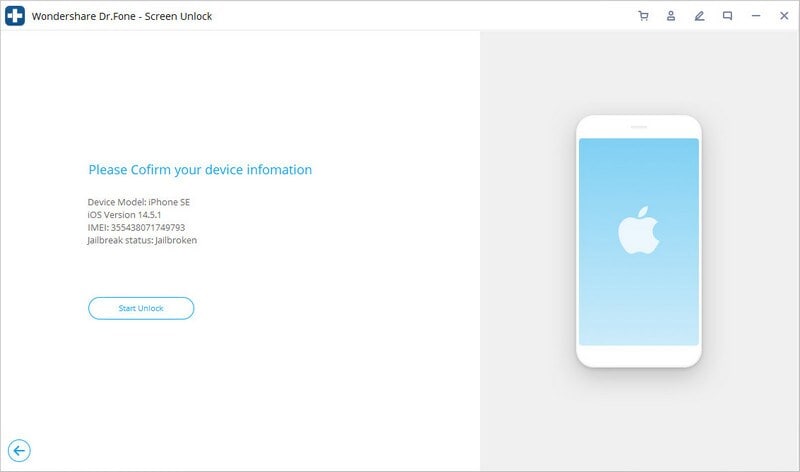 Step 6.

Removed Really.

The entire process will remove the activation lock in a little while. As of now, your iPhone 6/6S/7 will have no activation lock.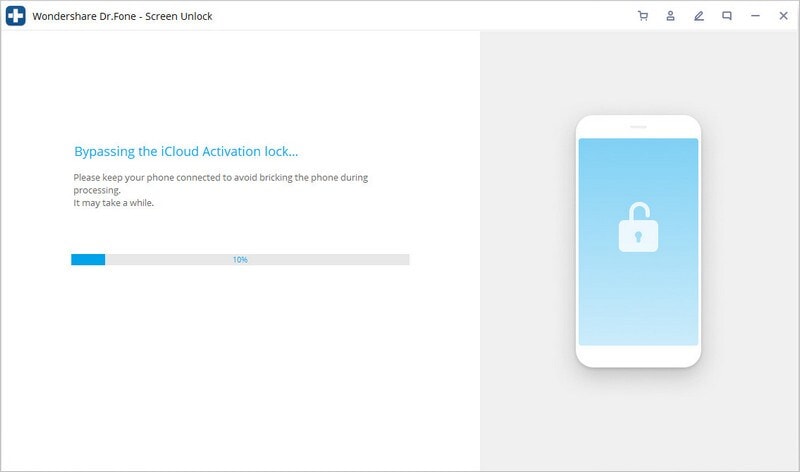 Part 2: FAQs
Q1. What is Find My?
A1: The Find My feature is a fantastic security feature for holding your iPhone back from getting lost, as it licenses you to find and lock it, whether or not you have it. For example, you can see where your iPhone is when this feature is on. You could use it to show your area to others or play a sound on your lost device, making it easier to find.
To use this feature, open your device and use a PC or one more device to find, reset or lock your lost iPhone. If you're selling your iPhone or giving it to another person, you should initially turn off this feature. It is challenging for the following user if the previous user's Find My feature is on.
Q2. How to turn off Find My?
A2: If you want to reset your iDevice to remove all the data and return it to its default state, Apple anticipates that you should turn off Find My ahead of time. Likewise, Apple franchise specialists often expect you to turn it off before they can fix it.
Turning it off won't eradicate any of your data, so you don't need to worry about that. Instead, it'll make it challenging to find your iPhone when lost.
The most effective way to turn off the Find My feature is easy. The steps here will show you know how to get it going:
Open the Settings of your iPhone and tap your name or profile.
Look for the "Find My" choice and go for "Find My iPhone."
If the feature is on, the switch button on the top of the page will be green. Switch the "Find My iPhone" button to switch it off.
Enter your Apple ID.
Confirm your activity; that is all you have to switch off this feature.
Q3. Can I bypass iOS devices like iPad or iPods?
A3: Indeed, you can bypass the activation lock on iPhones like iPad and iPods. But the procedure is a little different in regards to Apple Watches.
The Bottom Line
We believe you are presently in a situation to bypass the iPhone 7 activation lock. This guide specifies the best techniques you can utilize to avoid this issue. However, we realize that every strategy has its upsides and downsides. So if not a single one of the above methods works for your situation, Dr.Fone - Screen Unlock will, in any case, help you. This software is operated to give safe iOS unlocking answers to our clients.