Are you searching for a tool that can beat the iCloud activation lock and give you admittance to all your iPhone's features?
Checkra1n iCloud bypass could be precisely the very thing you are searching for. This tool, in the same way as others, gives a successful answer for moving beyond the iCloud lock security feature.
These days CheckRa1n has become one of the favored tools for bypassing iCloud on iPhones or iPad. Suppose you want to use CheckRa1n to unlock iOS 15 or other variants of this OS; you need the information we have for you. Moreover, we will introduce you to the best available tool in the market. So, follow our detailed guide for a safe solution.
Part 1: What Can Checkra1n Do?
The designer Axi0mX made Checkra1n, a tool that serves to jailbreak most iPhones, from iPhone 5 to iPhone X. even though Apple attempts to stay away from its use, they won't have the option to do anything for individuals who install it.
Jailbreak is a procedure used to hack iPhones that permits you to install applications from uncertified areas, for example, the Application Store.
In addition, it helps you bypass the activation lock from your device. So if you bought a second-hand phone or forgot your iCloud account details, you will be stuck on the activation lock. In such situations, Checkra1n can help you bypass the iCloud lock.
It lets you Install Cydia.
Even less significantly, during the most recent couple of years, the jailbreak was practically dead since Apple invested a ton of energy working on the software. Yet, since September 2019, Axi0mX reported checkRa1n that it was exploiting a bug in Apple's processors that was difficult to fix.
Anyone with an iPhone or iPad with having A5 processor or above can install this tool. So basically, all devices from iPhone 5s to iPhone X are included. Furthermore, with checkRa1n, you can adjust the whole OS. Therefore, it can also help you download pirated applications through the renowned Cydia store.
Pros of Using Checkra1n
To begin with, Checkra1n is very dependable and robust, especially for a tool still in beta mode. It jailbreaks a lot of old iDevices rapidly and dependably. It likewise installs an SSH server and different utilities, a reward that makes the tool ideal for specialists who need to dive into the internals of their devices.
Another advantage of Checkra1n is that it vows to work dependably on a wide range of hardware. Those models incorporate devices from the iPhone 5s the whole way to the iPhone X running iOS 12.3 or later.
Cons of Checkra1n iCloud Bypass
There are limitations to the Checkra1n tool. These limitations are as follows:
Not all iPhones are supported (including phones from iPhone 5s to iPhone X).
Any iPhone OS underneath iOS 12.3 isn't supported.
Likewise, iPads and iPod support are restricted.
To utilize the application, you need to jailbreak your iPhone, which can result in malware attacks or damage.
Bypassing iCloud with the Checkra1n application can bring about some limitations. For instance, your SIM signals will vanish; you can't use Facetime, iMessage, or add another iCloud or iTunes account.
Part 2: Steps to Bypass iCloud Activation Lock with Checkra1n
1. How to jailbreak an iOS device with Checkra1n?
Step 1.

Make an Ubuntu USB drive.
Insert the USB into your PC and run the Rufus tool afterward. Double-tap the downloaded document to run it.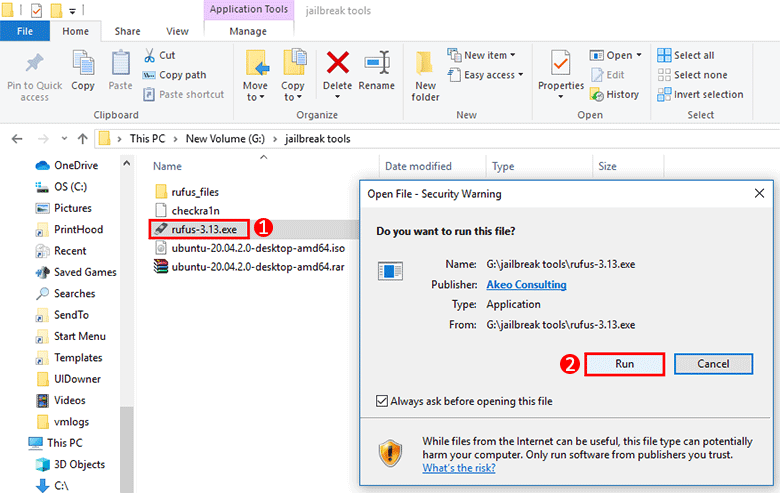 First, click the SELECT button, then find the downloaded Ubuntu ISO document on your PC and select it.
After importing the Ubuntu ISO file to Rufus, it appears in the Boot selection. Leave the default settings and tap Start to burn the Ubuntu ISO files on the USB. Select "iSOHybrid image detected" > OK.
This will make the Ubuntu USB drive. Then click close Rufus.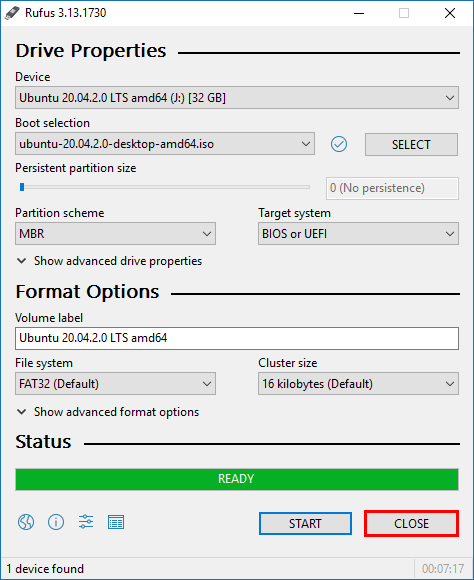 Step 2.

Boot Ubuntu on Windows PC.
Restart your PC while keeping the Ubuntu USB connected.
Press and hold F12 to open the Boot Menu when the PC opens. Then click the USB drive as the primary boot device.
After the PC boots from the USB drive, select *Ubuntu and press Enter.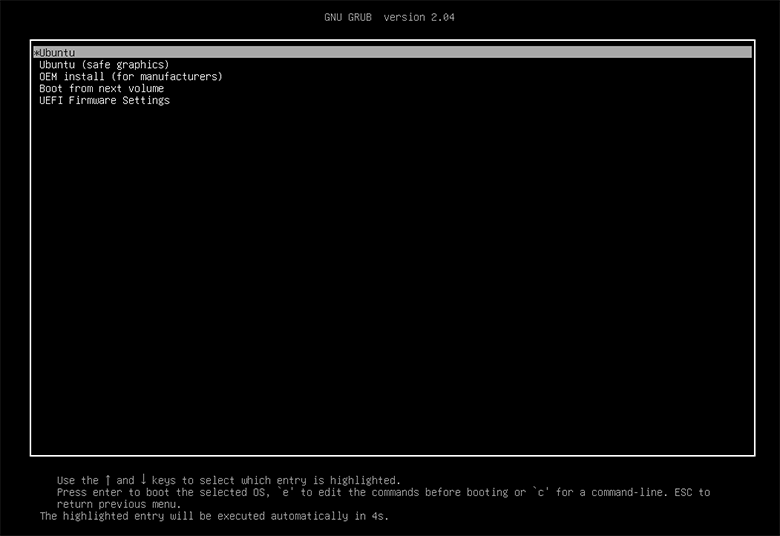 When the filesystem check finishes, choose your language, then, at that point, click Try Ubuntu.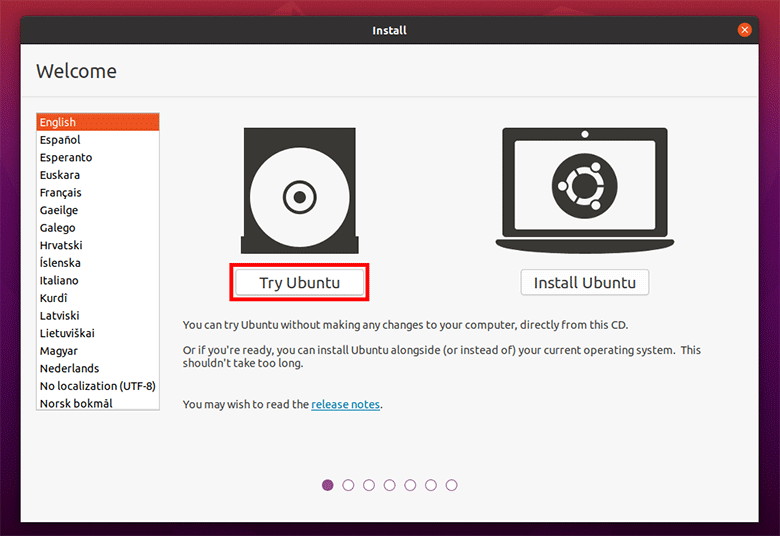 Presently, the Ubuntu system is running on your Windows PC.
Step 3.

Jailbreak iDevice in Ubuntu.

1. Run checkra1n in Ubuntu
Open the program in Ubuntu to download the checkra1n record. If you have downloaded the checkra1n file previously, you can move it straightforwardly to the Ubuntu system. Simultaneously, plug the iPhone into your Windows PC through a USB connector, and the iPhone will show up in Ubuntu.
Open Terminal in Ubuntu, and afterward, run these two commands.
Type chmod +x and drag the checkra1n file to the Terminal windows. Press Enter.
Type sudo and drag the checkra1n FILE to the Terminal window. Press Enter.
Checkra1n will run after typing these commands. Then, you can jailbreak your iOS device on checkra1n.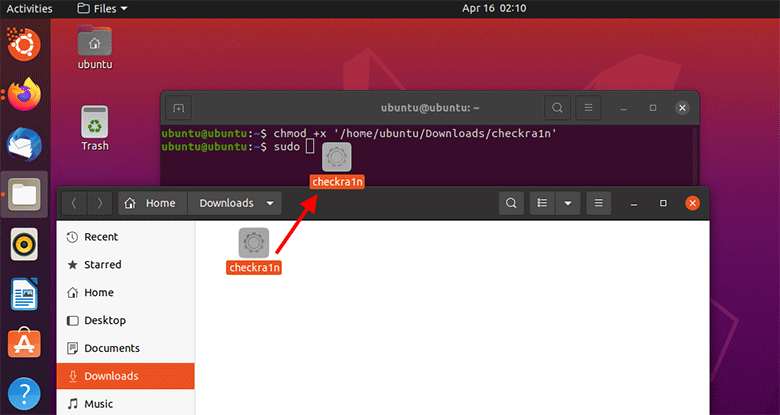 2. Jailbreak iOS device utilizing checkra1n
Select the Start button at the base.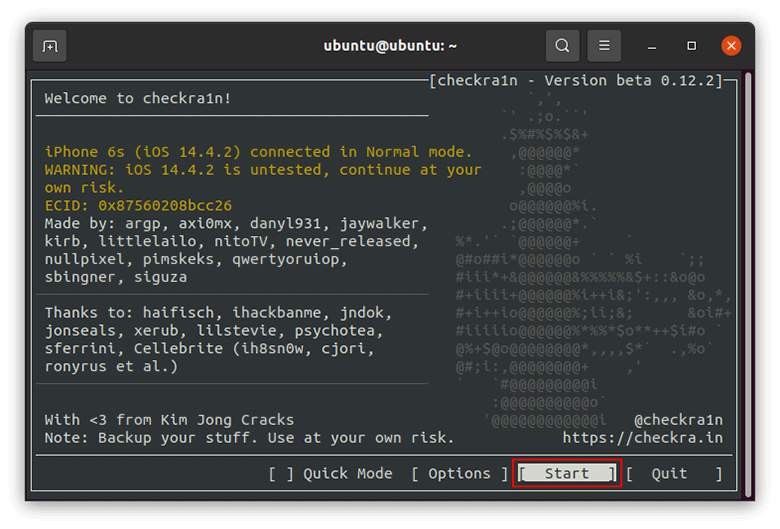 Tip: If the Start button is greyed out, select Options, check the "All untested Io/iPadOs/tvOS versions" choice, and tap Back. Then, at that point, the Strat button will work smoothly.
The screen prompts the iOS device to be placed into DFU mode to apply the jailbreak. The iDevice will now be in recovery mode first. Click Next, and your iDevice will run in recovery mode.
Then, now is the right time to place the iOS device into DFU mode. That is a manual procedure. Click the Start button, then, at that point, follow the on-screen prompts to place the iOS device into DFU mode.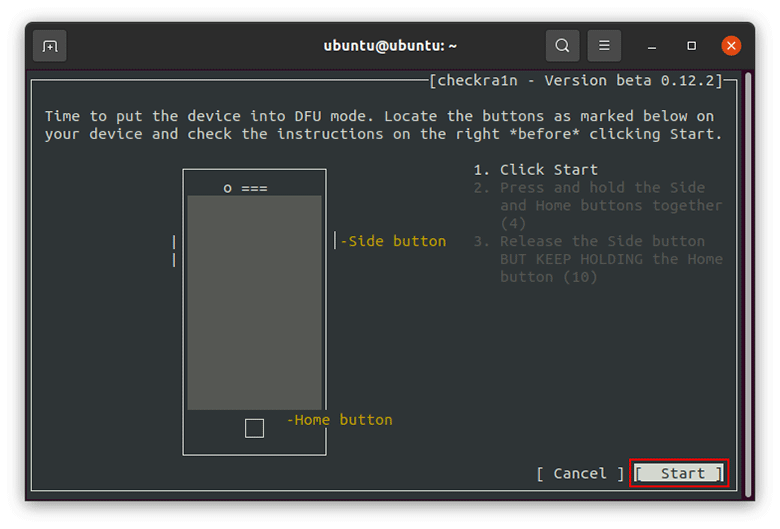 After successfully entering DFU mode, Checkra1n will promptly begin installing jailbreak on your iOS device. 
When the screen says All Done, click Done to wrap up.
At long last, unplug the Ubuntu USB from your Windows PC and restart the PC. Your PC will boot from Windows as usual.
2. Bypassing iCloud Activation Lock with Checkra1n
Step 1.

Connect the iDevice to the PC through a USB connector.
Step 2.

You should apply the jailbreak to your device by clicking the Start button.
Step 3.

Click Next.
Step 4.

When you click on Start, you should press your device's Home button for the seconds the software tells you.

That is to place the iDevice in DFU mode.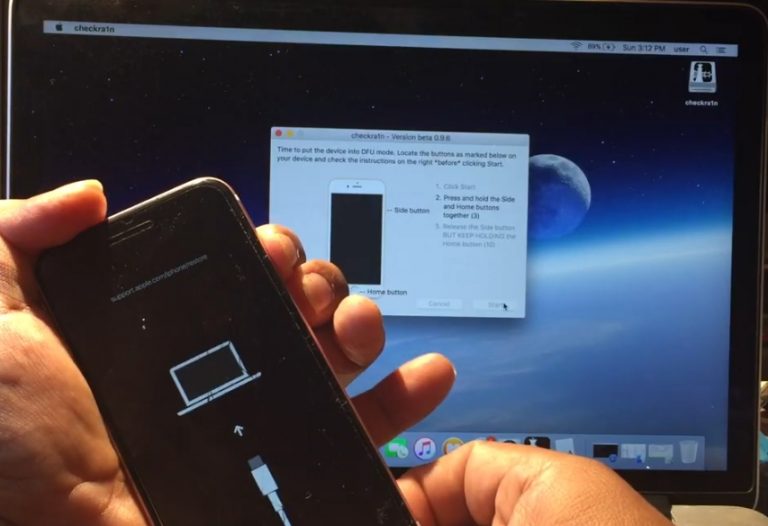 Step 5.

Wait until the jailbreak does its business.
Step 6.

The software will want to let you know that the iPhone was unlocked, and you can take photographs and do whatever you want.

For Windows or Mac, connecting with offsite storage to utilize the program for free is the best option.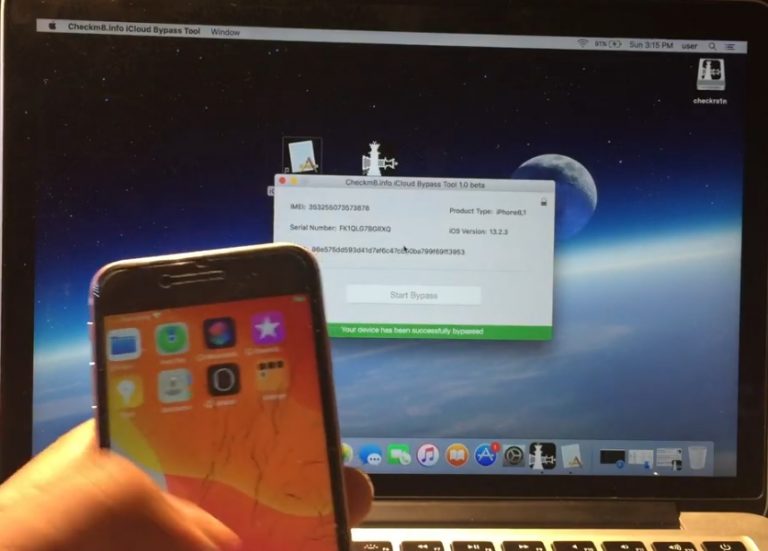 Part 3: Easy Tool for iCloud Activation Lock
The easiest method for activation lock bypass is to use a perfect bypass tool. Here, we strongly recommend you download Wondershare Dr.Fone-Screen Unlock. Wondershare is a professional unlocking tool built to look over such matters. Moreover, it is straightforward to work on. It doesn't need you to be an expert in cracking the activation lock.
However, your iPhone will be jailbroken when you bypass the activation screen lock utilizing Dr.Fone. As a result, you will not have the option to use cell data or access iCloud on your device.
After bypassing, if you update your device, you will see the activation lock screen in the future. However, you can use Dr.Fone on a similar device to avoid the activation screen lock on different occasions. Here's its main features: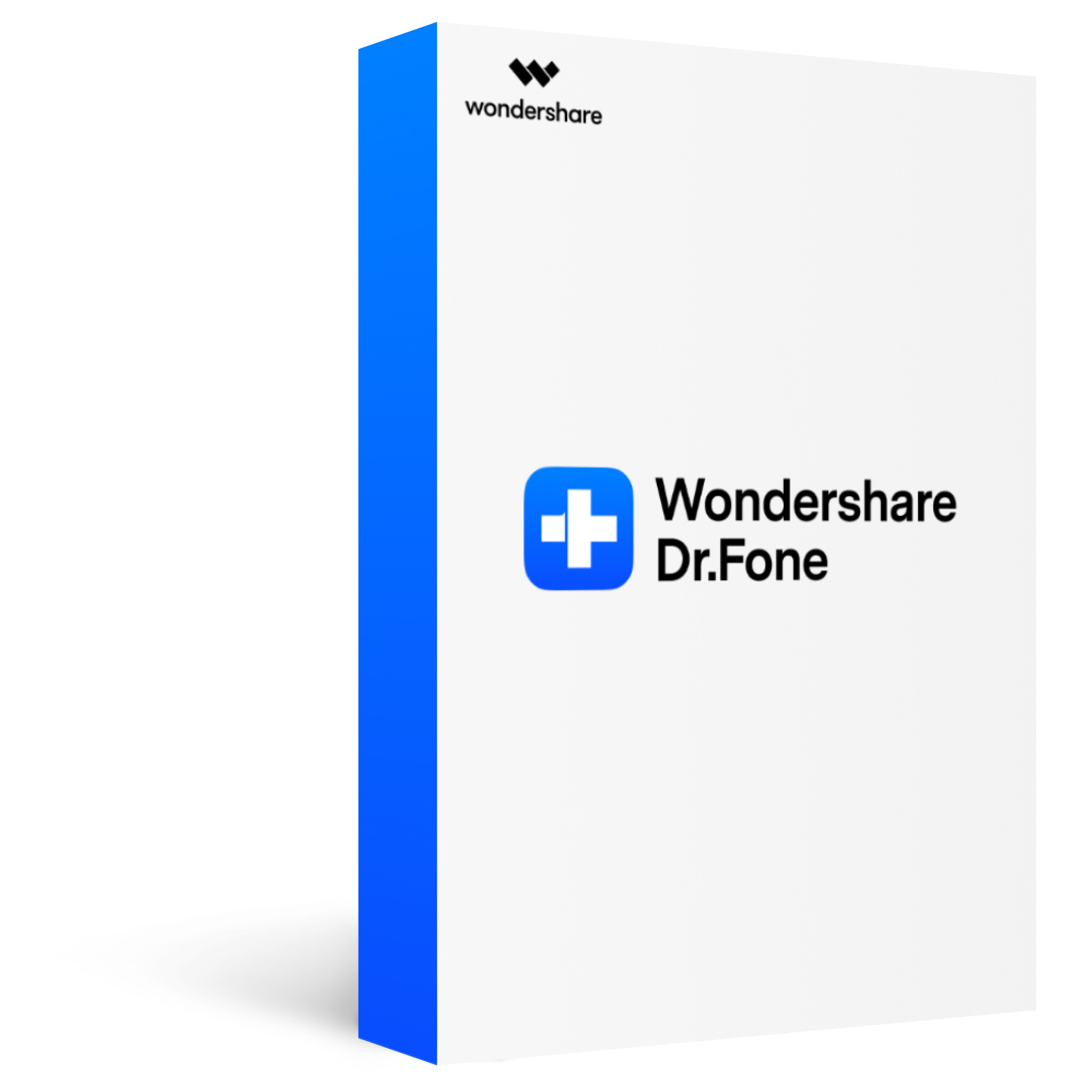 Dr.Fone - Screen Unlock (iOS)
Bypass/remove iCloud Activation lock on iPhone/iPad with simple steps
2,985,172 people have downloaded it
Remove iCloud Activation lock without password/Apple ID in any scenario anytime.
Bypass Activation lock in any scenarios anytime, such as forgot passcode, the device is disabled, second-hand device, unknown passcode, etc.
Unlock iCloud activation lock and iCloud account without iTunes.
Unlock all types of screen lock on iOS device within clicks, including iCloud Activate lock, MDM lock, 4-digit/6-digit passcode, Touch ID, Face ID, screen time passcode, etc.
Support to bypass activation lock for iOS from 12.0 and up to iOS 14.8.1. Compatible with iPhone 5S up to X.
Bypass iCloud Activation Lock with a 100% success rate.
Step 1.

Select "Screen Unlock" on Dr.Fone's main interface, connect the iDevice, and pick "Unlock Apple ID."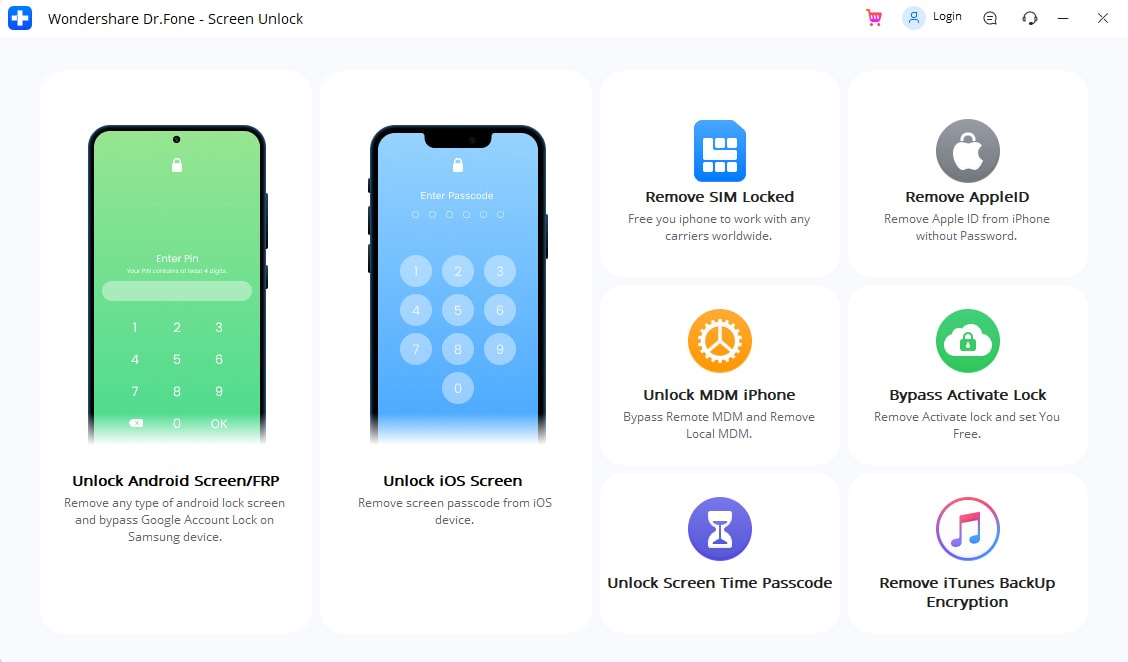 Step 2.

Select "Remove Active Lock," then, at that point, click "Get Start."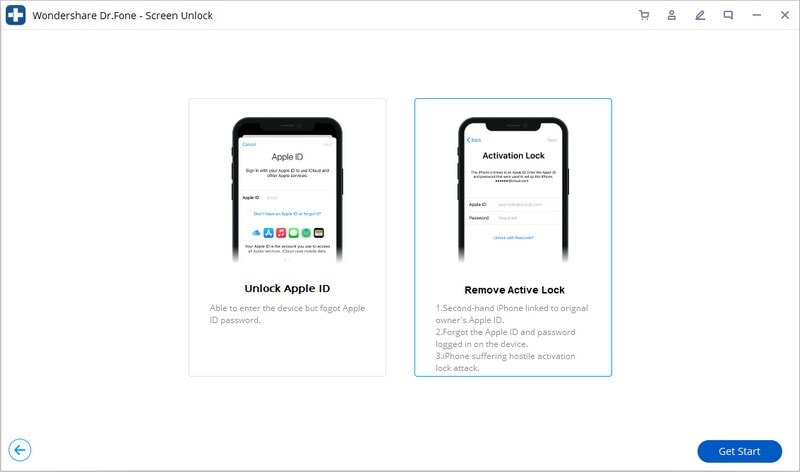 Step 3.

Jailbreak your iPhone.

Before bypassing the iCloud lock, it is essential to jailbreak your iPhone. Kindly snap "Jailbreak Guide" and do it by following the definite guide.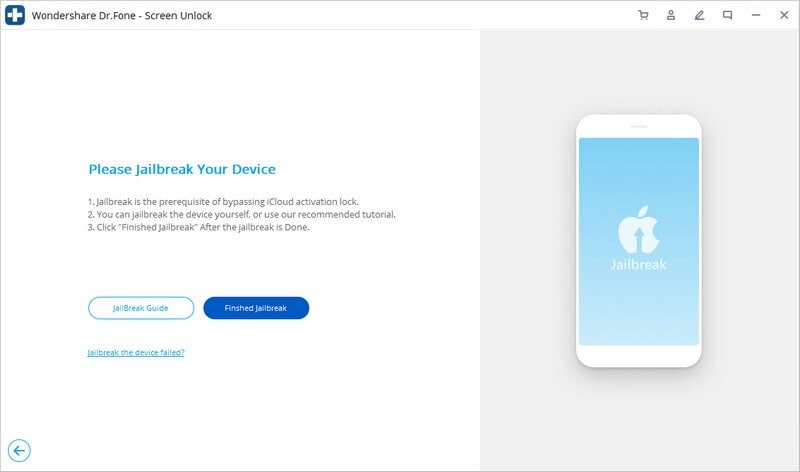 Step 4.

Affirm the Information of Jailbreaked iPhone.

After jailbreaking your iPhone, read and agree with the terms beneath and click "Next" to continue with the unlocking system.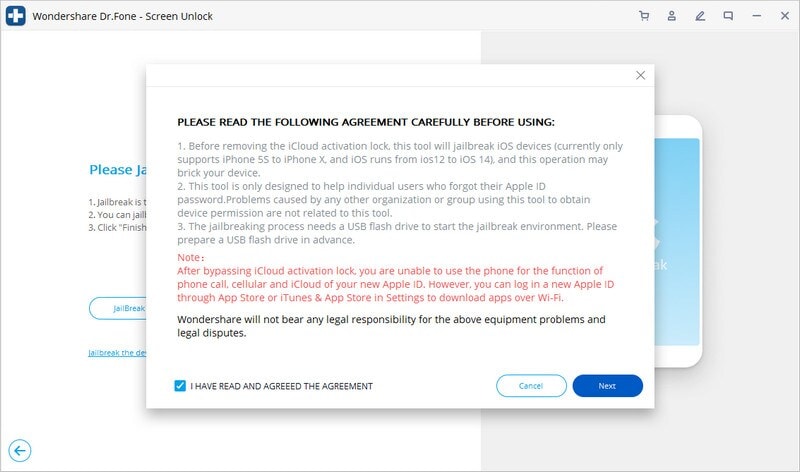 Then, at that point, affirm the information of your iPhone and click "Start Unlock."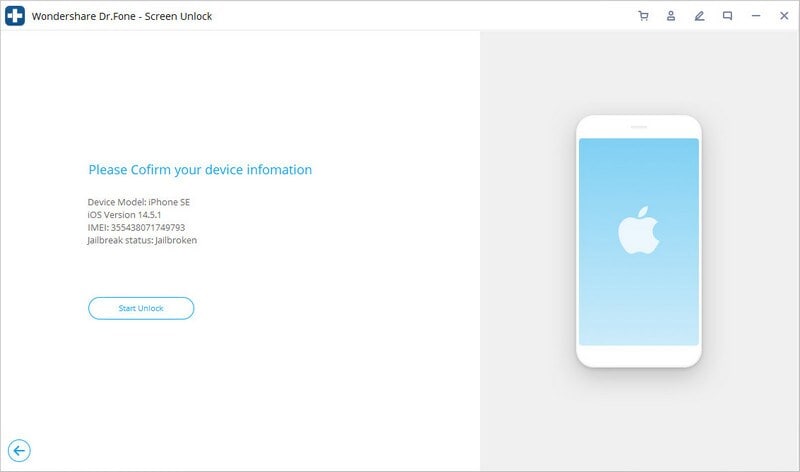 Step 5.

Begin to Bypass iCloud Activation Lock.

After tapping the "Begin Unlock" button, Dr.Fone will eliminate the iCloud activation lock.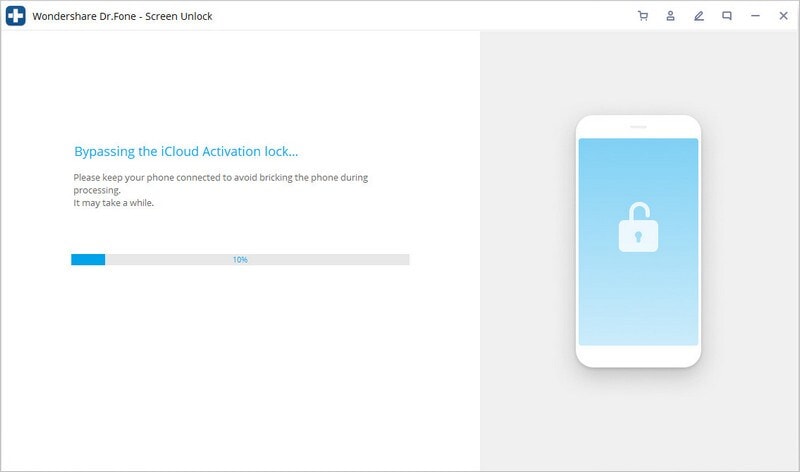 Step 6.

Removed Successfully.

Dr.Fone will eliminate the iCloud activation lock in no time! So now you can use your phone like normal.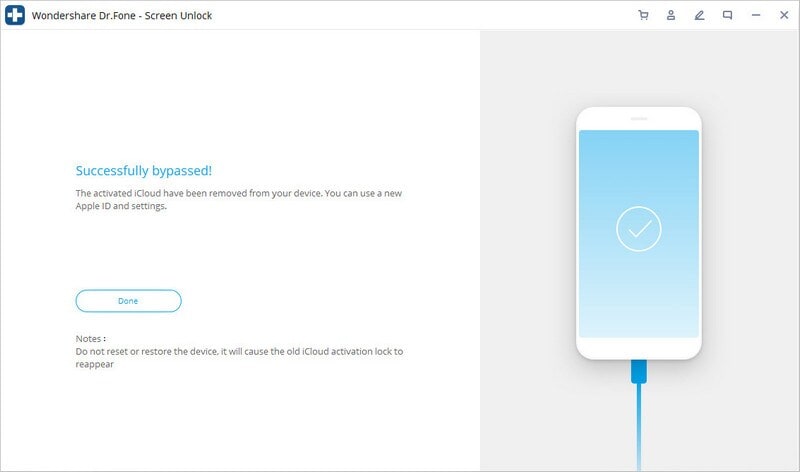 The Bottom Line
Checkra1n iCloud bypass is one of the market's top unlocking methods for an iCloud activation lock. However, because of the complicated use and unstable variant for Windows, we suggest utilizing the Dr.Fone tool as a superior option. It is among the top-rated tools to help you eliminate iCloud activation lock issues.