If you are you locked out of your iPhone no need to feel alone in the world since it is not an impossible situation that you can find yourself in. Honestly, for one reason or the other, you might be encountered with such situations where you need to know how to get into iPhone without passcode and it does happen to the best of us, right?
It might not necessarily have to be your own mobile device but you might want to know how to get into someone's iPhone to get access to probably when they are indisposed or unavailable. This article will see you through the best possible means to access an iPhone or even how to get into a locked iPad.
Part 1. How to get into a locked iPhone via iTunes?
iTunes is one of the first go-to solutions for almost all iOS device users. iTunes is the official iOS toolbox provided by Apple to be accessible by all iOS devices. iTunes functions as a platform or software on personal computers to sync your iPhone or iPad, to fix simple errors as well as a means on how to get into an iPhone without Password.
Although this method of using iTunes to get into a locked iPhone or iPad is the official method, it might be a little defective for some users. The reason is that this method can only be used effectively on a device that has previously been synced to the personal computer where the iTunes program has been installed. Therefore, if you have not synced your iPhone to your personal computer before, then this method will not work for you.
Well, below are the steps to follow on how to get into a locked iPhone without a password.
Step 1: Connect iPhone or iPad to Computer.
First, connect the locked iPhone to your personal computer with a USB cable.
Step 2: Launch iTunes
Launch the already installed iTunes from the computer where the device had been previously synced.
Wait a few seconds for iTunes to recognize your device and then you will see the details of the device displayed under the Summary tab.
Step 3: Restore your locked iPhone
Click on the "Restore iPhone" option from the iTunes
When you see a prompt, simply click on the option that states "Restore from iTunes backup".
Select from the list of available backups the latest and probably the largest backup file.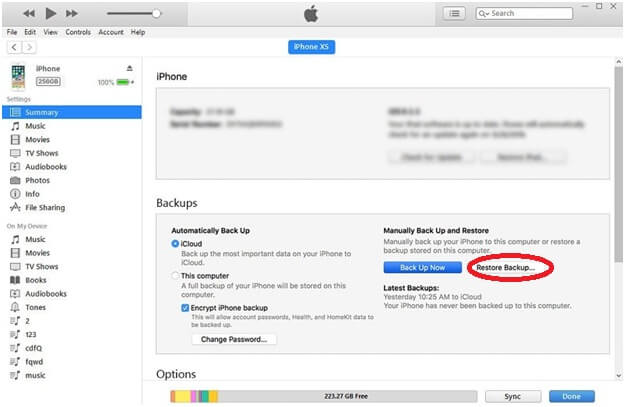 iTunes will begin to restore your locked iPhone using the available backup file. Once the process has been completed, you will be able to access the iPhone plugged in without the passcode.
Part 2. How to get into a locked iPhone using iPhone unlocking tool
Making Use of iTunes get into a locked iPhone or iPad might be the official method, but it does not necessarily mean it is the easiest and best method. You can also unlock iPhone using dr.fone - Screen Unlock (iOS) which is an all-in-one complete toolbox for all iOS devices and even for Android devices as well.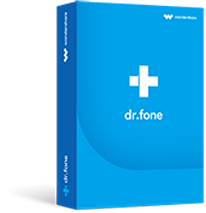 Get Into Locked iPhone/iPad Without Passcode Within a Few Clicks.
Remove 4-digit / 6-digit passcode, Touch ID & Face ID on iPhone/iPad.
Easy and click-through process. No technical skills are required.
Fully compatible with iOS 12 and iPhone XS/XR.
2,985,172 people have downloaded it
You can follow these easy steps using dr.fone – Screen Unlock (iOS) to know how to get into an iPad without the password.
Step 1: Connect the iPad or iPhone to a Computer
Download the program from the iSkysoft website for free and install it on your personal computer.
Now connect your iOS device to the computer with a perfectly working USB cable and launch dr.fone.
Click on the "Unlock" button on the home screen of the software.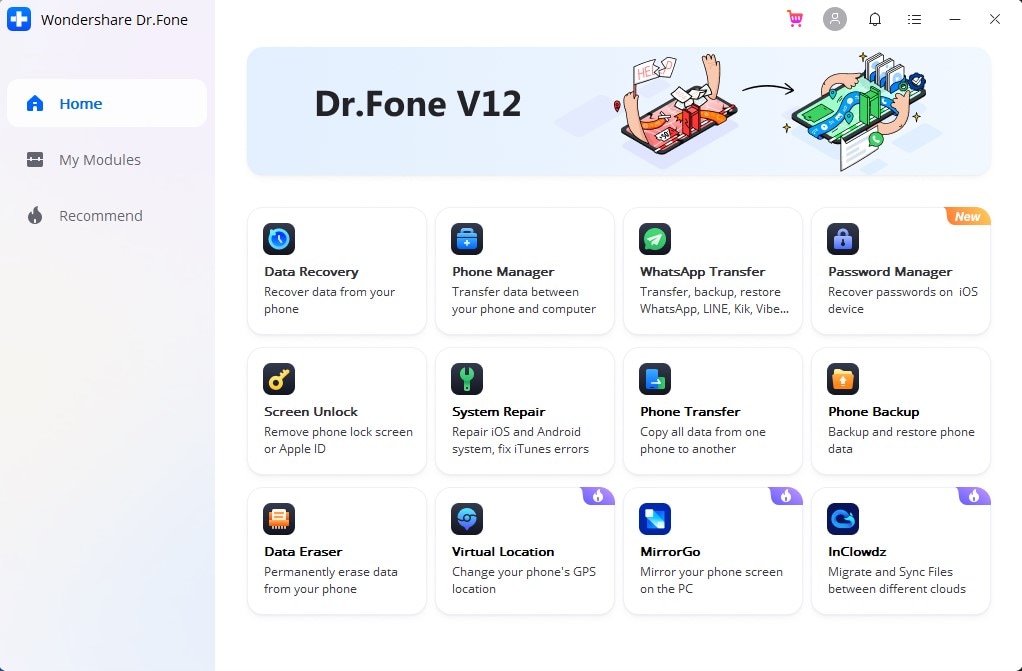 On the next screen, click on the "Start" button to go to the next step
Step 2: Boot iPhone or iPad into DFU Mode
Before you proceed, you must boot your device into recovery mode to make it accessible for the program.
On the next screen, you will see details on how to boot your device into DFU mode depending on your device version.
For example, an iPhone 6 user will follow - "Start" > Hold Power and Home button simultaneously > then release Power button until the device enters DFU mode.
Once your device is booted into DFU mode, click on "Start"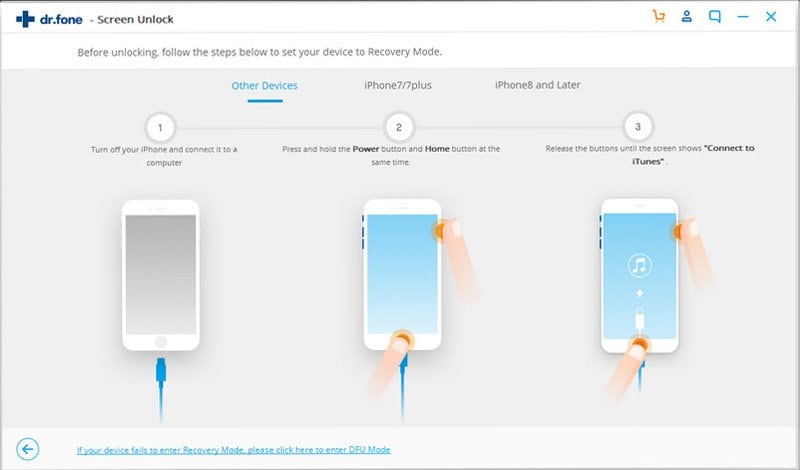 Step 3: Verify Device details and information
A new screen will be displayed with details of your device. Verify and make sure that this displayed information is correct.
Input correct phone details then hit the Download button.
You may also decide to select the firmware of your device from your computer storage if it has been previously downloaded.
Now, wait for the firmware of your device to be downloaded, ensure that you are connected to a stable Internet connection.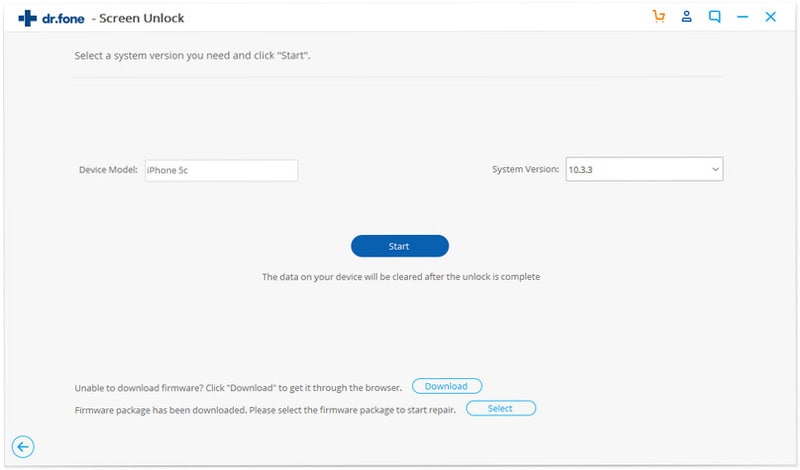 Step 4:  Unlock iPhone or iPad
After the download is done, click on the "Unlock Now" button on the download complete screen.
A pop-up screen will appear requesting for a passcode before progressing with the firmware installation. Simply type in "000000" and click on "Unlock".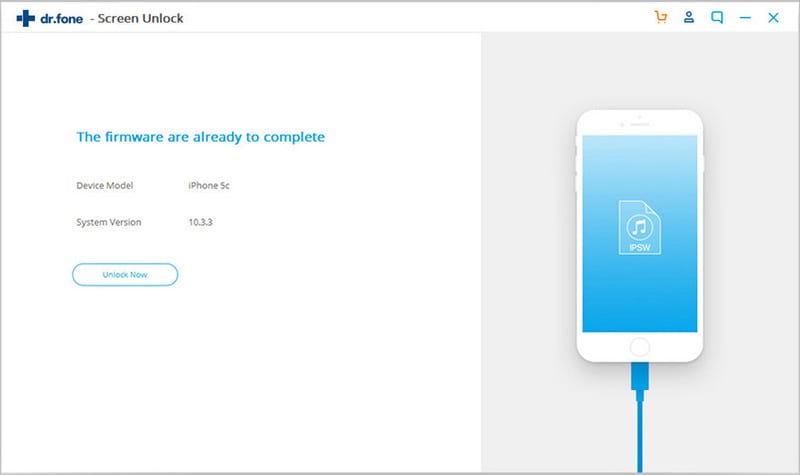 The unlock process will immediately begin and after the completion, you will see a success message and your device will restart removing the locked screen and wiping the contents of the phone. It is advisable to have a backup of your device.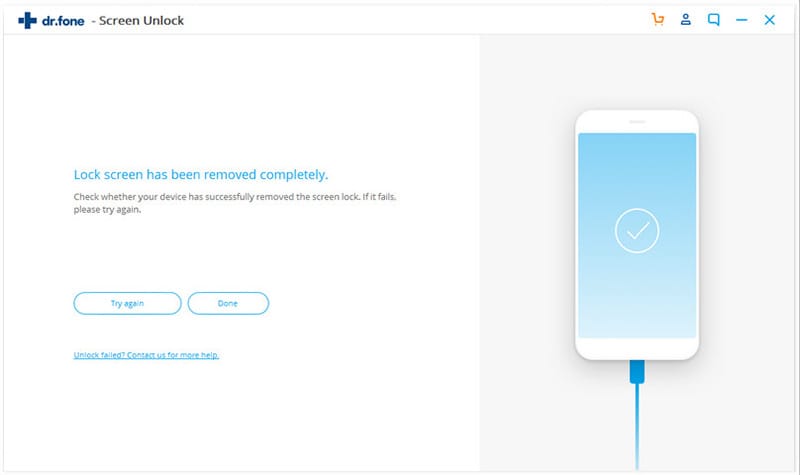 Part 3. How to get into a locked iPhone in Recovery Mode?
Another method that can be considered while trying to know how to get into an iPhone without the password is booting the device into its recovery mode.
While your iPhone is in recovery mode, iTunes software can then be easily used to restore the device and make it possible to access the device without its passcode.
You can simply follow the few steps below to get into a locked iPhone without the password using the recovery mode.
Step 1: Connect the iOS device to your computer.
Connect your iPhone or iPad to your computer with a USB cable.
Ensure that there is no shake or break in connection while making use of this cable.
Step 2: Boot your device into Recovery mode.
There are several ways to boot iOS devices into recovery mode depending on the version of the device.
Here is the simplest way to boot for iPhone 8 and iPhone X, XS:
Press and keep holding onto the Home button while the device is still connected to your computer.
Keep holding the Home button until the iTunes logo is displayed on the screen of the device.
Note: You can also visit: https://support.apple.com/en-in/HT204306 and follow the steps to put different iPhones into Recovery Mode.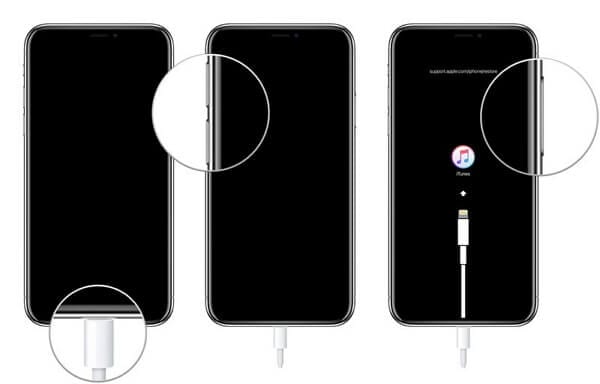 Step 3: Restore device from iTunes
Now, launch iTunes on your computer. iTunes will display an error message concerning the connected device.
Click on the "Restore" option and iTunes will begin to reset your device.
In a few minutes, the process would have been completed and you can access the device without a passcode.

Part 4. How to get into a locked iPhone using Find My iPhone?
 Another working method on how to get into a locked iPad or iPhone is by making use of Apple's "Find my iPhone" which is an in-built app present in all Apple devices. This method can only be functional if the "Find my iPhone" option has been previously activated on the device. This method will erase the device restoring it to factory settings and then the device can be accessed without the passcode.
Follow the steps to know how to get into a locked iPhone using Find my iPhone.
Step 1: Log in to the iCloud account
Go to iClouds.com on any Internet-enabled device and then click on the link to log into your iCloud account.
Enter your Apple ID and password which was used on the locked device to access your account.
Step 2: Click on Find iPhone to select device.
Click on the "Find iPhone" icon from the array of icons
Select the device that you wish to unlock from the list by clicking on the "All devices" option.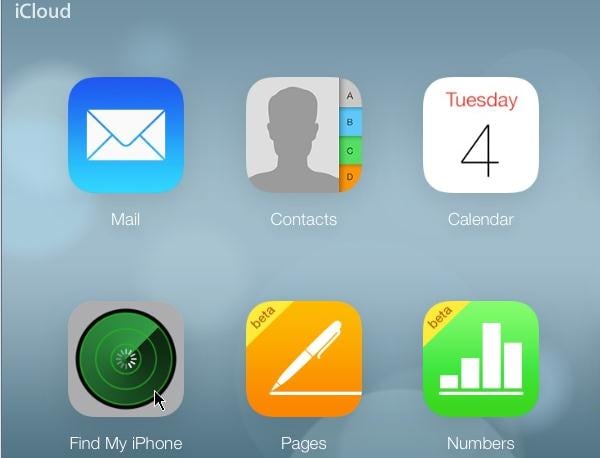 Step 3: Erase Device
Select the "Erase" option from the three available options on the screen.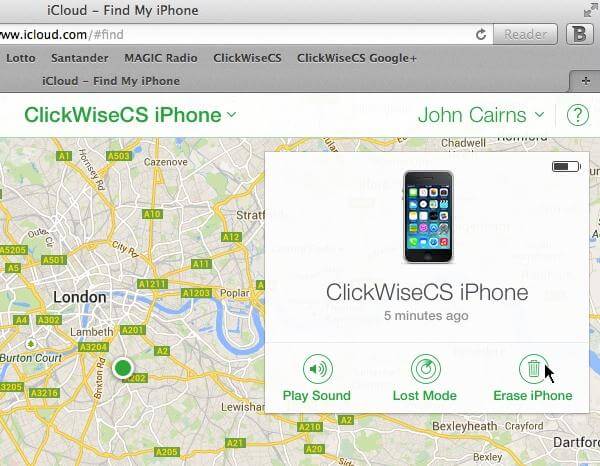 This will immediately begin to remotely erase your iPhone after which you will be able to access the locked device again.
Part 5. How to get into someone's iPhone without them knowing?
Sometimes you may need to get into someone's iPhone without them knowing as well, isn't it? for example, your children or your spouse's iPhone. Well, there are quite a number of iPhone monitoring programs out there that make it possible to monitor an iPhone without the user of the phone knowing.
Here are 3 useful programs and apps that can be used to monitor an iPhone.
5.1 MSPY
This app is a powerful iPhone monitoring program that is capable of tracking the location of the monitored device. It can even be used to record audio conversations from the phone. Since it sends all information via the Internet, the monitored device must be connected to the Internet to be able to send information to the control panel. The paid version has other juicy features.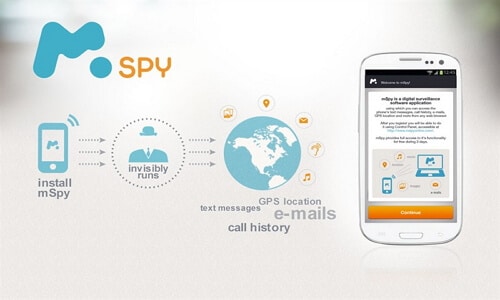 5.2 SPYZIE
This is one of the best iPhone monitoring programs useful for parents to keep an eye on their children by monitoring their iPhone. The program requires the installation of a monitoring app on the iPhone which will work in the background once it has been set up. After the setup, the iPhone can be monitored via a web-based control panel without the monitored device knowing.
This program transmits its information via the Internet connection of the iPhone.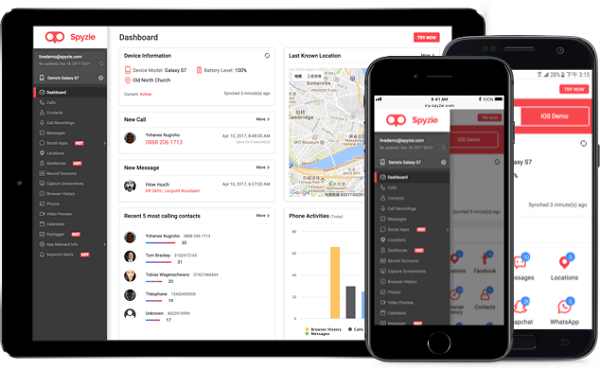 5.3 CANARY
Canary is an app that can be very useful for parents to monitor their kids without them being aware of it. The app sends live updates to the app of the control panel. Some of its features include its ability to send an update about when the iPhone was unlocked, its current location, the speed of the iPhone if they are on the move, and many more.
Conclusion
This article has looked into all the possible means on how to get into a locked iPhone or iPad without password. Although it might be difficult to get into a locked iPhone with the passcode, it is not impossible. With dr.fone, users can unlock iPhone in just a few clicks without trouble. Most importantly, it is always advisable for all users to perform a backup of their devices from time to time to avoid all kinds of data loss.