Apple has been considered among the favorites of the smartphone industry, with iPhone and iPad ruling a separate fan base throughout the world. Apple has developed state-of-the-art models with elegancy and sleek designs to make them look breathtaking and to alleviate the pleasantry features it has to present.
However, with astounding features comes secure systems. Apple presents its own iCloud backup and other sources with a secured account, keeping all personal information intact. These account credentials often referred to as Apple ID, provides your device a distinctive identification.
However, many people have reported losing their Apple ID, leaving their phone locked and useless. This article shall introduce you to the variety of remedies available that would aid you to unlock Apple ID successfully.
Part 1: Why is Your Apple ID Disabled
Apple IDs are held responsible for keeping the device and its associated information safe from thefts and unprecedented use. While understanding its importance, there are several reasons that would lead to the Apple ID getting disabled from the authorities.
Initially, you would be presented with a variety of messages that could be displayed over the screen. These would confirm the Apple ID was getting disabled for a certain reason. If we ponder over the major reasons that could have led to the account getting disabled or locked, they are short-listed as follows.
There have been multiple incorrect tries to log into your Apple ID.
Your security questions have been answered incorrectly for a considerable amount of times.
The other associated Apple ID information has been entered falsely.
There has been a suspicious activity recorded by the authorities across your Apple ID.
Part 2: [Remember Your Apple Account] How to Change Apple ID or Password
1. With Your Phone Number
If you seek the mechanisms that would guide you on how to unlock Apple ID with phone number, you need to look over the steps provided below to get a better understanding of the procedure.
Step 1 Open the "Apple ID" page on the browser and tap on the button showing "Forgot Apple ID or Password."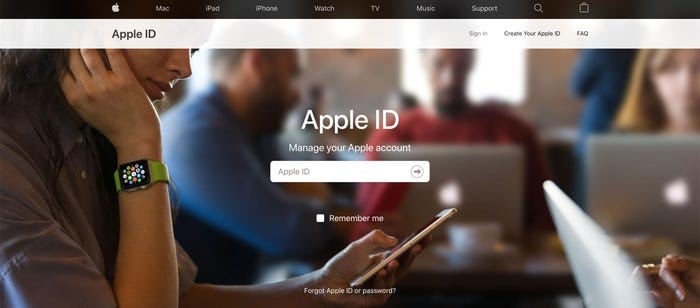 Step 2 Type in your Apple ID, followed by the associated phone number on the next window. Tap "Continue" to proceed.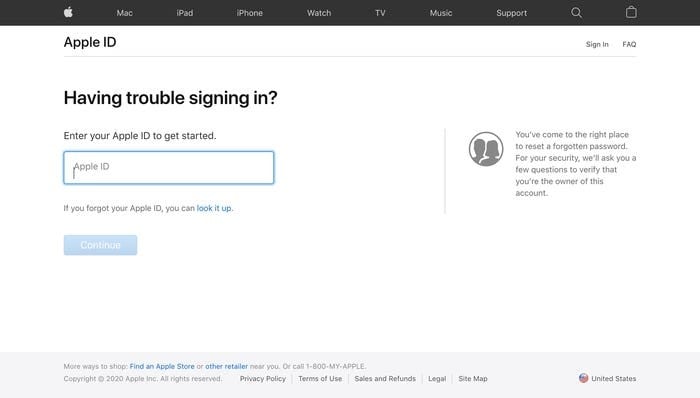 Step 3 A notification containing a password reset link would be sent over the phone number.
Step 4 You need to change the Apple ID's password by following the on-screen guidelines.
---
2. Without Your Phone Number
In contrast to the method described above, there may be a case where you would have to unlock Apple id without phone number. In such cases, you need to follow the guidelines provided as follows.
Step 1 This procedure requires you to open the web browser, followed by the webpage containing the procedure for the process of unlocking the iPhone without a phone number. You need to tap into your Apple ID to proceed.
Step 2 Tap on "I need to reset my password" to proceed with two different options, either by getting an email on the assorted email address or by resetting the password with the help of your pre-settled security questions.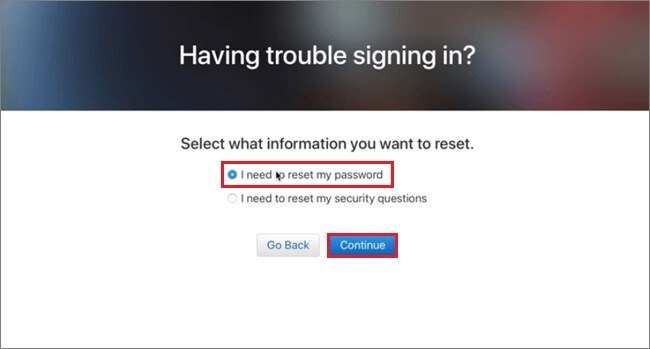 Step 3 Tap on "Get an email" to continue in the following window. You'll get an email on your connected mail with the link to restore the password.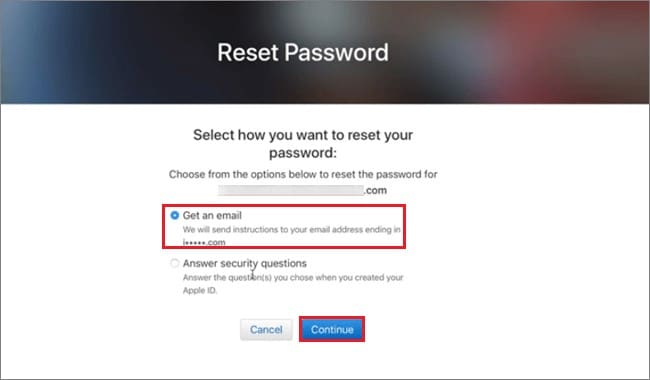 Step 4 Conversely, you can tap "Answer Security Questions" to proceed. After answering through a series of questions related to you and your account, you will be provided with a window to reset your passwords for the Apple ID again.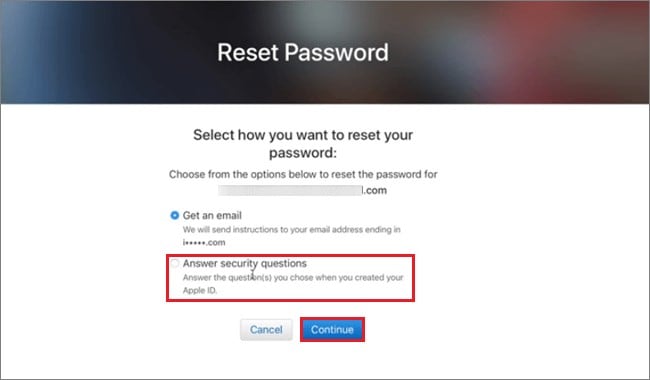 Part 3: [Forgot Your Apple Account] How to Unlock Apple ID in Clicks
There are situations where you cannot unlock Apple ID from another device through several pre-stated solutions involving phone numbers and email addresses. In such situations, your iPhone is not completely useless, leaving you in a state where you find no formal method to unlock Apple ID account for your device.
dr.fone – Unlock (iOS) features a few great mechanisms that make it one impeccable platform to unlock Apple ID within a few steps. There are several reasons that make dr.fone preferred over the existing third-party platforms.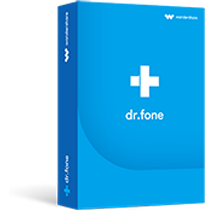 dr.fone Can Help You Unlock Apple ID in One-Click
Your iPhone will be unlocked within a few clicks, making it a very short and decisive procedure.
It removes the lock screen passwords and other security protocols without the use of iTunes.
It is operable across all versions of the iPhone and other Apple devices.
2,985,172 people have downloaded it
The following guide explains the steps on how to unlock Apple ID account in a few simple steps.
Step 1: You need to connect your iPhone with the system, followed by the launching of the platform. Select the tool "Unlock" from the home window.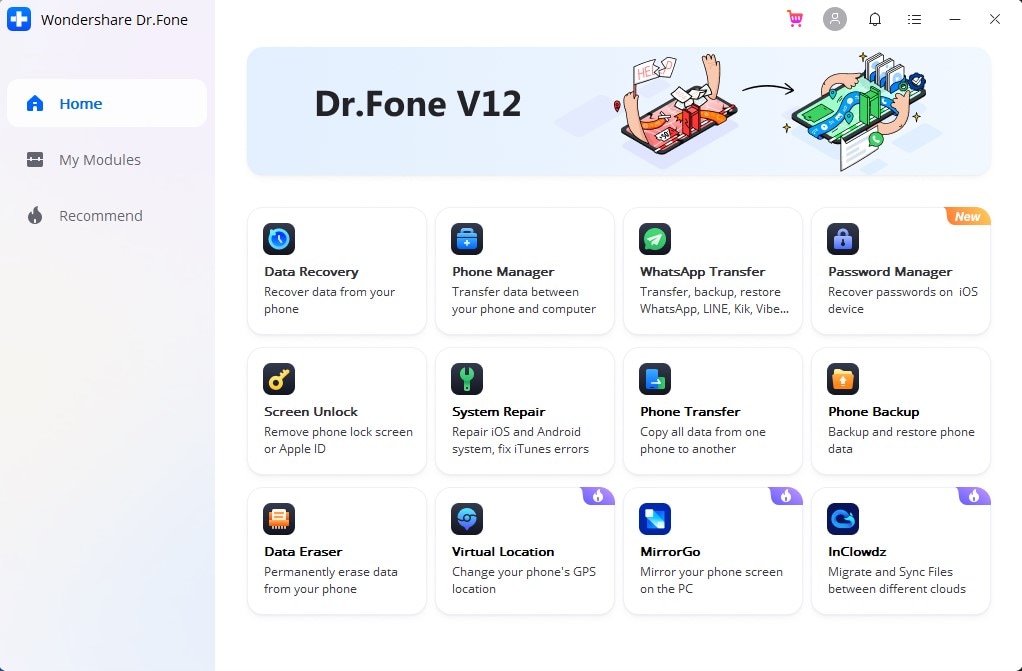 Step 2: Select the option of "Unlock Apple ID" on the screen that is followed. The iOS device provides a prompt of "Trust This Computer" over a new computer connection.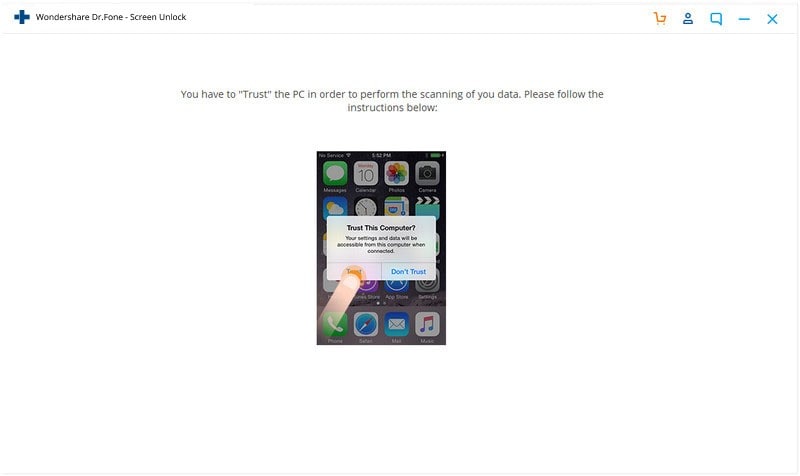 Step 3: After trusting the computer, the platform would ask you to reset your device. After tapping on "Unlock," you need to follow the on-screen instructions to reset your iPhone.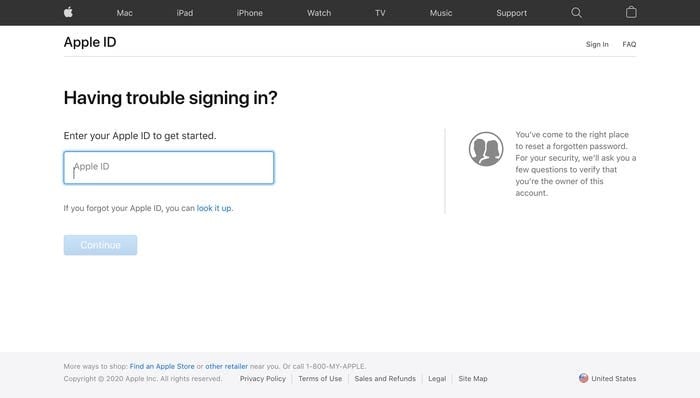 Step 4: The application automatically starts the reset of the Apple ID. You will be notified over completion.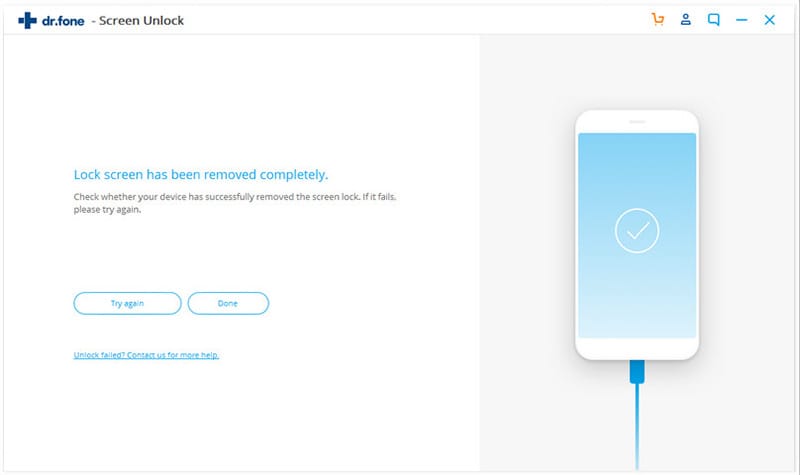 Part 4. Ask Apple Support for Help
In cases where you cannot unlock your Apple ID through any provided means or other existing means in the market, you need to simply cover this issue by contacting the support of Apple to effectively follow their provided guidelines to unlock your device successfully for fully functional operation.
Conclusion
This article has provided you an excessive guideline on how to unlock your Apple ID by following a series of different methods, both direct and third-party involved, to unlock a forgotten ID successfully. You need to look over the guide to get a better understanding of the system.