Companies such as Apple, Samsung, and Huawei intend the change the dynamics of the utility in smartphones by presenting astonishing and mind-boggling features that can be easily integrated within the daily lives of the people.
This enhances both the technology and bounds us over the device itself. Thus, technology has outreached to the edges of the world and has put forth the idea of a digital world in the future.
However, considering Apple and their impressive features that looks deep into the life of their every customer, there are several issues reported with respect to these features. This article seeks to provide a detailed guide on how to unlock iPhone Screen Time, an impressive feature affixed by Apple within their iPhones.
For that, this article intends to provide efficient solutions that would guides users on how to unlock screen rotation across a variety of devices.
Part 1: What Causes the Locked Screen Rotation Issue
Apple has been recognized as a dynamic developer, a developer that is putting forth technology and integrating it with the daily lives of the user to present such features that are the epitome of excellence and impressive results. iPhone Screen Time has been a feature focusing on the digital health of its user.
This feature has presented you with the ability to monitor the function of your iPhone and handle different activities that promote unhealthiness in the system. Along with the iPhone Screen Time, the Screen Time Passcode intends to secure the "Content & Privacy Restrictions" relating the developers and allows you to have certain time extensions across the application.
These features are considered to present a more secure and impressive environment to its users by controlling the unnecessary stakeholder authorities handling the phone.
Read also:
How to Unlock Screen Time Passcode When Forgetting Passcode?
Part 2: How to Reset Screen Time Passcode on iPhone
1. For iOS 13+
1) Using iPhone Backup Extractor
This part intends to provide you with the most efficient and prolific methods that promote ease-of-use and a greater success rate. For this iPhone Backup Extractor presents a very straightforward method of disabling the Screen Time passcode and have it reset for you.
Step 1 You need to download and install the latest version of the iPhone Backup Extractor on your desktop. Following this, connect your iPhone through a USB cable and select it from the list emerging on the left-menu of the application.
Step 2 Tap on the "Utilities" on the screen, select the option of "Screen Time Recovery". A new screen opens upfront.
Step 3 For this, you need to turn off the "Find My" option on your iPhone. Open up your "Settings" on the iPhone and follow this order; "[iCloud Account Name]" -> "Find My" -> "Find My iPhone" and toggle off the option.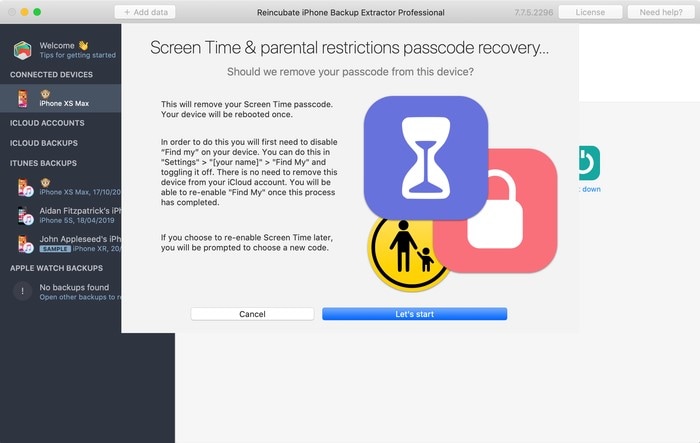 Step 4 With the option turned off, you can simply tap on "Let's Start" to execute the task to change the passcode of Screen Time.
2) Reset Passcode in Settings (for iOS 13.4+)
To understand this unequivocal process on how to unlock the screen time password by resetting it, you need to follow the steps provided as follows.
Step 1 After opening the "Settings" on your iPhone or iPad, you need to navigate to the option of "Screen Time." Over the new screen, select the option of "Change Screen Time Passcode."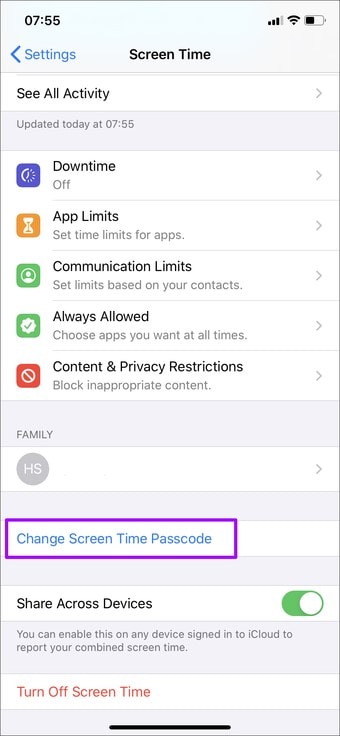 Step 2 Select any of the two provided options and proceed. Since you do not remember your older Screen Time passcode, tap on "Forgot Password" to recover your control over it.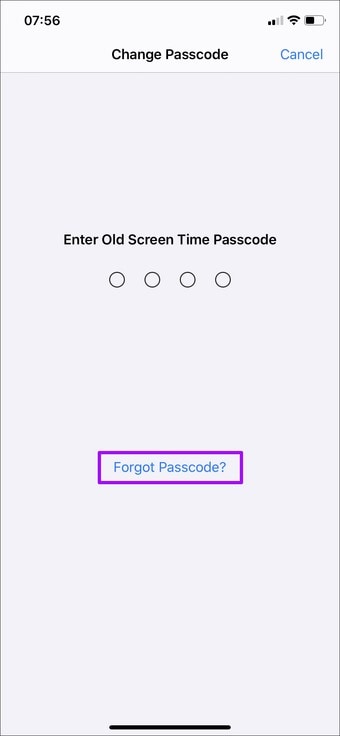 Step 3 Provide your Apple ID credentials on the new screen and tap Ok. With its successful coverage, you can reset the passcode.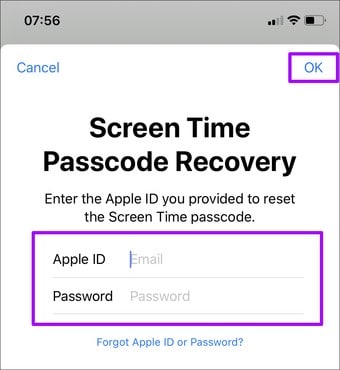 ---
2. For Older iOS System
1) Restore Factory Settings
A very simple and effective method can be restoring the iPhone or iPad to its factory settings. This method might envision as a clear option; however, it does remove all data from your phone. For this, you need to preserve the documents by backing up all the data on iCloud or iTunes. To restore your iPhone, you need to follow these steps.
Step 1 Turn on the "Settings" on your Apple Device, navigate the "General" section, and select the option of "Reset" from the options.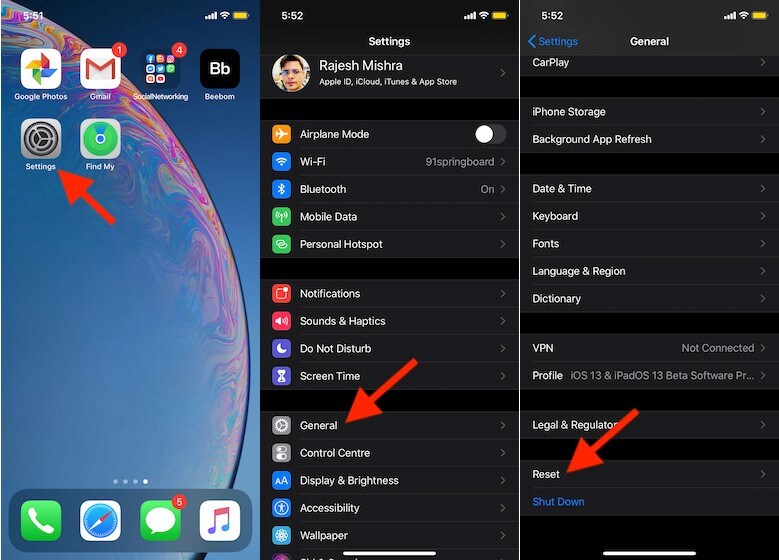 Step 2 Select the operation displaying "Erase All Content and Settings." Confirm it using your passcode and proceed.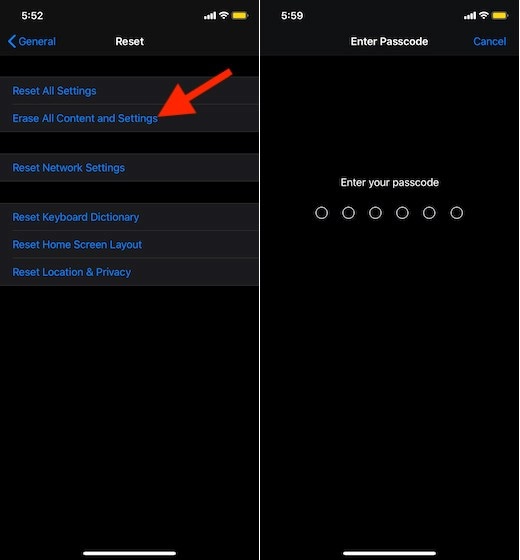 2) Removing Screen Time Passcode with Apple ID
The process of removing forgotten Screen Time passcode is quite similar to what is done with iOS 13.4+; however, it comes with a slight difference.
Step 1 Open "Settings" on your iPhone and tap on the tab showing "Screen Time." Select the option of "Change Screen Time Passcode" in the list provided.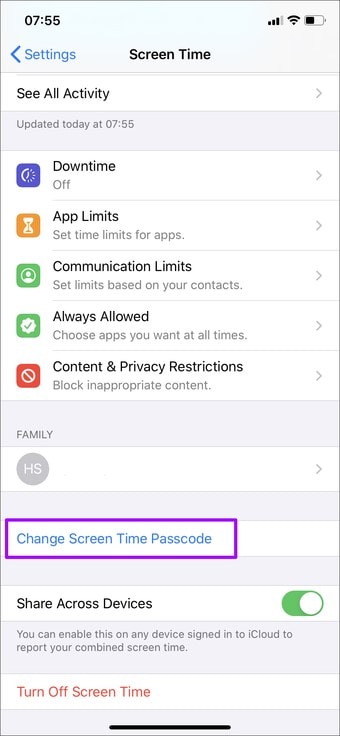 Step 2 You can either remove or change the passcode as per your discretion. The screen will display you the portion to add the older passcode, but there won't be any option showing "Forgot Password" for older iOS versions.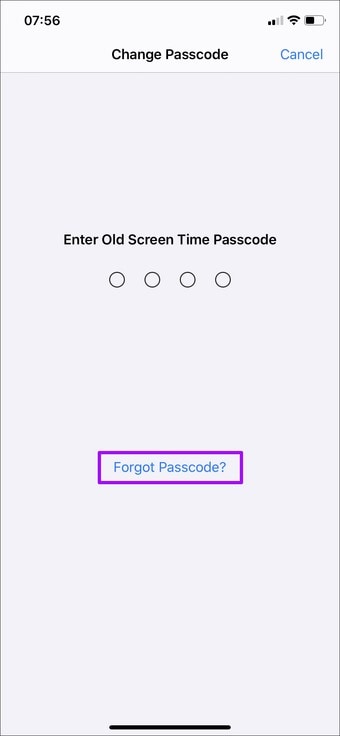 Step 3 Over multiple tries, a new screen opens where you need to add your Apple ID credentials. This allows us to remove the passcode easily.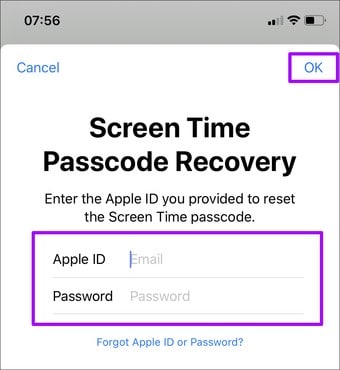 ---
3. For All iOS Users
Apart from these direct methods, dr.fone ensures to provide efficient results to their users regardless of their iOS version. This third-party platform displays the method on how to unlock screen time passcode on iPhone. There are several reasons that should tempt you in selecting dr.fone - Screen Unlock, which are stated as follows.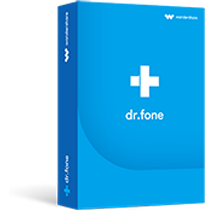 Unlock iPhone/iPad/iphone in one-click
dr.fone unlocks all kinds of iPhones whose passwords are forgotten.
Protects the iPhone from going into a disabled state.
Completely compatible software is operable across the latest iOS.
2,985,172 people have downloaded it
Now, let's go through this step-by-step guide to learn how to unlock iPhone and other iOS devices using dr.fone - Screen Unlock(iOS)
Step 1: Download the platform and launch it to select the option of "Screen Unlock" from the window.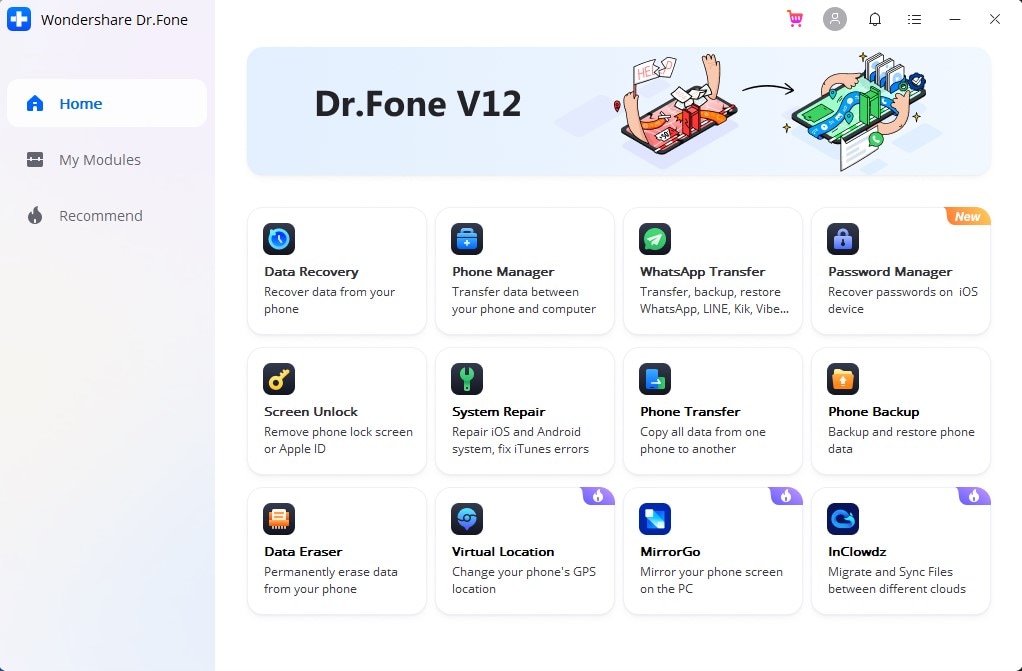 Step 2: Attach your iPhone through USB or lightning cable, followed by selecting the option of "Unlock iOS screen" on the next screen.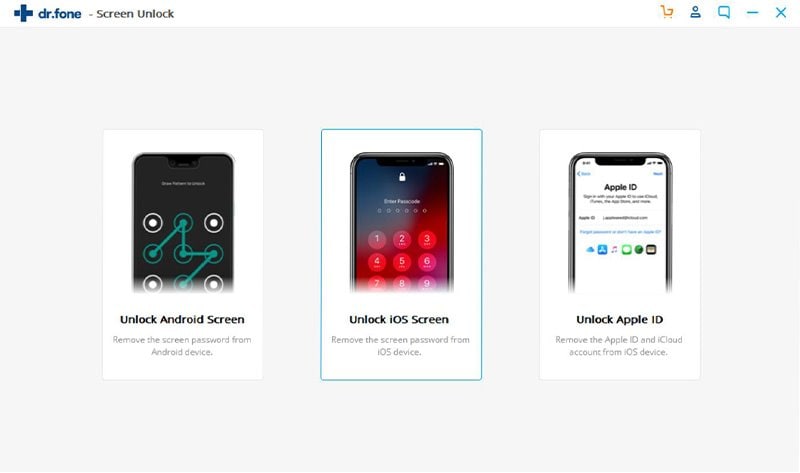 Step 3: To enter the DFU mode, you need to follow the guidelines provided on the screen.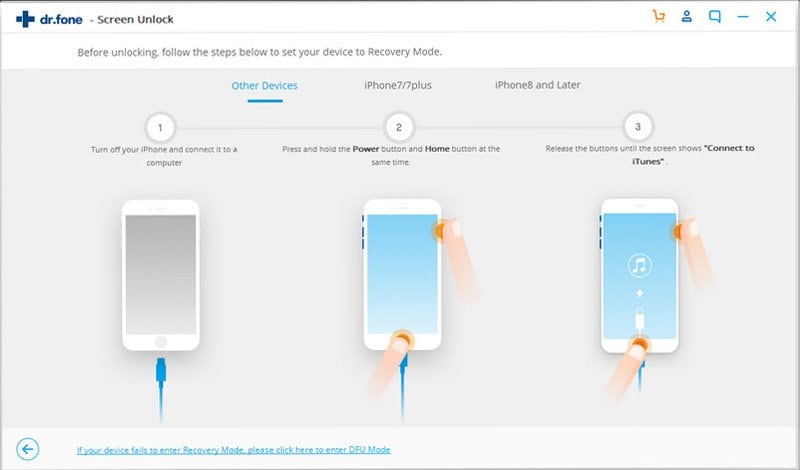 Step 4: The tool will display details of your device. Over confirmation, tap "Start."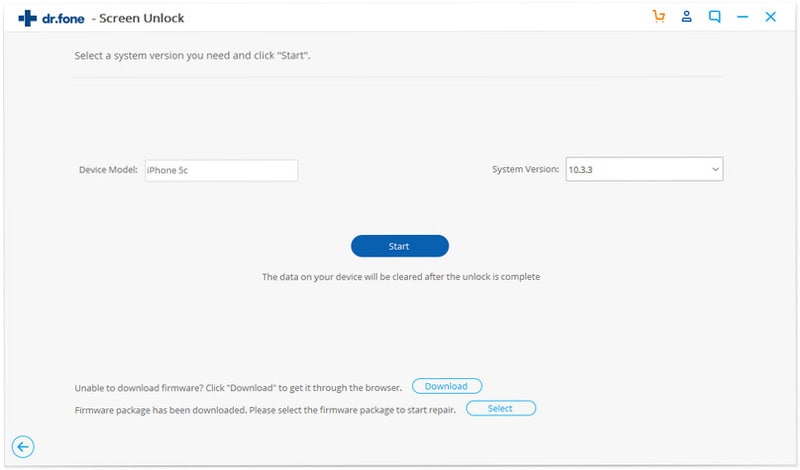 Step 5: dr.fone downloads the latest firmware and sends a prompt message demanding confirmation. Tap on "Unlock" to proceed. The complete procedure elapses in a few minutes and is displayed with a confirmation message.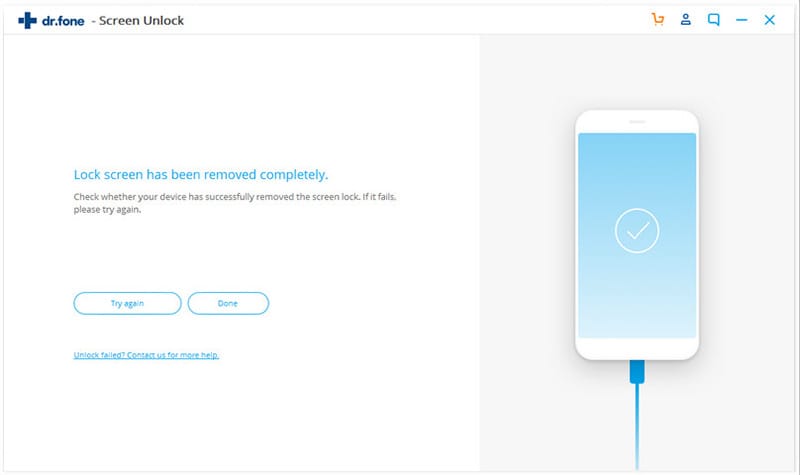 Conclusion
This article has provided a detailed guide on how to unlock screen time on the iPad and iPhone by following a series of different steps and mechanisms. You need to have a look to develop an understanding of these processes.