We have to use different tools and gadgets including mobiles, tablets, and laptops to get the best result from a business or industry. iPhone and iPad play a vital role in business growth these days. Therefore, business owners prefer to use iPhones and iPads in their businesses instead of other devices. They manage all the devices via a term known as mobile device management to keep an eye on their employees. MDM is the best option to control mobile or iPad. We can also remove MDM by using any reliable MDM removal tool. In this article, we will discuss MDM in detail, its benefits, and tools to remove MDM.
Part 1. What is MDM on iPhone/iPad?
Managing Apple devices is a time-consuming task, and by simplifying the setup of iOS devices, you can use your precious time for other tasks. Mobile device management (MDM) is the process of managing all content of a mobile device. MDM includes storing basic information about the mobile device, deciding which applications can exist on the device, locating the device, and protecting the device if it is lost or stolen. Many companies use third-party mobile device management software to manage mobile devices. Mobile device management has been expanded to enterprise mobility management (EMM).
Mobile devices now have more functions than ever before, which has led many companies to adopt purely mobile or mobile-first labor. In these types of environments, mobile devices owned by individuals and businesses are the main devices used to access or interact with corporate data. Device management becomes fast, convenient, and economical, and it can provide support to your users without the help of IT staff.
Professionals prefer MDM due to the following reasons:
Easy to deploy and efficient integration
Manage multiple device types
Time-saving automation
Enhanced security
Remote management
increase productivity
Mobile device management (MDM) is very important for companies that are committed to improving their professionalism. The MDM solution can be deployed in a local or private cloud or public cloud environment, and enterprises can choose the deployment method according to their specific business needs. We can say that this is the best solution that can meet any enterprise's mobile device management needs.
Part 2. 4 Free MDM Bypass/Removal Tool You Can Choose
With most companies in the service industry leaning toward purely mobile or mobile-first labor, mobile devices are being used more than ever. The MDM solution can help you seamlessly manage personal devices and internal applications while ensuring that these devices comply with your company's security standards. It also provides a variety of settings to maintain deployed devices, including regular scanning of devices to update device lists, remote troubleshooting, and scheduled and automatic installation of operating system updates to ensure that each device.
although there are many benefits of MDM sometimes we have to remove it due to different reasons and the question is how do you bypass MDM? There are different tools and software available to bypass MDM. The following are 5 free MDM removal tools that you can use at any time.
IT admins use the MDM technique to configure and distribute data on different devices safely and effectively. MDM is a great way to share data protectively. MDM has many benefits but it has some disadvantages as well and therefore we need to bypass MDM. Dr.fone is the best MDMremoval tool that we can use in this regard. We can easily remove MDM without knowing the password via Dr.Fone. You don't need any kind of tech knowledge to run this software. It is a very user-friendly and easy-to-use tool. If we follow the steps accordingly, we can remove MDM within a few seconds!
Step 1.

Install Dr.Fone on your pc and choose 'Screen Unlock'.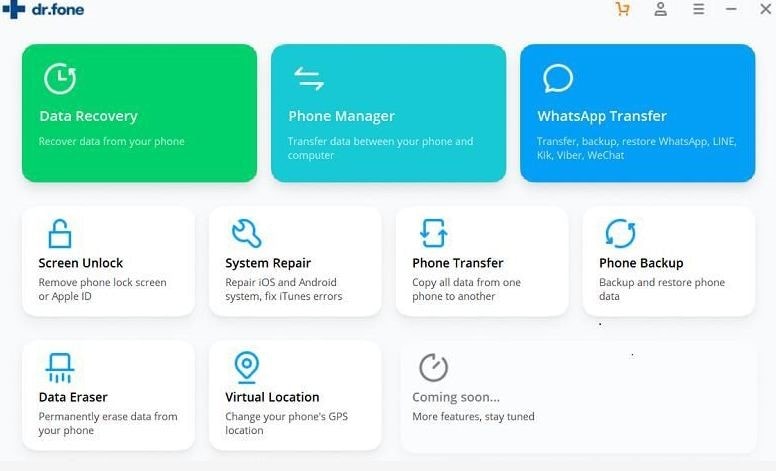 Step 2.

Select 'Screen Unlock' and open 'Unlock MDM iPhone'.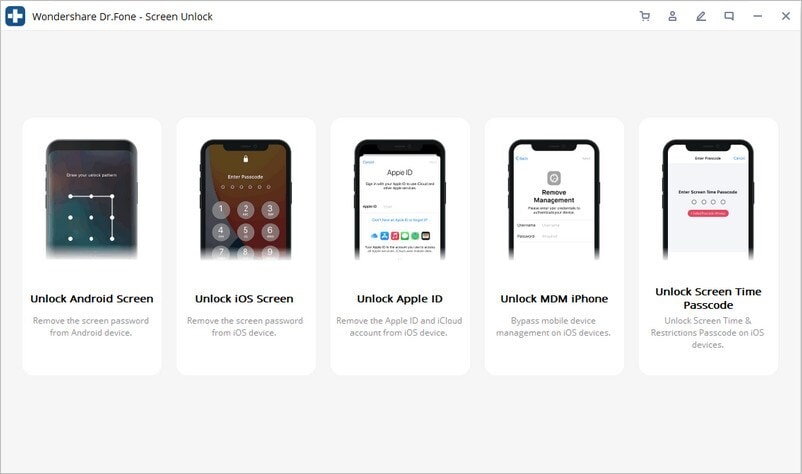 Step 3.

Select 'Bypass MDM' to start the process of bypassing.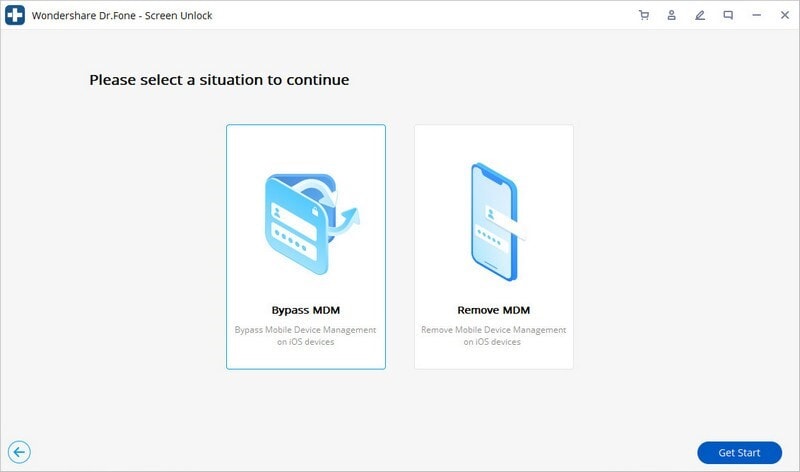 Step 4.

Press 'Start to bypass' to bypass MDM.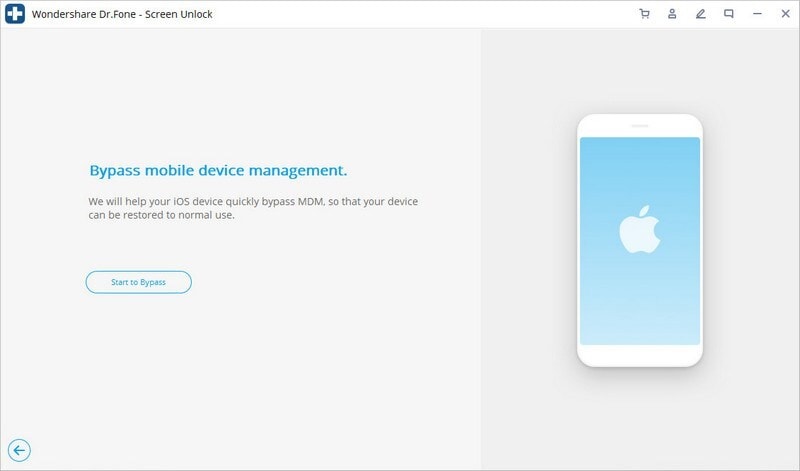 Step 5.

Dr.Fonwe will start to verify, wait for a while.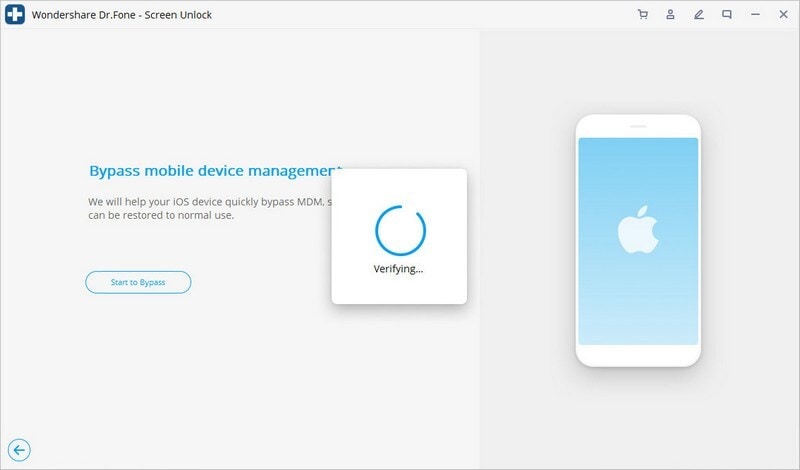 After the bypassing process finishes, 'Successfully bypassed' will appear on the below screen.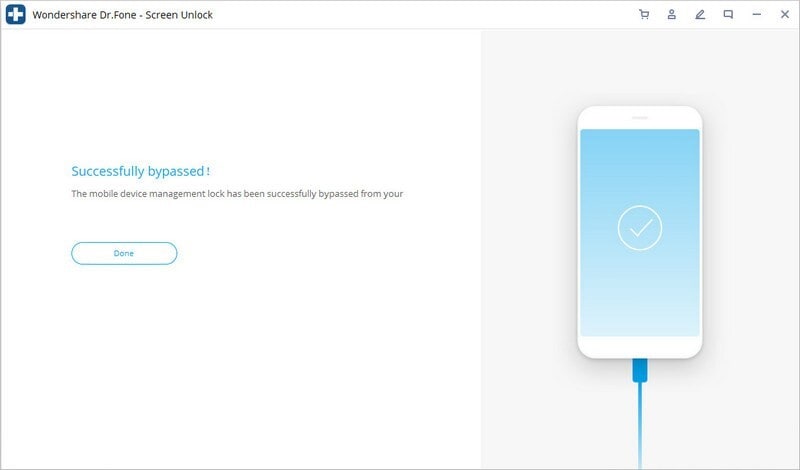 In this way, we can bypass a phone within seconds easily. Dr.fone supports all iOS devices, so professionals prefer this tool instead of other low-quality tools.
See a detailed guide for : How to Remove MDM from iPad?
2. MDM Unlock
This is a very powerful MDM bypass tool that we can use to remove MDM. If your device is stuck in the "Activation Lock" screen, this tool allows you to easily turn off the MDM lock without a password. This tool can help you delete your Apple ID account without restrictions. By creating a new account, you can access all iCloud services and Apple ID functions again. You can bypass all Apple iOS devices with this tool.
Features of this tool
User-friendly and reliable tool
Can remove MDM on all iOS devices
Available at affordable price
Best to unlock iCloud and network
How to bypass MDM with this tool?
We can bypass MDM in the following way by using this tool.
Step 1.

First of all, visit the official website and click on buy now. Now enter the serial number to register your device.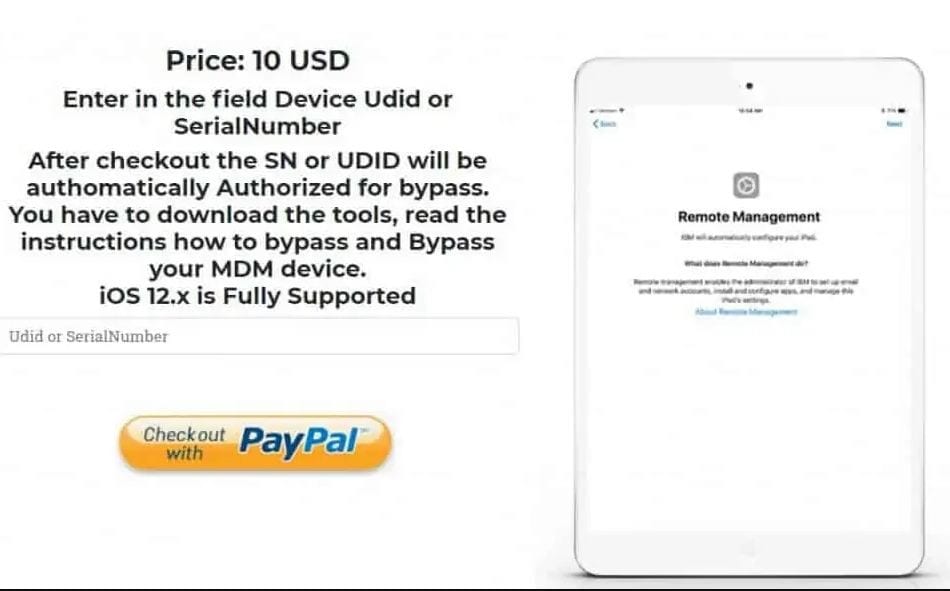 Step 2.

After registration, you can download the required tools.

Step 3.

Now download iTunes on your pc and restore your device with iTunes. After completion closes iTunes and launches MDMunlocks.
Step 4.

This tool will detect your device, when your device is detected press bypass MDM and wait for few seconds. When you see the message "bypass done" just remove your device.
3.iActivate
iActivate is a tool to bypass the MDM profile on your iOS devices. It does not require professional knowledge to delete the MDM from the locked iOS device, so you can immediately take advantage of all the following functions on your iPhone/iPad. This tool can remove MDM very easily, it is suitable for the following situations and fully supports various passwords. It supports the easy removal of all types of passwords, including 4-digit, 6-digit codes, custom digital codes, alphanumeric codes, Touch ID, or Face ID.
How to use iActivate to bypass MDM?
Step 1.

First of all, turn off the option "find my phone".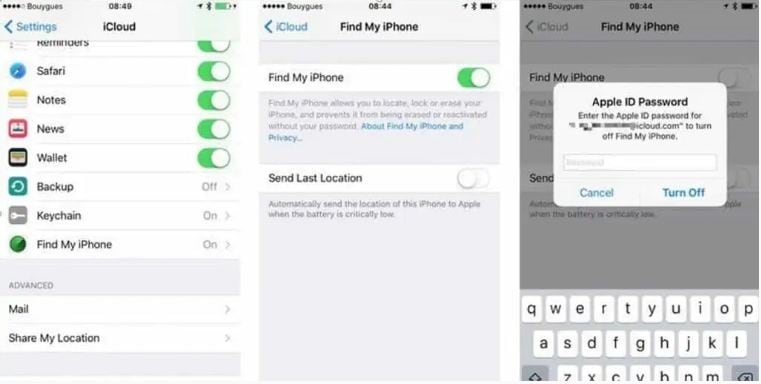 Step 2.

Now download the software.

Step 3.

Turn on your device, and connect to your computer and when iTunes detects your device then click on trust this computer.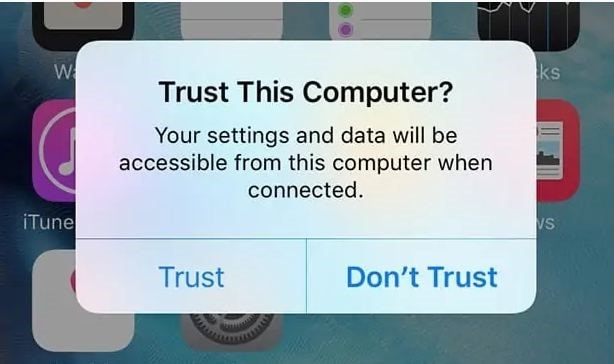 Step 4.

Launch iActive tool on your pc and if you see IMEI no and serial no of your device on the screen, it means iActive has detected your device successfully.
Step 5.

Click on start MDM bypass.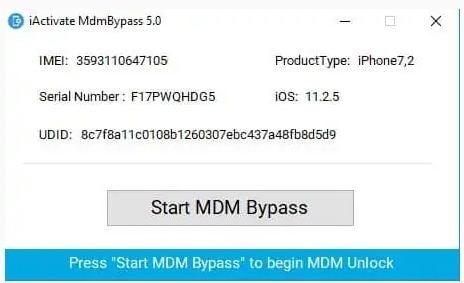 After that, your device will reboot after process completion, then activate it via Wi-Fi, you will bypass MDM.
4.UnlockGo
UnlockGo is a very dedicated bypass MDM solution. It can remove various types of MDM locks within seconds. Professionals prefer this tool because it grants full access to the device after MDM removal. We can operate in the following way with this tool.
Step 1.

Download and install UnlockGo on your computer.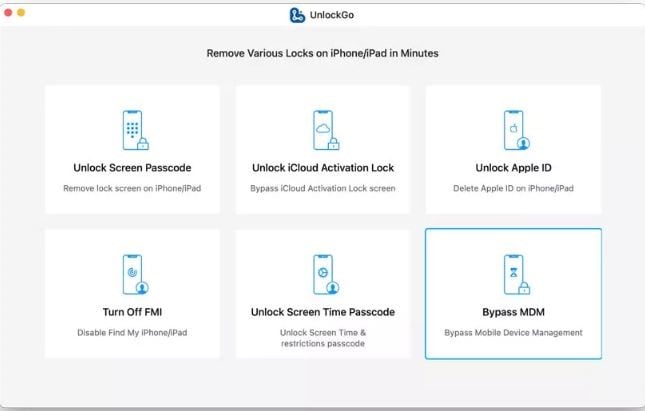 Step 2.

Click 'start' to continue the process.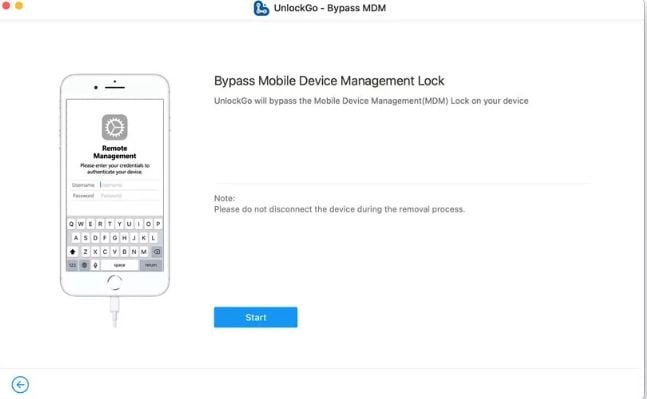 Step 3.

Now click on trust to bypass the MDM lock.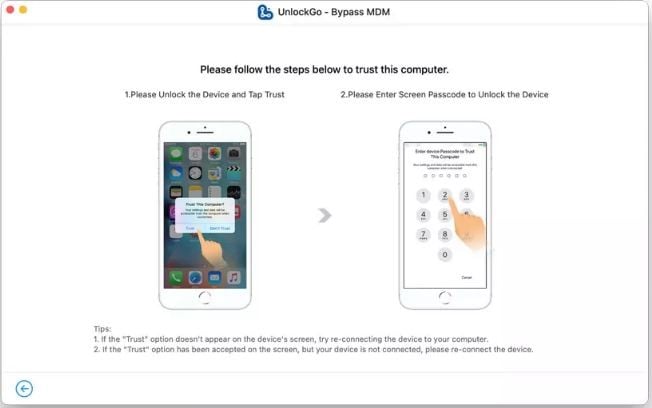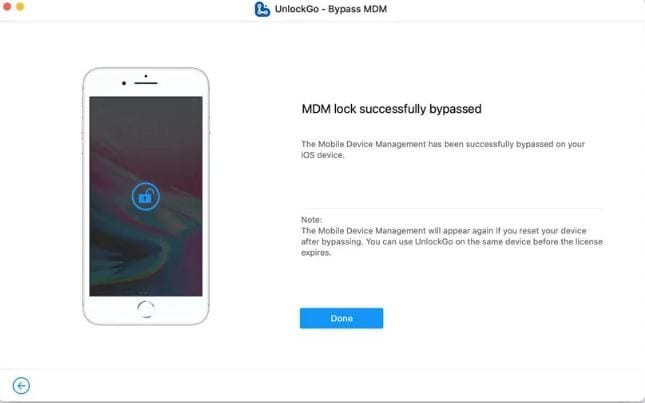 During bypass, your device must be on MDM remote management screen.
Read also:
How to Remove/Bypass MDM Lock on iOS 14?
Comprehensive Guides on How to Remove MDM with/Without Jailbreak
Part 3. Can I Remove the MDM Lock without Using Removal Tools?
Mobile device management (MDM) is very important for companies that are committed to improving their professionalism. Sometimes we have to remove MDM due to different reasons. Although, there are tools available we can remove them without any tools as well. If we remember the passcode we can easily remove MDM in the following way.
Step 1.

First of all, open the setting option on your iOS device then general settings.
Step 2.

Click on device management, here you will see one or more profiles under the mobile device management option. Check thoroughly all the available profiles here.
Step 3.

Now tap on the profile that you think creating problems. After that, you will see the restrictions page that MDM possesses. In this way, you can confirm your doubt about a profile.
Step 4.

Scroll down and click on remove management at the bottom. Here you have to enter the passcode, otherwise, you can't do this. If you don't remember the passcode, you can use any other tool to remove MDM.
Step 5.

Enter the passcode and then again select remove management, you can use your phone in a normal way without any restrictions.