MDM or mobile device management is a software application that is used to manage terminals in an enterprise, such as laptops, smartphones, and tablets. Mobile device management is the best way to protect company data. The main purpose of MDM is to prevent the user from doing different things. It is the restriction on different features and applications. We can Bypass MDM Lock on iOS very easily by using different tools. In this article, we will discuss complete details of MDM and features of MDM.
Part 1. What is MDM and How It Works?
Mobile device management is the process of managing all content of a mobile device. MDM includes storing basic information about the mobile device, deciding which applications can exist on the device, locating the device, and protecting the device if it is lost or stolen. Many companies use third-party mobile device management software to manage mobile devices. Mobile devices now have more functions than ever before, which has led many companies to adopt purely mobile or mobile-first labor. In these types of environments, mobile devices owned by individuals and companies are the main devices used to access or interact with corporate data.
How does MDM work?
Mobile device management uses a client-server architecture, where the device acts as a client, and the MDM server remotely pushes the configuration, application, and management policies (OTA) of the device. IT administrators can remotely manage mobile terminals such as laptops, tablets, and mobile phones through the MDM server. It uses available notification services to contact the hosting device. Furthermore, IT departments can also use this MDM server-agent connection to deploy and control apps on managed devices.
Part 2. Main Features for MDM on Current iOS 14
As the number of mobile devices used by organizations increases, mobile device management (MDM) has become more important. A key and time-consuming task for enterprises have become the need for managing these devices and proper accessibility and security. It is important to maintain continuous visibility and effective threat detection. MDM solutions support the deployment of security to every device in the corporate network. If any security incidents or potential threats are found, appropriate protocols can be established to take appropriate action.
Mobile Device Management or MDM is a set of instructions or restrictions on the company's devices which employees use for different purposes. MDM provides more security and functionality to different apple devices. Different companies can get maximum support for different types of Apple devices.
Here are the main features for MDM on the current iOS 14.
Locations for Apps
The latest iOS release can support time zone via MDM. This feature is best for government and educational institutions. Now the developer can select locations accordingly. By using this feature, developers can configure different books and apps in the Apple business manager and then display them accordingly.
Managed OS updates
Managed OS update is another good feature of iOS 14. By using this feature MDM administrator can force mac updates. Admins can control OS update availability by using this feature. They can update different apps or programs accordingly.
Time zone management
By using this feature, admins can set and update time zone via MDM. Admins can set times and dates on different devices according to specific locations.
Time zone management
By using this feature, admins can set and update time zone via MDM. Admins can set times and dates on different devices according to specific locations.
Shared iPad for Business
Employees and students need to share iPad for different purposes. This is the best feature for employees and students. By using this feature, we can deliver the same personalized experience for many employees. Employees can sign in without any account or login details. When the user sign out all data will be deleted automatically.
Per Account VPN
The virtual private network plays an important role in different businesses. By using this feature, now admin can assign a unique VPN to every account. Admins can replace VPNs whenever needed. They can assign a specific VPN to someone as needed.
Automated Device Enrollment
Although, this is an existing feature of iOS it still has importance. Now there are skipping keys that we can use to reduce setup- assistant windows. By using this feature, a user can start his device efficiently.
Part 3. How to Tell If Your iPhone Has MDM Lock?
There are many benefits of MDM locks. The most important benefit of mobile device management is information security. Mobile device management protects company data through device-level policies provided by the device manufacturer or platform provider. With the help of these policies, IT administrators can control, secure, and disconnect mobile devices from company networks. For example, MDM allows IT to enable device-wide encryption and automatically lock or wipe a device if it is lost or stolen.
Suppose you got an iPhone from your company and it's locked, which means the device is supervised. It means you can't access all functions and apps of that particular device. We can check the supervision of a device in the following way.
Step 1.

First of all check the settings of your device, if you see the supervision message at the top it means your device is supervised.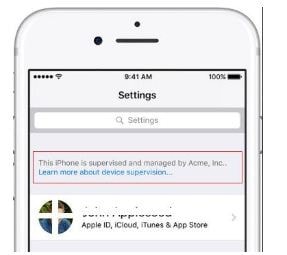 Step 2.

You can identify it in the following way. Visit settings>General>Profile& device management. If you see an already installed profile it means your device is supervised.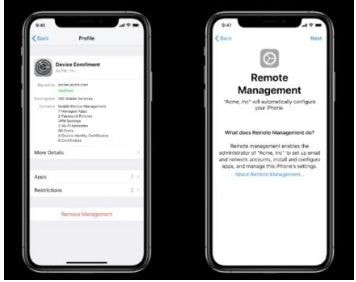 Step 3.

You can also check when you see the message as "Remote Management and xxx will automatically configure your device"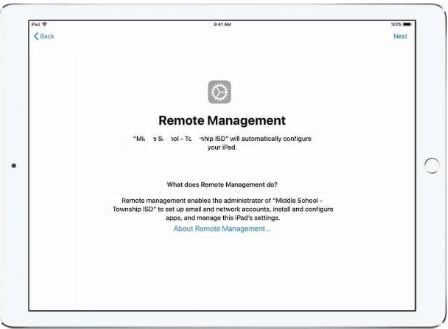 Above mentioned methods are reliable ways to Tell If Your iPhone Has MDM Lock. By following any of the above methods we can check our device very easily.
MDM not only allows companies to push applications to employees to ensure that they have the correct softphone, CRM, customer email, etc., but it also helps protect employees' mobile devices. In some cases, it can even help Optimize mobile services, data usage, and mobile phone plan spending. This allows personal devices to be containerized and protected. Applications and information are separated from business information and access rights.
Part 4. How to Bypass MDM Lock on iPhone?
Activation Lock is a feature designed by Apple to enhance corporate data security by forcing users to enter Apple passwords when devices such as iPhones, iPads, and Macs are factory reset. This factory reset protection (FRP) system, also known as iCloud Lock, is part of the Find My iPhone app on devices running iOS 12 or earlier. Activation Lock helps protect data stored on Apple devices when they are misplaced or stolen. It can be enabled on devices including Apple iPhone, Apple iPad, Apple iPod, Apple Watch, and other Apple devices.
Although activation lock is a security feature, in some cases it is necessary to bypass activation lock on Macbook and iPhone. Here we will explain it in detail. We will let you know how to bypass MDM without affecting device security.
How to use Dr.Fone-Screen Unlock (MDM Lock)?
There are different tools and applications available which we can use to bypass MDM lock but dr.fone - System Repair is a professional screen unlocker in this regard. Almost all types of screen lock types are supported to be removed/unlocked, the following are its main features: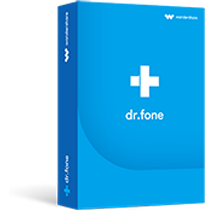 The overall operation of unlocking your device without password is quite simple with dr.fone.
dr.fone provides the simplest mechanism for unlocking your device.
The lock screen or other security protocols are removed without the need for iTunes.
Bypass iPhone password in any scenarios anytime.
Remove 4-digit / 6-digit passcode, touch ID & face ID on iPhone/iPad.
A very user-friendly interface.
Compatible with iOS and all associate devices.
2,985,172 people have downloaded it
By following the given steps, we can bypass or unlock the MDM iPhone within seconds.
Step 1.

Download and install Dr.Fone - Screen Unlock on your computer,then choose Screen Unlock.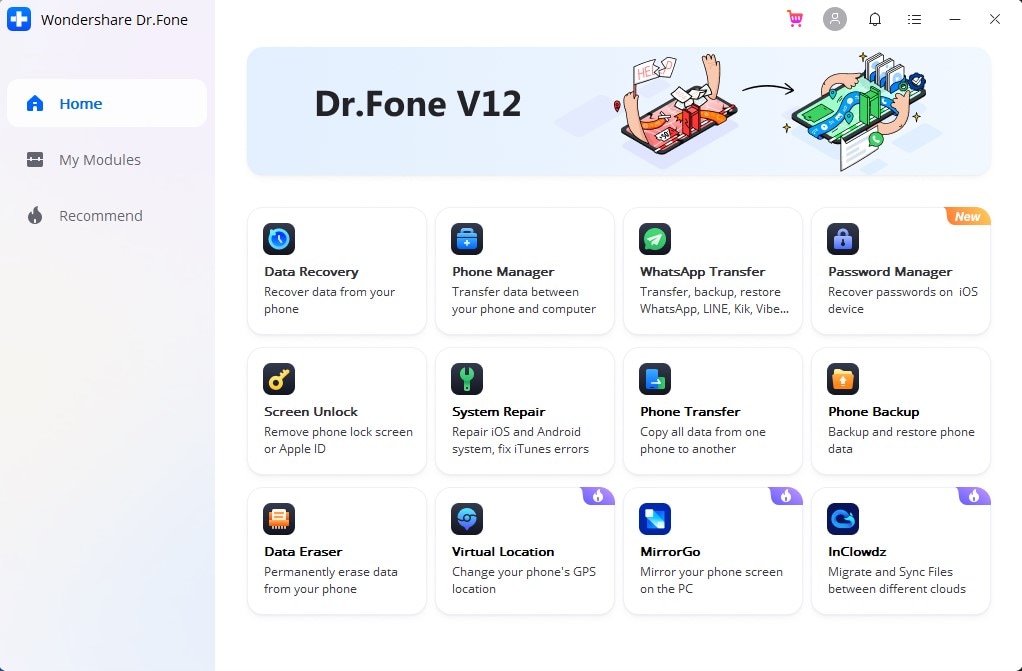 Step 2.

On the below screen, there are 5 types of screen unlocking, please choose unlock MDM iPhone.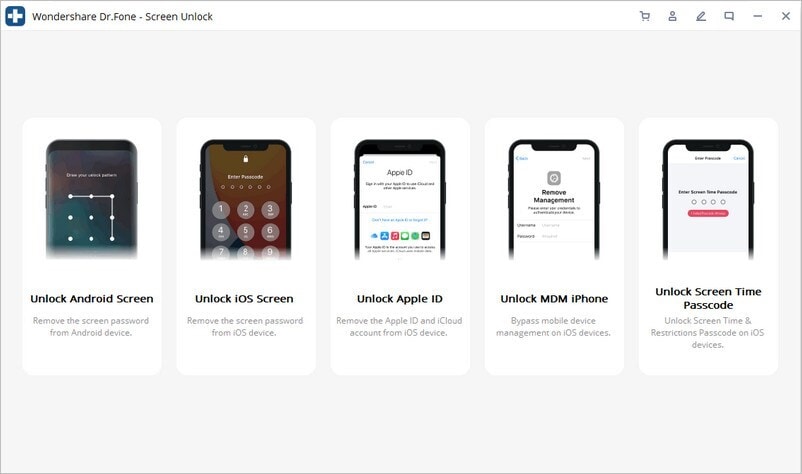 Step 3.

Now Select Bypass MDM and click Get Start. If you need, you can also choose Remove MDM.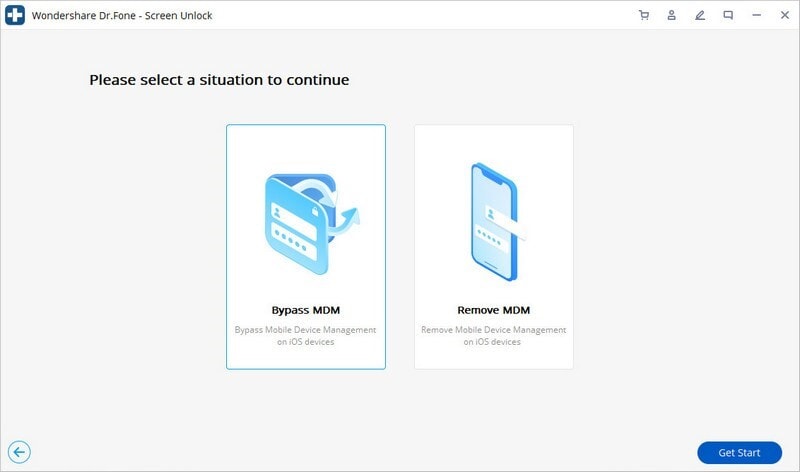 Step 4.

Now Press 'Start' button to bypass and wait for few seconds.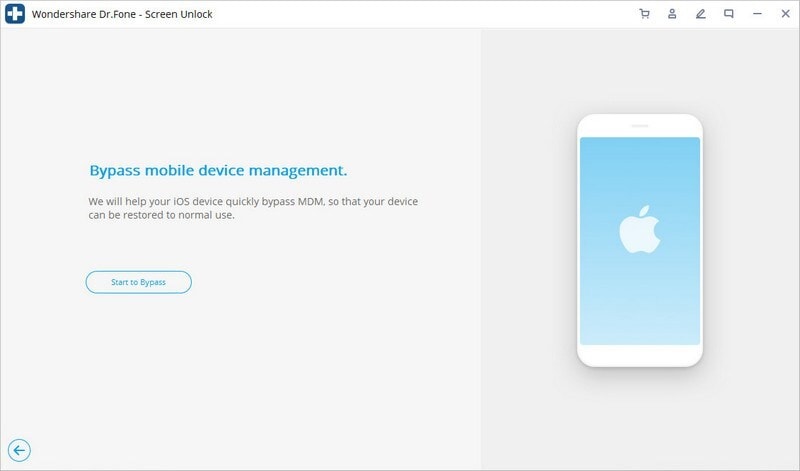 Then the program will start to verify, after that, it will start to bypass your iOS MDM, wait patiently for the process finish, and you will proceed without the restrictions on your iPhone.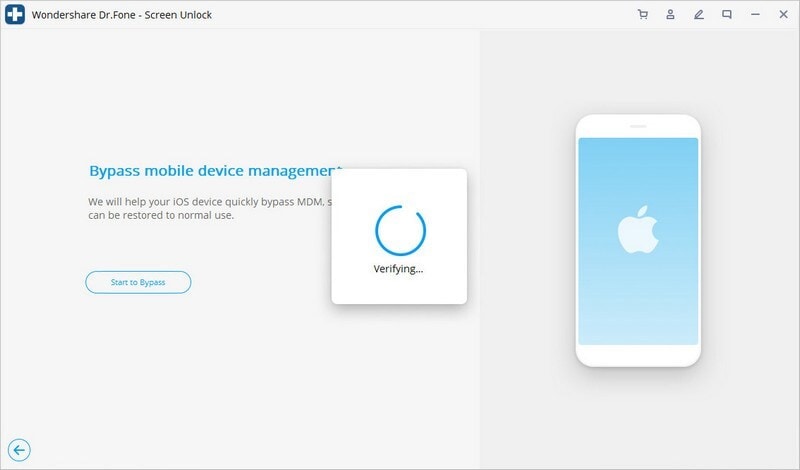 Tips:If you want to remove MDM, please choose the Remove MDM mode to be free from MDM supervision.
Conclusion
When you do not remember your iPhone screen password, or you remember it but your iPhone has been disabled due to too many incorrect passwords, Dr. Fone-Screen Unlock can help you unlock the screen easily if you want to remove MDM on ios 14. The success rate is high, and the risk of equipment damage is minimal.