The purpose of using the iCloud Account to lock the iPhone is to prevent theft and make iPhone theft useless to thieves. Although the activation lock function does achieve its goal, there are still some things that may cause inconvenience to some users, especially when dealing with the device used by the iPhone. You may need to unlock iCloud Account due to some unexpected reasons. This may be because you bought a second-hand iPhone but failed to set it up because the former owner forgot to delete his/her Apple ID. This article will let you know different authentic ways to unlock an iCloud Account without a Password.
Part 1: The Reasons and Symptoms of iCloud Account Locked.
Apple automatically locks iCloud accounts and Apple IDs when it finds they are at a risk of unauthorized access. This lockout is partly triggered by what it believes may be abnormal user activity. After causing many threats to Apple's iCloud security, Apple strengthened its lock on Apple ID.
Many factors may cause Apple ID or iCloud Account to be locked. It can happen when we try different tools to access iCloud data. Using third-party tools based on open source iCloud code often leads to account lockouts. The open-source derived from is mainly used to invade privacy, and Apple is working hard to prevent their use. It can happen due to many reasons. The following are some common reasons behind this issue.
Got a used iPhone
Although Apple's mobile phones are not as popular as before, the price is still low; many people choose to buy second-hand mobile phones. There are many disadvantages of buying second-hand Apple phones. The biggest issue in the old iPhone is the apple id. Suppose the former owner forgot his Apple ID, then you have to use iPhone activation lock removal tool to access your iPhone.
Symptoms
You may face this issue also due to the following reasons.
When you have entered wrong passwords many times
When you have entered another person's information
The iCloud Account was disabled or stolen
Sharing the iCloud Account with too many people causes iCloud to be locked.
Logging in on unfamiliar Apple devices will also cause the iCloud Account to be locked.
etc.
When the Apple ID is forgotten, the ID of another person is logged in, the ID is locked, disabled, etc., the password cannot be retrieved, or the Apple ID cannot be unlocked in security. You can use any reliable iPhone activation lock removal tool to use your phone in a normal way. By using a good-quality tool, you can access your phone easily.
Part 2: How to Remove Activation Lock Without Previous Owner?
The iCloud lock is a feature designed to protect your iPhone from being lost, stolen, or erased. If you are buying a new iPhone for the first time, please register your iPhone with your Apple ID and set " Find My iPhone " to lock iCloud; your device will be more secure than ever.
However, every coin has two aspects. If you buy a second-hand iPhone locked by iCloud or forget the iCloud password, it may also become troublesome. You may find yourself stuck in the iCloud activation screen. In this case, you need to unlock the iCloud-locked iPhone. Are you looking for how to remove iCloud account without password? You can use Dr.Fone - Screen Unlock (iOS) for this purpose. Although there are many tools available for this purpose, professionals always prefer Dr.Fone due to the following reasons.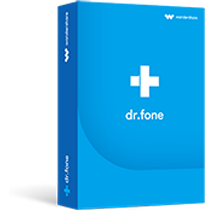 Fix iCloud Activation lock with simple steps
Unlock iCloud account without password within a few clicks.
Bypass iPhone/iPad/iPod passcode in any scenarios anytime.
Remove activation lock, 4-digit / 6-digit passcode, loked Apple ID, touch ID & face ID easily.
Fully compatibale with all the latest iOS.
2,985,172 people have downloaded it
Step 1:

Download and launch Dr.Fone on your PC/Mac, choose "Screen Unlock" from the main screen.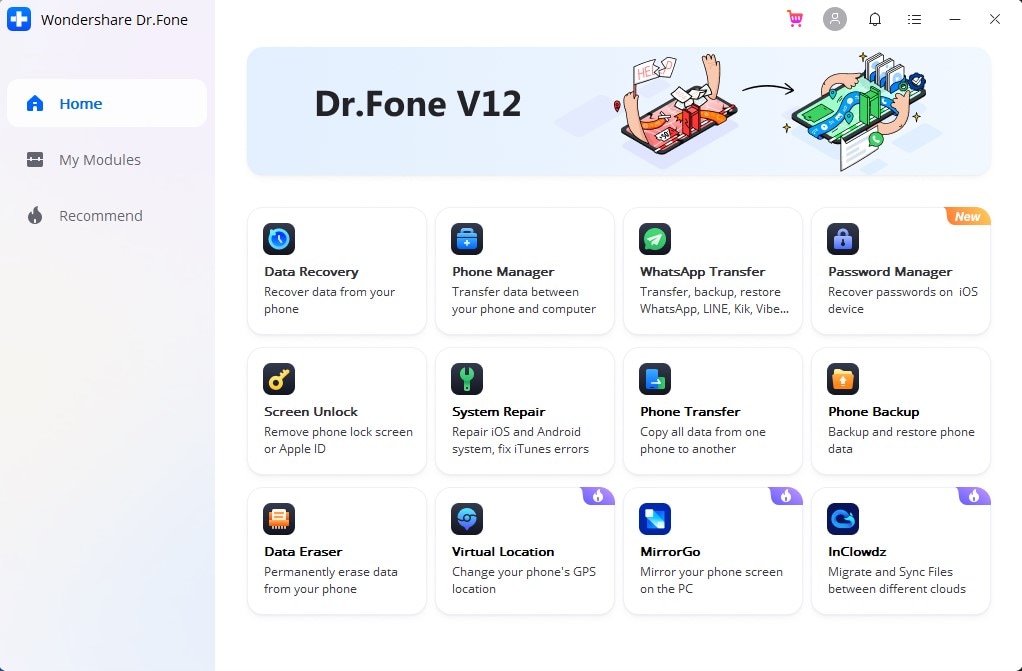 Step 2:

Select the target type of screen unlock.

Please choose "Bypass Activate Lock" from the below unlock types for activation lock removal.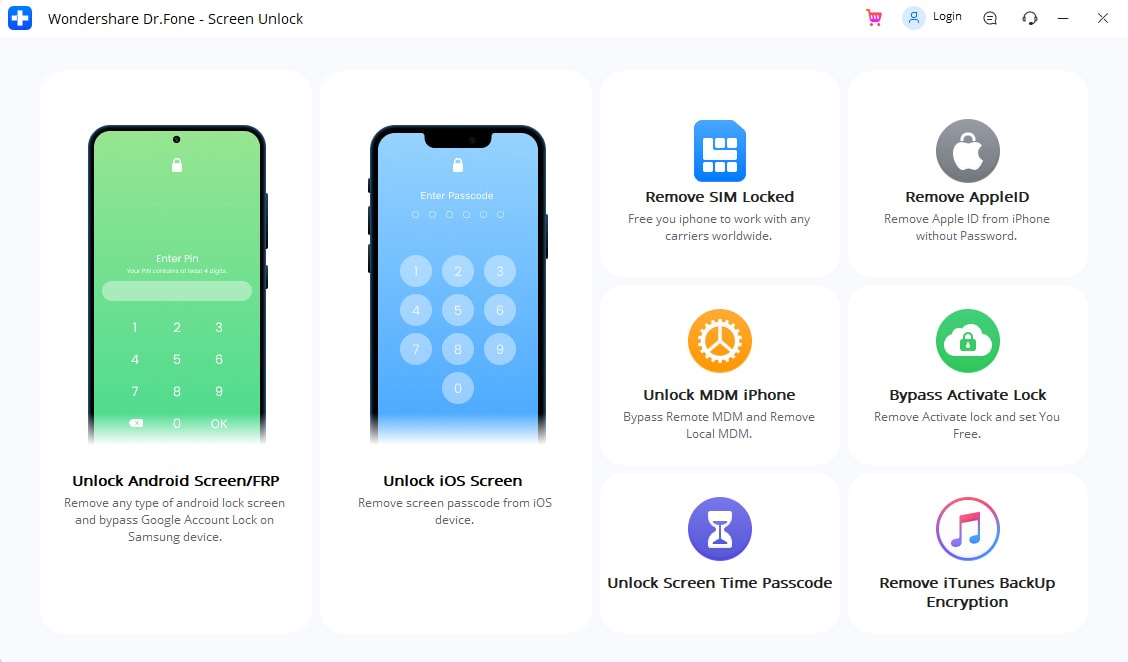 Step 3:

Jailbreak your iPhone before unlocking.

It is necessary to jailbreak your device before starting the unlocking process, follow the "Jailbreak Guide" to do it. After that, click "Finished Jailbreak".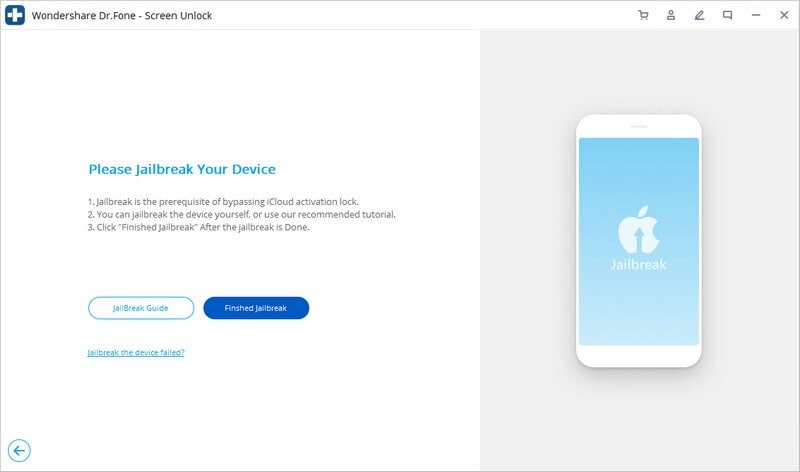 Then confirm and agree the following agreement, and check your iPhone information, click "Start Unlock"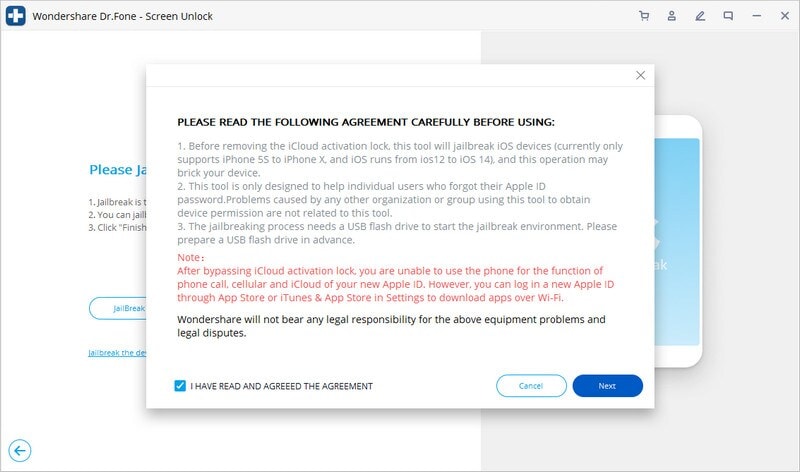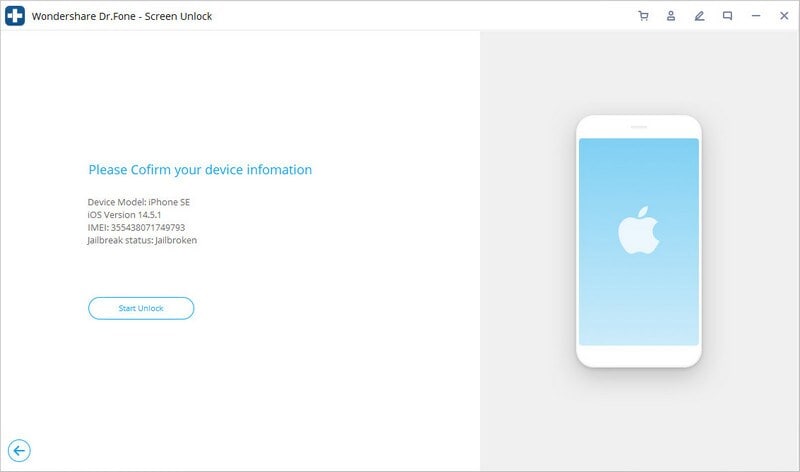 Step 4:

Dr.Fone will begin to remove iCloud activation lock.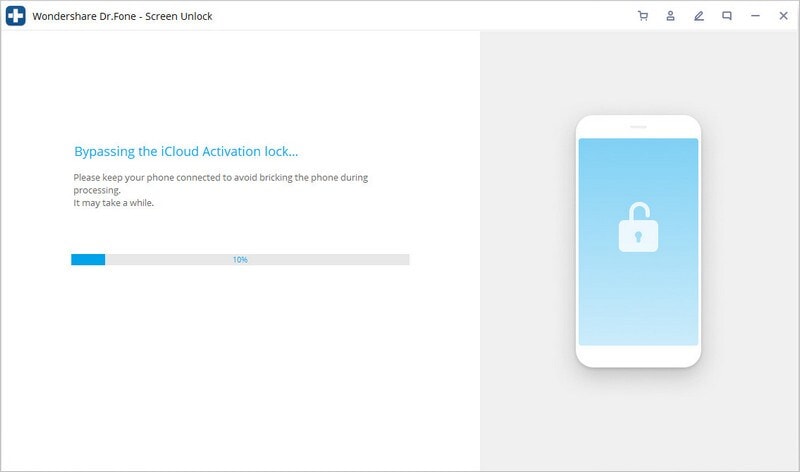 After the process finishes, the iCloud lock has been bypassed successfully.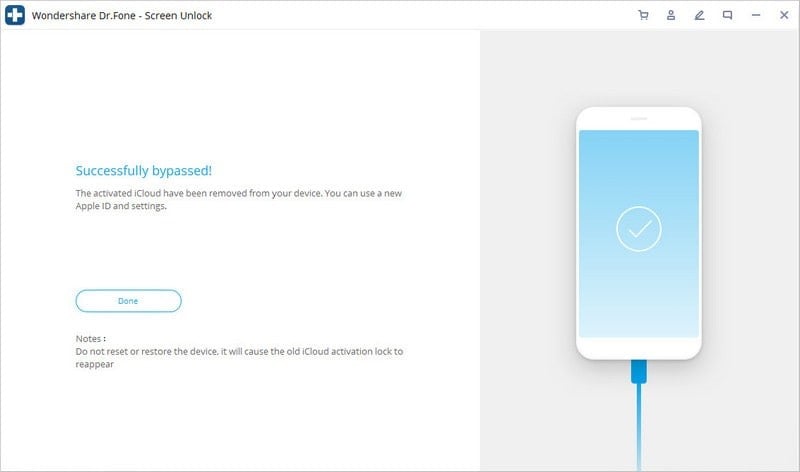 Part 3: How to Unlock iCloud Account with Apple ID?
The iCloud activation lock is the best tool to keep your phone safe. It is a very useful feature of IOS to protect your information. With the help of the iCloud activation lock, the iPhone owner can enable "Find My iPhone", which will lock the iPhone/iPad using the owner's Apple ID account. If you want to enter the iPhone, you need to obtain the original Apple ID and password to activate the iPhone.
As activation lock is good in many ways, it still has some disadvantages. For example, those who buy a second-hand iPhone from a friend or without unlocking iCloud activation receive a message that their iCloud account is locked. We can unlock an iCloud account with an Apple id in the following way.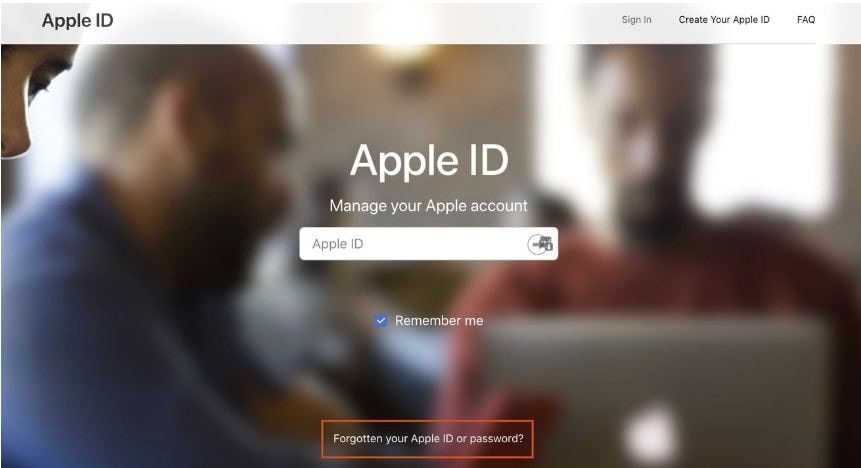 Apple ID is the best feature to keep an iPhone safe and secure in many ways. For example, if someone steals your phone and enters the wrong password, your apple id will be locked automatically to keep your data safe. After verifying your identity, you can unlock your Apple ID and the verification process is very simple. You may have to see any of the following messages if your apple id is locked.
"For security reasons, this Apple ID has been disabled" "You cannot log in because your account has been disabled for security reasons" "For security reasons, this Apple ID has been locked."
When you see any of the above warnings, please go to iforgot.apple.com and use your existing password to unlock your account or reset your password. For this purpose, you must have to use a trusted device. Otherwise, your Apple ID will be remain locked. You can use the recovery key or two-factor authentications to unlock your Apple ID. In this way, you can unlock your iCloud Account.
After changing your password, you may need to update your password in iCloud settings and all Apple services that you log in with your Apple ID.
Part 4: Unlock iCloud Account Through Apple Support.
Why is your Apple ID locked or disabled? This is because you or someone has continuously entered incorrect security issues and Apple ID account information. To protect your safety, your Apple ID will be automatically locked. When your Apple ID is locked for security reasons, Apple will notify you. It is not allowed to use this locked Apple ID or password to log in to any Apple device. You can contact Apple, go to an Apple store or call Apple customer support and ask them to remove the iCloud activation lock from your device without a password. However, you need to show proof of ownership to Apple.
If you are the owner of the iPhone, show Apple your proof of purchase, such as the original receipt containing the serial number of the device and your name.
If you bought a second-hand iPhone, you need to prove that the ownership has been transferred from the original owner to your hands, such as online transactions and payment confirmation slips.
Apple will also check whether it is a stolen iPhone. If the device has been reported as lost, they will refuse to help.
Apple needs to make sure that you are the true owner of this Apple ID account. The Apple ID can be successfully unlocked if the security protocol is passed.