Dr.Fone - Screen Unlock
Bypass/Remove iCloud activation lock in Any Scenarios Anytime!
Have you ever purchased an old iPad? You may have experienced an activation lock problem. Well, this situation becomes irritating because you can't access your stuff. When buyers experience this challenge, they look for different ways to get rid of them.
Apple officially provides a good solution, but you need to have your Apple ID credentials. But, this isn't fruitful if you have bought a used iPad because you don't have these credentials.
What to do now? How to deal with this activation lock problem? Take a deep breath as this guide will present practical ways to remove activation lock without previous owner and password. Are you getting curious? Let's get down to business.
Part 1. How to Remove iPad Activation Lock Without Password? (with Previous Owner)
There are multiple iCloud activation lock removal free online and official ways where the previous owner has to enter their Apple ID, or they remove the iPad from the iCloud. Let's look at how these two methods work for iPad activation lock removal without password.
1. Enter their Apple ID
Are you still in touch with the previous owner? You are in luck. You need to follow 3 simple steps to benefit from a free iCloud unlock service.
Step 1.

Open the activation lock screen on your iPad.
Step 2.

Request the owner to put their Apple ID credentials in the required fields.
Step 3.

As soon as the owner puts the details, click on the "Next" button.</h5
If you have carefully followed all the above steps, congratulations! Your iPad has been removed from the owner's account, and your device is now free from any activation lock..
2. Remove from the iCloud
Can't you reach your previous owner's place? Is there no chance of arranging a meet-up? Still, you don't need to be concerned. There is another way to perform iPad activation lock removal without password.
You must have the contact details of the previous owner, e.g., phone number, email address, etc. Then, you can call that person and request them to remove the iPad from iCloud. It can efficiently be done remotely. But, if the previous owner is getting confused while doing this, ask them to follow the simple steps listed below.
Step 1.

Open the iCloud website and sign in with the Apple ID & passcode.
Step 2.

Tap on the "Find My" option, and choose the device from the menu "All Devices".
Step 3.

As soon as the owner puts the details, click on the "Next" button.
Step 4.

Tap on "Erase Device" and follow the steps on the screen to remove all the data and settings on the iPad.
Step 5.

Now, it is time to tap on the "Remove from Account" option.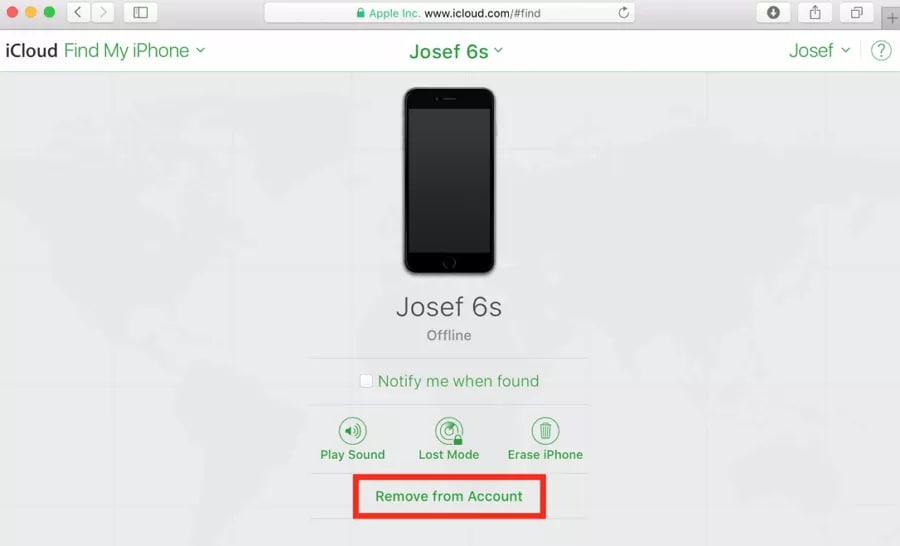 Step 6.

Finish the iPad's setup, and you will be able to use it just like a normal device.
Are you done with following the above-listed steps? Congratulations! Your iPad activation lock removal without password has been completed.
Part 2. Remove iPad Activation Lock without Password and Previous Owner
There may be situations when you can't meet the previous owners and don't even have their contact details to get in touch with them. For many iPad users, it becomes pretty challenging. Are you experiencing the same? Don't worry, because this section presents the two most credible solutions to remove activation lock without previous owner. Let's get into the specifics.
Dr.Fone is an efficient tool that is designed to get rid of your iPad activation lock problem without even getting in touch with the previous owner.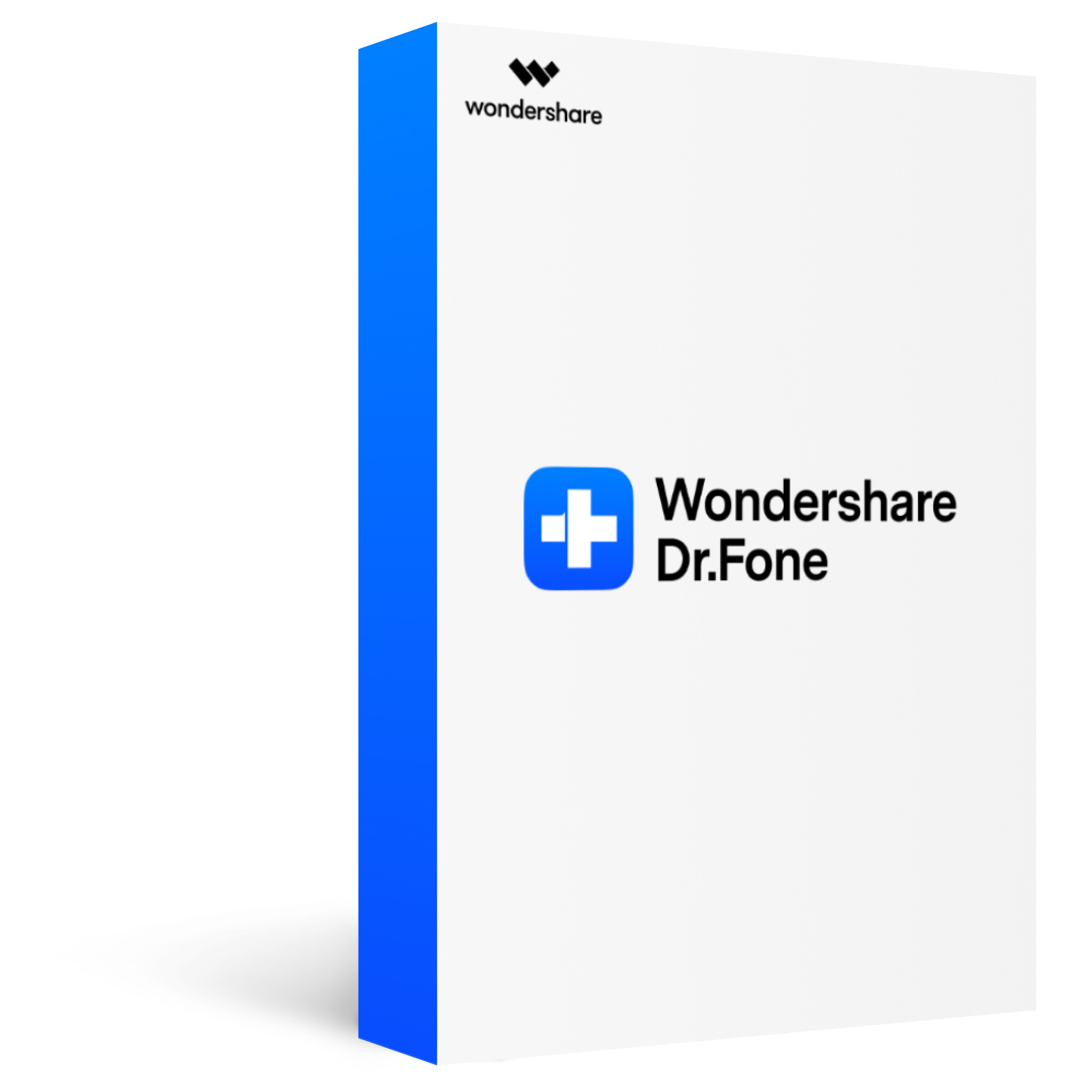 Dr.Fone - Screen Unlock
Bypass/remove iCloud Activation lock on iPhone/iPad with simple steps
2,985,172 people have downloaded it
Unlock all types of screen lock on iOS device within clicks, including iCloud Activate lock, MDM lock, 4-digit/6-digit passcode, Touch ID, Face ID, screen time passcode, etc.
Bypass screen lock in any scenarios anytime, such as forgot passcode, the device is disabled, second-hand device, unknown passcode, etc.
Fully compatibale with all the latest iOS devices(iPhone/iPad),including iPhone 13.
Step 1.

Download and launch Dr.Fone on your PC/Mac, choose on "Screen Unlock".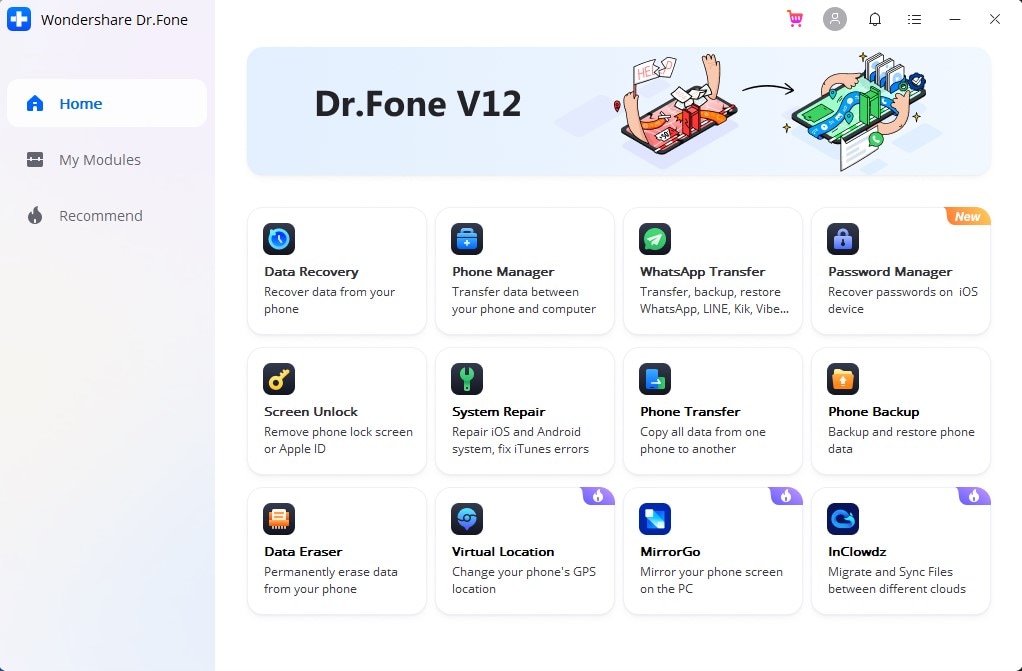 You will see five options on the below screen, choose "Bypass Activate Lock" to start the activation lock removal process.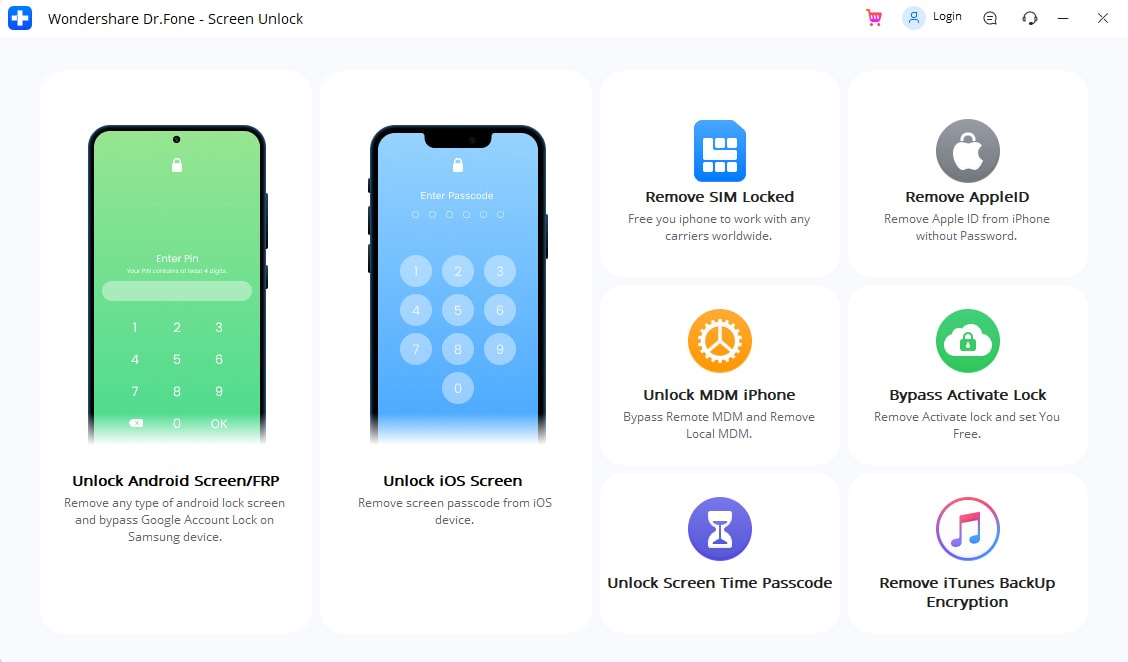 Step 2.

Jailbreak iPad before starting the unlock process.

Here please jailbreak your iPad by following the "Jailbreak Guide", as it is a necessary step for activation lock removal. After jailbreaking your iPad, click "Finished Jailbreak" to proceed with the unlock process.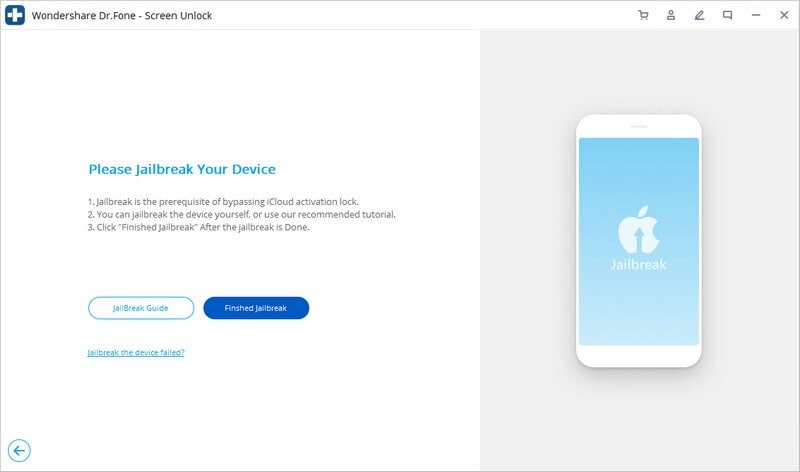 Step 3.

Confirm your device information and click "Start Unlock".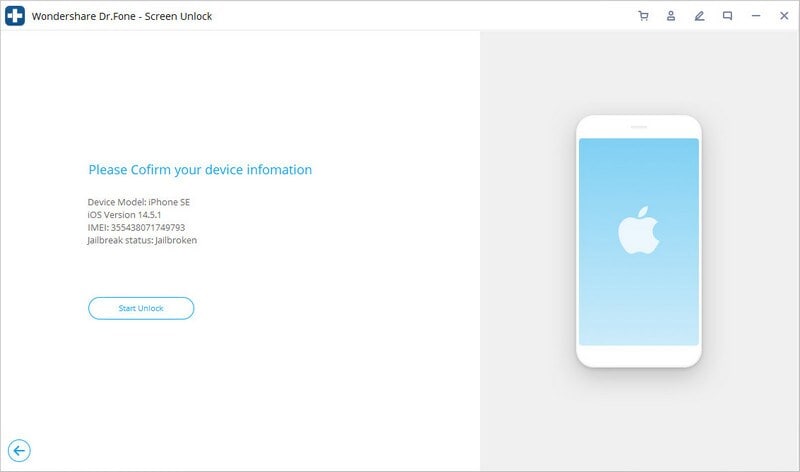 Step 4.

Unlock the Activation lock on iPad.

Dr.Fone will start to remove the iCloud activation lock from your device.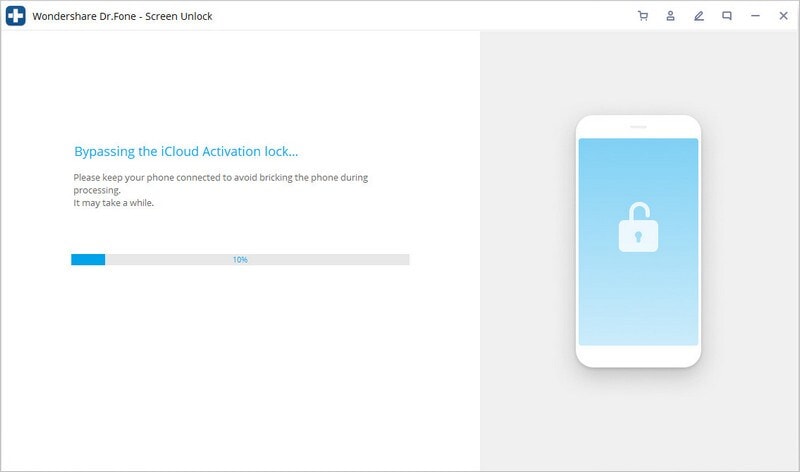 After the iCloud Activation lock is bypassed, Dr.Fone will show a notifaction as below.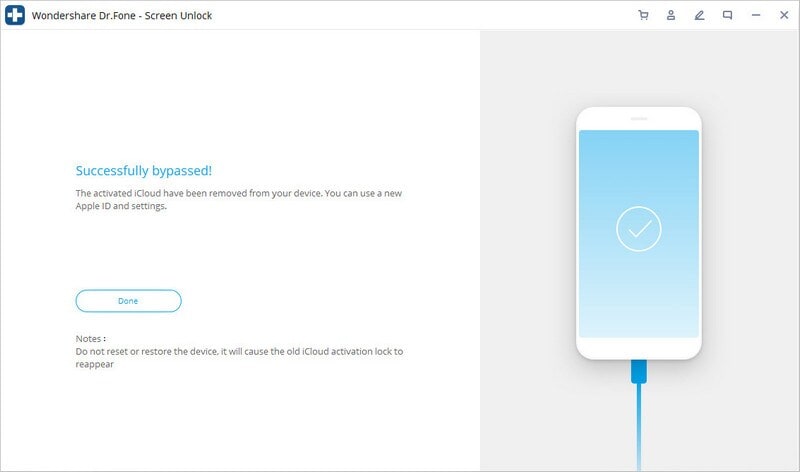 Have you attentively followed all the steps listed above? Great! Now, you will be able to access everything inside the iPad and can start using it as a normal device.
2. Via DNS
The word "DNS" is a short form of Domain Name System. The DNS process is a unique approach to removing activation lock without previous owner. The DNS method uses HTML or an online server to remove this lock from your iPad. It is not guaranteed that this method will work perfectly for you. But, if you have tried other options and didn't yet get fruitful results, it might be a blessing for you to deal with the iCloud activation lock challenge.
Step 1.

Turn your iPad on (if your iPad is already on, please restart it before you proceed).
Step 2.

Proceed with the setup until you see an option on the screen "Choose Wi-Fi Network".
Step 3.

Choose the "More Wi-Fi Settings" option.
Step 4.

Click on the "i" icon (you will find it next to the Wi-Fi connection), tap on the "+Add Server" option.
Step 5.

Put the server address according to your location.

If you don't know which address to use, you can use the server addresses listed below:
78.109.17.60 (for Australia, Africa, and other regions)
104.155.220.58 (for Asia)
104.155.28.90 (for Europe)
104.154.51.7 (for the United States)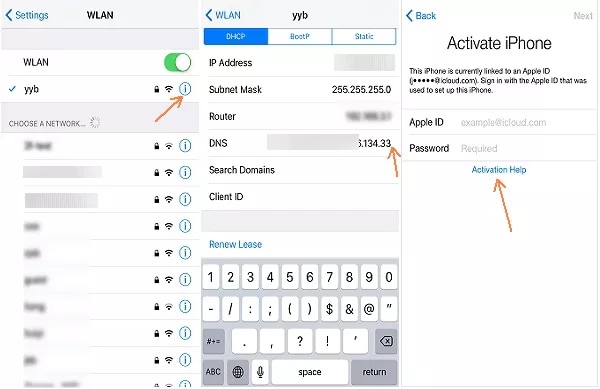 Step 6.

As soon as you enter the server address in the required field, don't forget to press the "Save" button.
Step 7.

Press the back option and choose the "Ask to Join Networks" button.
Step 8.

Enter the password of your network and click on the "Join" option.
After completing Step 9, your iPad will try to activate. Once it tries to do so, press the back option and set up your iPad usually.
Conclusion
Have you purchased second-hand iPads a couple of times? Are you Fed up with the iCloud activation lock problem? On the hunt for some reliable and permanent solution? Don't miss reading through the above discussion.