"How to factory reset iPhone 6 without password? I can't seem to recall the passcode of my phone and have been locked out. Someone, please help me factory reset iPhone without password!"
- a question from Quora
This is a query from an iPhone user that we have got recently. Getting locked out of an iOS device is quite a common issue and is faced by plenty of users. Don't worry – you can still learn how to reset iPhone without the password and unlock it afterward. In this guide, we will uncover the three major solutions that are used by experts so that you can be a pro in no time!
Part 1. How to factory reset iPhone without passcode or iTunes?
If you have been locked out of your device, then simply take the assistance of dr.fone - Screen Unlock (iOS) . Without using iTunes or following any other complicated technique, you can factory reset locked iPhone pretty easily. All you got to do is follow some simple on-screen instructions. The tool can remove the pin, passcode, Touch ID, Face ID, or any other lock on your device. Compatible with every leading iOS device, it supports all the new models such as iPhone XS Max, XS, XR, X, 8, etc.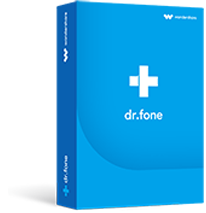 Factory Reset iPhone Without Passcode Easily
Remove 4-digit / 6-digit passcode, Touch ID & Face ID on iPhone/iPad.
Easy and click-through process. No technical skills required.
Fully compatible with iOS 12 and iPhone XS/XR.
2,985,172 people have downloaded it
To learn how to reset iPhone password, follow these steps:
Step 1. Download and install dr.fone on your computer. Now, launch the dr.fone on your system and visit the "Unlock" section.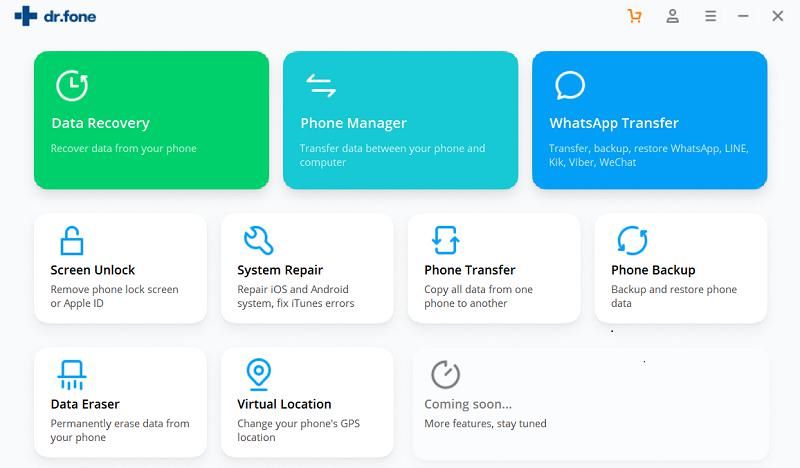 Step 2. Using a lightning cable, connect your iPhone to the system and click on the "Start" button.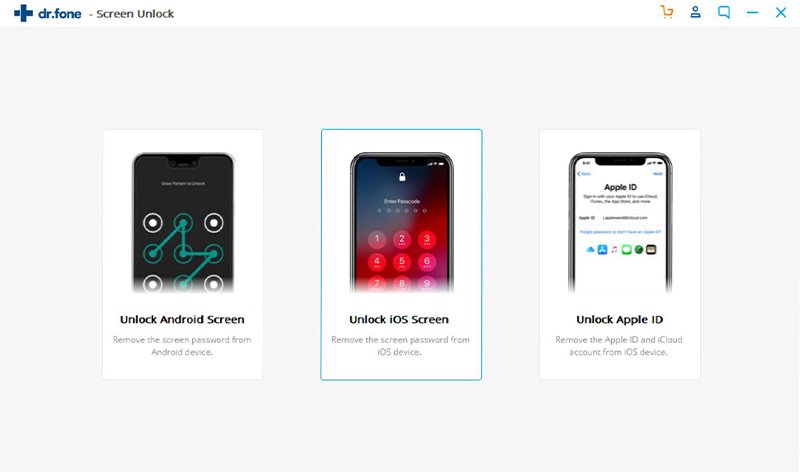 Step 3. Applying the correct key combinations, you can simply boot your phone in the DFU mode. You can just follow the on-screen instructions since the key combinations may vary among different models.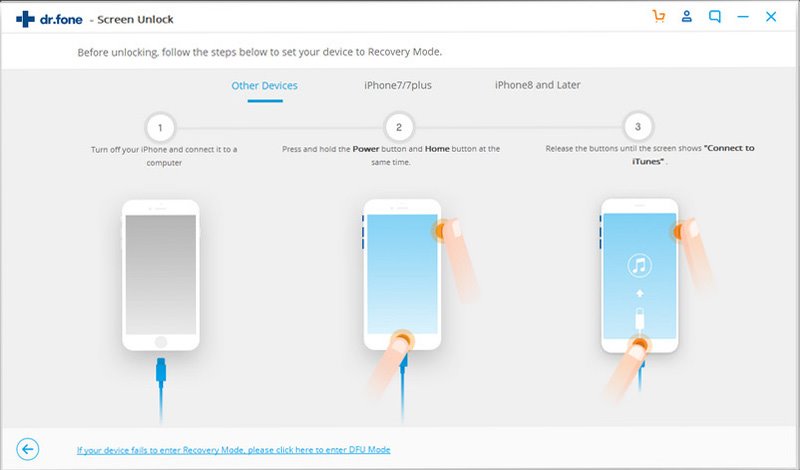 Step 4. On the next screen, you need to confirm certain details like your phone's model, serial number, etc. Click on the "Download" button after entering these details.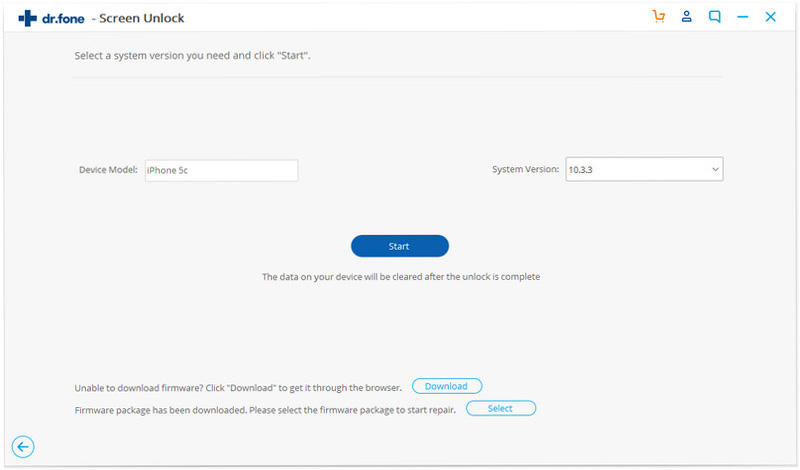 Step 5. Wait for a few minutes as the application would download the latest firmware update available for your phone. It might take a while so make sure the application is not closed in between.
Once the download is completed, you will be notified. To proceed, click on the "Unlock Now" button.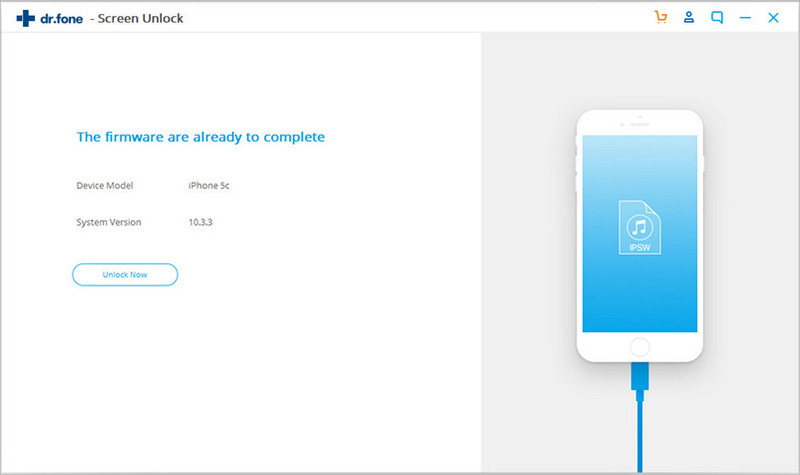 In order to confirm your choice, type the displayed key (000000) and click on the "Unlock" button again. When the process is completed, your phone would be restarted in the normal mode without any lock (and updated firmware).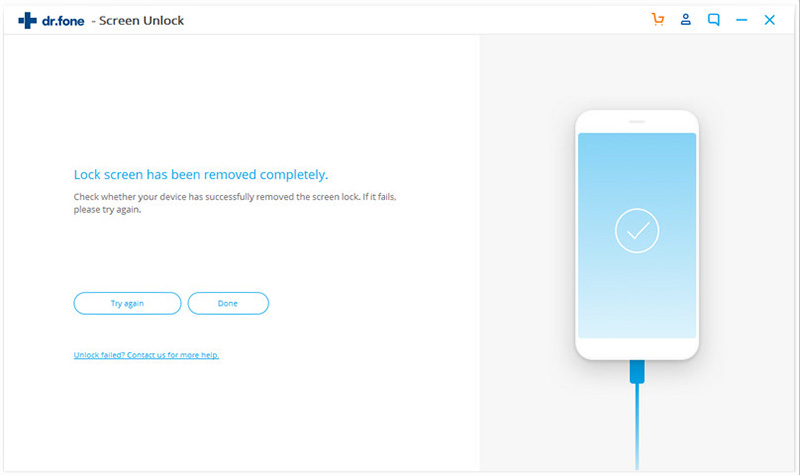 Once you get the following prompt, you can simply remove your device and use it the way you like. In this way, you can learn how to reset iPhone without passcode in minutes.
Part 2. How to factory reset iPhone without passcode or computer?
If you don't have access to a computer, then this would be a perfect solution for you. You can just go to iCloud's website on any other device and use Find my iPhone's remote service. If you have an iOS device, then you can just use the Find iPhone app as well. It can be used to locate a device, ring it, or even erase it remotely. Follow these steps to learn how to reset iPhone without passcode and computer.
Go to iCloud's website on any device. If you have an iOS device, then just launch the Find iPhone app.
Sign-in to the same account that is linked to the locked iPhone.

From the list of the connected devices, select your iPhone. This will automatically load its present location.
Tap on the Actions button to view all the available options.
Select the "Erase iPhone" option and confirm your choice to factory reset the device.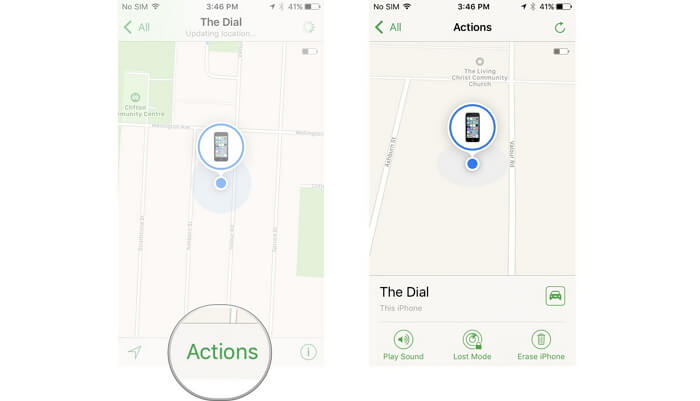 While the technique is pretty user-friendly, you need to know the Apple ID and password of the linked account. Also, your iPhone should be connected to a stable internet connection beforehand.
Part 3. How to reset iPhone without passcode using iTunes?
Another way to learn how to reset iPhone password is by using iTunes. The desktop application is developed by Apple and is available for free. If you can't unlock the device to trust a computer, then you need to boot your phone in recovery mode first. To do this, you need to apply the correct key combinations. Here's how you can factory reset locked iPhone using iTunes.
Turn off your phone and launch an updated version of iTunes on your computer.
Connect one end of the lightning cable to your computer and the other to your iOS device. Follow these key combinations for different iPhone models while connecting your phone:
iPhone 8 and newer models – Quick press the Volume Up key. Release it and quick-press the Volume Down key. Hold the Side key and let it go when the iTunes symbol would appear.
iPhone 7 and 7 Plus – Press and hold the Power and Volume Down keys at the same time for around 10 seconds. Let them go when you see the connect-to-iTunes symbol.
iPhone 6 and older models – Hold the Home and Power buttons simultaneously for around 10 seconds at least. Release them once the iTunes icon will appear on the screen.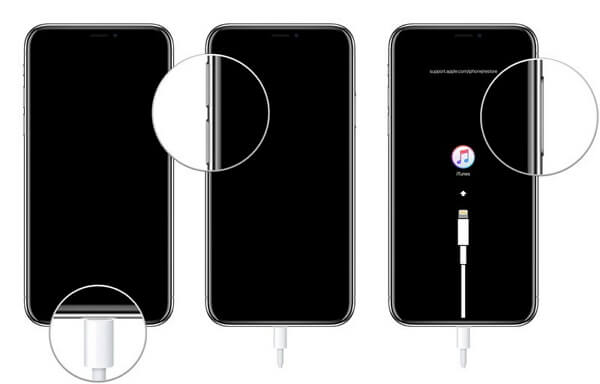 As soon as iTunes will detect that your device has entered the recovery mode, it will display the following prompt.
Agree to it and confirm your choice in order to factory reset your device. In the end, it will be restarted with no passcode on its screen.

Part 4. Tip: About factory reset iPhone without a password
A lot of users are confused between iPhone password and passcode. As you know, every iOS device is linked to an Apple account. The linked Apple ID and password are essential to access its iCloud services, log-in to certain apps, and perform plenty of other security features. On the other hand, a passcode is a unique code that is used to unlock your device. A passcode is an optional security feature that prevents others from unlocking your phone.
If you don't know the password of the connected Apple account, then you might face some problem to factory reset locked iPhone. To do this, you can take the assistance of iTunes. Connect your device to a computer that is already trusted by your iPhone and launch iTunes. Go to its Summary tab and click on the "Restore iPhone" button. Confirm your choice to factory reset iPhone without password.
Conclusion
By following these solutions, you can learn how to reset iPhone without password. From all the listed methods, dr.fone – Unlock (iOS) provides the most feasible solutions. Though, you should know that a factory reset will erase all the existing data and saved settings on your phone. Go ahead and download dr.fone on your system as it can help you resolve an unwanted situation whenever you want.