If you own an Apple phone, you must realize that nobody can unlock the device without the iCloud account once it gets locked on the activation lock screen. Indeed, even yourself.
If you have stuck in a somewhat similar situation where you forget your Apple ID or get a locked gadget from a seller, then, at that point, you can still bypass iOS 15 through different tools.
There are many iCloud activation lock bypass software in the market, yet only a handful of them can do what you need. Hence, today we will present the best iCloud bypass software and internet services. First, we suggest you use Wondershare Dr.Fone Screen Unlock for a quick and secure solution. It is an all-in-one tool for all your iOS 15 bypass iCloud needs.
Part 1: 5 Best Tools to Bypass iCloud Activation Lock on iOS Device
1. CheckM8
CheckM8 is one of many tools that guarantee that they can assist you to bypass iOS 15 iCloud locks. It comes as software on your PC. You can follow their step-by-step guide to unlock your locked iCloud or bypass the activation lock.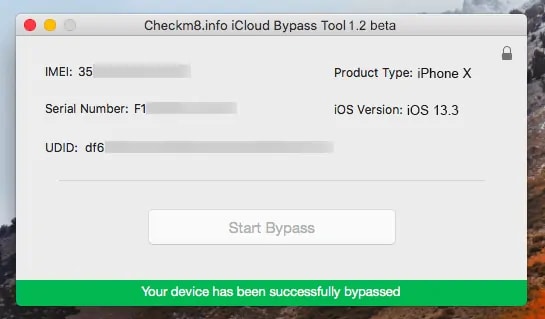 Limitations While Using CheckM8?
Like some other iOS 15 bypass software, CheckM8 has its limits that you ought to know.
The need to jailbreak the device
Failure to use iCloud after jailbreaking the phone
Not all iCloud features will be working appropriately on the device
CheckM8 is just accessible for Mac PCs
These are some of the limitations everybody must be ready for while utilizing the CheckM8 tool and other comparable tools. In any case, here is a portion of the limits that may be harder to accept:
Call features will not work, so you will not have the option to call.
Facetime can't work.
Device data won't work.
You can't send text messages.
A few buttons may not work as expected.
You should consider these few cutoff points before picking the CheckM8 tool. Unfortunately, these limits appear to be removing essential features from the device. Without these features, you can still use the internet through Wi-Fi, but communicating through this device will be hard. That probably won't be required for iPads, yet it is no joking matter for iPhones.
2. iFrpfile All-in-one tool
The iFrpfile All-in-one iCloud tool can assist you with effectively erasing iCloud locks on any iPhone, iPad, or iPod Contact. For example, it can bypass the activation lock of the iPhone X, iPhone 8, iPhone 7, and so on.
iFrpfile All-in-one tool is a lock removal software. It lets you bypass your iCloud account without a password. You can also erase your iCloud account forever and unlock your iPhone for all time with IMEI/UDID just with the one-time FRP bypass technique. It doesn't even need an email or phone number. This tool works regardless of whether the device is damaged or out of space.
Key Features
The Frpfile is a tool that can bypass the activation lock of iPhones, iPad, and so forth without much of a stretch.
iFrpFile All-in-one iCloud tool is one of the best available tools in the market. It ultimately supports all iDevices running on iOS 9.3 up to iOS 16.
It is the most secure free iCloud Bypass tool available.
iFrpfile can work with any iDevice through a USB connector. For passwords, jailbreaking your iPhone through this tool is incredibly simple!
3. IMEIDoctor
IMEIDoctor is the least complex tool that can eliminate the iCloud activation lock with no problem. Yet, we cannot assure you that they will ensure your privacy. After applying, you will get an email if your device qualifies for the service. Besides, it would help if you kept waiting a couple of days to unlock your device.
For iOS 15 iCloud bypass, get the IMEI number from your iDevice by dialing *#06# in the dialer application. You can also look at the number on the rear of your phone or box. Then, give the IMEI number of your device and make the necessary payments. You will get an affirmation mail when you provide the details and complete the process.
From that point onward, you don't need to do anything and wait a couple of days. After completing the process, they will hit you with an eventual result.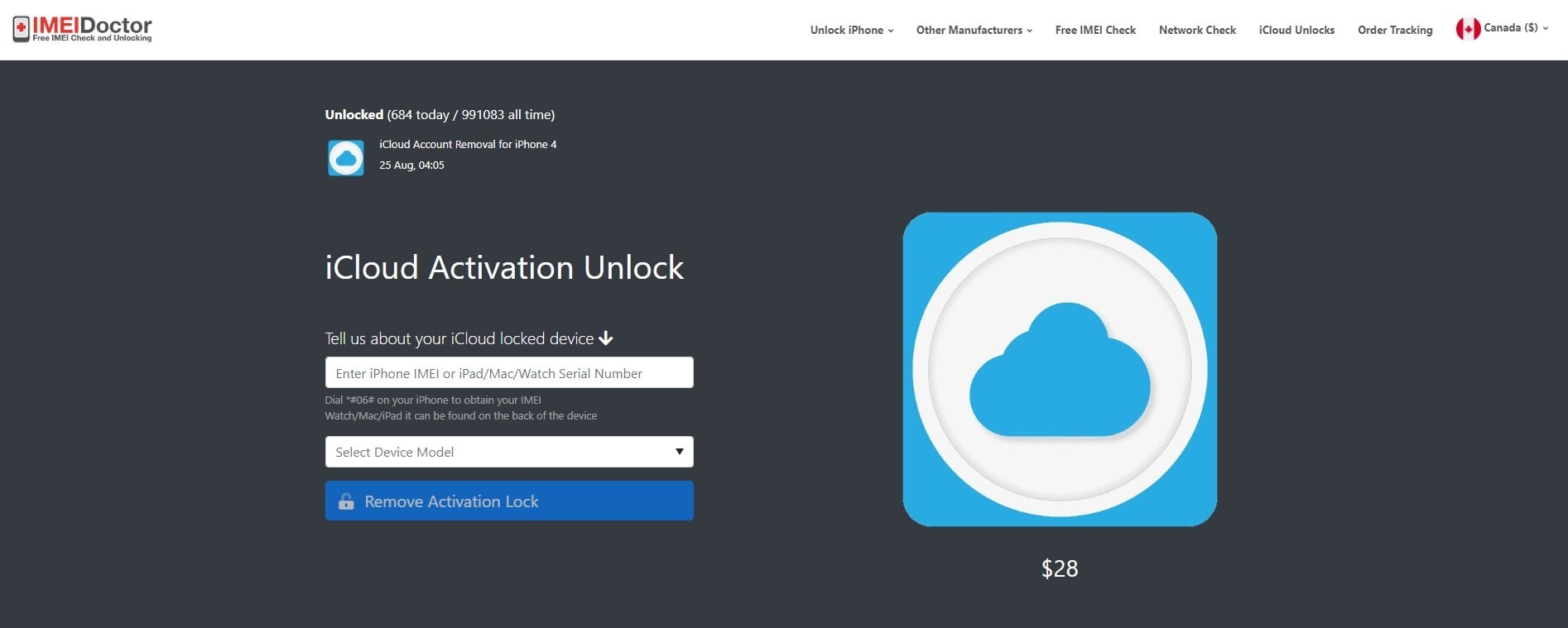 4. IMEIUnlockSIM
IMEIUnlockSIM is an internet-based tool with the option to bypass the activation lock from ANY Apple device. On the site, you get to pick your device model, present your IMEI number, and afterward, effectively make the payment. What makes it different is that the time you need to wait is somewhat longer than the above services.
Utilizing this certified tool might unlock the iCloud Activation lock on any iDevice. Before opening, verify whether your IMEI number is protected by iCloud in the Apple framework. This method is feasible with any IMEI number blocked in the iCloud Activation Lock screen.
Their unlocking system is genuine. IMEIUnlockSIM gives certified factory unlock services. So if you failed to remember your iCloud credentials, found a lost device, or bought a second hand from somewhere, you might use this iOS 15 iCloud bypass tool with a high success rate.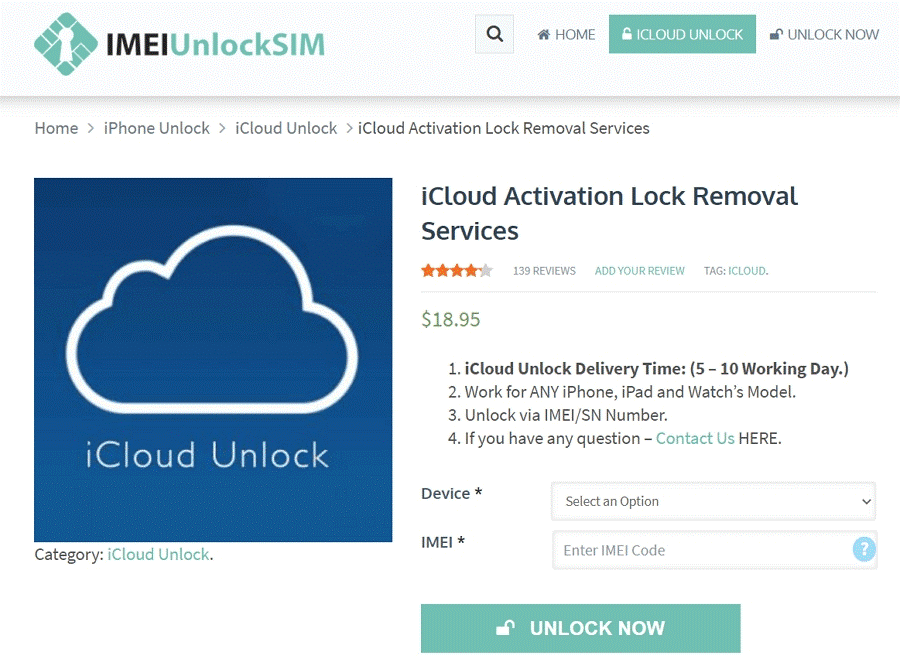 There are iPhone activation tools accessible in the markets that are fit for unlocking the device with only a single tick. You need to complete the guidelines given by the tool, and you will have an unlocked iPhone.
One such tool is the Wondershare Dr.Fone Screen Unlock, which is well known for its simple methodology and positive outcomes. iOS 15 iCloud bypass might be handily possible on an iPhone, iPad, or iDevice using Dr.Fone-Screen Unlock for PC. This PC software to bypass the iCloud Activation Lock Screen doesn't need a passcode.
Among every one of the comparative tools on the market, Dr.Fone is presumably the most encouraging and simple-to-use one. This application can assist you with the iCloud activation issue with no problem.
Moreover, you don't have to be a specialist to utilize the software since it's straightforward. You can unlock your Apple device from the iCloud activation lock at home with a few short steps. Here's how: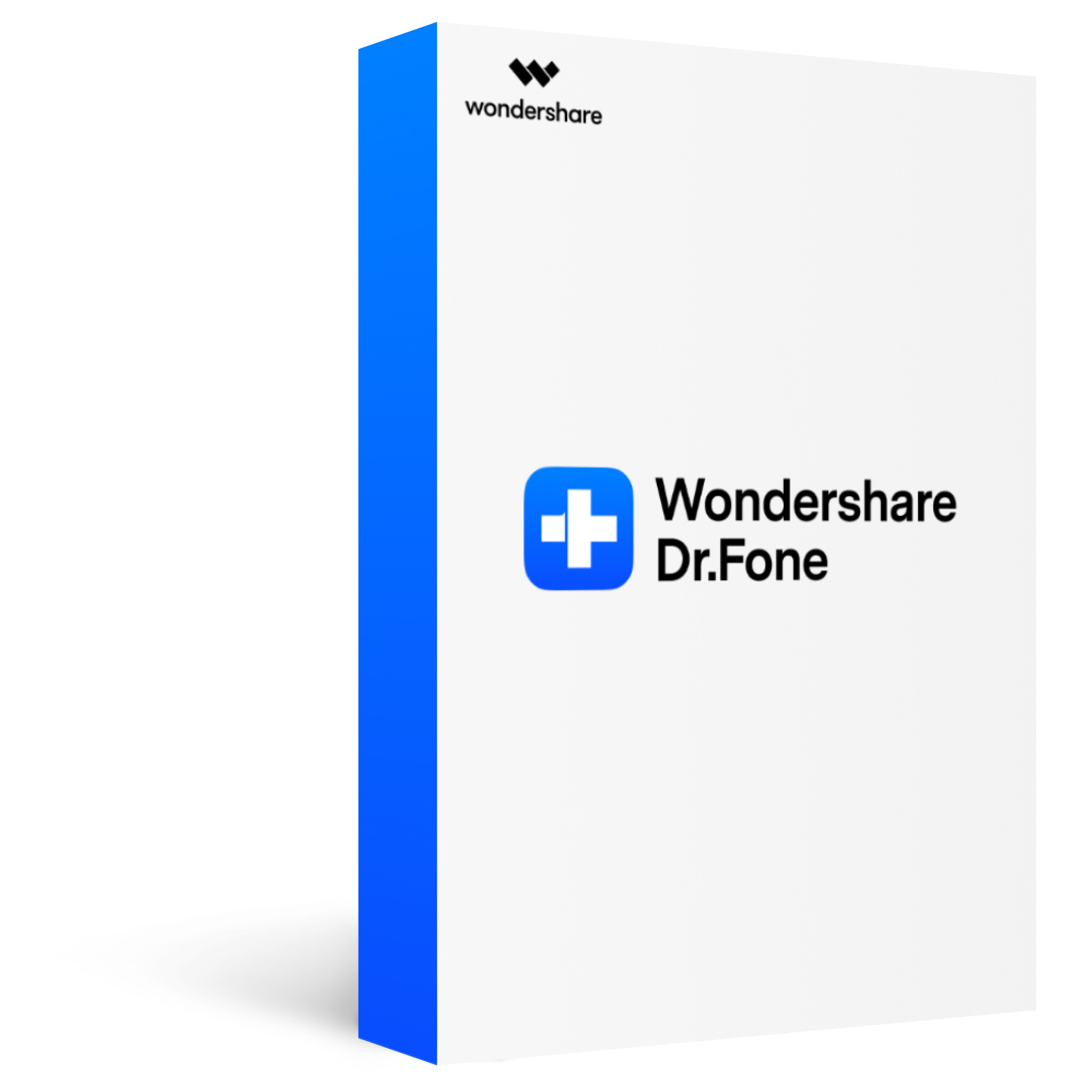 Dr.Fone - Screen Unlock (iOS)
Bypass/remove iCloud Activation lock on iPhone/iPad with simple steps
2,985,172 people have downloaded it
Remove iCloud Activation lock without password/Apple ID in any scenario anytime.
Bypass Activation lock in any scenarios anytime, such as forgot passcode, the device is disabled, second-hand device, unknown passcode, etc.
Unlock iCloud activation lock and iCloud account without iTunes.
Unlock all types of screen lock on iOS device within clicks, including iCloud Activate lock, MDM lock, 4-digit/6-digit passcode, Touch ID, Face ID, screen time passcode, etc.
Support to bypass activation lock for iOS from 12.0 and up to iOS 14.8.1. Compatible with iPhone 5S up to X.
Bypass iCloud Activation Lock with a 100% success rate.
Step 1.

Select "Screen Unlock" on Dr.Fone's main interface, connect the phone, and pick the "Unlock Apple ID" option.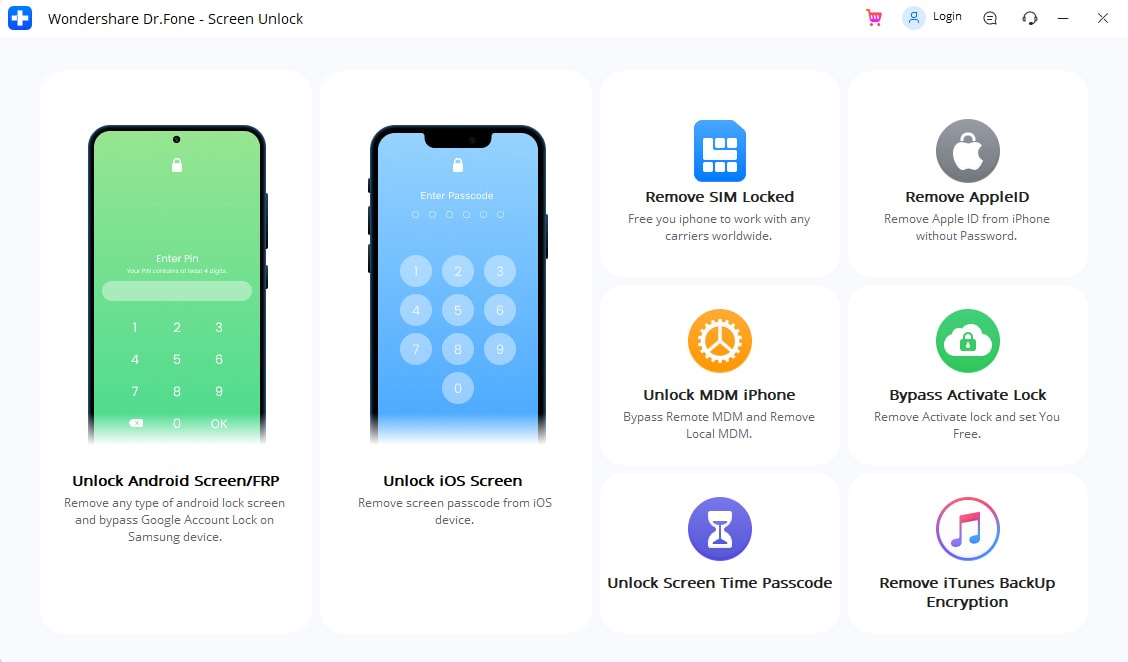 Step 2.

Select "Remove Active Lock," then click "Get Start."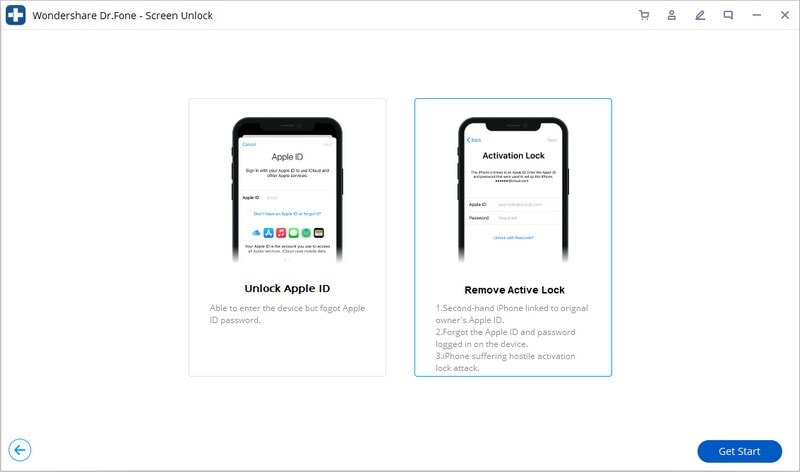 Step 3.

Jailbreak your iPhone.

Before bypassing the iCloud lock, it is essential to jailbreak your iPhone. If it's not too much trouble, click "Jailbreak Guide" and do it by following the detailed guide.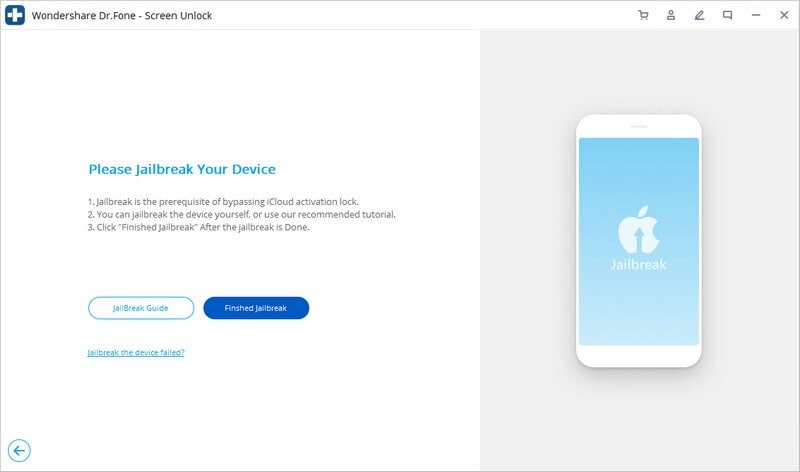 Step 4.

Confirm the Information of Jailbreaked iDevice.

After jailbreaking your iPhone, read and agree with the arrangements beneath and click "Next" to continue with the unlocking system.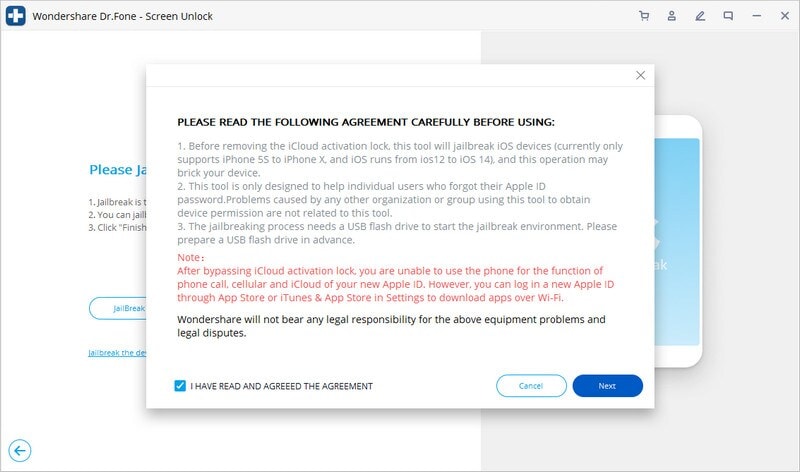 Then affirm the information of your iPhone and click the "Start Unlock" option.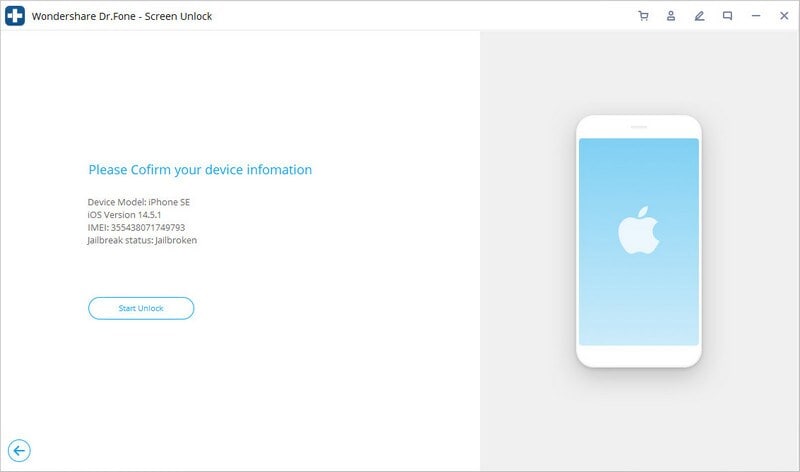 Step 5.

Begin to Remove the iCloud Activation Lock.

After tapping the "Start Unlock" button, Dr.Fone will bypass the iCloud activation lock from your iOS 15.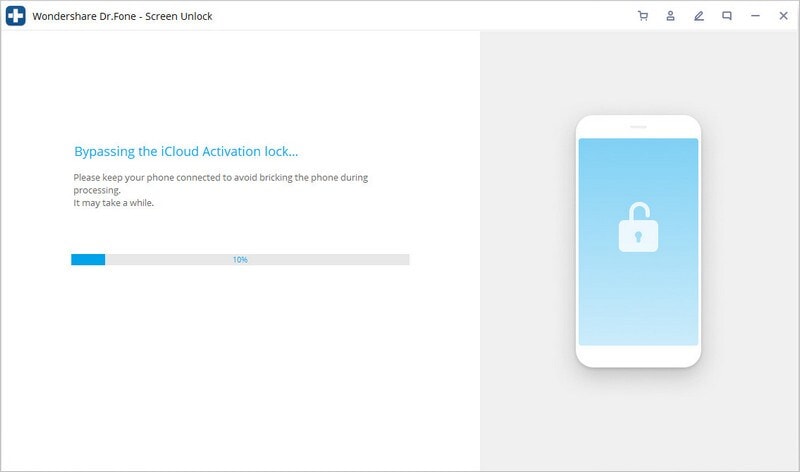 Step 6.

Removed Successfully.

Dr.Fone will eliminate the iCloud activation lock in practically no time!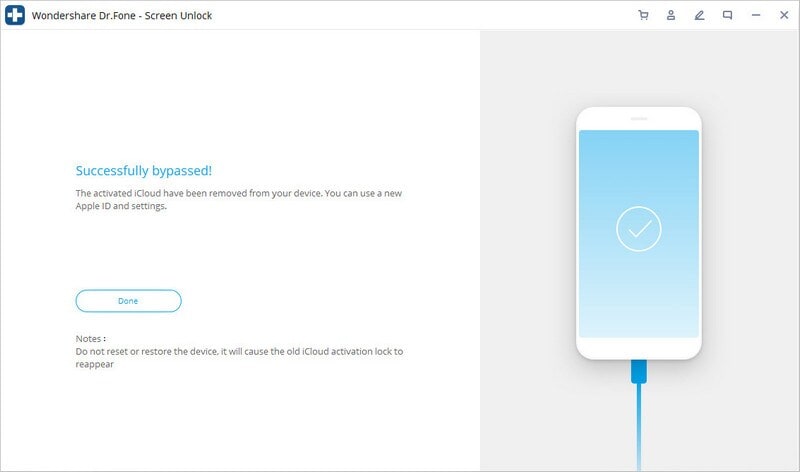 Your iPhone will begin with no activation lock, and you can utilize it like a typical device.
Part 2: FAQs
Q1. Why do we need to bypass the iCloud activation lock?
A1: Apple activation lock is a feature introduced to increase the security of iDevices. The activation lock, once activated, won't let you erase. It saves your phone and data from getting into the wrong hands. However, sometimes when you buy a used phone, this lock might be activated. In such cases, you need to erase this lock from your iDevice. Therefore, you need to bypass iOS 15.
Q2. Is iCloud activation lock bypass legal?
A2: The legality of iOS 15 iCloud bypass is a very confusing topic. Many say it isn't legal since it may unlock a stolen phone. However, it depends upon each case.
If you are the certified owner of an iPhone - whether or not you're the first owner- and the device has never been involved in a robbery, it doesn't matter. You reserve the right to choose whether or not to proceed with an iCloud unlock.
Q3. What will happen after a successful bypass?
A3: The good thing about a successful bypass is that it will remove the lock, and you can then use your phone like normal. However, you may be unable to use your iDevice's call, cellular, and iCloud feature.
The Bottom Line
Having a locked Apple device can appear to be a problematic situation. Therefore, there are some things you ought to think about well before picking an unlocking tool. In addition, there may be some limits to a specific tool. However, Dr.Fone-Screen Unlock is very straightforward and has no limits. Furthermore, it keeps the device's data secure, which can be essential for you.