Whenever you forget your iPhone 6 passcode or someone around the house types in the wrong passcode multiple times, you will subsequently get locked out of your iPhone 6 and will be unable to use it for the moment. When such occurrences surface the only logical thing to do is to look for how to unlock iPhone 6 passcode.
Well, there are quite a number of methods to unlock iPhone 6, iPhone 6 Plus or any other iPhone, although they might vary in convenience and effectiveness.
We, today will be taking a look at four major ways to unlock iPhone 6/6s without passcode and even how to unlock iPhone 6 passcode without a computer.
Part 1. How to unlock iPhone 6 without passcode using iPhone unlock tool?
The first method we will be taking a look into will be how to unlock iPhone 6 passcode without iTunes. Well, it is no news that iTunes is the officially provided software by Apple that is meant to be used to unlock iPhone 6s as well. But this software might not be the best that is available and it can be sometimes rigid for some users.
dr.fone - Screen Unlock (iOS) enables you to unlock iPhone 6 without passcode without using the cumbersome iTunes. More than that, dr.fone is the best toolbox software for smartphone both Android and iOS devices in the market. It can be used to transfer files, switch between phones and even recover lost or deleted files amongst several other functions.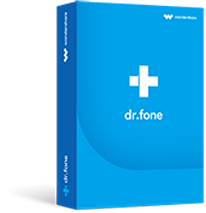 Unlock iPhone 6/6s/6 Plus Without Passcode Without Hassle
Remove 4-digit / 6-digit passcode, Touch ID & Face ID on iPhone/iPad.
Easy and click-through process. No technical skills required.
Fully compatible with iOS 12 and iPhone XS/XR.
2,985,172 people have downloaded it
How to unlock iPhone 6 without passcode step by step?
Step 1: Download and Install dr.fone
First of all, you need to download dr.fone - Screen Unlock (iOS) on your Windows or Mac computer.
After downloading to your computer, click on the downloaded file to install it on your personal computer. Follow the installation wizard onscreen instructions to complete the installation.
Now launch the software and click on the "Unlock" button from the array of buttons on the home screen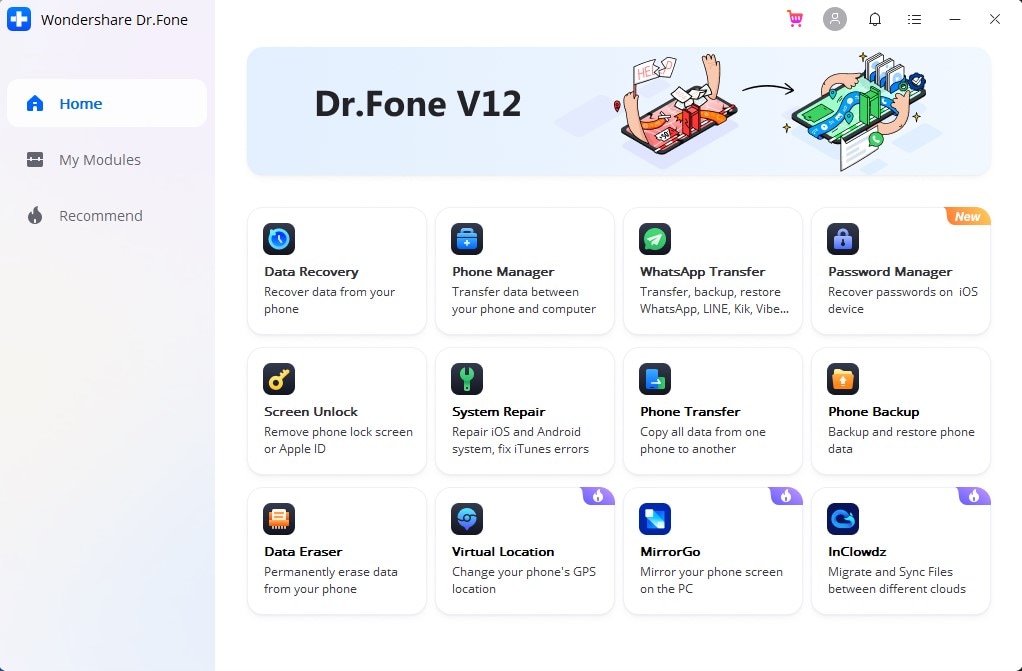 Step 2: Connect your iPhone 6
Obtain a perfectly functioning USB lightning cable from Apple or any authorized accessories store.
With that USB cable, plug in your iPhone 6 to your computer and make sure it is well connected.
Now click on the "Start" button being displayed on the screen.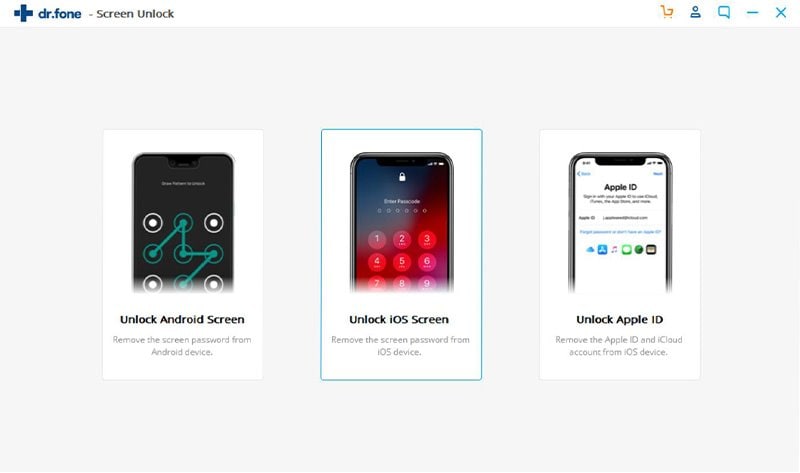 Step 3: Boot iPhone 6 into dfu mode
Your iPhone 6 must be in recovery mode or DFU for dr.fone to have access to its memory, OS, and firmware. This will enable the software to be able to make changes to your phone and remove the lock screen of the locked phone.
To boot iPhone 6 into DFU mode, follow the onscreen instruction on the software after clicking on the "Other Devices" tab
Press down the Power button on your iPhone 6 and its Home button as well. Keep holding down this two buttons until your device lights up.
Now let go of the Power button while still holding onto the Home button of your device, and in a few seconds, your iPhone 6 would be in DFU mode.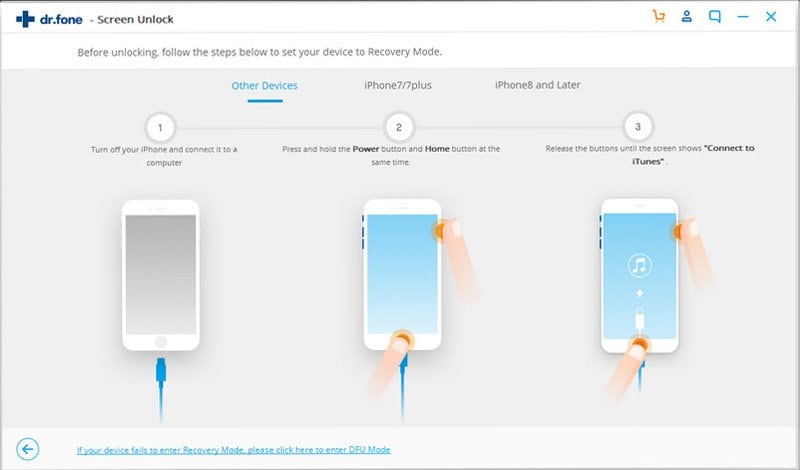 Step 4: Verify and Confirm iPhone 6 information
Once your device is put into its DFU mode, the next screen of dr.fone will display some of the information of your devices such as its brand name, the device model name, firmware, and OS version.
Simply verify and make sure that this information is correct, if they are not, correct them since this information would be used to download the appropriate firmware package to unlock iPhone 6s.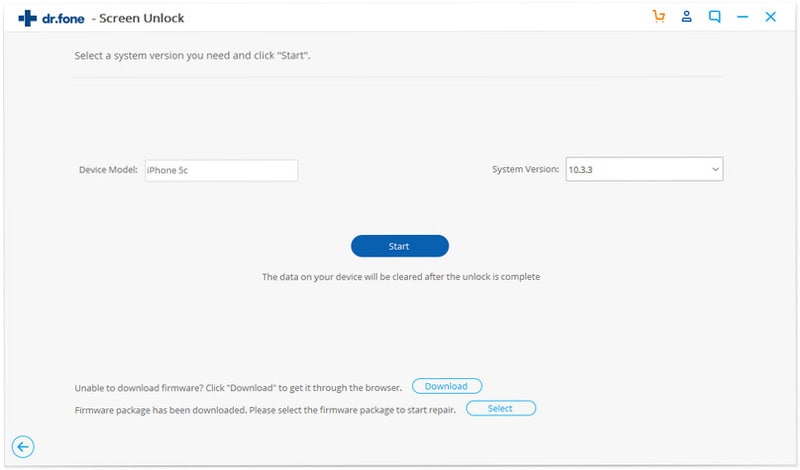 Step 5: Download firmware package.
Connect your computer to a stable and fast Internet connection, preferably a Wi-Fi connection.
Now hit the "Download" button on the screen to begin the download process.
You can also add an already downloaded firmware by clicking on the "Select" option and then navigate to its location on your computer storage.
Step 6: Begin to unlock iPhone 6
Once the download is done, click on "Unlock Now" button displayed on the screen of the software.
You will receive a prompt to enter a confirmation code to proceed, simply type in "000000" as confirmation code then hit the "Unlock" button
The software will begin to perform an unlock process on your device.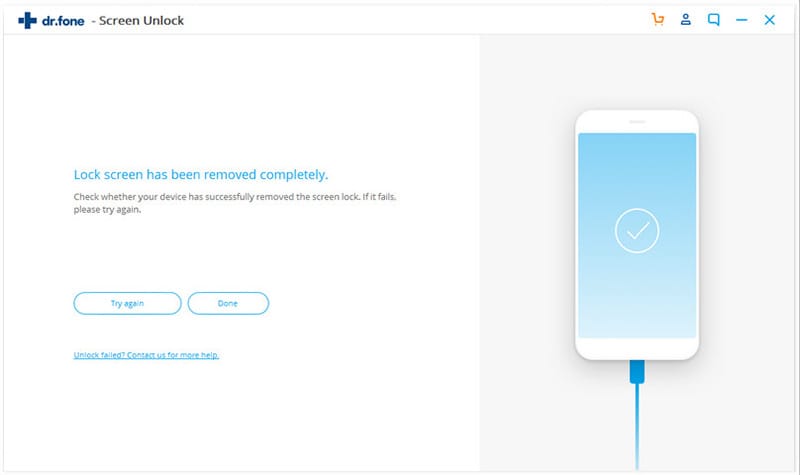 Once the unlock process has been completed, your device would restart and its screen would be unlocked. You will see an unlock complete message on the screen. Simply click on "Done" to finish or click on "Try Again" if the unlock was not successful.
Part 2. How to unlock iPhone 6 passcode without computer?
One of the methods that can be used to fix being locked out of iPhone 6 is by making use of Apple's Find my iPhone feature present on all Apple devices. This app was created to curb the issue of theft on Apple devices and it can be used to locate a lost iPhone, to lock the device or to erase all its content.
We can tap into its erase feature to unlock iPhone 6 Plus or any other iPhone. Now follow the steps below to know how to unlock iPhone 6 passcode without a computer.
Step 1: Log into Find My iPhone
Get another iOS device and click on the Find my iPhone app on the device.
Log into the app with the Apple ID and password that was used on the device that is to be unlocked
Step 2: Select the device to Be unlocked
After logging in, you need to click on "All Devices" and then select the name of your device that has been locked.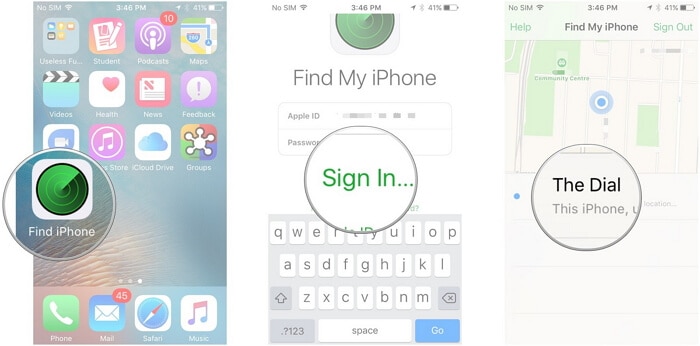 Step 3: Erase the Device
Select the option that says "Erase" from the find my iPhone app and click on it. This will remotely delete all the files on that device and will also remove its locked screen.

Your device must have activated the find my iPhone feature before it got locked or else this method would not work. Also, you need to keep the device connected to the Internet so it can receive the remote command to erase the device.
Part 3. How to unlock iPhone 6 passcode in Recovery Mode?
When you get locked out of iPhone 6, you can also make use of the recovery mode and iTunes software to make it useful again. Simply download and install iTunes on your personal computer before you can unlock your iPhone in its Recovery mode. Here are the steps to remove iPhone 6 passcode in recovery mode using iTunes.
Step 1: Connect iPhone 6 to your Personal Computer
Launch iTunes from your computer where the program has been previously installed.
With the aid of a good and working lightning USB cable recommended for your device, plug in your iPhone 6 to your computer.
Step 2: Boot iPhone 6 into Recovery mode
Switch off your iPhone by pressing the Power button.
Press the Power button of your device and at the same time press the Home button as well. Keep holding down this two buttons until your device lights up.
Now let go off or release the Power button but keep pressing down the Home button until your device is boot into recovery mode.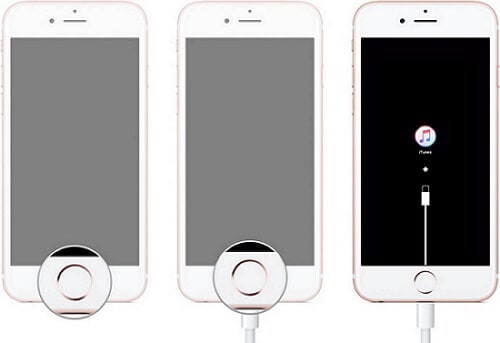 Step 3: Unlock iPhone 6 with iTunes
Now go to the iTunes program already launched on your computer. You will notice that an error message concerning your device has been displayed.
You can simply click on the "Restore" option from the message and the program will start to unlock your device.
You just have to wait for a few minutes for iTunes to unlock your locked iPhone 6 and make it useable again.

Part 4. Can I unlock iPhone 6 passcode using Siri?
Just like any other electronic device, there is always a loophole that can be exploited to carry out some normally unaccepted activities. The same rule applies to the iPhone as regards to the introduction of "Siri", an artificial intelligence software in their devices.
Siri is meant to aid use of the device by doing things you normally have to type or navigate to get by simply telling "Siri" to do it for you. But now people have found a way around this new development to use "Siri" to access a locked device. This does not exactly unlock the device but it can allow you have access to contacts and gallery.
Below are the steps on how to unlock iPhone without passcode using Siri.
Press the dedicated Siri button on your iPhone and tell Siri to "Enable Voice Over". This will enable Siri to dictate whatever is on your screen.
Now make a phone call from another device to your iPhone, when the call comes in, click on message icon and select "Custom".
Now send a message from the other device as again, and when it comes into your iPhone, double tap on the plus icon.
Your screen will go white, now keep swiping on the screen until you hear Siri's voice over say "Cancel" and select it.
Now select the numbers option from your keyboard and click on any number and you will be able to see all your contacts information.
You can then select any of the contacts by clicking on the contact header, then swipe again until Siri says "Camera Roll". And you can select any picture from your gallery.
Although you will not see the picture until you click on it and it appears as a contact caller picture, but it does access your picture gallery.
Conclusion:
So, we hope that now you would have any issue accessing your device even when you are locked out of iPhone 6. You can make use of any of the methods like dr.fone, iTunes, Find my iPhone app or even temporarily by using Siri.
It is amazing how technology can teach us something new daily, isn't it?