You'd have to give the remote manager password when you restore an iPhone with a Remote Management lock. You'll be stuck on the MDM page if you don't have a remote management iPhone username and password. Tragically, this means you won't have the option to do anything with your iPhone. That's why it's irritating.
If you observe that the remote management locks your iPhone, you can only use it occasionally since the device manager restricts certain elements. Try not to stress over it. You are on the right site if you are looking to eliminate MDM. Here you will know how to fix this issue handily and will see what remote management iPhone is and how it works.
Part 1: Overview of Remote Management on iPhone
MDM is the short form for Mobile Device Management. Remote management iPhone is a component of MDM that restricts how much control you have over your device. It engages a manager to access and oversee your device. It also permits the executive to lock and open your device. Moreover, the Remote Management iPhone can remotely utilize your Wi-Fi, passwords, emails, and other things.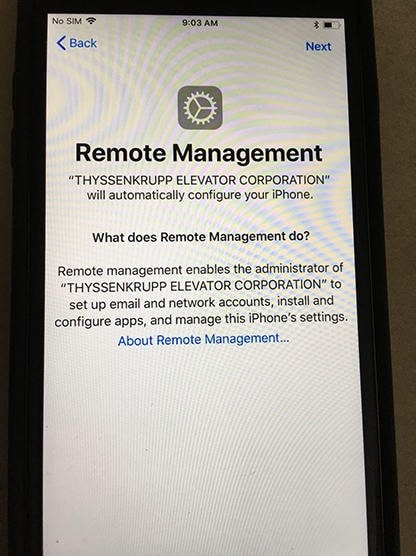 As such, this feature empowers businesses to manage and update the enlisted mobile devices remotely. When your device is enlisted into the framework, the company can put in new apps and uninstall them from your device without much of a stretch.
Moreover, the managers can even gain this device's information. They can do a few different things: configure the settings in the device and lock/restart/clean the device.
iPhone Remote Management Lock implies you don't have 100 percent command over your device. Someone can access your iPhone and lock and open your device with his MDM Configuration Profile and device management. (MDM are XML files that indicate the device's settings and functions. The settings can manage networks, passcodes, email IDs, and other iOS capabilities.)
Part 2: What Can iPhone Remote Management Do?
Features of iPhone remote management
Remote management oversees an iPhone from a remote area. A person doesn't need to be nearby, yet can remotely manage every sort of movement of the iPhone user from any place.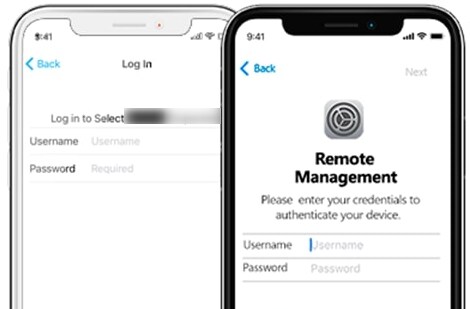 MDM is great for businesses and companies. It empowers them to control any devices they own and share them with their authorities. This guarantees the security of delicate files and data. Nonetheless, about the user, such a device can be hard to use.
Pros of Remote Management
One of the best advantages of remote management is seeing the device activity without needing to visit the place. For instance, if a company uses hardware made in another country, sending experts to deal with its issue can be very costly.
However, if there are tools for remote management set-up, an expert can use them to control the devices and eventually fix them. Besides getting a good deal on transportation costs, it also has the advantage of saving time. Overall, it saves extra expenses for the business.
Besides the capacity to manage devices, remote management allows workers to work from home instead of get-togethers at an office. On the other hand, they are cheaper. They cost a lot less o set up, and you can even get open-source MDM software that is free of cost.
Cons of Remote Management
While remote management offers various benefits, there are a few likely downsides. First, even though the system is effective and has backup plans, miscommunications have enormously increased.
Also, buying an iPhone with an MDM lock can cause trouble for them. It is because the iPhone will be in the administrator's control, and the user won't be able to use the phone freely. This doesn't allow them to change the wallpaper, delete user data, turn off location services, etc. So, you will need to bypass or erase it from your iPhone.
Lastly, it can cause long-term worker efficiency issues. Companies need only a single poorly executed strategy to lose the trust of their workers. It will bring them to such an extent that they'd scrutinize the company's intentions and even consider using their personal devices.
Part 3: How to Remove Remote Management from iPhone?
1. Remove it via the "Remove Management" button in "Settings."
You can eliminate the MDM profile from your mobile through Settings, yet it is conceivable if there is no limit. The company can likewise limit the user from removing the profile.
Again, if there is no limit and you have the password in your email, you can use this strategy. This technique is generally used by individuals who own the device yet have the MDM configuration.
Steps to eliminate the MDM profile in settings:
Step 1.

Open Settings.
Step 2.

Search the General tab and tap on it.
Step 3.

Search for Device Management and tap on it.
Step 4.

Assuming there is an MDM profile on your device, you will see it here.
Step 5.

You will have the option to click the Remove Management button.

Tap on it. Enter your MDM password. Remember that this isn't the screen password or screen-time password; it is the MDM password.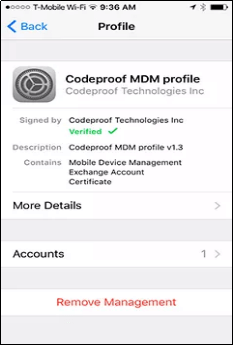 After entering the password, the device will eliminate the profile forever. You can use the device with next to no limitations. If you can't stop the MDM profile from this strategy, you can use the following technique.
How would you uninstall MDM management? How would you dispose of remote management on iPhone? If you need answers to these questions, go for the complete iOS unlock tool Dr.Fone-Screen Unlock to sidestep the MDM lock. Unlike others, Dr.Fone can be the most dependable since you won't confront any data loss.
With Dr.Fone, you can perform iPhone remote management removal and have the option to open your device normally. It is among the best arrangements to eliminate MDM profiles from the iPhone of any model. In addition, this program is user-friendly with a straightforward GUI so that the process will be easy.
Steps to Remove Remote Management:
Step 1.

Pick "Screen Unlock" on the main page of Dr.Fone and have your locked iPhone connected to the PC. Then pick "Unlock MDM iPhone."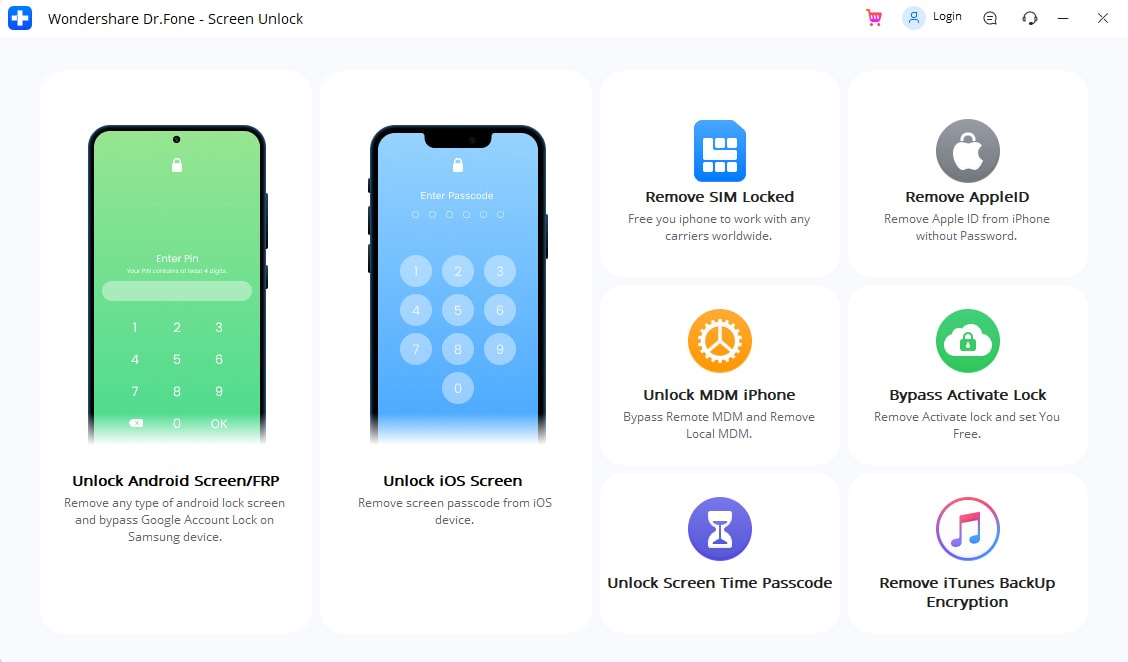 Step 2.

Select "Remove MDM", then click "Get Start."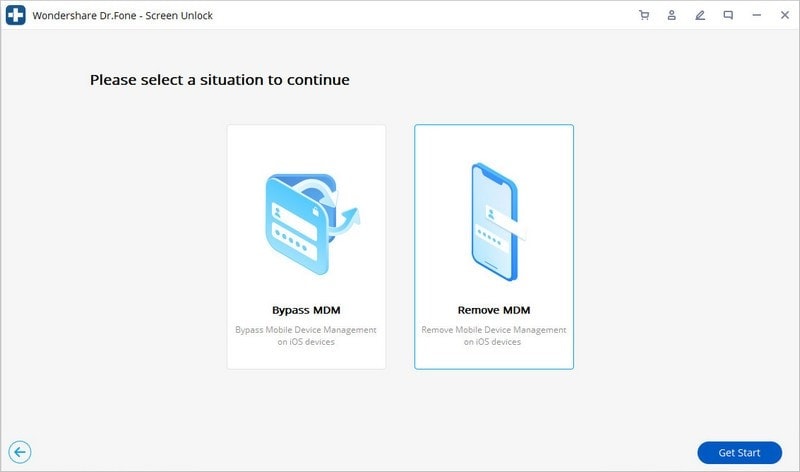 Step 3.

Then start removing the profile by clicking on Start to Remove.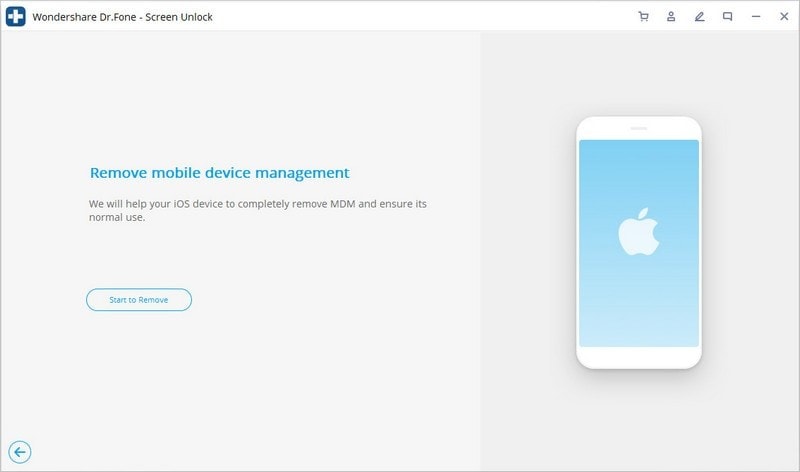 Step 4.

Wait until the program verifies your activity.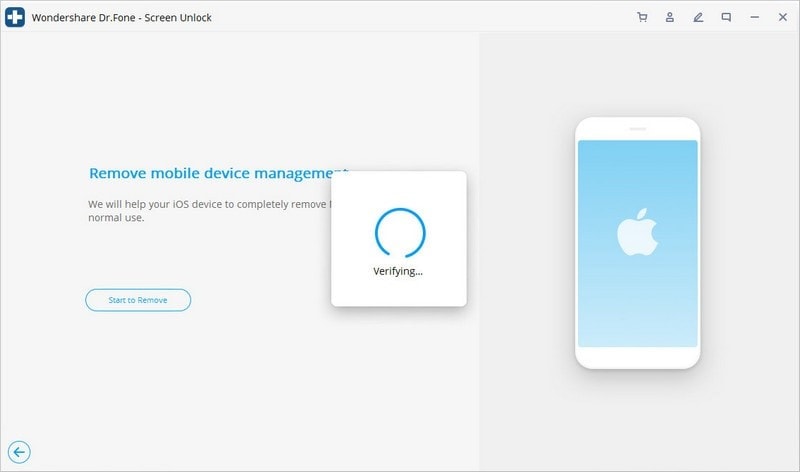 Step 5.

Toggle off the Find My Feature.

Switch off the "Find My" feature on your iPhone, as indicated by the image below.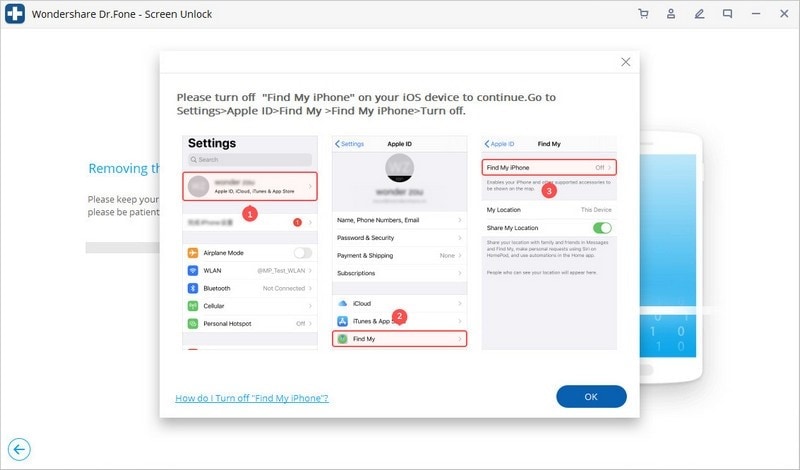 Step 6.

Remove the MDM Lock.

Mobile device management will be taken out effectively from your iPhone. Your iPhone will restart, and that's it.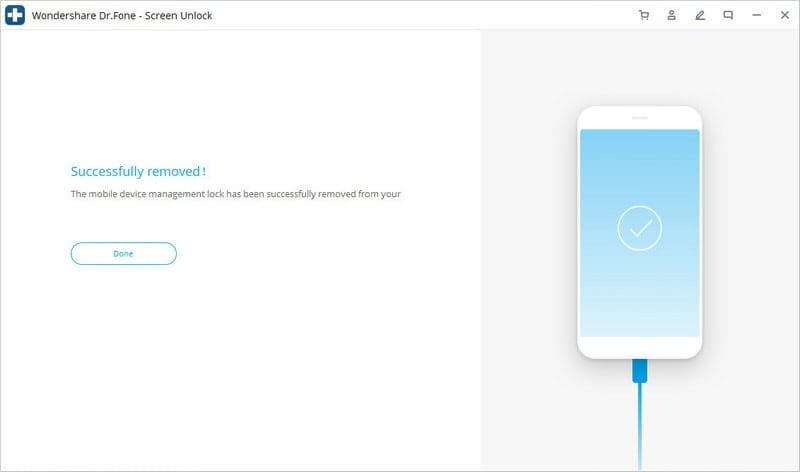 Part 4: FAQs
Q1. How to verify the remote management status on my iPhone?
A1: You can see whether your iPhone or iPad is remotely managed by checking out the settings for your device. From your settings app, open the Device Management tab. The Management message is found at the top of the Settings page.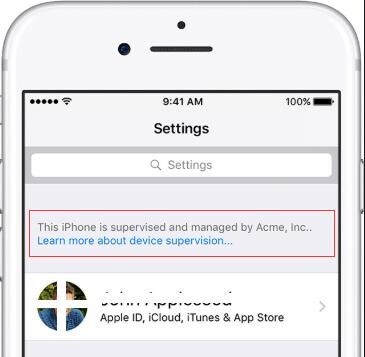 Your administrator can show a custom message on the Lock Screen through the Shared Configuration profile.
Q2. Can I set up the remote management by myself?
A2: Yes, you can set up the Remote Management in Sharing settings by following these steps:
Step 1.

On your Macintosh, pick Apple menu > System Settings, click General > click Sharing on the right. (You might have to look down.)
Step 2.

Turn on Remote Management, then, at that point, click the Info button on the right.
Step 3.

Whenever asked, select the tasks you wish to allow for remote users.

If you're not asked, click Options to choose the tasks.
Do one of these:
Step 1.

Select "All users" to let anybody with a user account on your Macintosh share your screen.
Step 2.

Select "Only these users," click the Add button, then select the users who can share your screen.
Step 3.

Click PC Settings, select choices for your Macintosh, then click OK.

If users connect through a VNC server, you must set a passcode.
Step 4.

Then click Done.
Q3. Is iPhone remote management removal temporary?
A3: Yes, the iPhone remote management removal is not a permanent solution. You can remove this lock with an expert tool like Dr.Fone-Screen Unlock, but it will be a temporary solution. Your phone will again go into remote management state once you reset or update your iOS.
Conclusion
This article elaborates on what remote management iPhone is and how to remove it. Indeed, it is an excellent option for enterprises but can create plenty of trouble for users.
Therefore, people with iPhone remote management enabled would want to bypass or remove it through an expert tool. Here, you can find the most advanced tool in the market, i.e., Dr.Fone-Screen Unlock. So, install it now for a better, carefree mobile user experience.