Imagine you have lost your iPad while travelling or someone has stolen it from your place. You have tried every means to get it back but there is little hope. In such a situation the most concerning thing is recovering data from your lost iPad. Stolen iPad might lead to identity theft as well, by exposing your extremely personal data to miscreants. Moreover, you might lose plenty of pictures, videos and lovely memories along the way. Worry not! In this article we have featured how to recover data from lost iPad along with some useful tips to locate your lost iPad.
How to recover data from lost/stolen iPad?
If you are worried about recovering data from your lost iPad, dr.fone - Data Recovery (iOS) is the most convenient and efficient tool for you. It helps you preview and extract data from iTunes or iCloud backup if you can't access to your lost iPad. It helps you get back photos, contacts, messages, call logs, videos, notes, calendars, app data and even recover WhatsApp messages.
The step by step guide to recover data from lost iPad from iTunes backup is given below.
#1. Recover Data on Lost/Stolen iPad from iTunes Backup
Note: This only works when you have iTunes backup before your iPad got lost.
Step 1. Install and launch dr.fone - iOS Toolkit on your PC. Select the 'Data Recovery' tab from the dr.fone window and then hit the 'Recover from iTunes Backup file' option subsequently.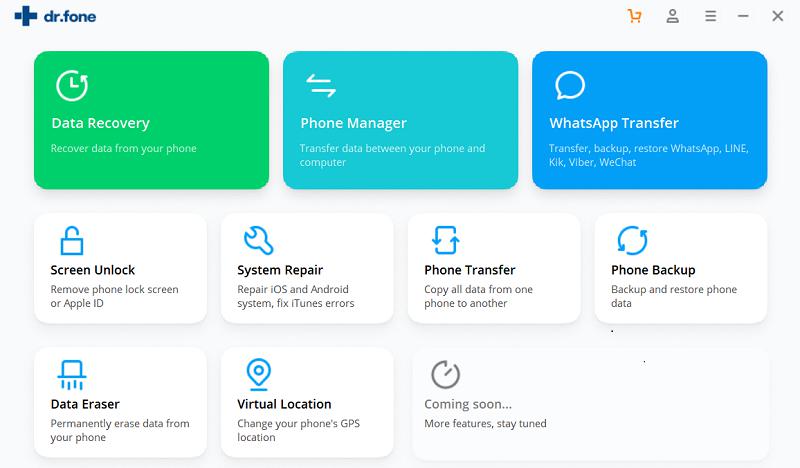 Step 2: After being navigated to the next page, a list of all iTunes backup files will be displayed on screen. Select the most recent iTunes backup file and subsequently tap the 'Start Scan' button to extract the iTunes backup file.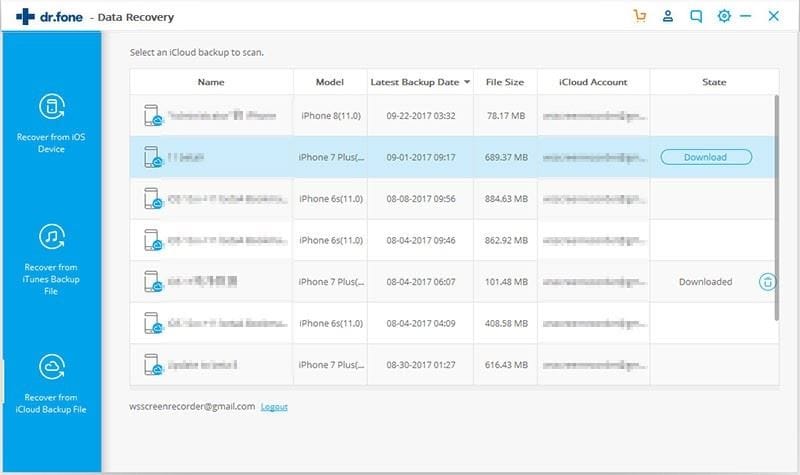 Step 3: Soon after the backup file is extracted, the left panel of the software window shows you the list of data types from the iTunes backup file. Tap on the checkboxes against all desired file types and then click 'Export to computer'. This action will transfer the data to your computer, which you can later restore to a new iOS device after connecting the device through a lightning cable.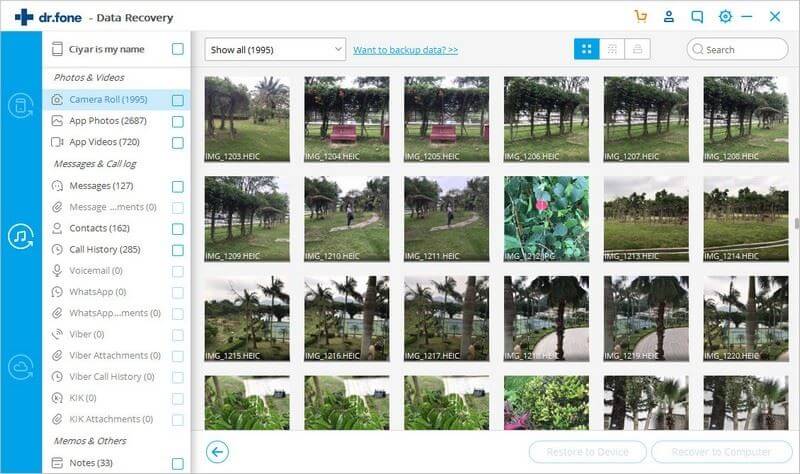 #2. Recover Data on Lost/Stolen iPad from iCloud Backup
After learning the process to recover data from a lost iPad, let's see how to recover data from lost iPad using iCloud backup. Also, you need to backed up your data to iCloud before this.
Step 1. First step from the earlier guide remains the same, you just need to choose 'Recover from iCloud Backup file' after tapping the 'Data Recovery' tab, on the left panel of dr.fone – iOS Data Recovery window instead of 'Recover from iCloud backup file'. Now you will be prompted to login to your iCloud account, so that your lost iPad's data can be restored.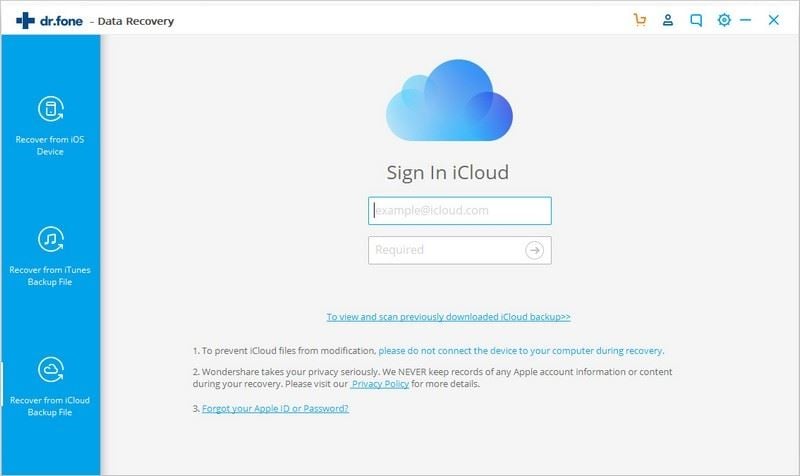 Step 2. Once you have logged in to it there will be a list of backup files displayed on screen. Select the freshest of them and then click on the 'Download' button found next to the selected backup file.
A popup window appears right after you hit the 'Download' button. Choose the 'Select All' checkbox here followed by tapping the 'Next' button. Instead of the 'Select All' option, you can also selectively pic any desired data from the list and then hit 'Next' to proceed.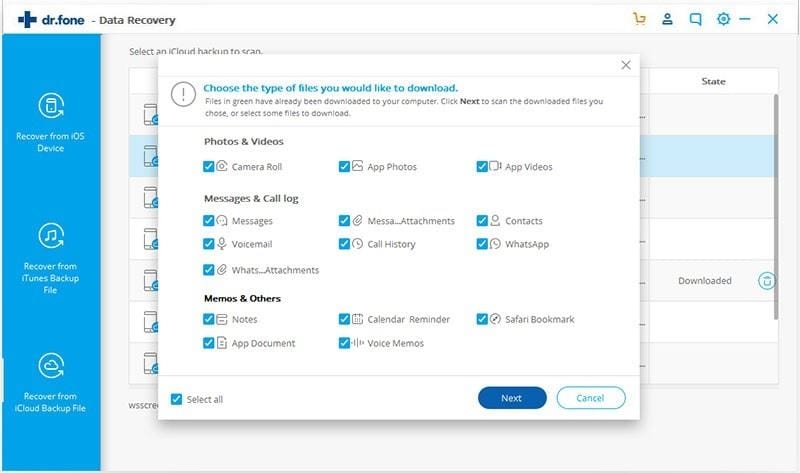 Step 3. As you finish the above mentioned exercises, the lost iPad's data is scanned from the iCloud backup file. Here, choose the desired data you want to recover and then click the 'Restore to Device' or 'Export to Computer/Mac' button. Now you get your wanted data from iCloud backup back flexibly!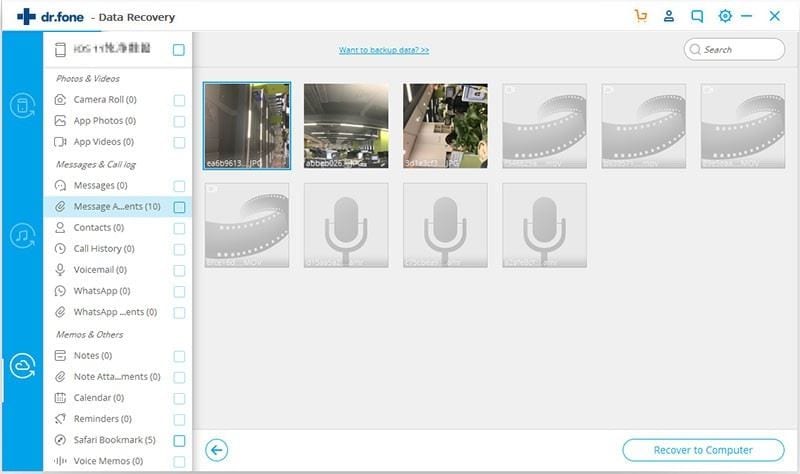 Also Read:
How Can You Get Back Your Lost iPad?
Below mentioned are the 5 useful tips that can certainly help you to gain back the possession of your lost iPhone. Go ahead, give them a try.
- Use Find My iPhone feature of Apple on another iPhone to trace your iPad.
- Track your lost iPad using Google Photos if you have turned on automatic photo upload along with location sharing.
- Apple and Google work collect device information brilliantly, so use Google Timeline to trace your lost iPad.
- You can contact your cellular provider, if it has a SIM card within. They can trace where it is based upon the SIM card, if the device is still on.
- Report your lost iPad with the police or law enforcement authorities, you might need to provide them the serial number of your iPad.
The Bottom Line
If you still have any question about the 2 methods of lost iPad data recovery above, please leave them in the comments section below, and we will solve your problem. Thank you for reading!