Your iPad can be restored with a backup from your iCloud account. If you have done a backup, you need to update all your apps and other features that you might use in future. If you see that some apps and songs aren't available anymore in App Store and iTunes, you should know that those apps you need to save them manually on one of your iOS devices. The reason is that your backup already done in iCloud, it will not recognize any app or media file no longer existing in AppStore and iTunes.
Part 1: How to Restore iPad from iCloud
Step 1. Erase all content from your iPad
First step is to erase the entire content and setting from your iPad device. Just go on Settings, click on General feature and choose Erase All Content and Settings. Before to proceed, just be sure that you have checked that all items like apps are updated. You will have to do another backup of your iPad and save in your iCloud, if you update some apps or other items.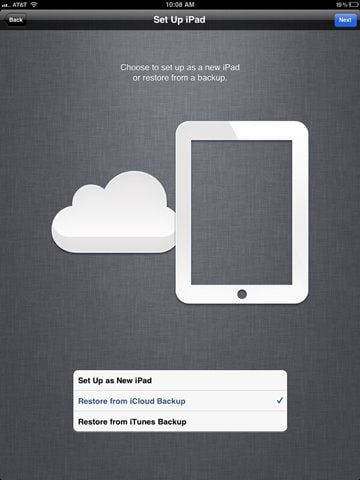 Step 2. Restore the iPad with your iCloud backup
After erasing all data from your iPad, you will see the same screen when your iDevice was new. You will have the option to restore the iPad from an iCloud backup. In order to use this backup, you must have a wi-fi connection. After you log in your iCloud account, you will see the last 3 backups done. All you need to do it is to choose one backup from there and iCloud will do the rest.
Remember that you need to connect your iPad at one wi-fi network, plugin the device at some power source and lock it in order to work fine the backup from your icloud.
Part 2: How to Restore iCloud Backup of an iPad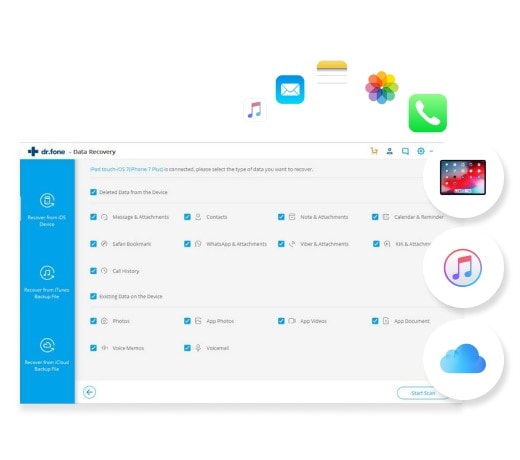 dr.fone - iOS Data Recovery is a useful tool to avoid losing data because of accidental deletion and device damage or loss. This program scans your iDevice and find the entire data that could be recovered. Once the job is done, you can save it on your Mac or use it directly to restore your device. Also you can use it to download and recover data from your iCloud account and with your already done backup. Follow the steps below in order to use the iCloud backup for restoring your iPad.
Why Choose This Software to Restore iCloud Backup of iPad:
3 Recovery Modes: Allows to recover data directly from iPhone/iPad/iPod, extract iTunes backup and download iCloud backup.
Up to 20 File Types: Recover lost text messages, iMessages, contacts, photos, videos, notes, etc.
Various Data Loss: Retrieve data lost for deletion, factory settings restore, jailbreak failure, iPhone lost or broken, etc.
Preview: Lets you read and preview found data before recovery.
Flexible Recovery: Selectively recover any item you want from iPad, iTunes and iCloud backup files.
Step 1. Choose Data from iCloud Backup File
After you launch the software, you should select "Data Recovery" menu and click on "Recover from iCloud Backup file" mode firstly. You will be prompted to log in in your iCloud account. Fill out the form with your Apple Id and password. After you have entered in your icloud account, you can see all backups that you have done for your iDevices.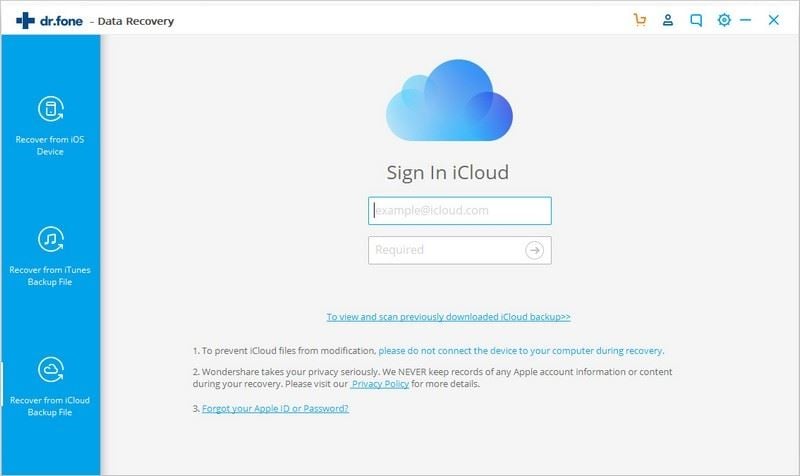 Step 2. Choose to Download One Backup from Your iCloud
You might be wish to download the latest backup that you have done. Anyway you will see the name of your backup and the time for every backup done by you. If you are satisfied with one backup used before, then it is a good thing to use it again now.
Just select the backup, click "Download" button and wait until the job is finished. The time is depending on size of your backup files.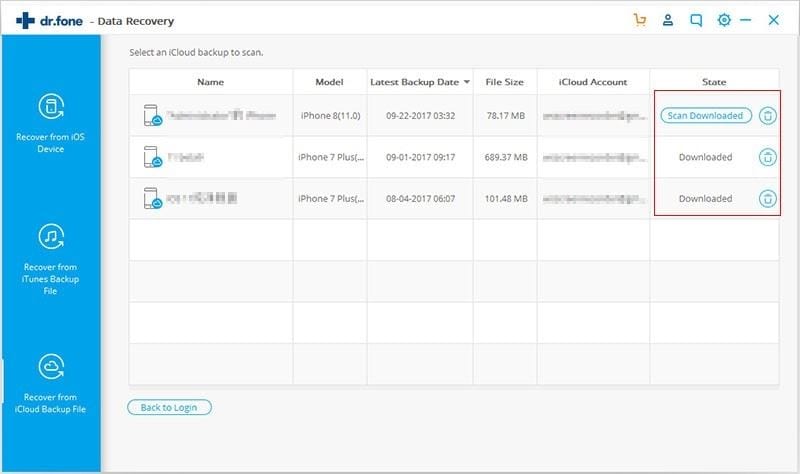 Step 3. Scan the Download and Choose the Files to Be Recovered
You will be able to select the type of file you want to recover in the pop-up window. Choose the file types that you need, all or some of them, clicking on "Next" button in order to recover on your iDevice.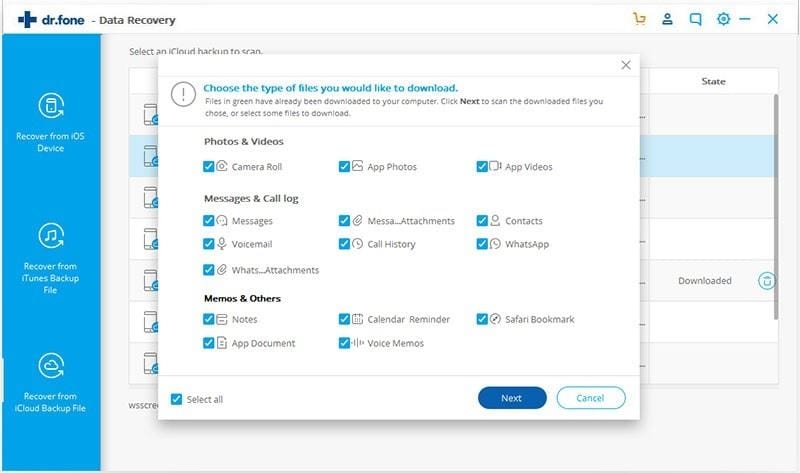 Step 4. Recover Files from Your iCloud Backup
After you selected the files from your backup, just click on "Export to Mac" and you will be able to save them on your MAC. You may want to save and recover photos and videos, messages, contacts from your agenda, call history, notes, reminders, calendar, Safari bookmarks and / or any other document.