"Can any let me know how can I restore data from iPad without iTunes? I have lost it accidentally and want them badly now. But is there any alternative to iTunes for the process? Thank you!"
Suffering from a data loss situation can be as weird as losing a device itself is. We can understand what you must be going through. Whether your data has been deleted due to malware attack or broken screen, it can be back if you have backup. However, using iTunes can be sometime disadvantageous since it results in overwriting of the existing data as well as you can't restore your data selectively.
In this article, we will discuss how you can restore your iPad data without the use of iTunes. So, without further ado, let's begin.
Part 1. Flexibly Restore iPad without iTunes using dr.fone
dr.fone – iOS Data Recovery is one of the best alternative when it comes to restoring your iPad without the use of iTunes. This is because the dr.fone helps you to efficiently and flexibly restore your iPad with the data extracted from your encrypted iTunes or iCloud backup file. It enables you to preview the detected data from the results page prior to performing final recovery. This powerful tool is recommended and trusted by millions of users worldwide.
[Guide] How to Restore iPad without iTunes via dr.fone
Step 1. First you will need to get dr.fone - iOS Toolkit downloaded and installed on your computer. Now, launch it to start the recovery process. You will see different tabs on the main screen. Select 'Data Recovery' from there and then choose 'Recover from iTunes Backup file' tab from the left panel.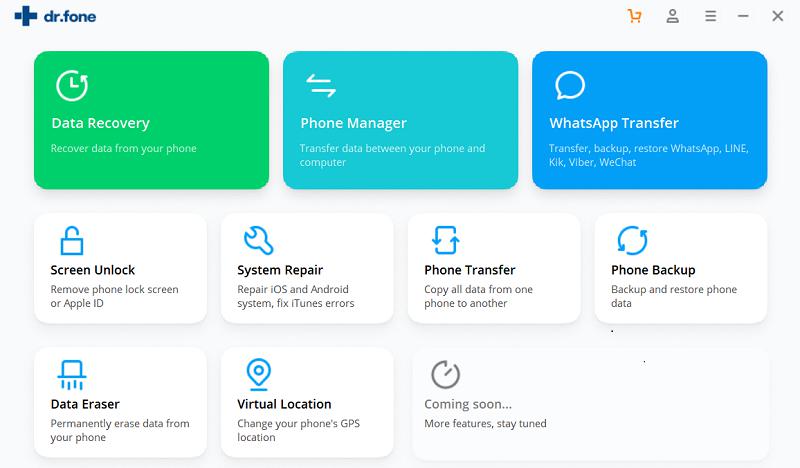 Step 2: Now, your backup files from the iTunes will come on the screen. You need to opt for the one that you need and that has all your needed files. When you are finished with choosing, click on the 'Start Scan' button. The button is given at the bottom right corner.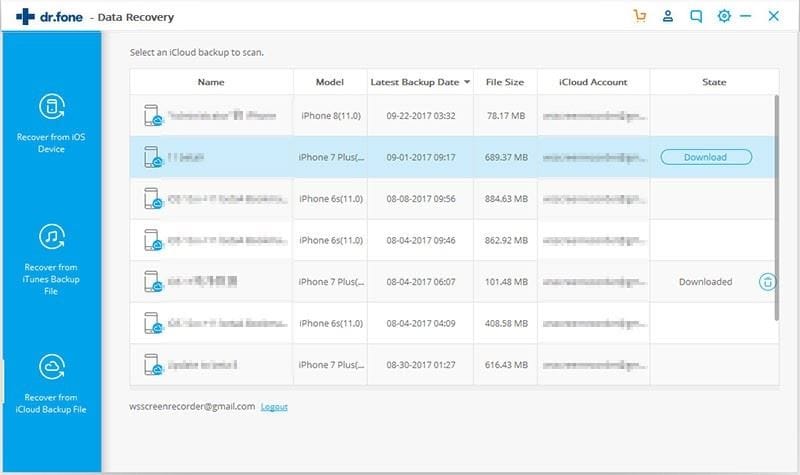 Step 3: Now, your backup file will be scanned properly and will give you the results in the next window. You can notice the different data types available at the left panel. You can choose each of the data type and then preview the selected one on the main screen. When you are finished with previewing and selecting data types, just hit on the 'Recover to Computer' button and last of all, choose 'Recover' option to confirm the action.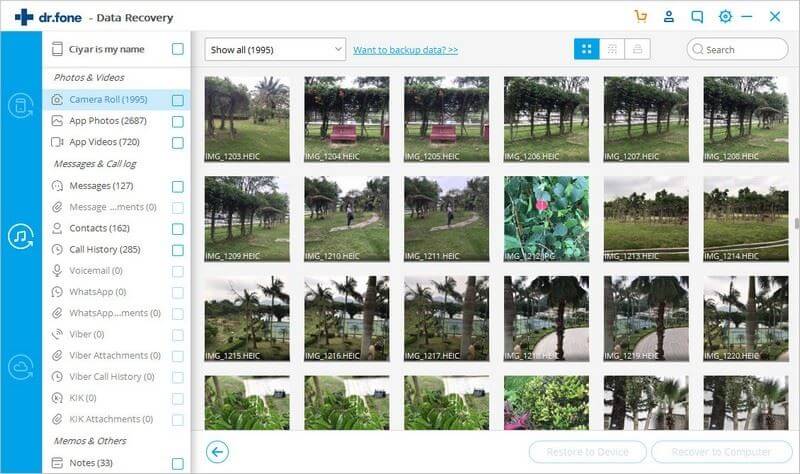 Part 2: How to Restore iPad without iTunes by Extracting Data from iCloud
Step 1. Click on 'Data Recovery' tab as we did in the above process. Now, select 'Recover from iCloud Backup file' tab from the left panel. You are required to login to your iCloud account. Just have faith on dr.fone as it doesn't keep any of your information and enter iCloud details where needed.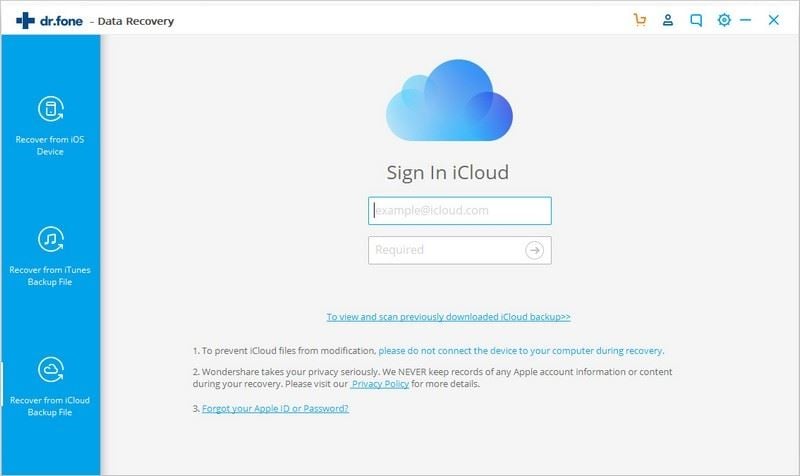 Step 2. After login, your iClou backup files will appear on the screen in a listed form. From the window that is showing your iCloud backup files, choose the one that you need and click on 'Download' subsequently. You will receive a small pop-up window which will be showing you the data types. Choose the ones you want to restore and then hit on 'Next' button.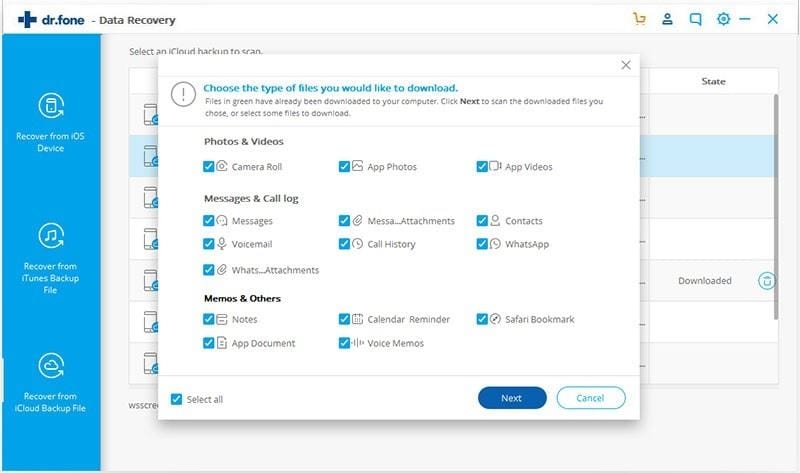 Step 3. At last, you will be able to observe the selected data types on the last and the resultant screen. Start selecting the data type one by one and preview them. At the end, you have to click on 'Recover to Computer' button followed by 'Recover' button and you will be done.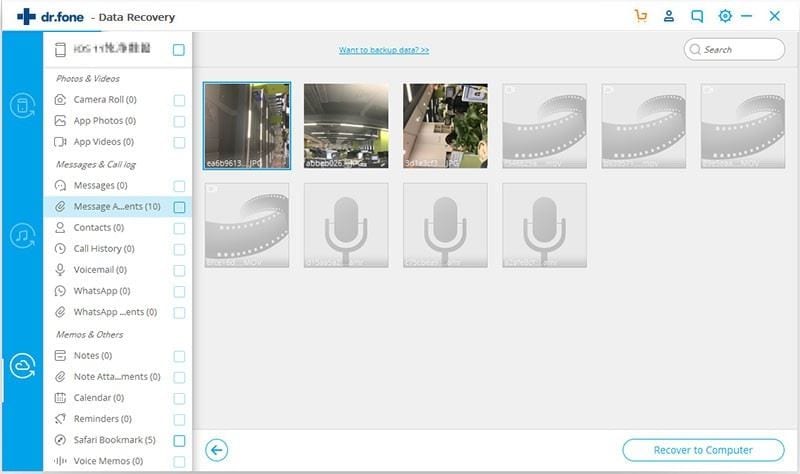 Optional: Free Way to Restore iPad from Home Screen without iTunes
The following steps are very helpful in the restoration process;
Step 1. Click on the Settings application on the iPad Pro screen.
Step 2. Scroll to the General menu and tap on it.
Step 3. Scroll to the bottom and tap on the Reset menu.
Step 4. There are many options that will be available for you. Tap on erase all contents and settings. After all that the iPad will restore to factory settings and all the data wiped off.
Step 5. Once the process is over you will have a brand new iPad without any data. You can therefore get your data from backed up file in your computer.