It can be frustrating to keep receiving unwanted messages on your phone. The advancement of technology has allowed marketers and the general public to communicate easily. Marketers can send you spam messages trying to gain your attention. However, sometimes you can receive messages that you did not subscribe to or even know whom they are from. Sometimes you might just be fed up with someone that keeps texting you and wish to block them from sending you useless messages. The iPhone is a great phone that can help you either block or unblock messages from various sources. Being able to be in charge of what you receive gives you so much control and peace of mind. Now follow the guide on how to block text messages on iPhone.
Part 1. The Guide for Blocking Text Messages on iPhone
Being able to block messages is very important especially if you receive spam messages on regular basis. Blocking unwanted messages is very easy to do on the iPhone. There are two methods available on all the iPhones.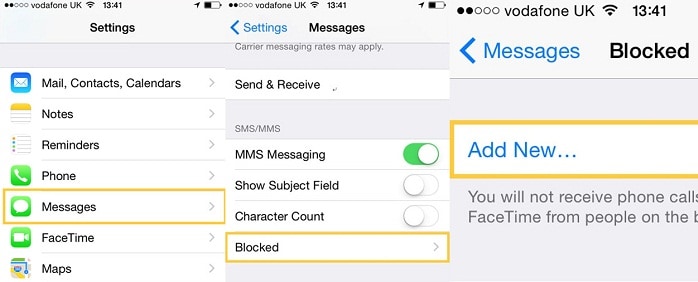 Method 1. Via Settings
The "Settings" are located on your home screen. Under "Settings", select "Messages" to find more message settings such as iMessages, MMS, and the layout of messages. Select "Blocked". Under blocked is where you can find all the blocked contact on your iPhone.
To add a new contact, simply select "Add New" under "Blocked". This will automatically open up your address book to find all your contacts on your iPhone. Find the name of the person to block Select the contact. Once you select the contact, it will be placed under blocked and will not be able to contact you either via calls or via messages.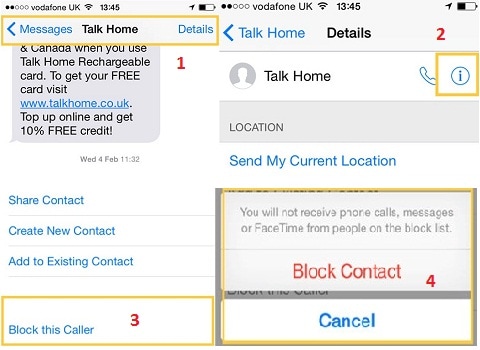 Method 2. Via the Target Massage
Another effective way to block unwanted messages is going through the "Messages" on your Home Screen.
Go to "Messages". Under "Messages" you are able to see all your messages and who sent them. Select a message you wish to block. Select "i" for more information. Under Info, Select "Block this Caller".
Confirm by clicking "Block Contact". By confirming with "Block Contact", your contact is blocked effectively from sending you unsolicited messages or calls.
Part 2. How to Unblock a Contact via Settings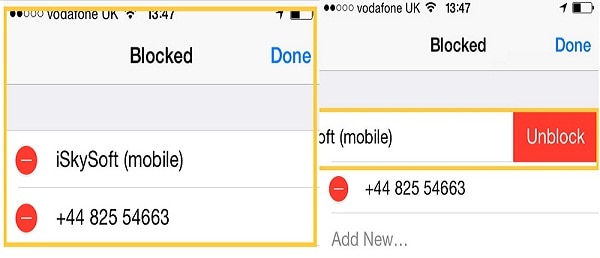 Sometimes you might block an individual or company for many reasons. However, you can always reinstate them in your good will by unblocking them. Unblocking a contact is as easy as blocking them from your settings.
Go to "Settings". As previously mentioned, this is where all the settings on the iPhone are located. Select "Messages" under "Settings". Select "Blocked". A list of all contacts that are blocked is revealed.
Select "Edit" at the top of the screen. Click "Minus" Sign to reveal Unblock. Select "Unblock". Once your contact is unblocked, it is removed from the list permanently unless you reinstate the block.
Part 3. Recovering Deleted Messages off Your iPhone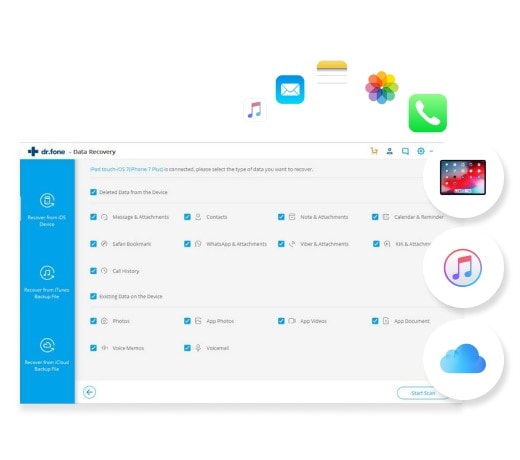 Sometimes you delete messages by accident or they get deleted when upgrading your software. Recovering this precious information can be important if the messages hold any value for you. It is recommended to use iSkySoft Toolbox - iOS Data Recovery. This software is very easy to use and enables full recovery of all your messages. Not only can you recover your messages on your iPhone, but the software also enables you to recover your iPhone data from iCloud and iTunes.
The software is built with simple, effective and easy to use interface that requires no skills at all. dr.fone - iOS Toolkit software simply enables you to connect your iPhone, scans to preview all the messages on your iPhone and then select which messages to recover. It really is that simple to do.
See how to recover data from iPhone with dr.fone - iOS Toolkit >>