Is it possible to change voicemail on iPhone?
Of course, you can change the voicemail on your iPhone and set it to whatever you want.
Your carrier will give you a voicemail box, which has a standard message. You can change the message into anything that you want. You can use your name, and leave a catchy message, and you can even sing a song if you want to. You have a wide range of options when changing your iPhone voicemail settings; you cannot only change the type of message, but also how to retrieve them, when you should be prompted, and a lot more.
Part 1. How to Change and Record Voicemail Greetings on iPhone
Setting a voicemail greeting is important when we missed a call and let the people calling you know they have reached out to the right person and remind them to leave a message after the greeting. To record a personalized voicemail greeting, here are the steps that you have to follow.
Step 1 Open the app on your phone.
Go into your iPhone dialer and access the voicemail features.
Step 2 On the lower right corner, tap on the voicemail button.
This action will lead you to the voicemail menu on the iPhone, and it will dial the voicemail service offered by your carrier.
Step 3 Follow the voice prompts.
This is dependent on the carrier and also the plan that you have. You will have to follow the initial process given by the voice prompts from your carrier. This will allow you to record your greeting.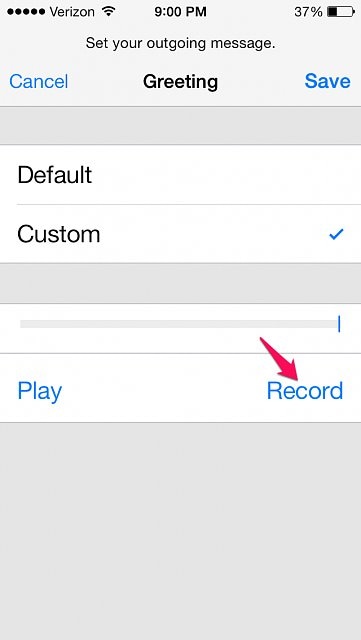 Step 4 Set up the voicemail using visual voicemail.
If your carrier plan allows visual voicemail, you will see a "Set Up Now" button, which you should tap.
Step 5 Set up your password.
Depending on your carrier, you will be asked for a password for your voicemail. Make sure that it is one that you can easily remember. Each carrier has a certain number of digits. You will be asked to repeat the password for it to become effective.
Step 6 Set up your new greeting.
Using visual voicemail, you can decide whether to use the "default" greeting or create a "custom" one. When creating a custom greeting, you will be allowed to review it before you confirm the recording.
Simply click on the record button, and then click stop when you are done. Once you have reviewed it, you can click on "Save" to set it as your greeting.
Part 2. How to Change the Voicemail Number on iPhone
After you set your personal voicemail greeting, your iPhone dials a number to recover or access your voicemail. In this way, you can change the 9-digit voicemail number by following easy steps: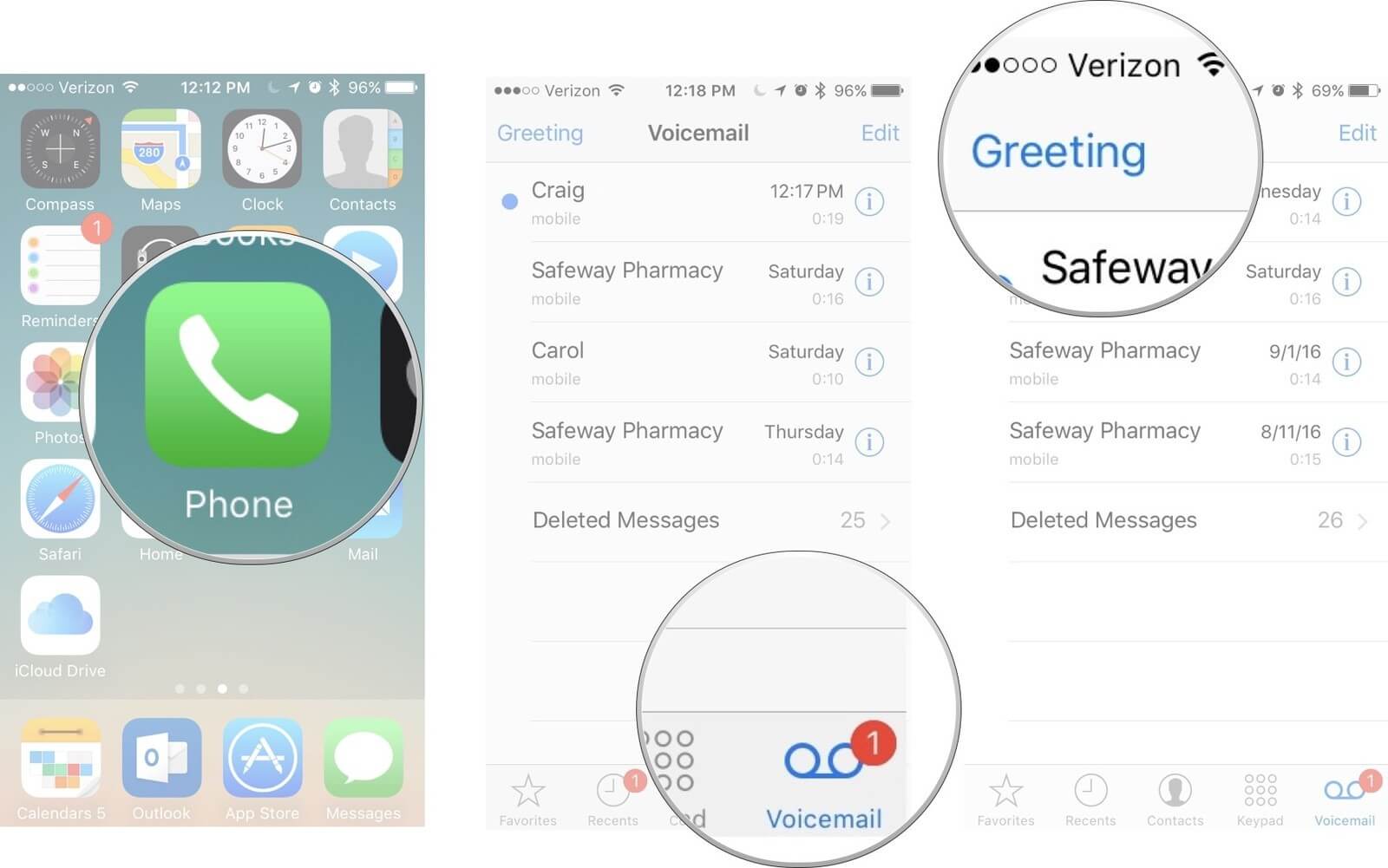 Step 1 Open the app on your phone.
Go into your iPhone dialer and access the voicemail features.
Step 2 Change the default settings.
On the keypad, type "*5005*86*0123456789#" – NOTE: "0123456789" is the number to which you want your voicemails to be sent to.
Step 3 Save the new settings.
Once you have entered the above number, tap the "Call" button, and the new number will be set. All your voicemails will be sent to the new number.
That's it. As you can see, it is so easy to change voicemail number on the iPhone.
Part 3. How to Retrieve Deleted Voicemail on iPhone
I have accidentally deleted voicemail on my iPhone! How to retrieve deleted voicemail?
Yes, it's possible to get deleted voicemail back; losing an important voicemail is bad, but fortunately, we provide 2 possible ways for you to retrieve them back. Let's check them out!
Method 1. Retrieve deleted voicemail on a phone app
Step 1 Open the Phone app on your iPhone.
Step 2 Scroll down at the bottom of the page, you can see "Delete Messages", please tap on it.
Step 3 Find the voicemail that you don't want to delete and tap "Undelete" to retrieve it back.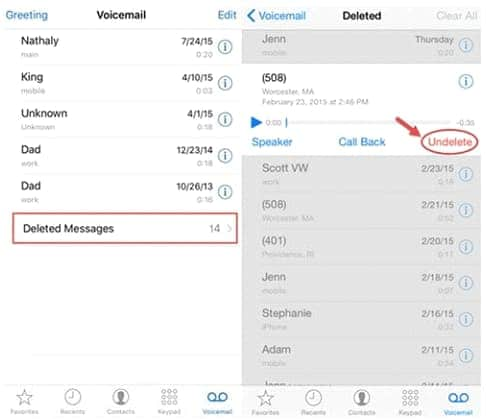 Method 2. What's the most secure way to retrieve deleted voicemail back
For iPhone users, we recommend you to try dr.fone - Data Recovery to recover deleted messages and voicemail. Here we listed some key features to tell you why you should choose it.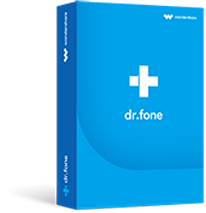 Why Choose This iPhone Lost Voicemail Recovery Software:
It supports all iOS devices: This means that you can use it to recover voicemail on iPhone, iPad, etc.
Handy Preview feature: With this feature, you get a preview of the voicemails before recovering them.
Full Data compatibility: This tool can access up to 18 different types of data. This makes it very versatile for the recovery of images, video, voicemail audio, and a lot more.
Easy to use: The user interface is easy to follow, that even a novice will be able to handle it with ease.
Allows for partial recovery: You can select the data that you want to recover. If you only want certain voicemail messages, you only select them and leave the rest.
4,290,481
people have downloaded it
Now, reading the step-by-step guide below, and let's see how it works:
Step 1 Plug in Your iPhone and Launch Software
Download and install dr.fone on your computer, and also connect your device to with PC.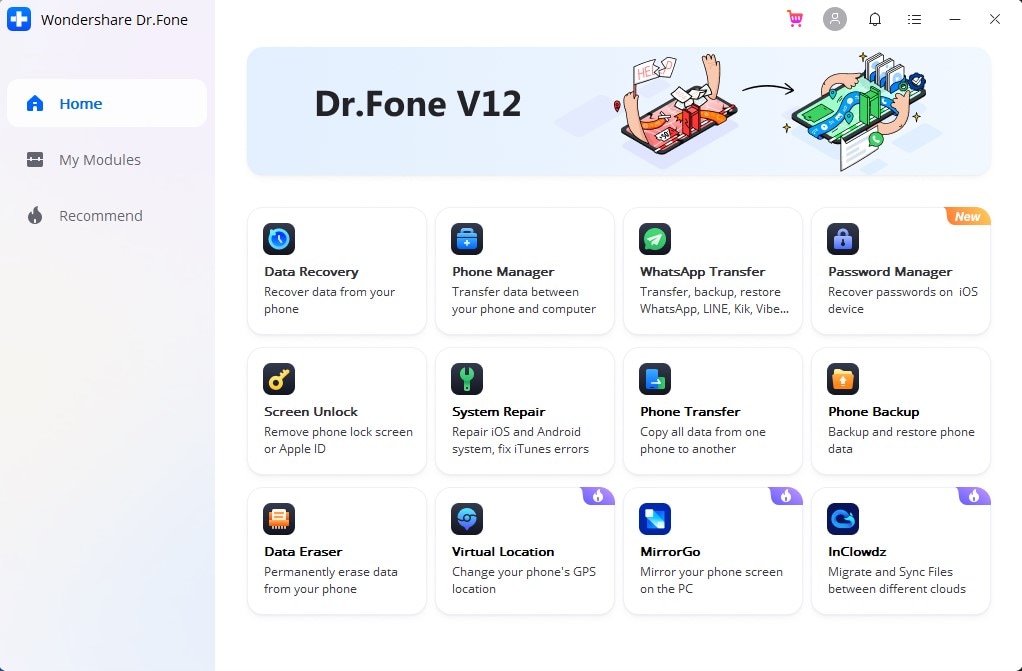 Step 2 Scan iPhone for Lost Data
There are three options list on the next screen; it's you choose one of them to scan the device, you can also choose file types to start scanning.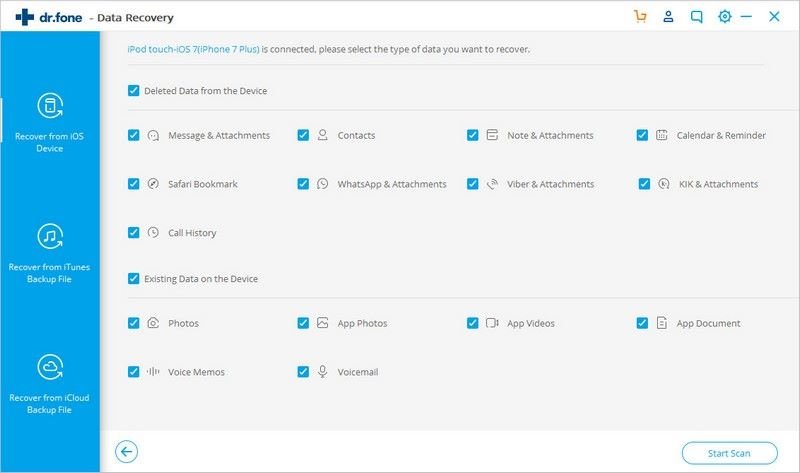 Step 3 Preview the Scanned Data
Once you finished scanning, all the data that you deleted have been displayed on the screen. Find the voicemail that you would like to recover.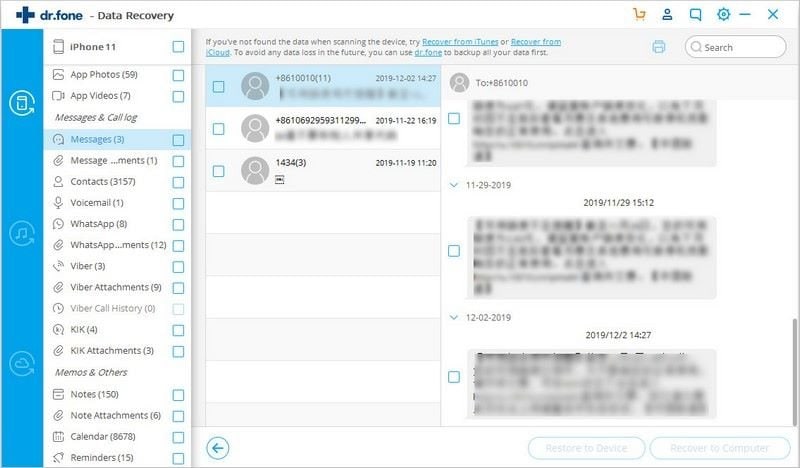 Step 4 Recover Data from Your iPhone
After reviewing the deleted files' results, you can simply recover these files anywhere in your local directory.
Conclusion
In this article, you have cleared how to record and change the voicemail number; and provide some solutions to recover deleted voicemail back. I hope you have already recovered your voicemail easily without any further loss.