Cloud computing and cloud storage has taken the world by storm in the past couple of years and is expected to revolutionise storage systems in the not-so-distant future. Apple inc flagship software iCloud has been the pioneer in this field. Ever since its launch in 2011, the service has gained massive popularity and currently has a user base of over 350 million people.
So, what if you're an iCloud account holder and would like to delete your account? The first and foremost step will be to take back-up of all the information in your iCloud account. Before you decide to delete your iCloud account ensure that all the information, you had stored in iCloud is available with you in other storage devices. You will lose all data stored in your account once you delete it. You would not want to remove some important data this way.
However, in case you do not have, then you need to copy the files from iCloud. That is a tricky thing as Apple only allows you to access files and downloads your contacts from your iCloud account to your computer.
Before deleting iCloud account: Backup your data
You can use the dr.fone - Data Recovery (iOS) for this purpose. It is very much like any other data recovery tool. The primary job of this software is to recover lost data from your Apple handheld devices such as iPhone or iPod Touch or iPad. You can do this if you have even once synced your device with iTunes. It supports all the latest models released from Apple inc such as iPad retina display, iPhone 6 and iPhone 7, and is an ideal and most convenient solution to your backup-related problems. You can also use this to retrieve files from your iTunes backup. This particular feature is unique in this software and is not supported by iTunes.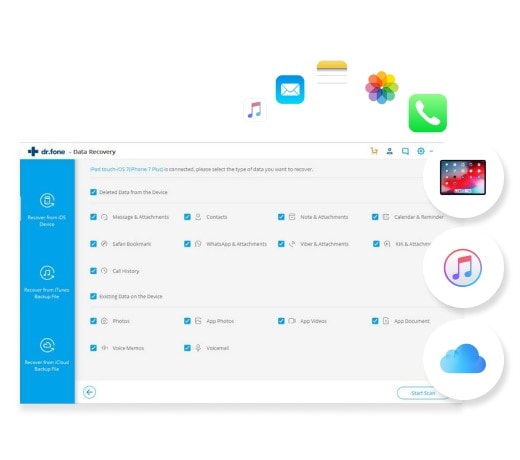 Download and extract iCloud backup to your Mac
One click to get your iCloud backup file to your computer.
3 Recovery Modes: Allows to recover data directly from iPhone, extract iTunes backup and download iCloud backup.
Up to 20 File Types: Recover lost text messages, iMessages, contacts, photos, videos, notes, etc.
Various Data Loss: Retrieve data lost for deletion, factory settings restore, jailbreak failure, iPhone lost or broken, etc.
Preview: Lets you read and preview found data before recovery.
Flexible Recovery: Selectively recover any item you want from iPhone, iTunes and iCloud backup files.
Step 1. Login to iCloud
Login to your iCloud through dr.fone - Data Recovery (iOS) Software. Click "Data Recovery" You need to select "Recover from iCloud Backup File" from the top of the window and then the following window appears. Enter your login credentials to be able to download the backup file. It is totally safe, and the software does not record your data or personal information. The information you enter is for your eyes only.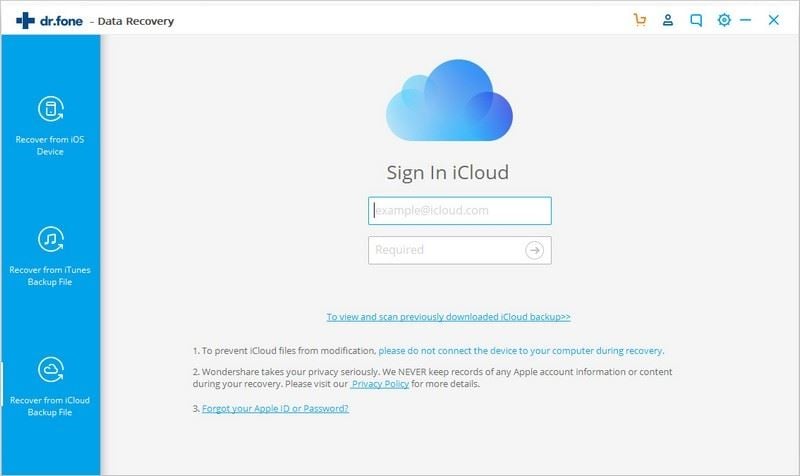 Step 2: Download and Extract your files
After you've logged in, you'll see a list of all your files backed up in iCloud. They're displayed with all relevant information such as memory and the date they were backed up. You can simply choose any one of them and hit "Download" button. The files may take a while to download on your computer depending on their size.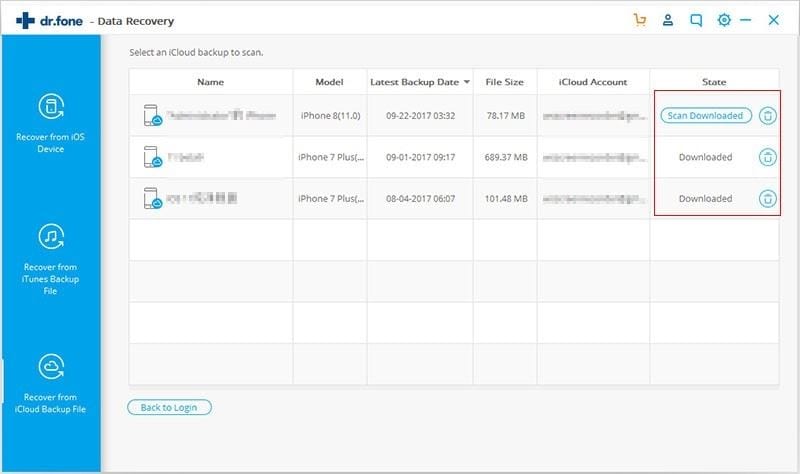 Step 3: Preview and choose the item you want to backup
You can preview all the files after scanning, one at a time. Once that is done, just hit "Export to Mac", and all of it gets saved on your computer.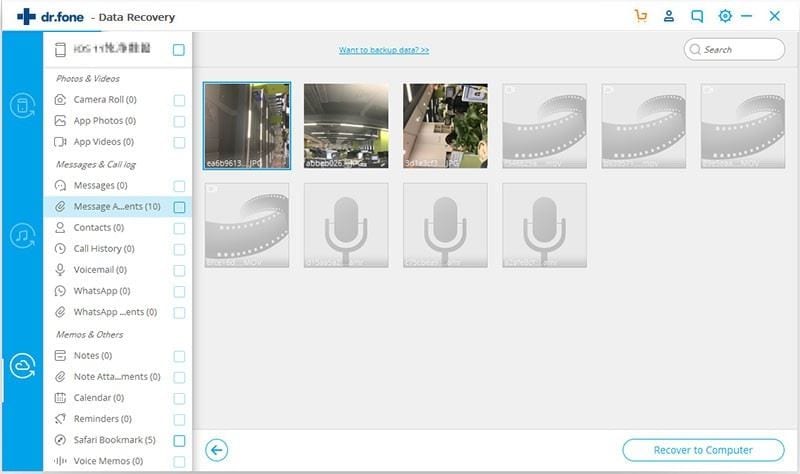 Delete iCloud account in steps
Deleting an account is not possible on iCloud. They do not allow you to close your account or delete your account. So what do you do if you do not wish to use it anymore?
You can log out of iCloud on your computer and remove iCloud from your iPhone, iPod or iPad to prevent it from syncing any more information. How do you go about deleting your iCloud account from your device?

Step 1. Go to "Settings" in your device and select "iCloud". This brings up the iCloud screen.
Step 2. Check each of the menus beside each app, such as calendar, contacts and turn them "off". This is to ensure that iCloud does not sync any more of your information. So if you delete data from your iCloud account it will not affect the data in you device, and it will remain intact. This step is very important, if you miss it, you may end up losing all the information which you had synced with your iCloud account.
Step 3. Scroll down and you find "Delete Account". Tap on it. You will find that a screen like this appears.
If you wish to retain the data on your phone, click "Keep on My iPhone."
In case you do not wish to keep the data, click "Delete from my iPhone". A point to be noted here is that this will only delete data from your iPhone and not your iCloud account.
In case you're using a Mac or a PC, you need to sign out from your iCloud account there as well.
Signing out of iCloud from Mac
Step1. Find "System Preferences" in the dock and click on "iCloud" .
Step 2. Check each of the boxes next to the applications such as "Documents" and "Data". You need to do this so that the information stops syncing and deleting any information on your iCloud account will not affect the information on your device.
Step 3. Hit the "sign out" tab.
Signing out of iCloud from PC
Step 1. Go to search option. In case you use Windows 8, find it in the Charms bar by moving the cursor at the top right corner of the screen. In case you're a Windows 7 user, find it in the Start option.
Step 2. Select the "iCloud Control Panel" option.
Step 3. Check each of the boxes next to the applications such as "Documents" and "Data". You need to do this so that the information stops syncing and deleting any information on your iCloud account will not affect the information on your device.
Step 4. Select the "sign out" button.
The removal of iCloud is pretty tricky so make sure you have done as you've been told here. In case you miss out on a few checkboxes or some other thing. You may end up losing a significant portion of your information. Also, one important piece of information, in case you are losing data from your device or are unable to access data on your device, stop using your device with immediate effect. Any operation you do could lead to overwriting of the lost data. If that happens then, the data is lost forever and cannot be retrieved.