You cannot afford to miss music if you have an iPhone 8. Music has a mystic power that makes us feel relaxed, touched or inspired. Some rhythms greatly enjoy us at home and we sometimes get reluctantly compelled to carry our loved songs when travelling, exercising, and working among others. Our demands are normally met by iPhones. iTunes' store enables us to obtain music to our iPhone by downloading it from that store. The iPhone is a recommendable device for playing music. However, although it is simple for you to play music on it, it is surprisingly hard to download music to it. Sometimes, downloading the music that inspires from iTunes gets so much confusing. If you want to download music to iPhone 8 from iTunes, continue reading this article.
Part 1: How to Download Music to iPhone 8 from iTunes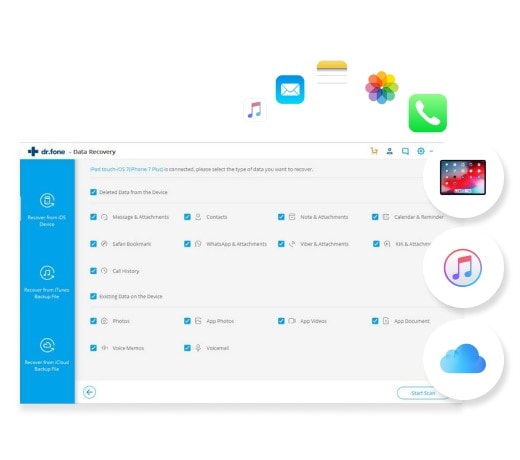 Sometimes, it is unavoidable for you to meet problems with your iPhone. Problems such as software issues, accidental deletion, damage by water, and forgetting passcodes among others may cause you to want to restore data to your iPhone. Purchasing iPhone 8, although not an issue, can become another reason for you to recover files from your saved backup file. Doing such recoveries and downloads might require you to use different tools. One such tool that can help you to recover data to your iPhone is the dr.fone - iOS Data Recovery. Astonishingly, it will be impossible for you to find the file features' recovery in iTunes. However, you are assured that iSkysoft will do its marvelous job of restoring your valuable files. Additionally, you can execute particular recovery of whichever files from the backup. Therefore, selective recovery enables you to recover specific files rather than extracting the entire backup that may consume a lot of time.
Why Choose This Software to Download Music to iPhone from iTunes
After scanning with this software, you can look through data before you recover them.
It can recover data lost in a variety of conditions: forgot password & stolen, damage by water ect.
Work well with Windows PC, Mac and iOS (including iOS 11) operating systems.
Easy-to-use, due to intuitive interface.
Guide for Downloading Music from iTunes to iPhone 8
Step 1. Choose "Recover from iTunes Backup file" Mode
The iTunes back up file will enable you to download music to your iPhone using dr.fone - iOS Data Recovery if you had previously backed it up before losing it. To perform this task, launch your dr.fone – iOS data recovery. Hit the "Recover from iTunes Backup file" mode after you enter into "Data Recovery" menu from the home screen. Below is the screenshot of the dr.fone - iOS Toolkit.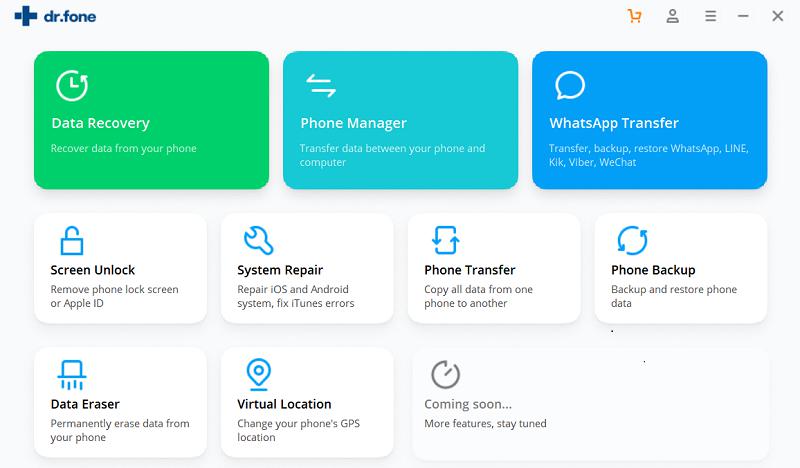 Step 2. Pick iTunes Backup Music to Scan
Naturally, the entire iTunes backup files will be detected automatically and shown in the chart. Choose the file that contains the music you want and click "Start Scan". Then, wait for dr.fone to extract the music from the iTunes backup file. The following screenshot shows the iSkysoft recovery options including the iTunes recovery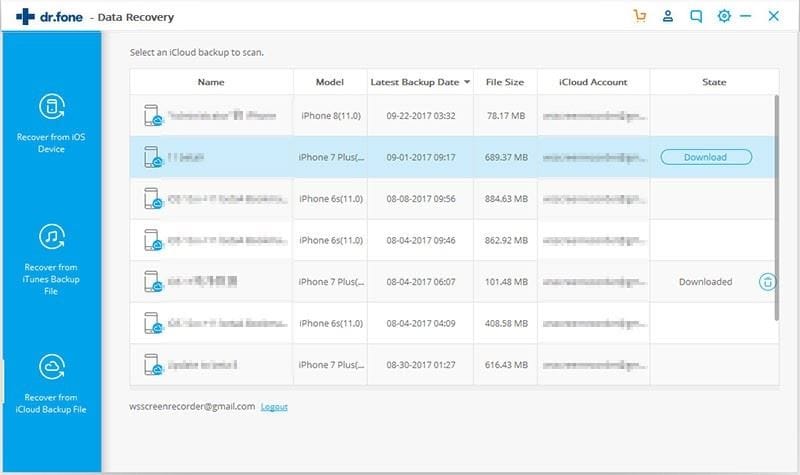 Step 3. Download Music to iPhone 8 from iTunes
On the outcome page, you can view the iTunes backup file being restored and shown in types. After that, choose the music that you really want and hit "Export to Mac" or "Restore to Device". By default, the data will be held back to your PC or iPhone 8. The screenshot beneath shows the iTunes back up file categories.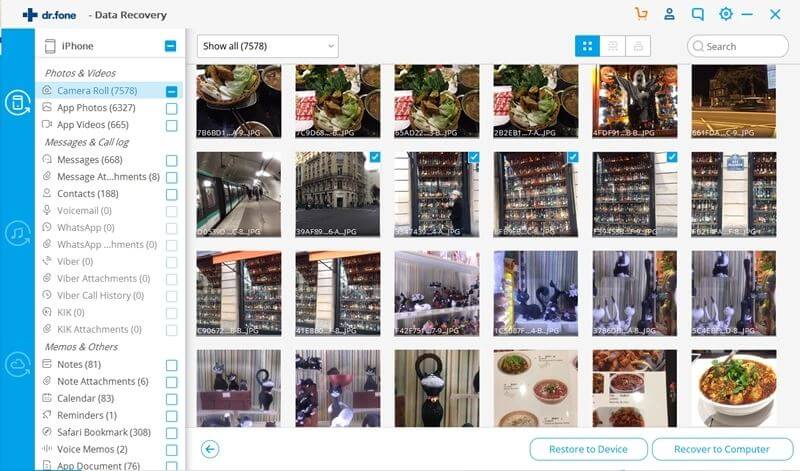 Part 2: Tips on Downloading Music to iPhone 8 from iTunes
Step 1.The first tip involves opening your iTunes. Check that that you have the most recent version. Then connect your iPhone to the PC or Mac utilizing the USB cable.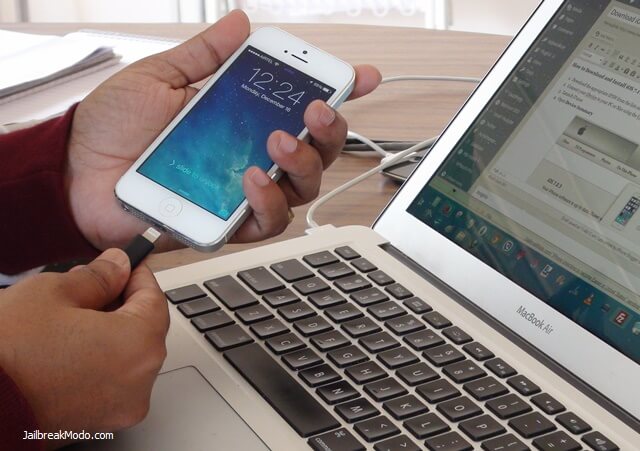 Step 2. When everything is functioning appropriately, you will see an icon that will appear in the top-left corner of the iTunes. The icon will denote the kind of gadget you have already plugged in.
Step 3. Click the icon that appears. Various details about the device will pop up – its iOS version, version, serial number, and model among others. Additionally, you will as well see the content types that you can sync with being written down on your Mac's or PC's left hand side.
Step 4. Hit the music and a list of the available syncable stuff will be listed. Have a glance at the tick box at the page's top, adjacent to the content kind and word Sync. If the box has already been ticked, syncing is going on. If it is not ticked, tick it for the syncing to begin for that stuff type.
If syncing is continuing, this denotes that the chosen items of that kind to the iPhone will be synced by iTunes the moment that you will hit apply. (At first, do not click it yet- you will set syncing selections for the entire types of content you want, then all of them at one time). Tick the play lists, individual items and so forth on every item that you desire to sync. Alternatively, you can tick the choice at the top sync - everything that is not played, recent, or of any kind.
At this point, you might see some problems arising, for example, iTunes may caution that your iPhone is already synced with another iTune library, which will avoid syncing from going on normally. It is possible for you to get this round by choosing the option Erase and Sync'.
However, as the wording proposes, this selection will yield the stuff you synced from the other device being cleaned. Luckily, this process takes place by the type of content, therefore you are capable of keeping the films you synced from another PC or Mac, such as while picking Erase and Sync for the music.
Step 5. Lastly, wait for the syncing to accomplish, afterwards remove your iPhone (note that the ejection is located to the right of the name of the device at the upper left) and disconnect it from the PC or Mac.
An iPhone is a great device for listening to your preferred music. It is possible for you to download any song that pleases you using the iTunes. The iSkysoft Tool is a valuable tool for helping you to recover data to your iPhone easily.