Nothing in this world is fully reliable, not even technology. This is exactly why we need the iCloud. To store our pictures and important multi media files. A slight malfunction in our device and all our work will go down the drain. The iCloud then plays a significant part when people need to download photos from iCloud to another device like a tablet, or if they change their cell phone or simply if they need to refresh their memories and look at old photos.
Part 1: The Best Way to Download Photos from iCloud Backup
dr.fone - Data Recovery (iOS) is your best shot at recovering any file that you want! It does not restore your entire data but only that singular file that you most urgently need at that instant.You can download your photos from iCloud bakcup in case your iPhone gets stolen, broken or if you reset your iPhone to its factory settings. The great thing about this software is that it works of all sorts of models of iOS (including iOS 11). You need not worry about whether it will work for your device or not.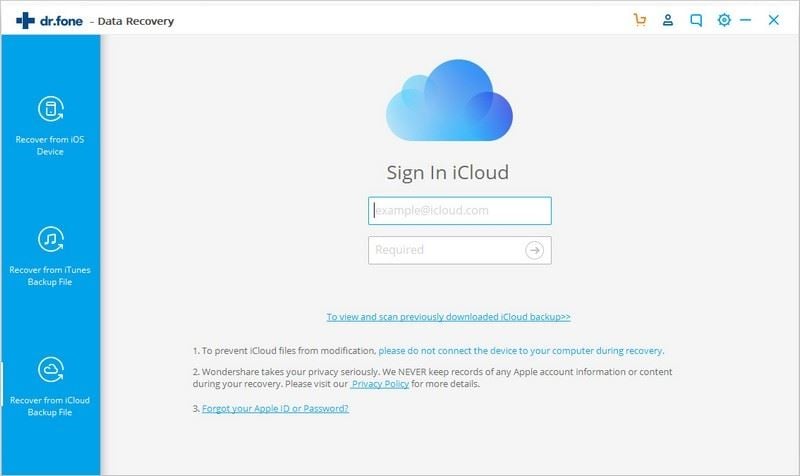 Why Choose This Software to Download Data from iCloud Backup to Compute:
3 Recovery Modes: Allows to recover data directly from iPhone, extract iTunes and iCloud backups.
Support 20+ File Types: Download photos, text messages, voicemails, contacts, videos, notes, etc.
Preview: Lets you read and preview found data before recovery.
Flexible Download: Selectively download any item you want from iPhone, iTunes and iCloud backup files.
Step-by-Step Guide to Download Photos from iCloud
Step 1. Sign in Your iCloud
Install dr.fone - iOS Toolkit on your Mac or Windows computer. You need to select "Data Recovery" menu and click on the "Recover from iCloud backup file" mode present to the "Data Recovery" menu window of the software.
You can then log in to your iCloud without any fears. This software is that at any instant it is only you who has access to your backup files. dr.fone takes customer's privacy very seriously.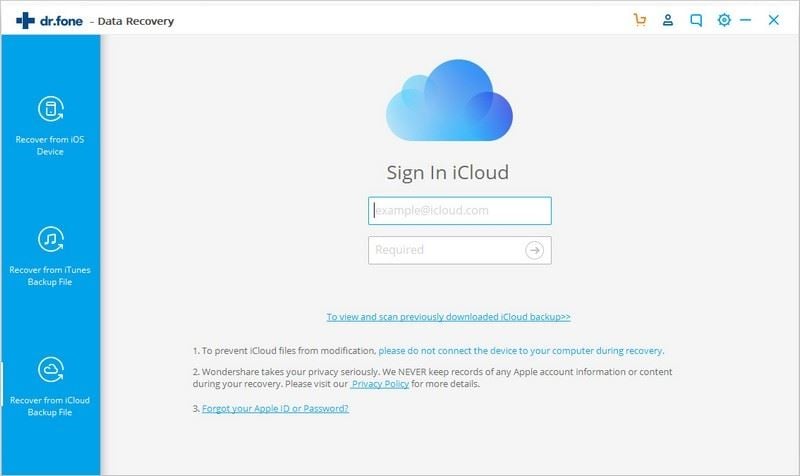 Step 2. Download Your iCloud Backup to Mac
Once you are logged in you will be able to see the entire list of files that you have backed up on the iCloud. All that you need to do is choose the file that you want to extract and then click the button labelled "Download". This button is found in the column marked "State".
The size of the file that you want to backup will determine how long it will take to download it to your Mac computer. In the pop-up window, once the selected files have downloaded you can then scan the downloaded files to preview them. Here you should check "Camera Roll" option. All you need to do is click on the "Next" button.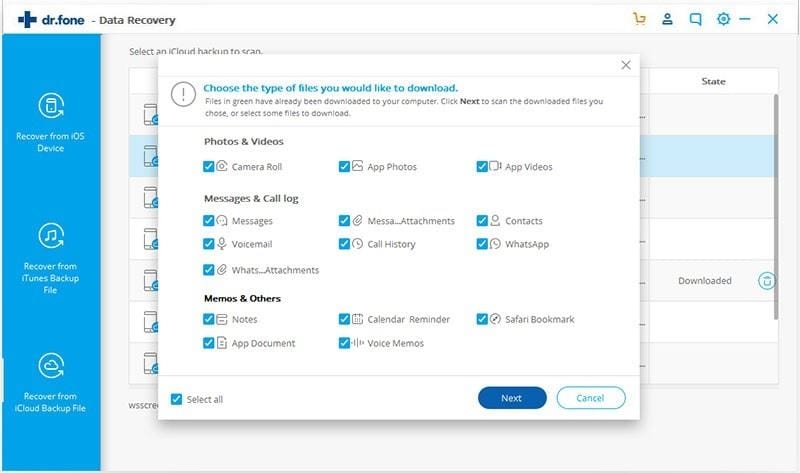 Step 3. Scan to Extract the iCloud Backup for Photos in It
Once you have completed the scan, you can then start previewing all of your data. This will allow you to choose the file you want and leave out all the rest. You can then download them on to your Mac using the "Recover to Computer" button.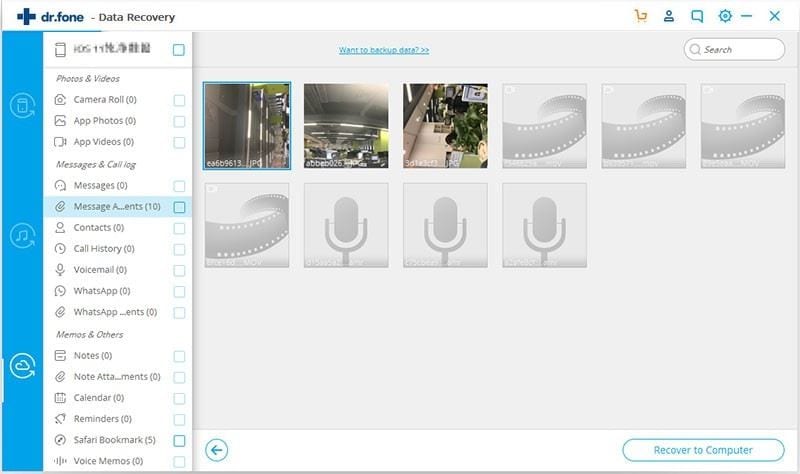 When Are Photos Uploaded to iCloud?
There are a lot of people who are under the misconception that all of the pictures are uploaded to the iCloud via their iPone or iPad and stored their for good. Well that just isn't true. If iCloud is the only backup that you have then let me assure you that your data is in unreliable hands.
iCloud has a photo syncing feature that it has deployed for all devices that run on iOS ans is known as Photo Stream. It uploads all of the pictures on to the iCloud automatically and then simultaneously syncs the photos with all other devices. As pleasurable as this might seem there are a lot of limitations involved here.
At any single time an individual can upload 1000 pictures alone. So if you have taken 1200 pictures, 200 of them will never be uploaded on to the iCloud. These pictures will only be on the iCloud for 30 days! After which they will be taken away. Moreover iCloud does not support video storage, it only stores images.
Part 2: Other 3 Ways to Download Photos from iCloud to Computer
#1. How to Download Photos from iCloud via iCloud.com
Though dr.fone is certainly a saviour but for your information, you can also download your photos directly from iCloud.com to your computer. The process to download photos from iCloud is pretty simple. You just need to sign-in to your iCloud account and download the desired data. But remember, your Photos stick over the iCloud account for only a limited period of time, i.e. 30 days, make sure to download your photos from iCloud before they disappear from iCloud. Follow the below mentioned guide to get your iCloud Photos on your computer.
Step 1: Launch the browser of your device and visit the iCloud.com website. Now, sign in to your iCloud account (from which you wish to download the Photos) using your Apple ID and password.
Step 2:Soon after you log in to your iCloud account, you'll see all the data types that iCloud backs up and there corresponding icons on your screen. Select and open the preferred data type folder, i.e. Photos in this case, which you wish to download to your computer.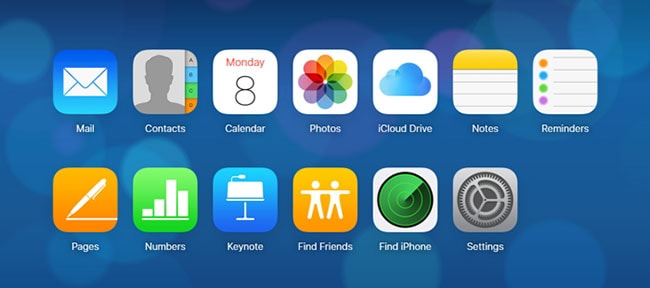 Step 3: Now, you need to hit on the 'Download' icon and then confirm your actions by tapping the 'Download' button again on the pop up message. That's it, your data will then be downloaded to your computer depending upon the speed of your internet connection and the amount of data that has to be downloaded.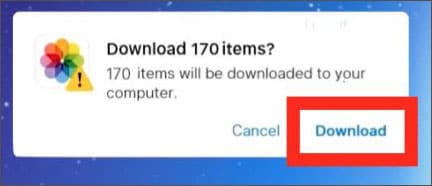 #2. Download Photos from iCloud using iCloud for Windows or iCloud Library on Windows PC
Next method via which you can download the photos from iCloud is via a desktop app, namely iClod Photo Library or iCloud for Windows. In case, you do not have iCloud Photo Library installed on your Windows PC already, then get the original app from Apple Store and install it on your computer. Or, if you already have the app installed, then simply follow the below mentioned guide to get your photos downloaded to your computer. Once you get iCloud Photo Library configured on your computer, you would then need not to manually download the photos over and over again on your computer. The app will automatically download the photos to your computer as soon as it detects any new photos on your iCloud account.
Step 1: Post installation of iCloud Photo Library or iCloud for Windows, launch the app. And then, using your iCloud credentials get yourself signed in to your account.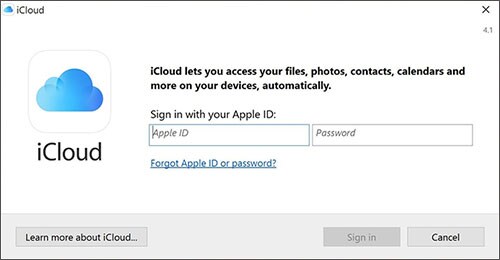 Step 2:From the upcoming screen, besides the Photos section, you are required to click the 'Options' button to configure the Photos Settings in your iCloud for Windows app.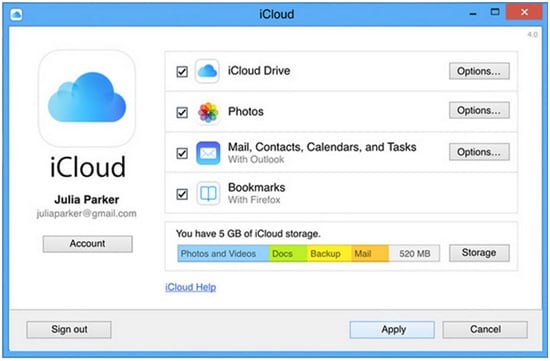 Step 3: Now, make sure that the checkbox besides the 'iCloud Photo Library' option is selected already. Select it (if not already), then push 'Done' and lastly, click on the 'Apply' button.
Step 4: Within a short span of time, all your photos over the iCloud will then be downloaded automatically to your computer in the 'iClouds Photos' folder.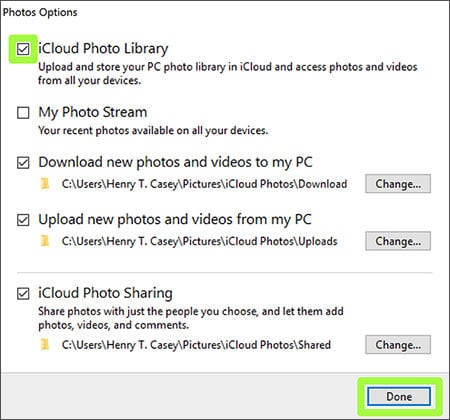 Method 3: Directly Extract photos from iCloud on iPhone
iCloud gives you a convenient way to backup your important files from your iPhone data to cloud. You can easily access the files from iCloud when needed. Even at the time of accidental deletion, factory resetting or bought a new device, you can easily extract photos from iCloud backup.
But while using this process, you cannot select particular items and restore, but you have to restore the whole iCloud backup to extract your photos. For this, you have to delete the entire data available on your iPhone as it only works on the fresh device. Follow the below-written steps to extract photos from iCloud backup using the restore device function on your iPhone.
Step 1: First erase your iPhone data and this can be done by heading to: Settings > General > Reset > Erase all Content and Settings.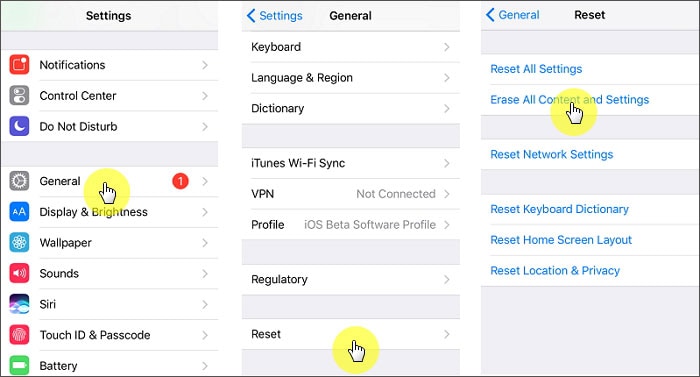 Step 2: After erasing your data, restart your device and follow the device set up instructions until you reach "Apps & Data" Screen. Now, select "Restore from iCloud Backup" and enter your Apple ID to sign in your iCloud account. Chose a backup from the list of backup's and select "Restore".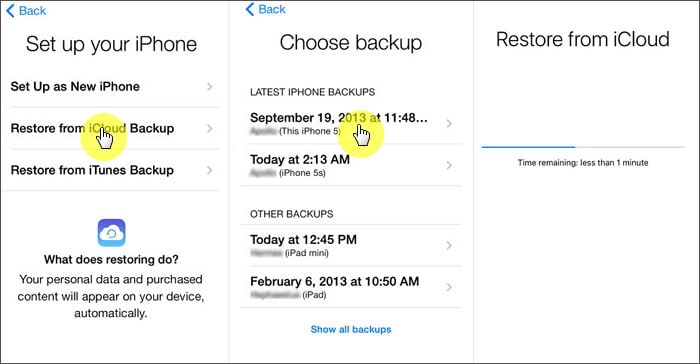 After you restore the backup file, you can extract all the photos and other important data on the backup files on your iPhone.