I want to extract files from my iPhone 6S. How to achieve that? By the way, I have no backup on iTunes or iCloud.
Extracting files from your iPhone 6S to your computer can be done using dr.fone iPhone Data Extractor or through copying of data directly using the explorer. However, using the explorer can be challenging, especially if you do not know the location of the files on your device. With dr.fone iPhone Data Extractor, you can easily do so using the easy-to-follow interface.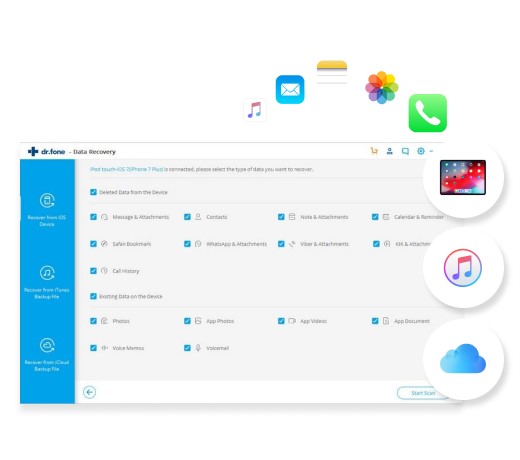 dr.fone - iOS Data Recovery is the best software for extracting iPhone data from your device to your PC/MAC. Since all data is shown in its categories, it is easy to find the files that you want and then extract them to your computer.
Why Choose This Software to Extract Data from iPhone:
Complete iOS device support: The data can be extracted to any device that runs on iOS. This makes dr.fone iPhone Data Extractor a very easy tool to use.
Multiple extraction modes: Apart from extracting data from iPhone devices directly, one can also extract from iTunes and iCloud backup files.
Automated data extraction: Whenever you connect your iPhone to your computer, you can automatically extract selected data without any input. Simply set up the tool to do so in the settings menu.
Easy preview of data: Extracting iPhone data from your device using the explorer can be challenging for those who do not know where to look for the desired data. And the simple interface gives you a preview of the data for easy extraction.
Step-by-Step Guide to Directly Extract Any Data from iPhone Device
Store important data to your computer so that it is safe in case anything happens to your iPhone. You can also store it to your iTunes or iCloud account. When extracting iPhone files to your computer, dr.fone iPhone Data Extractor comes in handy because it is easy to use.
Step 1. Select Recovery Mode
Install and launch the software program after downloading it. A home screen will appear on your computer, and you should go to the "Data Recovery menu and select "Recover from iOS Device" mode to do so directly. You will go to start the extraction process.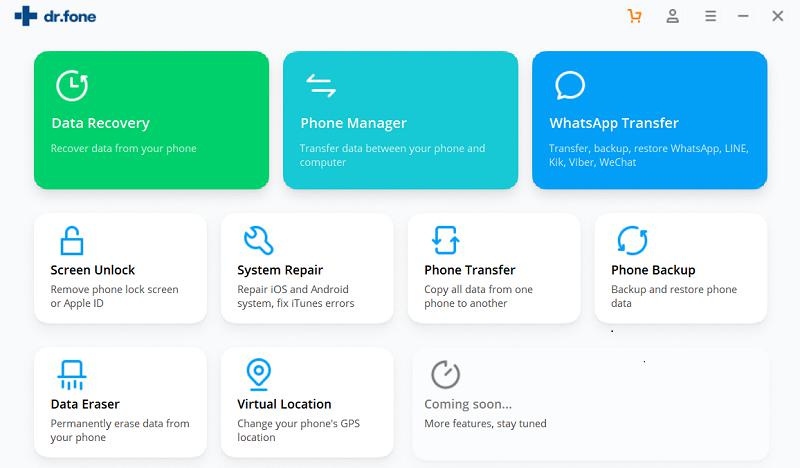 Step 2. Scan your iPhone data
Click on the "Start Scan" button so the software can begin scanning the data that is stored on your device. There is a handy screen which will show you which files are on your device, and list them all into categories. The main ones are Photos & Videos, Messages & Call Logs and Memos & Others. Go to the categories where your files are located and select the sub-categories that you want. By default, all of them will be selected, so deselect those that you do not need.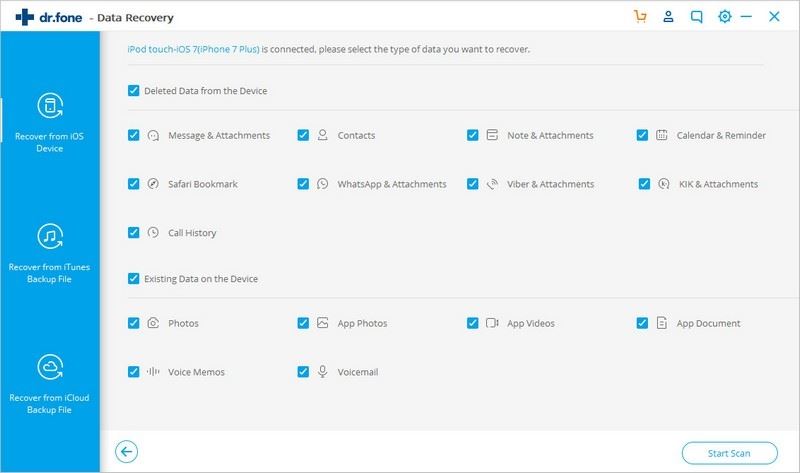 Step 3. Extract iPhone Files as Needed
On the preview screen, you can go through the contents of the sub-categories that you have selected. View the files and decide which ones you want to download. You can also opt to extract all iPhone files to your computer, in which case you do not have to deselect any. Hit the "Recover" button to store the files on your PC/MAC.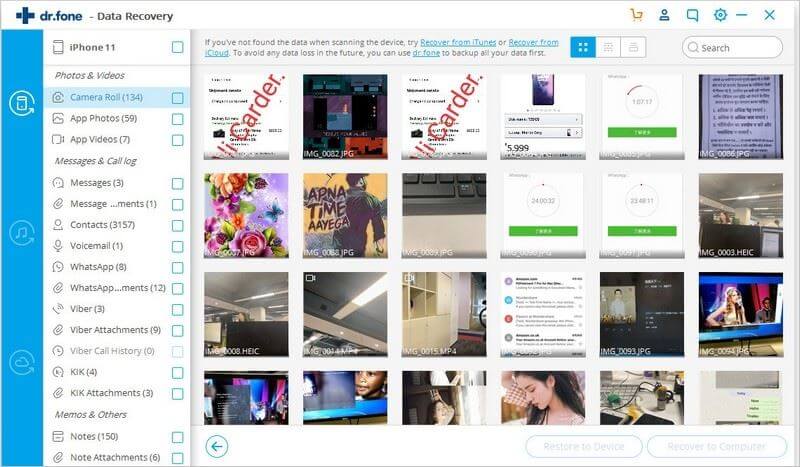 dr.fone iPhone Data Extractor is a tool that all users of iOS devices should have for extracting iPhone data to their computers. Whether you want to extract photos, video, voicemails, documents, SMS texts, or any other form of data, you can easily do so using this tool. The files that are stored in your computer can be accessed easily, in formats that you can view on the computer. Videos will be saved as MP4 or other formats compatible with players on your computer, text messages in the form of documents which you can open with a word processor and view. This makes dr.fone - iOS Data Recovery on of the best programs for data extraction. That is how you extract files from iPhone devices directly to your computer.