Actually the new Facebook Messenger could make us troubles only for older devices with older operating system. There are of course many users having from a while their idevices and if they try (actually they are forced to) download and install the new Facebook Messenger app, a lot of people are over convinced as a good tool to keep virtual connections live.
But sometimes, issues may appear just as simple. We can try to fix them or we just uninstall the newest app from the market. The issues may come even if we upgrade our iOS. Thus, before to install the app we must to upgrade our idevice. Considering that we wish - though – to keep and use the Facebook Messenger, let's see how to fix facebook message error.
Part 1. How to Troubleshoot Facebook Messager that Users Have
Here list the top 3 Facebook problems and together with the troubleshooting. Hope the Facebook troubleshooting below could help you when using Facebook messenger. If needed, you can read how to delete Facebook messages or How to archive Facebook messages .
1. All the messages in Facebook Messenger disappeared:
Possible Reasons:
You have more options for your messages like deleting and achiving. The reason could be actually the deletion or archiving. If you have deleted the message, you will not find it anymore. Of course the deleted message is no more in your Inbox, but your Facebook friend still has it. Thus, if you really need that message you could ask him / her to send it back to you. But, if you have just archived your message is hidden, not deleted for good.
Solutions:
You will find the hidden messages in your archives. If you selected for a message to be archived and not deleted, certainly your message is in Archive. You can find archived messages faster if you type your friend`s name into the search box. Other option it is to view your entire archive. Under "Messages" tab click on "More" and select "Archived".
Also, remember that you can use just Facebook Messenger app for receiving and sending messages on iPhones. Users who want to message their Facebook contacts on their iOS device will need to download the Facebook Messenger app with no discussion, period. This is the real true even you like it or not. Anyway the Facebook Messenger app runs on all idevices having at least iOS 7.0 and allows users to message and other features like sharing photos or videos, with their Facebook friends.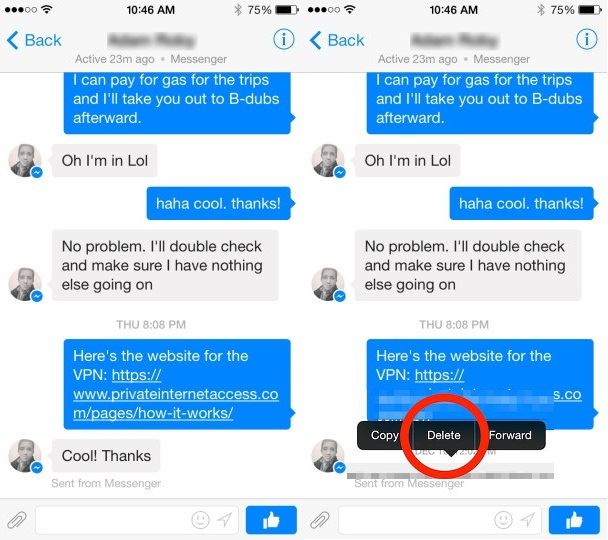 ---
2. Can't send or receive messages on Facebook Messenger
Possible Reasons:
With the recent updates, you shouldn't have issues with sending or receiving Facebook Messenger messages.
Solutions:
If the problem still occurs, than maybe the best option is to use the browser from your idevice and log in to the mobile Facebook website. After you login into your Facebook account you should be able to read, send and receive Facebook messages from your friends, followers and any connected member.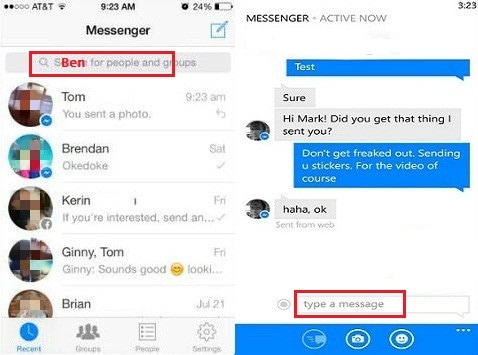 ---
3. Facebook Messenger stop working
Possible Reasons:
One way to fix facebook message error like it stop working and you receive a blank window is to verify your device operating system and upgrades that may come up. If you have received notification about upgrading your operating system and you have ignored this, maybe this is the moment to make the changes on your device.
Solutions:
But there are several cases when the upgrade affects your apps as well. When you have in mind to install a new app, remember to verify the requirements related to the device and operating system version. If doesn't fit, take a tour and find out if an upgrade could help you. For iOS users, Facebook Messenger app is like a "must-have" if you wish to use the Facebook social media network. All previous versions cannot be utilised for accessing Facebook messages.
If you still have troubles, try to uninstall the app and re-install it on your idevice. Most of cases it works fine. But use this method just like the final method. You could lose all your data from app and from your idevice, related to Facebook. On most of idevices the app can be uninstalled by holding two seconds on the icon. If doesn't worked in your case, go to your idevice menu and uninstall the app. After your idevice is free of Facebook app, type in your browser the Facebook messenger phrase and many website where you can download will show up. Click on any and choose to download the app on your idevice. Also, the best way is to find it in App Store, iTunes where you can find always the latest version for this app. Just remember the latest Facebook Messenger version requires iOS 7 or later, iPhone 5 at least.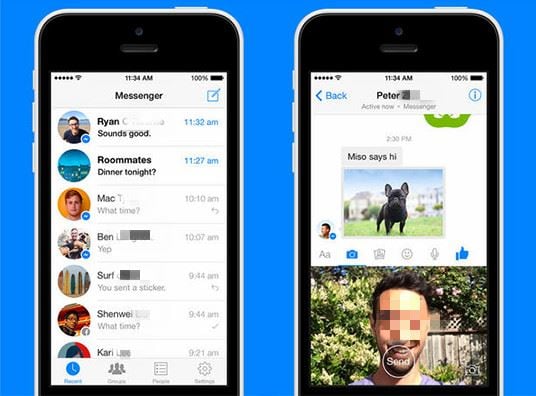 Part 2. Powrful Software to Recover Deleted Facebook Messages on iPhone/iPad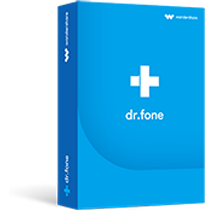 Key Features of dr.fone - Data Recovery (iOS)
You can selectively recover, rather than the whole backup. There are many reasons to recover your data from your idevice and one of them it could be the recovery of your Facebook Messenger messages.
The software is clean, without any malware. You can install it and run it in a safe manner.
It recovers many data types like Calendar, call history, Camera Roll, Contacts , Reminder, Voice Memo, Voicemail, App Video, App Photos, App Documents videos, Photo stream, Safari Bookmark, Facebook Messenger, Notes, Messages, etc.
It supports any of iOS (iOS 14 supported) device, including iPhone XS/XR/X/8 (Plus)/7 (Plus)/SE/6s (Plus)/6(Plus)/5S/5C/5, iPad and iPod touch.
4,290,481
people have downloaded it
Easy Steps for Recovering Deleted Facebook Messages on iOS (including iOS 14)
Step 1. First, download and install dr.fone on your computer. There are Windows and Mac versons download links. Launch it and you can see the main window like the screenshot below. Click on Data Recovery.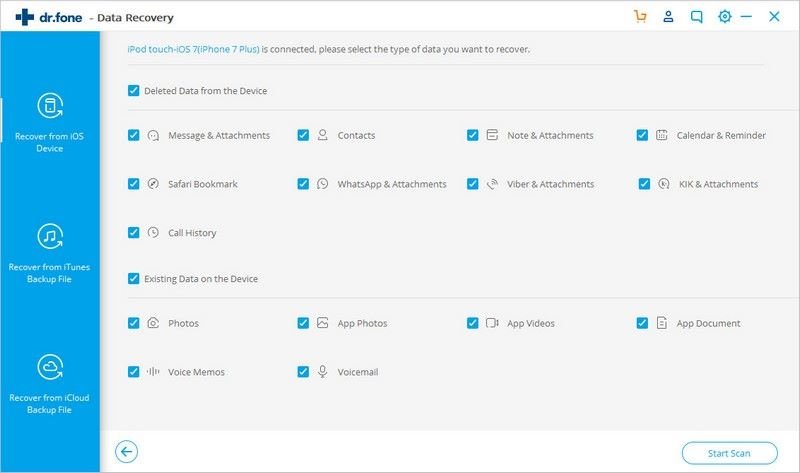 Step 2. You are supposed to click Recover from iOS Device. Check the files types that you hope to recover. Click Start Scan.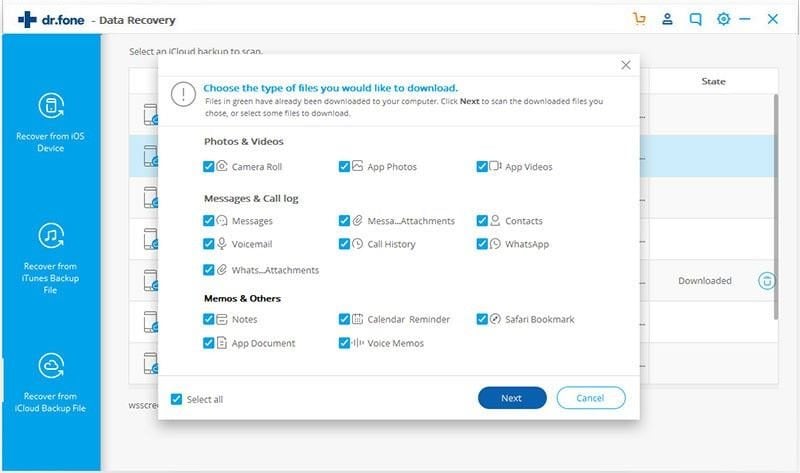 Step 3. When the scan process is completed, you can see the files are displayed by categories. You can find your wanted data by click the files types on the left menus. Check them and click Restore to Device or Export to computer.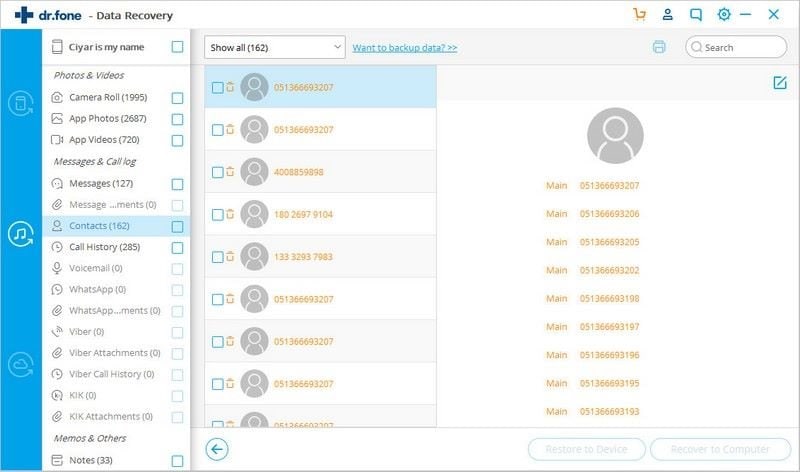 Write in the End
Facebook Messenger could make us say "Oh, I have issues with voice messaging and video, and this is so terrible because I need to hear the message and I need it now!" With this new feature Voice Message, Facebook Messenger app tried to obtain the best of the market. Users really enjoy recording their message and sending it over to their friends. It is really nice to hear someone's voice and not just reading text.
Most of users say that the app is alright to use when you are actually typing a message. But when it comes to Voice Messaging there are some huge issues like person in other end cannot hear you, only records a little bit to one minute of messaging. Let's face it, with some older idevices actually the app doesn't work or is working with troubles. Hope this post is helpful for you to fix facebook message error.